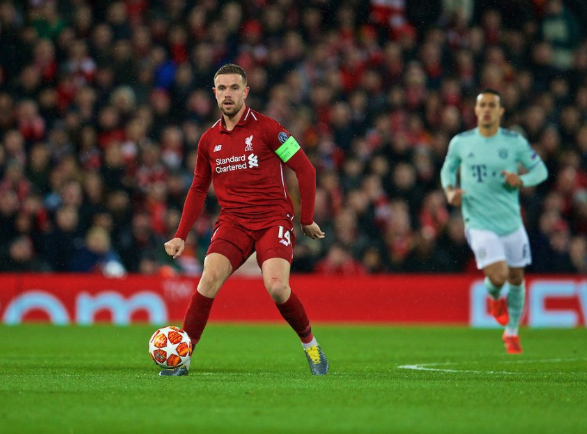 Posts selected by Chris Rowland and Daniel Rhodes.
This week's round-up brings you some of the best comments on the site, together with some samples of the articles we've published.
If you'd like to join our troll-free community and enjoy some intelligent debate about Liverpool FC and the wider world of football, and indeed the wider world generally, see the 'Subscribe' tab at the bottom of the page for details of how to sign up.
1 – Martin McL on why the lack of transfers is no bad thing, Aug 6th:
"If £40million won't buy you a noticeable improvement, if we don't see how that guy will lift up our performances to the next level, Jurgen will never do it. He won't spend for the sake of spending."
That sums things up perfectly. You'd think we'd understand this by now. Going back a few years we had he argument about both full back positions. We had Clyne and Moreno and people couldn't understand why Klopp wouldn't buy. Instead Milner played LB and we waited for TAA. Then when a LB became available who was an improvement we bought him in Robertson. TAA turned out to be the player the coaching staff thought he could become and who they didn't want to block from developing by buying in an experienced RB instead.
This approach has quite serious knock on effects. What if instead of the above £8m outlay, they spent £30-40m each on a LB and a RB that summer. Best case scenario is we buy two players as good as Robertson and TAA. However there goes £70m from the budget so pick who out of VVD, Alison we don't get or two out of the three of Salah, Keita or Fabinho.
Then we had VVD. Most would have went out and spent £50m on someone not as good as Virgil and marginally better than Matip or Lovren.
I have no doubt the recruitment process is driven by a very simple equation which looks at how much a player improves a position in the squad and how much does that cost. I wouldn't be surprised if we looked at Nicolas Pepe and benchmarked him against Shaqiri and Brewster with Mane and Salah at the top of the scale. How much improvement do you get for £70m. Even if they come out as better than Shaqiri and Brewster, for that price they need to be really close to Mane and Salah. If not, no deal. Save the pennies for when that type of player comes along.
JWH was a commodities trader. I found this quote that someone has attributed to him on this, I have no idea if this is true or not. However it sounds appropriate here for player trading rather than commodity trading.
"1. Realising that there is no 'Holy Grail' to trading. 2. Discipline is more important than genius. 3. Persistence is more important than talent. 4. Performance is more important than capability. 5. Ability to create value is more important than creativity. 6. You must constantly look for ways to create value."
2 – Russell's stream of consciousness on the Van Dijk Effect, Aug 7th:
Virgil's superpower is truly mysterious. It takes from these strikers their anger and aggression, things they rely on, and replaces it with a love of flowers and sweet smells. They go from men who, in their professional life, would maim their own Mother to get the net to bulge, men who would serve time to get on the score sheet; to men who smile and exchange views on their preferred fragrance, men who would then openly admit to starting a pressed flower collection at home. I cite Troy Deeney here, who apparently has ordered four Flower Presses on line since his last interview.
This aspect of the superpower reverses when Virgil comes in contact with fellow team members and fans. Team members see their abilities upped to considerable levels, they become technical and mental giants. I am told that John Moores Uni are currently monitoring them to see if it also adds to their physical makeup, their build. The implications of this 'VvD Affect' could have massive implications for Medical Science; it's like a 'Phased Kryptonite Ray', one that he can reverse at will.
What does it bring to fans? You may ask….Fans of the opposition probably experience a feeling of despair; whereas Reds fans experience euphoria and out and out bliss—Just check out Amy's selfie for proof. Personally, I check me mirror daily, I was 71 when we signed him; I now feel like I did when Shanks joined us, but for some reason the FA Cup no longer seems anywhere near as important as it did back then…is the VvD Affect combining with The Klopp Affect, I wonder?
3 – Greg on why he thinks Liverpool's lack of transfer activity is no problem, Aug 7th:
Another great article Paul. One of the takeaways for me is just how versatile so many of our players are. That might account in part for why Jürgen hasn't gone after a big addition to his armoury of forwards. He has his main front 3, but then has Shaq who can cover both flanks and thereby free up Mo or Sadio to play centrally, or Origi who can play as an orthodox 9 or as a wide attacker. I'd imagine he'll be expecting similar versatility from Brewster, and the early signs there are promising. I wonder as well if we'll see Gini used as a striker or a false 9 this season. After all, with Keita fit, Milner refusing to melt and Lallana still with us, the midfield almost looks over-stocked. AOC too could enter his thinking for one of the wide forward positions at times. Why spend big on a big reputation player when you already have the solutions within your current squad?
4 – Mekokrasum comments on Mark's season preview:
An incredible tour de force Mark. Absolutely brilliant article. Thank you for the brutal honesty. I have told a mate this week a very similar thing about our final League position i.e. how the sheer number of games will make it impossible for us to usurp City unless they drop off significantly and/or have a succession of major injuries to their key players simultaneously. Last season we did seem to get the rub of the green but that is also normal in football. We were also a team in transition so realistically we should be more fluent and confident this season which will cancel out the extra 'luck' we had last year? Possibly Man City were a bit "lucky" to get their near 100 points second time round. I haven't seen enough of their matches so we might (like many on TTT) have overestimated how good City really were… They really missed De Bruyne, however delightful Bernardo Silva was; so if their front six all stay fit they could bamboozle everyone and afford to concede more at the back! As Mark has pointed out we could have some serious 'attrition' with Fabinho, Mane, Mo or Bobby out of the side for a lengthy period. Heaven only knows what we would be without the imperious VVD.
I'd say, and this may prove an unpopular viewpoint, that the 18-19 Liverpool vintage was built with a hybrid Klopp/Mourinho system, where Klopp's mythical press was tactically welded to vintage Mourinho's defensive solidity.
This is what impressed me most about Liverpool last season, in that we stopped being so predictable and press-press & run-run, the way the historical Klopp teams have been. In fact, you may have done Klopp a disservice as he has also incorporated Pep's subtle tinkering with the switching of flanks, having two ball-playing Centre Backs in tandem, asking the midfielders to rotate and insisting on the false 9. Our Liverpool team is a chimera created from the three greatest coaches of the modern era. Klopp has shown tactical flexibility and proper Rafa style nouse. Maybe next season he will ask one of the fullbacks i.e. TAA to play inside, switch to a 3-4-3/3-4-1-2 with TAA starting some matches wide-right with Gomez behind in a back three… 😉
We may have to grin and bear it whilst slowly applauding Guardiola for completing a hat-trick of financially doped titles. I feel sick saying it but this coming season may feel like a bitter anti-climax. All things being said, we need to enjoy these next few years and savour the genius of Klopp.
5 – Mark B with a box office intro ahead of the Norwich game:
Liverpool fans all over the world! Are youuuu ready???
It's time to start!
We are going to witness the most heroic battle for the Premier League title in the history of World Football!
Ladies and Gentlemen!
Give a warm Welcome to the heavy weight 18 times League Champions of England and the 6 times Kings and Champions of Europe!
Please welcome The MENTALITY MONSTERS!
Starring:
The Man with the Golden Gloves – Alisson Becker!
General Virgil van Dijk – The Greatest!
Braveheart – Andy Robertson!
Trent Alexander Arnold – the Smartest around the corner!
Gomez and Matip – the Rocks!
James Milner – The Eternal One!
Captain Anfield – Jordan Henderson!
The Flying Gini!
Master Keita!
The Fab Fabinho!
The incredible OX!
Mister Energy Shaqiri!
The coming man – Brewster the Kid!
The Golden Boot Winner – SUPER MANé!
Firmino – The Genius!
The Egyptian King and Golden Boot Winner – Mo Salah!
The Joker – Divooooooock Oriiiiigiiiiiiiiiii!
And last but not least the Mastermind and the Creator of the Mentality Monsters!
The Unbelievable – JÜRGEN KLOPP!
And now, Ladies and Gentlemen!
Let's get readyyyyyyy toooooo rumble!!!
Let's get number 19 and number 7!
😉
P.S. Thanks Mark, great analysis, I enjoyed it and learned a lot! 🙂
I first wanted to post my comment under Gary's Norwich Match Preview, but then I was inspired by your article.
Indeed, It's really Time to Start!
Let's enjoy the season!
6 – Mobykidz on the non-transfer window for the Reds:
I'm honestly a million times more excited about getting up after midnight on Saturday to watch the opener than the media-inflated 1700 hrs BST deadline today. This is a club that knows what it was doing from top to bottom.
Its been sooo refreshing to not be chasing rainbows or checking flightaware or #fakenews ITKs knowing Liverpool FC has been in absolute (or 99%) control over exploring options and making the right choices.
We have no injuries (touch wood) and a squad that's lost none of its desire judging by Captain Hendo tearing a strip off Pep whose repost was flicking his chin. Ooooh scary!!!
For me a fit again Gomez, AOC, Brewster and settled "youngsters" Kieta & Origi with a stable of u21 colts is exactly what a Jurgen Klopp side looks like. And then there's Lallana – reborn (okay that's taking the optimism too far).
Not to repeat myself but I am excited to watch Kieta really get to grips with his role in the team this season. Klopp said at his presser the difference in Kieta's body language. I hope that translates into performance and that in turn pushes AOC harder.
To be frank Man City, Tottenham, Manure, Chelsea or Arsenal have done nothing this window that worries me. That's not because the others are bad teams but because we have proven how much better we are than them minus Citeh. So do we have enough to keep up with them?
I don't know because they seem, like us, a settled squad except with more proven attacking options. But Jeff talked about the gap Kompany leaves and irrespective of game time not having a presence like his around the training ground, sidelines or occasionally on the pitch is a new thing. But we will see.
So maybe, just maybe, if Kompany's loss does hurt City and we are top of the pile come May then Pep will regret not spending big on a worthy replacement. And we all know who I'm referring too.
Today's transfer windows are more string than pearls. 50-50 if you catch one. Even less for that special one. But we're bucking the trend. Finding value and making it special. Because we work really hard to make the right choices. Its the mantra that bought us Virgil Van Dijk. Its the mantra that built this squad. And its that mantra that gave us Jurgen Klopp. Its not about trusting the manager, transfer committee or FSG. I trust Liverpool FC and that's proven by how damn relaxed I felt at 1701 hrs.
Articles published since last Friday, with excerpts:
Monday August 5th:
Ranking the Reds' Premier League Seasons, Worst to Best: #7 – 2006/07, by various.
Taskin Ismet: I've mentioned it above. The Champions League semi final 2nd leg at Anfield. Penalties. Chelsea want revenge. Liverpool want another crack at yet another European Cup. The tension is incredible. The camera pans across to the managers and there's Rafa Benitez, sat cross-legged on the floor. Is he supremely relaxed and confident? Or is he waiting for school assembly?  It turns out to be the former. Benitez had purchased Reina. And if Benitez knew one thing about Reina, it's that he was a great 'keeper to have when you're facing penalties.
The 2019/20 Pre-Season – What Did We Learn?, by Andrew Beasley.
Pre-season can be like a microcosm of a regular campaign in many ways. It often doesn't matter how a team does along the way, it's how they finish which is what tends to be remembered. Let's hope Liverpool's impressive second half performance against Manchester City sets the tone and the standard for 2019/20.
Tuesday August 6th:
A Fan's Choice: An American Perspective on the 2019 U.S. Liverpool Preseason Tour, by Amy Gaeta.
I reflected on what type of Liverpool fan I am, and what type of fan I want to be. I don't want to be "that American fan" or "that young woman Red"; I aspire to be a fan that actively and passionately holds the club, the fans, and herself accountable to high standards and interrogates its ethical and political stances, implicit or explicitly stated. Here, I was reminded of Bill Shankly when he said that socialism, football, and life all collided for him, sharing the same core values of equality and community. Liverpool fans don't need to agree with socialism or Shankly's statement, but to ignore it is to ignore a foundational point on which the club was built. Liverpool became my club because no other team nor fanbase could fulfil my desire for a style of play that was as passionate as the political and social history of the club itself, and it will stay my club as long as I hold it and myself to the same standards.
Liverpool FC, Made Better By Time, Coaching & Klopp's Unique Genius, by Paul Tomkins.
Yes, it's always handy to improve from a position of strength, but the age of the team, and the relative newness of so many players, means they should get better in 2019/20 naturally, and through coaching. I think we can already see how much Keita has improved in the past few months, and when Liverpool tore Man City to absolute ribbons in the second half at Wembley, you could see the synchronised pressing of Keita, Alex Oxlade-Chamberlain, Xherdan Shaqiri and Adam Lallana, none of whom started the game, but all of whom could come on and be part of this time-learnt choreography, which often trumps individual skill. (And of course, Ox is like a new signing, only one who doesn't have to settle in; one who already is universally loved within the squad.) It's said that it can take a manager three years to get his team to perfect pressing in unison, but of course, that's a rolling figure if there are new players. Most of Liverpool's XI joined in 2017 and 2018. 
Wednesday August 7th: 
Ranking the Reds' Premier League Seasons, Worst to Best: #6 – 2017/18, by various.
And, oh how we enjoyed watching Liverpool in 2017/18, in no small part to superstar new signing, Mohamed Salah. The Egyptian weighed in with 44 goals, and was ably supported by Roberto Firmino (with 27) and Sadio Mané (20) as the Reds' remodelled front three tore Europe asunder. Liverpool set a new record for goals in a Champions League campaign, and though it wasn't to be in the final in Kiev, they firmly planted the Reds back at Europe's top table.
19/20 Premier League Preview | Matchweek 1 | Norwich City (H), by Gary Fulcher.
If Teemu Pukki can bring his goal scoring form from last season to the Premier League, Norwich will have a good chance in retaining their top flight status. They spent three years in the Premier League between 2011 and 2014 before spending one season in the Championship (2014/15), one season in the Premier League (2015/16) and three consecutive seasons back in the Championship. Although not quite a yo-yo team, it's not surprising to see Norwich's restraint in the transfer market given what happened to Fulham last season.
Norwich's last visit to Anfield ended in a 1-1 draw on September 20 2015 and just two weeks later Brendan Rodgers was sacked. Four years on and Liverpool are  Champions of Europe for the sixth time and finished the last Premier League campaign in 2nd place with 97 points and suffered just a single league defeat all season.
Thursday August 8th: 
We've Conquered All of Europe, and Now It's Time to Start by Mark Cohen
Last season was one of the most epic in memory from a Liverpool perspective. The sheer euphoria the team gave us from start to finish was the best thing, alongside Istanbul, that I have experienced in sport.
Incredibly, given the overwhelming enjoyment, we very nearly won nothing! It was a close, close thing, and I suppose, the fact that we had this utterly amazing season, just one defeat in the league, and still failed to come out on top should forewarn us that there are no certainties firstly, and that the margins between success and failure at the very top are minute.
The main question then, the one on everyone's lips, is can we win the league in 19/20? Can we satiate this thirty-year itch?
In years past, with Liverpool usually the 6th, 5th, or at best 4th ranked team at the beginning of the season, it would be useful to compare us to each other member of the top six, as we could essentially make an individual case as to why we might outperform and end above each rival. In other words – what might go right.
In 19/20, it's the opposite task. Klopp has left all bar one in his wake. So we need to ask what might go wrong that would allow United, Arsenal, Chelsea and Spurs to close the gap on us (and City).
To understand this question, we need to delve into the mechanics of a title race and understand why they occur in the first place.
I've listed below what I believe to be the primary factors that incubate a title challenge:
Title Race Factors Part I: Money and/or Cheap Alternatives
Title Race Factors Part II: The Fixture List
Title Race Factors Part III: A Good Start?
Title Race Factors IV: Consistency
Title Race Factors V: Luck
Understanding these five factors in respect of Liverpool and our five main rivals will go a long way to unravelling the mystery of 19/20. Or it won't, because football can make a serious mug of you at the best of times, just ask Leicester in 15/16.
Title Race Factors Part I: Money and/or Cheap Alternatives
The first constraint on a clubs ability to challenge for the tile is surely and sadly money. Paul's work over the years demonstrated a near perfect correlation between cost of squad and league placing, and I believe Leicester's amazing triumph was merely the exception that reinforced the rule.
Of course, we've seen time and again that money and general wherewithal is not 'the be all and end all' in a title race. But we have rarely seen it in a negative sense, in other words 'you don't have much money, but you still challenged' i.e. it's usually a barrier to entry and examples like Leicester in 15/16, and Liverpool in 13/14 are rare.
So, whilst you don't have to have cash to challenge, without it, you usually won't.