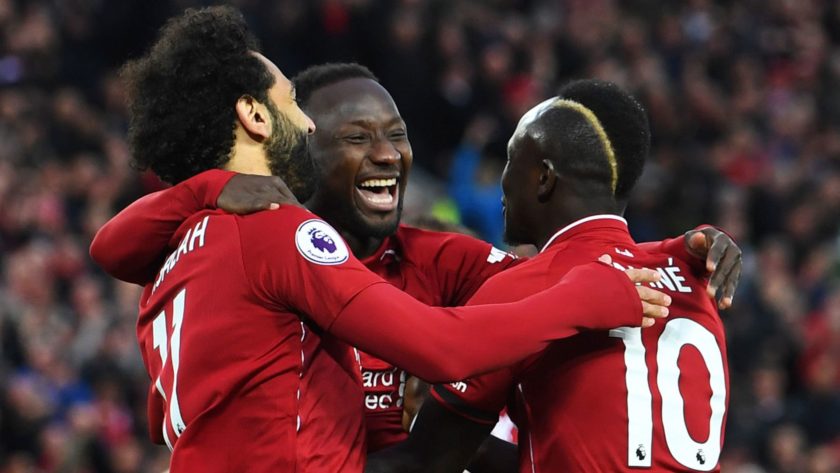 By Mark Cohen
Last season was one of the most epic in memory from a Liverpool perspective. The sheer euphoria the team gave us from start to finish was the best thing, alongside Istanbul, that I have experienced in sport.
Incredibly, given the overwhelming enjoyment, we very nearly won nothing! It was a close, close thing, and I suppose, the fact that we had this utterly amazing season, just one defeat in the league, and still failed to come out on top should forewarn us that there are no certainties firstly, and that the margins between success and failure at the very top are minute.
The main question then, the one on everyone's lips, is can we win the league in 19/20? Can we satiate this thirty-year itch?
In years past, with Liverpool usually the 6th, 5th, or at best 4th ranked team at the beginning of the season, it would be useful to compare us to each other member of the top six, as we could essentially make an individual case as to why we might outperform and end above each rival. In other words – what might go right.
In 19/20, it's the opposite task. Klopp has left all bar one in his wake. So we need to ask what might go wrong that would allow United, Arsenal, Chelsea and Spurs to close the gap on us (and City).
To understand this question, we need to delve into the mechanics of a title race and understand why they occur in the first place.
I've listed below what I believe to be the primary factors that incubate a title challenge:
Title Race Factors Part I: Money and/or Cheap Alternatives
Title Race Factors Part II: The Fixture List
Title Race Factors Part III: A Good Start?
Title Race Factors IV: Consistency
Title Race Factors V: Luck
Understanding these five factors in respect of Liverpool and our five main rivals will go a long way to unravelling the mystery of 19/20. Or it won't, because football can make a serious mug of you at the best of times, just ask Leicester in 15/16.
Title Race Factors Part I: Money and/or Cheap Alternatives
The first constraint on a clubs ability to challenge for the tile is surely and sadly money. Paul's work over the years demonstrated a near perfect correlation between cost of squad and league placing, and I believe Leicester's amazing triumph was merely the exception that reinforced the rule.
Of course, we've seen time and again that money and general wherewithal is not 'the be all and end all' in a title race. But we have rarely seen it in a negative sense, in other words 'you don't have much money, but you still challenged' i.e. it's usually a barrier to entry and examples like Leicester in 15/16, and Liverpool in 13/14 are rare.
So, whilst you don't have to have cash to challenge, without it, you usually won't.
The usual way of money not bringing about a challenge is in the positive sense – 'you have lots of cash, but your club cannot convert that into a competitive advantage due to poor procurement or worse' (see United 13/14 to present day).
Indeed, many teams with money fail to muster a significant bid for the title, some spectacularly, and this is because money by itself is only one part of a title challenge. It's a pretty huge part though.
Is the club rich enough to buy a team of such inherent quality that they will win many more games than they lose? If not, do they have a group of young or cheap players who can make the jump in quality to help achieve those aims and bridge the gap?
So its purchase or construct, or a bit of both.
For the former, consider Manchester City currently, and for the latter, Fergie's Fledglings are a great example of a team built with a perfect blend of money and youth. Liverpool are probably the best example since then of a team built with the most delicious mix of the two, big money, and big coaching.
Of course, this question naturally extends further, a lot further than many of us would like in a sport where the clubs are rapidly becoming, at the behest of their awful governments, sports-washing tools. Forgive the digression, but I believe the singular of that may be also a great nom de plume for Sheikh Mansour himself.
Anyway then – the question in totality is not simply if you can purchase a strong team with your funds, but also is your club able to buy that talent which would augment your squad to the point where injuries, a normal, expected occurrence in football, don't significantly lessen your chances?
In layman's terms: can you buy or make 22 players of extreme and interchangeable quality so that injuries don't hurt you?
If you can, you remove the attrition that so often derails clubs' title charges. Attrition is imperative in sport. It is a built-in limit. In athletics, attrition is the kinetic energy that saps from your body as you pound the ground with every step, and it's what stops a human being from running a 100m sprint in much less than 9.5 seconds. If you were to somehow remove this attrition, through steroids perhaps, you would run faster and faster.
In football terms, squad-building for example, the 'steroid' is buying up swathes of talent, at vast sums of money, whereby you simultaneously overly-strengthen your team whilst quite literally weakening everyone else.
As the players are a finite resource, with your rivals for their signature probably being other clubs you are trying to beat, buying them increases your ability whilst stopping your opponents from strengthening! That's why they call it financial doping, it unfairly removes attrition from the problems a manager needs to overcome.
Klopp's genius management of last season is never to be given its true plaudits, due to the rampant unchecked cheating which allowed City to absolutely obliterate any meaningful sense of attrition.
They were able to interchange players at will and with the gayest of abandon, knowing full well that the drop in quality was so small (if at all) as to render it nil. At the end of what should have been an exhausting season, they cantered to a six-nil win in the FA Cup final which was met with howls of derision from the media who I'm not really sure even understood how bad this cheating was.
In 1999, Manchester United's incredible treble was achieved with a smallish group of players, many of whom were injured and fatigued by the end. Hate them all you want, and I do, but when they scored that shambolic winner against Bayern, the world knew exactly what they had achieved, because they had done so with the Grim Reaper of attrition staring them in the face.
It was a sporting achievement for the ages and, in contrast, Manchester City seemed bewildered that the footballing world gave them such a 'meh' shrug for their supposedly super-human efforts last term.
When Liverpool took to the field at zero-three against Barcelona, shorn of Salah, Firmino, Keita, and then Robertson too by half time, they had no right to win four-nil. No right. That is why there were probably 300 opinion pieces written about it afterwards. It was a massive sporting achievement.
In the face of crippling attrition, with the season petering out before our very eyes, we rose to the challenge, and met it full force.
People are surprisingly adept at understanding the difference between true and faux-achievement, and there is literally nothing City can do about that. Even if they could win a quadruple, it would probably be met with a collective half-hearted clap. This must hurt like hell.
Anyway, City's shenanigans are obvious and egregious, but it's only right to point out that they are also expertly coached. Jurgen Klopp has managed to stay close to Pep through unmatched procurement and unsurpassed coaching, and Pochettino has also made a superb stab at it, producing an aggressive, winning team on a relative pittance up till now, showing what a good coach he is too, although his squad is still a cut below ours and City's.
Klopp's squad is brilliant. A tiny bit short at full back, but other than that, there's no reason to expect anything different to last term in terms of our squads' overall ability. Indeed, given the age of the roster, I'd expect an improvement in fact.
The others I'm afraid, are not there yet. Chelsea have a transfer embargo and a new manager in Lampard, and by new, I mean both new to them and new to management! They have a very fine squad for the most part anyway, a top four one at last count, although Hazard's departure and their reliance on him in the final third is only highlighted now by the paucity of their top quality forward options.
Arsenal have a heavily imbalanced squad. Their attackers are the envy of most, while the defensively minded players are the envy of circuses around the world, such is the entertainment on display at both ends of the Emirates. There is also a cash flow problem at Arsenal, which is poor, given how well run they were up to a few years ago, and Stan Kroenke should hang his head in shame. These limits on Arsenal's capacity to build will likely keep them from meaningful title talk this season at least in terms of this factor.
Manchester United are a remarkable case. On the surface, they represent the richest, most monied club on the planet in terms of their sheer ability to drive revenues upward. They should easily have the wherewithal to buy their way into a title race, and the youngster production line is also functioning well, with Rashford, Greenwood amongst others, the players who have a high aptitude.
Their issues are far more endemic of rogue owners – poor use of those funds, stupid decisions in procurement, ill-fitting managers. Their behaviour is a veritable 'what not to do' when you run a football club. United are the perfect example of a team that has money but won't challenge, perfectly highlighting the limits of money in respect of a title challenge.
This table outlines each club's possible title strength for this factor alone:
Title Factor 1: Money and/or Cheap Alternatives (weak-acceptable-good-superb)
Team
Bank Position
Alternative Position
Overall Factor Strength
Manchester City
Superb
Acceptable
Superb
Liverpool
Good
Superb
Superb
Chelsea
Acceptable
Superb
Good
Tottenham
Acceptable
Good
Good
Arsenal
Weak
Acceptable
Weak
Manchester United
Superb
Good
Superb
The rest of this article is for subscribers only, and there's another 6,000 words to feast on, so get your hands in your pockets!
[ttt-subscribe-article]