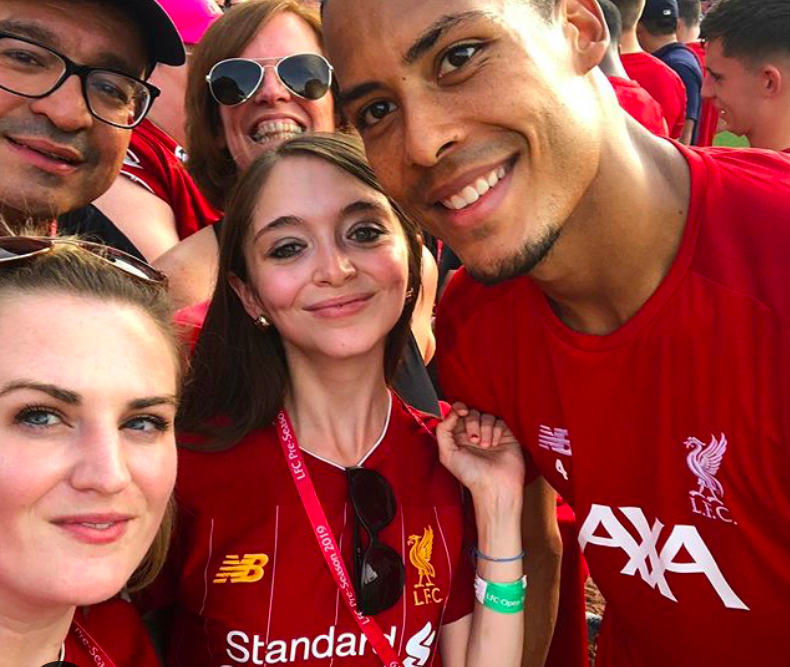 The U.S. Liverpool Preseason tour was everything you'd want from for the club, full stop: filled stadiums, passionate Reds, and a strong sense that our Champions of Europe have taken over America as well. My friend Mari Lewis and I represented our local supporters club, OLSC Madison, and followed Klopp and gang on their entire U.S. tour. Eight days, each filled with fan events, matches, airports, and Carlsberg.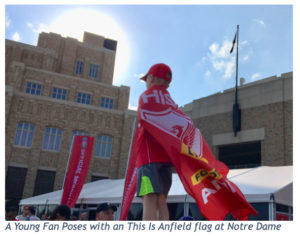 This tour diary unpacks the development of my most prominent insight gained from the journey: The disconnect, willed or not, between a club's politicised history and its fanbase is necessary to mend. As each promotional sign reminded me, "This Means More." The "more" is asked of the club as well us, the fans.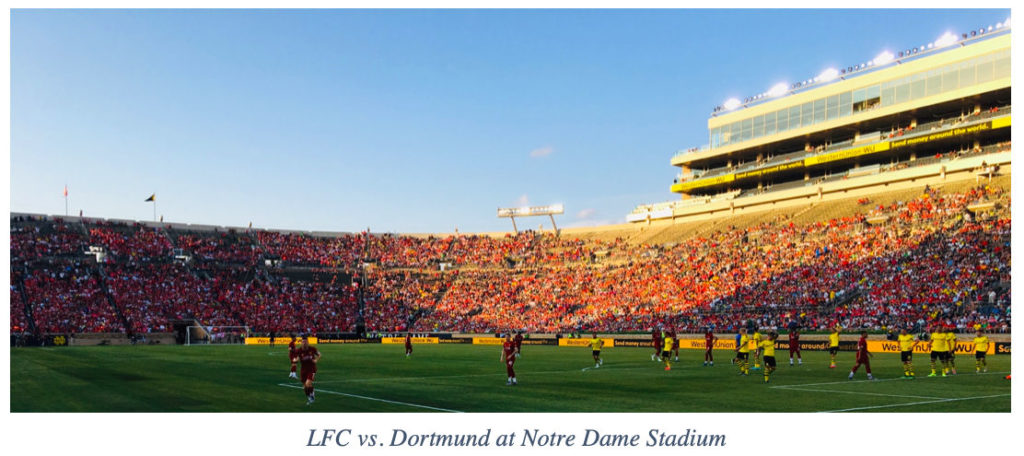 July 19th, 2019: Liverpool FC vs. Borussia Dortmund FC at Notre Dame Stadium in Indiana
LFC was clearly still building cohesion and flow during the match 3-2 defeat against Dortmund. Yet, we did see shining moments, namely Rhian Brewster's near-perfect penalty kick and a promising performance from Nathaniel Clyne. The match result was a mere afterthought as we left the stadium and parsed through the sea of Reds that filled downtown Indiana. You'd have never known we just lost. There was singing, flags waving, friendly banter, and an enveloping sense of gratitude that so many American football fans were in the same place.
For me, the most interesting part of the day occurred hours before the match, in a gift shop in front of the stadium. There, I noticed no less than six self-identified Liverpool fans wearing either an Everton or Manchester City kit. Earlier this day, my friend Mari pointed me toward a man sporting a Union Jack tattoo embedded with the Liverpool crest and we later met a British-born Liverpool fan unaware of Hillsborough. What are the conditions in which fans become disinterested in or unknown to a club's politicised history? As an American Liverpool fan with no personal ties to Liverpool, this question has stayed with me.
July 20th-22st, 2019: Liverpool FC vs. Sevilla FC at Fenway Park in Boston, Massachusetts
On zero sleep, we drove a rental car from Indiana to Chicago airport at 2AM. We grabbed a 7AM flight to Boston and rushed over directly to Fenway Park for an open training and meet and greet with the club. Exhausted and delirious from the 100-degree temperatures, 40 of us fans were asked to wait an extra 3.5 hours as the team was delayed, and it was unclear if the event would happen at all. But, not once did I hear a fellow waiting fan complain or think to leave. The staff filled us with food and LFC brought out Jamie Webster to perform last-minute. Later, as an apology, we got front-row seats on the field as Jürgen Klopp led the training right in front of us.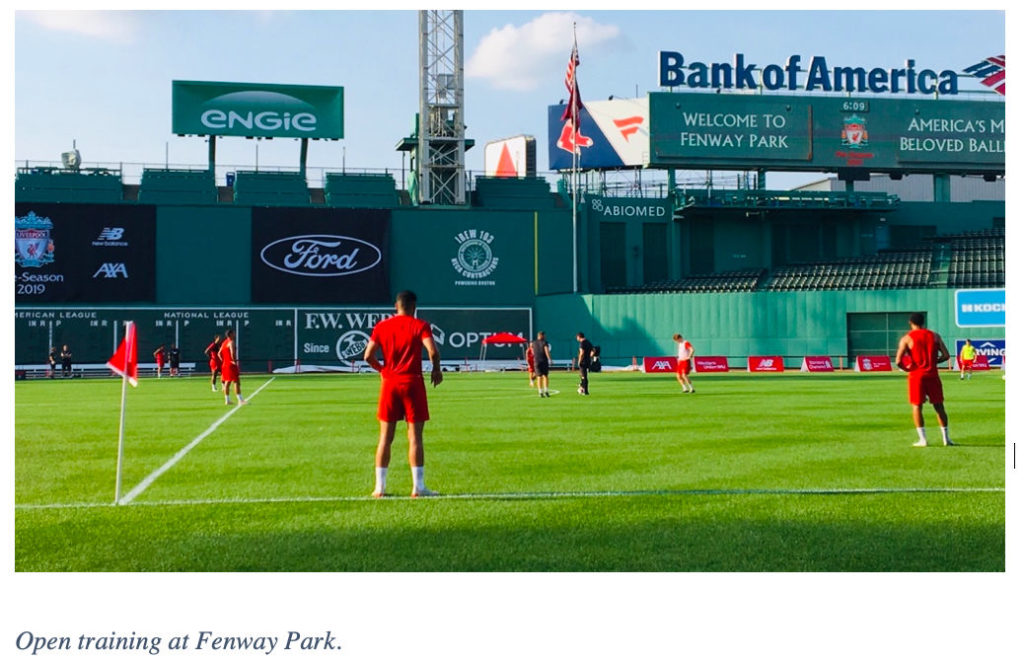 Players then lined and worked their way down the crowd of fans, signing and taking photographs. In place of an automated assembly line, each stopped to talk, laugh, take selfies, and talk with us. A few lesser-publicly visible players seemed surprised that I knew their names, let alone that I could recount their performance. But the likes of James Milner and Gini Wijnaldum were no less humble or considerate in listening to each fan, thanking us, and even stopping to ask if we were okay because of the heat.
It would have been far easier to cancel this event or be in a sore mood after a training and non-stop travel. But, unique to Liverpool is the equalisation of the fans with the club. During the meet and greet, some fans remarked "Come on! You don't see United doing these events." As disappointing as it is that the club doesn't hold these events more often in Liverpool, it speaks volumes of the club as it attempts to mend the distance with overseas fans who may never get to Anfield.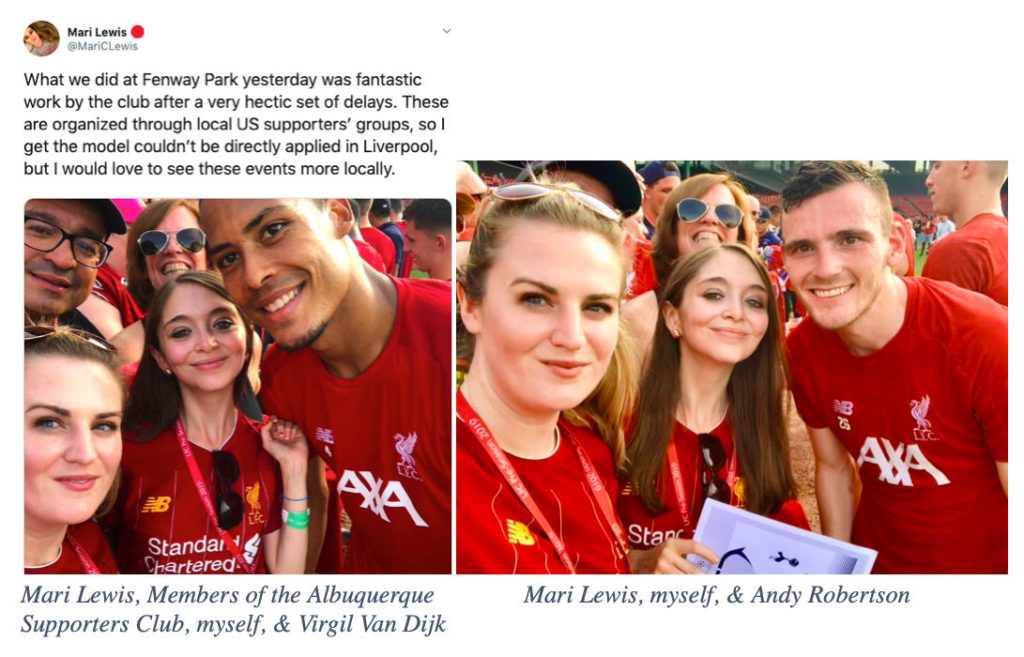 The next night was the match against Sevilla, but there was only a handful of Sevilla fans in sight. During another largely uncoordinated Liverpool performance, fans put pressure on  Divock Origi to score again after his 34' goal provided some need motivation. After the 2-1 loss and Yasser Larouci's injury at 80' (now healed, minor bruising), we were all still somewhat joyous just to be there.
Outside the stadium, things changed. I again noticed the explicit divide the surrounding LFC fans and the club's history as one that is "Scouse, not English." During a semi-drunk post-match argument with an LFC fan who believed in putting "the country over the club," he asked us critically why we didn't support the England national team. After trying to explain the nationalist implication of his claim, I realised that the problem isn't us American fans, it's a combination of globalisation that creates consumers, not supporters, and how the U.S. media offers little to no extensive coverage of football, let alone the historical context it exists within.
Surely not all fans are unaware, and I'm not claiming to be expert, but enough were unaware to make me question what happens when we deny the inherent politics and global commercialisation of football. There's no blame-game here or taunting of American fans, rather I'm noting that as Liverpool gains global appeal, we as fan need to pay attention to what is lost in this spreading and then make choices about how to mend this historical and local distance, especially in America where football will forever be regulated in the media as a second-class sport, "soccer." 
July 23-25thth, 2019: Liverpool FC vs. Sporting FC at Yankee Stadium in New York
 After an extra night in Boston to attend a Legends event, we left for New York, scrolling through our Twitter feeds, looking past the bitter fans complaining about LFC's preseason performance, forgetting how Klopp's tactical genius and high regard for character won us the European Cup the previous month. During the match against Sporting, fans emitted immense competitiveness during the match, booing at Sporting fans and yelling play moves from the stands.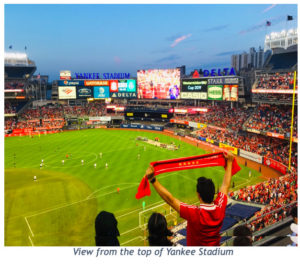 This atmosphere was in stark contrast to the night before when we danced and celebrated with a hundred or so fellow fans at Carragher's bar during a Jamie Webster set. Even after levelling the score, Jordan Henderson and James Milner were explicitly putting in double the work to leave the U.S. with a win. 
 The match highlight came at 88' when Klopp sent newcomer centre-half Sepp van den Berg onto the pitch for the first time; his FIFA paperwork has been approved mere hours earlier. Calm and quick, he added a spark of excitement for the season ahead to the end of the match and the tour. Tired and heat-exhausted, we say goodbye to our Reds, for now, and prepared to return to our normal lives.
Our last stop was a pilgrimage to the heart of American tourism, Times Square, to visit the Mo Salah mural on 50th and Broadway Ave. The mural features a profile of Mo in his Egyptian national team kit, his hair decorated with a floral design and embedded with depictions of him playing for Liverpool. The simultaneous sight of his Egypt and Liverpool kit echoed how global the club had become.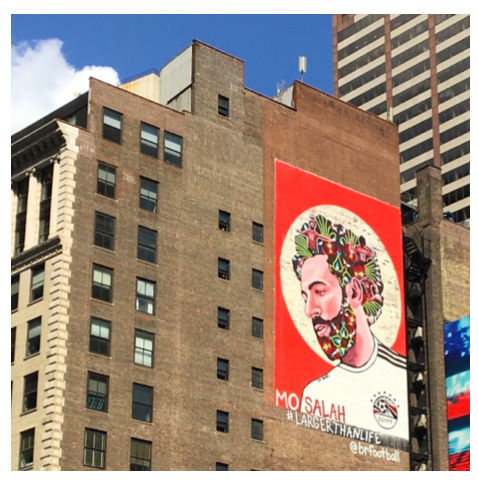 While standing across from it, I reflected on what type of Liverpool fan I am, and what type of fan I want to be. I don't want to be "that American fan" or "that young woman Red"; I aspire to be a fan that actively and passionately holds the club, the fans, and herself accountable to high standards and interrogates its ethical and political stances, implicit or explicitly stated. Here, I was reminded of Bill Shankly when he said that socialism, football, and life all collided for him, sharing the same core values of equality and community. Liverpool fans don't need to agree with socialism or Shankly's statement, but to ignore it is to ignore a foundational point on which the club was built. Liverpool became my club because no other team nor fanbase could fulfil my desire for a style of play that was as passionate as the political and social history of the club itself, and it will stay my club as long as I hold it and myself to the same standards.
Amy Gaeta is a Ph.D. candidate at the University of Wisconsin-Madison in the U.S. Her work focuses on how technology used in contemporary war and surveillance affects political orders and definitions of humanity. Amy uses the rest of her time helping to build disability justice campaigns, traveling, and of course, watching Liverpool with her local supporters' club.