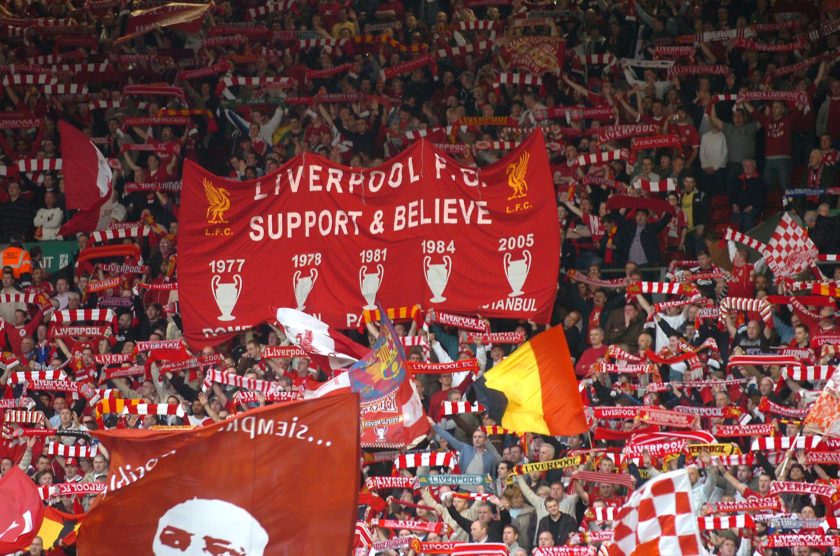 Posts selected by Chris Rowland and Daniel Rhodes.
The idea of this weekly round-up is to give you all some idea of the range of debate on the site and the articles we publish. If you'd like to be part of our troll-free community, there's a 'Subscribe' tab at the very bottom of the page.
1 – Mädchenkliop acknowledging the crowd's contribution against Chelsea:
My MOTM is going to the 12th man!  As your article evokes and many other people have been commenting, the crowd were loud and supremely responsive.  Over the last few weeks there's been a wonderful collective effort by everyone.  It's been a joy to be part of!  I mean, I say that, because it really has felt like, from the generous warm hearted comments of our manager, to thoughtful answers to questions about the atmosphere from players, to in depth discussions on podcasts and the regular airing the topic gets on this very site – everyone and I mean EVERYONE! has upped their game with the singing and supporting.  People have written/ created new songs, learned the words to old songs, sung in parts of the ground where they don't normally, it's just a joy to listen to and you can totally sense how the players love it and respond to it.  The singing is so good right now I sometimes worry that the players are going to stop and sit down for a little listen!  It's only 11 players on the pitch, but it's sounds like a fucking army!
2 – Nick M on the 20+ songs sung by Liverpool fans at Anfield on Sunday:
I have managed to list 22 non player related songs that I heard on Sunday. I then have 4 related to Chelsea/ex player songs and I think 10 songs (two for Mo) that got sung. That's 36 different songs/chants and then I have listed a few that didn't get sung which are quite common.
YNWA
Poor Scouser Tommy
Every other Saturday
Those were the days my friends
Allez, Allez, Allez
The fields of Anfield Road
We are Liverpool
Campione (not champione!!!!), the one and only
Tired and they wanna go home
The reds are coming up the hill
Liverpool, Liverpool, Liverpool
Poetry in motion
We'll be coming down the road
We love you Liverpool
When the reds go marching in
A liverbird upon my chest
Shankly made us famous
And it's Liv er pool, Liverpool FC
We shall not be moved
Liverpool top of the league
We don't carry bottles
Bring on yer Internationale
Stamford Bridge is falling down
Fuck off Chelsea FC
Steve Gerrard, Gerrard
Luis Garcia
Bobby Firmino
Mo Salah x 2
VVD
Mane
Hendo
Naby Keita
TTA
Gini
Andy Robbo
Not sung:
Red and white Kop
We won it five times
We hate Nottingham Forest
o come all ye faithful (usually sung around Christmas based on my experience, although if we win the CL it may come out again)
LIV, ERP
We are the Scousers
Bertie Mee
don't worry about a thing
Quite a lot of the songs can be found on here:
https://www.anfield-online.co.uk/features/lfcsongs.htm#000108
With regards to Bobby's song, I agree that it is too long/awkward and thought at the time it should be changed to something like 'Bobby Firmino is the best in all the world'.
3 – Chris Rowland on the different ways Liverpool and Man City affect their opposition:
We've had discussions, on here and elsewhere, about teams rolling over against City, not laying a glove on them. But seeming ready to spend every last ounce of effort and energy trying to thwart us.
I wonder whether it's because Liverpool and City are so yin and yang in terms of what they present to opponents?
City can hurt you, dismantle you, publicly humiliate you, take you for 5 or 6 or 7 goals. Many opponents seem to write off their chances of getting anything from the game and settle for damage limitation, maybe fielding below-full-strength sides, saving themselves for games when they think they do stand a chance.
Contrast with Liverpool's playing style. Constant running, willpower, effort, pressing, always at you, and at the back, a keeper who is calm, makes saves and sets up another wave of attacks, and a centre-back that there is just no way past. They're unlikely to destroy you, dismember you, humiliate you, like City. They'll probably beat you, like City, but only by a goal or two. You'll still be in the game for large parts of it – tantalising enough to persuade you to go for it. The fear in the pit of the stomach before playing City is replaced by a '95 minutes hard work ahead' warning against Liverpool, that you're going to have to run your bollocks off, hit your head against a brick wall, concentrate and concentrate, knowing they'll keep coming at you for 90+ minutes, and hope you get a break, maybe even from a ref.
Two very different forms of torture.
4 – El Indio questions the Man City quadruple narrative:
Why the f*ck do Manchester City get lauded in the media to attempt a quadruple?
'One in the bag, three more to go?'
You mean the devalued Carabao Cup?
'Barcelona and Lionel Messi are the biggest reason I don't think Manchester City will win the quadruple.'
Yes, because Spurs are managed by Roy Hodgson and a bunch of English players who will cheat to win the dodgy away penalty?
What's with this bullshit infatuation, and a blatant disregard of financial doping?
Google 'Quadruple', and 'Manchester City' – the quadruple bullshit starts from last evening's Champions League interview to sometime November last year.
This noise is such an irritant sometimes. It's a disrespect to the massive community of professionals who are trying to win it honestly with their clubs.
It's disrespectful to the game itself. Buy a few expensive players, cook the books, and win every game attacking every team believing you're the best in the land.
This belief of self grandiose is really pathetic, and I'm quite stunned that the media laps it up at every press conference
If Spurs turn up tonight, and on the weekend – I would be interested to know how John Stones will explain the <Insert an energy drink> Cup medal or the <Insert whatever sponsor the FA can find> Cup medals to his kids.
Look at the youth program of Ajax. Look at the fantastic coaching performance of your opposition manager (Pochettino).
Look at one of best marginally improving teams of the Premier League in recent times. How player by player it was built around a group of humble but ambitious professionals. (Liverpool)
I don't take any joy when other teams falter but I'll take another swig of alcohol tonight if Spurs dump out Manchester City from Champions League.
The narrative that money always wins needs to be defeated tonight.
The narrative of cheating/bending rules needs to be defeated tonight.
The narrative of half baked support with loutish behavior needs to be defeated tonight.
If I were coach for Spurs, I would show them the stupid quotes doing the rounds, put a DVD of last season's quarterfinal on loop, and tell them that this City side is beatable. If not tonight, then definitely on the weekend.
Life never gives you second chances, but here they're for the taking.
Articles published since Friday12th, with samples:
Monday April 15th:
*** RIP the 96 ***
Post-Match Analysis: Liverpool 2 – 0 Chelsea, by Daniel Rhodes.
After multiple Anfield heartaches against Chelsea in recent years, this was pure, unadulterated redemption on Salah-sized scale. Of course, it's only three points in the context of the title race – but the message, and timing of the victory might have more influence over the final league standings with Man City to play Tottenham and Man Utd in the next two matches.
Salah and Mané Succeed as Bigots Epically Fail – Liverpool Bombard Chelsea, by Paul Tomkins.
Indeed, it hung so long that the guy in front of me stood up in expectation – a split second before I did – and I didn't even see Sadio Mané head it in; but felt secure enough to know, having seen him lurking, that it was a certain goal. The roar duly followed. Mané, hugely angry and pumped up, ran to where we were sitting – or rather, standing – and, instead of his usual beaming smile upon scoring, looked as wound up by the Salah-baiting as Salah himself must have been. Indeed, the whole Liverpool team looked emboldened by the sick taunts aimed at one of their own. This is a multicultural, multi-faith team, and you just don't fuck with them.
Liverpool aren't a nasty side, with the fewest yellow cards accrued in the Premier League under Klopp, but they are a side that protects their own. Henderson won't back down from any fight, and Fabinho and van Dijk will come across to ask, ahead of a good kicking, "what's going on here then?" They won't start fights, but they will end them.
Tuesday April 16th:
My Day at the Match – Chelsea (H) April 14th, by Chris Rowland.
Inside Anfield, around the concourses and in the Kop, it doesn't seem to be as abuzz as I was expecting. But the atmosphere does build. Chelsea fans surprise us all by impeccably observing the minute's silence for Hillsborough. Not much happens in the first half. The Henderson Hater doesn't mention his name. In fact he roars YNWA and supports enthusiastically. Something is happening here.
The talk at half-time is all about classic Liverpool days of old, when we were level at half-time in a game we had to win, attacking the Kop second-half and doing enough to win the match. That's what we have to do today. The explosion of noise when Mane scores, as much relief as joy, is just the warm-up for what follows after Mo's preposterous strike. The entire ground is syncopated to Allez Allez Allez and of course the Mo song, thunderous, irresistible. I'm not sure any other English stadium can match Anfield when it's like this, and in fact very few in Europe. It's bouncing, the volume turned up to 11. All the Kop concourses and stairwells are alive with song afterwards as we all troop out.
18/19 Champions League | Quarter-Final 2nd Leg Preview | Porto (A), by Gary Fulcher.
Liverpool lost all three of their matches away from Anfield in the group stage, going down 0-1 at Napoli, 0-2 at Crvena Zvezda and 1-2 at PSG before recording an emphatic 3-1 win against Bayern Munich in Germany in their last 16 2nd leg encounter.
Regardless of what happens at home or abroad over the remainder of the season, Liverpool are one of four teams that have already secured their places in next season's Champions League group stage joining Juventus, PSG and Barcelona.
Thursday April 18th:
Klopp and Liverpool are Doing Something I Thought Impossible, by Paul Tomkins.
If you take the correct view – that Michael Edwards was responsible for Firmino, and worked with Klopp to land Mané and Salah (with Klopp admitting the transfer guys talked him into going for Mo) – then, excluding Rodgers' personal folly (Christian Benteke), Liverpool have signed three fairly low profile forwards since 2015, and all have become world-class stars.
The only out-and-out attacker to arrive in that time who doesn't live up to that level is Xherdan Shaqiri, but at £13m he was still a snip, and has played a part this season, with some vital goals in the early winter. (Aside from against Newcastle, his goals all came with the scoreline tightly balanced – either level, or Liverpool leading by just one goal.)
So, for £154m in current day money, Liverpool have a front three who, since their formation was concluded with the arrival of Salah less than two years ago, have scored an absolutely staggering 152 goals, and their second full season together is not even complete.
18/19 Premier League Preview | Matchweek 35 | Cardiff (A), by Gary Fulcher.
Liverpool's last visit to the Cardiff City Stadium came in March 2014 as the Reds recorded a 6-3 win under Brendan Rodgers in a season when we last battled it out with Man City for the title.
We sealed a 4-1 win in the reverse fixture at Anfield back in October and the Reds have only won one of the previous four away trips to a team managed by Neil Warnock, which was a 2-1 win at Notts County back in 1991.
Friday April 19th:
My Day At The Match: Porto (A), 17th April, by Paddy Smith.
We grab a beer whilst we wait for some mates to arrive and then spend a really enjoyable four or five hours in an increasingly loud and rowdy bar. We get into a conversation with some locals who tell us they love scousers as we come, sing songs and drink lots of beer. Man Utd, on the other hand, came a few years ago and smashed the place up; they hate them, which we of course love and by them more beer! A bite to each, which is best described as weird – and then jump in an Uber to the ground.
Is This Liverpool's Best Ever League Season?, by Terry Dolan.
This is Liverpool's best ever season by several key measures. Sometimes you wouldn't know it if you just listened to the Liverpool fans on social media! The broadsheets also seem somewhat stingy with their praise for Liverpool, blinded by their love-in with City. Ok, every Liverpool fan wants to win something this season – especially the league. But even if we win nothing this is still one of Liverpool's best ever seasons.
I've been playing with the data (with some new data visualisations) to try and illustrate just how good this season's performance has been.
Let's start by comparing this season to Liverpool's own illustrious history, including 18 league titles. Here is a 'swarm plot' (so called because it looks like a swarm of bees) showing Liverpool's points total at game 34, across all top flight league seasons, from 1894-95 to 2018-19. Each data point represents 1 of 101 league seasons. If the same points total is achieved in more than one season then the points 'stack' horizontally, giving a view of the most common totals. The graph also highlights the seasons in which Liverpool won the title. As you can see, this season is out on its own, right at the top.
Saturday April 21st:
Liverpool Top of the League – And Here To Stay, by Paul Tomkins.
Pep Guardiola said yesterday that this Liverpool side is one of the best teams he's ever seen, and that may be a bit of treacle, or toffee, too; in some way self-serving, as it accentuates the job City are doing, and maybe he hopes it will soften up his closest rivals, but he may not be lying. The stats are starting to back him up. To be on course for 97 points and be within a couple of games of back-to-back Champions League finals is incredible, whether or not anything is won.
Sunday April 22nd:
Post-Match Analysis: Cardiff City 0 – 2 Liverpool, by Daniel Rhodes.
This is a strange one, because having just heard Klopp's press conference, he mentioned that Martin Atkinson would have called a foul on Alisson had Morrison scored the header; however, all the xG models have included it (0.63 chance on Understat) in Cardiff's total. Even though it bounced off his back, and should have been a foul for the Reds.
With that in mind, Cardiff created virtually nothing, and Liverpool (excluding the penalty) still managed to create over two expected goals away from home for the third time in a row. An incredibly difficult feat. It was three big chances in total for the Reds (Milner, Firmino and Salah). We also dominated the total shots with 17 to 7, and 12 to 5 inside the penalty box.