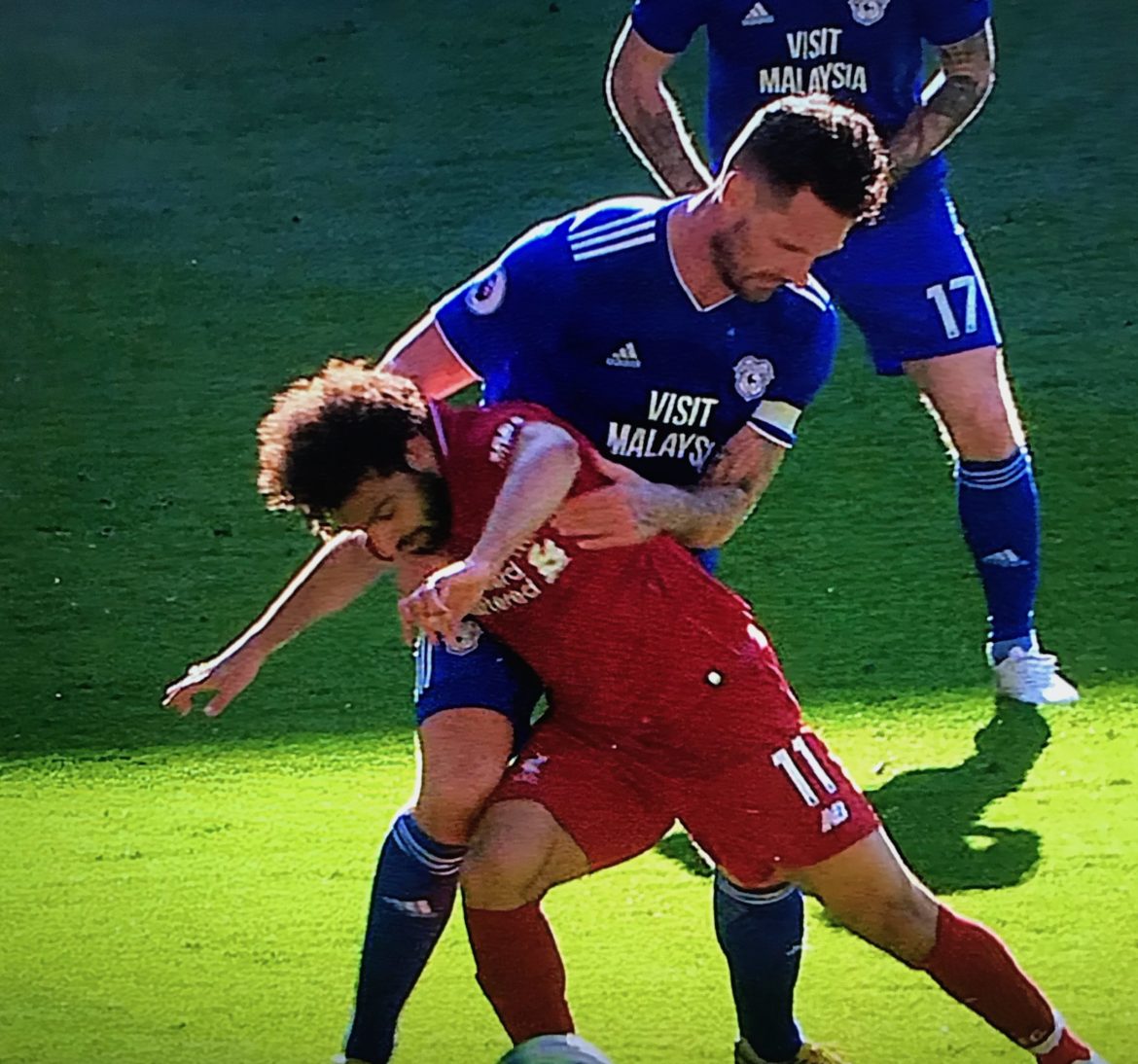 In reference to the title of the piece, it's important to point out that the angle is more about Liverpool looking in no rush to go away any time soon, whether or not they win the league, or indeed, the Champions League.
Liverpool are here to stay, and given the age of the squad and the key players, likely to improve.
It was mentioned on a podcast this week that Liverpool have been behind for just 165 minutes this season. That's an incredible statistic, amidst a season of incredible statistics (which includes just one defeat so far, and is back up to the 2nd-highest points total in English football history after 35 games, with City yet to play their 35th).
Liverpool have so many ways to win; and finally getting a reasonable amount of penalties after the farce of last season adds a little extra dimension (even if the Reds' penalties for the past decade are almost never won at Anfield).
In my weekly five minutes on Twitter I had some Crystal Palace fans, who obviously have never seen Wilfried Zaha play, showing me clips of all Mo Salah's "dives" this season. This included when Aaron Wan-Bissaka absolutely booted Salah's trailing leg when Salah was in on goal back in August, when not one single pundit said it was anything other than as blatant a red card as you could hope to see. Slowed down, and shown from an angle where contact wasn't as clear, it was presented as part of this grand delusion, from fans who don't check their actual facts.
Palace, one of the most mediocre football teams in the history of top-flight football (utterly and unremittingly mid-table, as befitting a Roy Hodgson team), have won an absolutely staggering 21 Premier League penalties since August 2017, which was the time Mo Salah arrived at Liverpool; in that time, Liverpool have won less than half that number, with Salah himself winning half as many as Zaha. And on average going back across the past five years, Palace win twice as many penalties as Liverpool.
Salah gets beaten up in the box, but Liverpool's other attackers get nothing. Glen Murray of Brighton and Dominic Calvert-Lewin each won twice as many penalties last season as Sadio Mané has had in his entire three years at Liverpool, and Mané is miles quicker, and better, than either of them. Murray, slow and cumbersome, won four penalties last season; Mané has just two in three electric seasons with the Reds, where he's been part of a strike-force that has notched 152 goals in 21 months. And even a dire Man United have won 13 penalties this season to Liverpool's seven, lest they get uppity. (Also, losing 4-0 to Everton? Isn't that worthy of dissolving a football club and calling it a day? Ole's asleep at the wheel, it seems…)
And every penalty Wilf Zaha has won has been absolutely legit? And let's be clear, going down "easily" when being clearly fouled is a forward's right if staying on his feet means the cheating defender gets away with it. Grabbing someone around the chest or neck, as Sean Morrison did today with Salah, won't send them naturally to the ground, as you're essentially holding them upright and inert, and stopping them from turning. So if the striker doesn't go down he won't get an obvious penalty, as Salah finds every week when he stays on his feet after being clobbered. (And I also thought Andy Robertson was lucky in the first half with a clear shirt tug that should have been a penalty, although unlike Cardiff's Morrison, he didn't stay holding the player for a full 13 seconds.)
This is football, after all; not rugby, or Strictly Come Dancing. (And there's also a knee into Salah's leg at the end of the fouling.)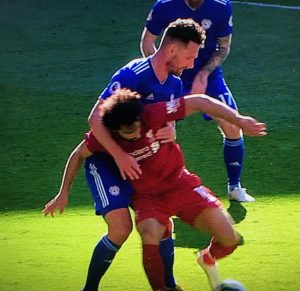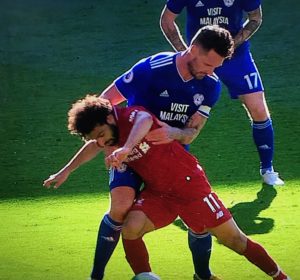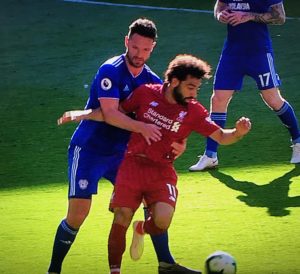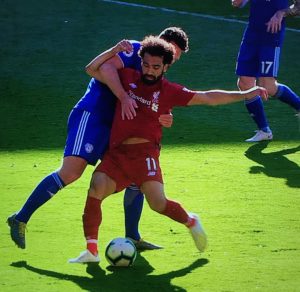 One of my first games as a semi-pro in the 1990s was in the FA Cup qualifying rounds, and I'll never forget breaking from the halfway line against the opposition's 6'3″ 15-stone centre-back, who literally hung on to my coattails the whole way; alternately holding my shorts and my shirt to slow me down. By the time I got to the edge of the area my legs were like jelly, as it felt like I'd just dragged a tractor through a bog. He walked away with the ball and nothing was given. For me that crystallised the notion that staying on your feet if you are being fouled is pointless, as it lets cheats prosper – and refs then just let them waltz off with the ball. It's just a shame with Mo Salah that there's this nasty narrative, surely in part because he's some 'dodgy foreigner'; particularly when you see how England players are treated when they clearly dive.
But Liverpool' maturity and in-game thinking – as well as special preparation – are really stood out today. And that really deserves some focus.
The second half of this article is for subscribers only. See details below for how to sign up to our respectful community and read all our paywalled articles.
[ttt-subscribe-article]