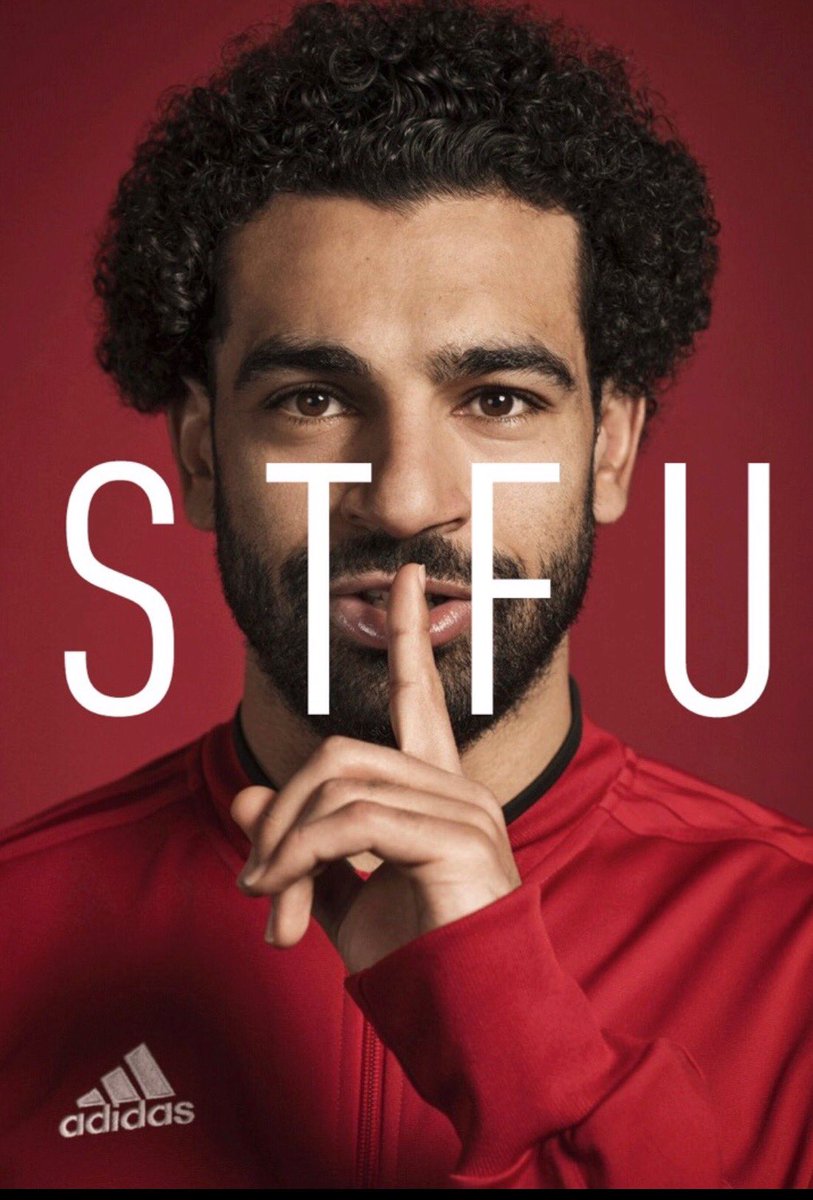 Chelsea had asked for it. Or rather, a small gaggle of inbred Chelsea fans had asked for it. And those Chelsea fans, gathered in a bar days earlier in Prague, got it, with both barrels. I'd noted on this site the other day that as soon as their fans did that I felt Chelsea had almost no chance of winning this game.
Liverpool's two muslim strikers rammed the vile stereotypes back down their ale-addled throats. Muslims 2, thick-as-shit bigots 0. There were no bombs, of course; just a second-half bombardment.
Then, the travelling thousands in the away end asked for it: singing about Steven Gerrard's slip before the game, and during the game. As the Kop, clearly riled up, ran the gamut of songs in a noisy, choral first 20 minutes – serenades for Liverpool Players, one after another, or of European travels and glories – the mood was clear. You have to wonder if some other clubs ever sing any songs about their own players?
But Chelsea had asked for it. (Salah image with STFU originally found here.)
One thing you never want to do in football is give your opponent a reason to be angry at you, and for them to feel slighted; the very reason no manager or player wants to give anything away before a game that could be pinned on the opposing dressing-room wall, hence why all pre-match talk is largely dull platitudes about how good the opposition are, to soften them up. But in Prague on Thursday, some absolutely sickeningly stupid and nasty Chelsea fans chose to film a video of themselves signing about Mo Salah – a player who left them after 18 months, not through his own choice, and who has never been disrespectful to their club – in which they basically called him a terrorist. Not only was it vile, but it was self-destructive; to use their parlance, a dumb-bomb, destined to blow up in their own prehistoric faces.
Do you really want to make Mo Salah angry days before you are due to face him? Chelsea, as a club, were forced onto the defensive, and Salah – who up to that point had looked a bit sheepish against his former clubs (scoring a brilliant goal against Roma at Anfield but, as against Chelsea in 2017/18 when he notched a more simple strike, not celebrating when scoring, and then generally looking a bit inhibited in Rome, and in two return visits to Stamford Bridge). Fuelled by smiles rather than hate, he's not the kind of player to be disrespectful to a previous club; but fans of one of those clubs claimed he was a terrorist. Liverpool had the moral high ground; Chelsea were the ones crawling on their bellies.
It was clear that the gloves were off; any goal would be celebrated with Chelsea forced to have the nasty words of a small number of fans rammed down their throats. In this instance it was a football-shaped ramming rod travelling at about 80mph. And it sealed a much-deserved victory.
Victory took Liverpool to the utterly insane rank of second in the points-after-34-games chart (85, beyond the tally racked up in all of the Reds' last title challenge with 12 points still up for grabs). The Reds rose above Chelsea's 2004/05 team, and now rank behind only last season's record-breaking Man City side; albeit City could knock the Reds down to 3rd if they win their 34th game (but their 34th and 35th games are games against their latest Champions League rivals, and away at their local rivals. They may still win them, but on paper they don't look like walkovers.)
My Late Substitution
As a late call-up to the game – I took a call just before lunch from a friend who offered a ticket (my old season ticket seat) and a lift – I downed my medication and pain killers and thought "fuck it, why not?!". It was my birthday the day before and I'd already cancelled a family get-together as I didn't feel well enough to drive. As at the end of February, when I went to the Watford game, I probably wasn't physically well enough to go, but these are special times. It's hard to say no to Jürgen Klopp's Reds.
I first went to Anfield in 1990, and got my season ticket later that decade, before health and family matters made it much harder to go, certainly on a regular basis; but I can't remember the last time I heard Anfield as noisy as this, with the "Mo Salah! Mo Salah!" chants at the beginning of his song – after his sensational goal – like nothing I've heard in years. (I wasn't at the Chelsea semi-final in 2004/05, so can only imagine how loud that was. But even then, it couldn't have been much louder than this.)
Indeed, when I got home last night I found that my ears were ringing, as they used to in my youth when I'd stand near the speakers at some ultra-loud indie-rock gig and have my insides churned by thunderous feedback. This was a game that shook all the senses.
The majority of this article is for subscribers only.
[ttt-subscribe-article]