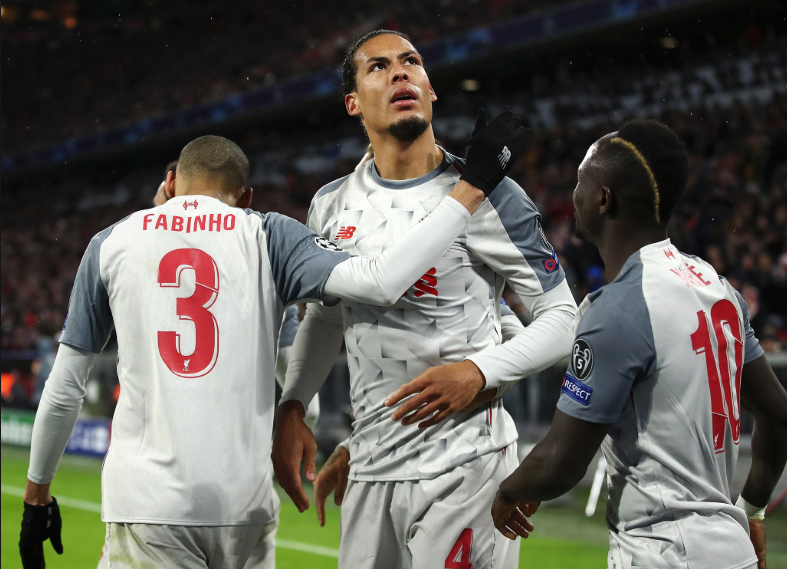 Posts selected by Chris Rowland and Daniel Rhodes.
The idea of this weekly round-up is to give you all some idea of the range of debate on the site and the articles we publish. If you'd like to be part of our troll-free community, there's a 'Subscribe' tab at the very bottom of the page.
1 – El Indio on the obstacles facing Liverpool to winning the title:
I've come to accept the reality that for Liverpool to win this title, it's already taking a Herculean effort, and there are eight more games which will take more than just normal effort. For months, we have seen some great football despite the fixture congestion, fixture difficulty, the below the par refereeing, blatant media bias, and even the disrespectful biased fan bases who relish every draw/loss for Liverpool.
This is even not even accounting for a petro-funded club that just buys players as if they were just market commodities.
While all of us have interests in Liverpool winning the title finally, and ending the 20+ year hoodoo, we can't suffer to get there.
We can't wake up everyday, and obsess about certain things because certain things will happen. Of course, who wouldn't love it to wake up magically on 12th May, and see Reds lifting the trophy.
Maybe it'll happen, maybe it won't.
If it does happen, we won't need to justify our hope for a title wait that's been going on for more than two decades.
If it doesn't there will be a shit load of mockery of Liverpool having tried for it, and ultimately 'bottled' it.
Tried honestly, and lost to a side that has used every means which constitute to a crime to cheat everyone out of the football game. They're everyone else's favourite. Why? Because they have bought their way to be currently relevant. It's like that athlete in your race who used performance enhancing drugs, and was cheered on by everyone despite knowing that he/she is cheating.
We've owners who have integrity. They are not bending rules, they are playing by the rules where everyone else is trying to circumvent them.
We are trying honestly. That's what counts. The players, the coaching staff seem like a bunch of good people. There's no player power with the likes of Real Madrid. There are no player power busts like that of Inter Milan.
We can all rest that the club we support is being managed by people who care about the club as much as we do. They also care about winning in the right fashion.
As a supporter there have been many soul crushing moments while supporting this club. But without this club, I wouldn't have learnt a lot. And if integrity was lost somewhere, it would have been too painful to even support.
We are not stopping anytime soon. We will be back at it again, next season. Till that time we must enjoy the ride.
Great summary, Paul – it really chimed with what I've been thinking lately.
2 – Allen Baynes being upbeat about the current Liverpool team and manager:
In spite of the absolute dire political scene in the UK, I feel increasingly upbeat, at least about football. I have remarked a number of times in recent weeks that I have rarely felt so confident about our team. As some will know, I have been around for some time so have an archive of LFC related stories. The archive is personal, not public, but it based on a lifetime of supporting the Reds.
We may not win the League or anything other than the fair play trophy this year but it will not change my view that we are watching one of the all time best teams to play with a Liver Bird upon their chests. We have, in my view the best GK and CB in my lifetime, yes better than Hansen and Clemence, and they were fantastic.
We have a front 3 that is as effective as anything that went before, individually we may have had better, but not as a collective. We have had great twos, Kenny and Rushie, Suarez and Studge, Sir Roger and the Saint, but we have an outstanding 3!!
We have had some of the best Managers in the country, if not Europe, but for today's world of constant media pressure could we have a better manager? I think not. Bob and Bill would not like the way the media has gone, Kenny could not control his natural distaste of the pundits, and I would be with him on that. However, JK seems to eat it up and gets energy from it. He is surely the most emotionally intelligent man in football. He is universally respected by anyone with half a football brain.
I live in Shrewsbury now and so encounter fans of all persuasions and levels of passion and I often hear, "I love your manager" and increasingly get told by people that they think we'll win the league. Only today a Wolves season ticket holder said that we were the best team he has seen this season at the Molineux. Small samples but after years of hearing ill informed garbage about all things Liverpool, I take it as a sign that the wind is turning in our favour.
Back to the team, you will see no mention of the midfield, not because it is poor but it is not yet fully formed. You wonder what Fekir may have brought, who knows? If we add to Fab and Gini, bring on Naby, get the Ox back and make judicious use of Hendo who knows what we can do, this year and in the future. However, there is still a missing piece. (Jeff will advise on who we need!!)
PS, I love Milly, we could do with keeping his head and heart but his legs need to go on someone else's pitch.
As a final point, we have a little betting syndicate going too the match and we invest, (no, give away), £3 each on some off the wall bets, a third of my stake has gone on Munich 0 – LFC 5 – did I mention that I was upbeat 🙂
3 – Hesbighesred responding to a psoted interview with Sam Allardyce:
Indidentally, what Allardyce is describing there is one of the reasons England are such a shit team. He talks about the responsibility that the manager has to the club, to its employees, that if you're relegated you lose '50% of the jobs'. Fair enough, he has a point there. But he doesn't talk about the responsibility that the clubs might have to to the fans, to the development (rather than simply payment) of the players and (and here's the kicker) to football itself.
If you look at how Germany do it – which is indeed better in just about every conceivable way when it comes to football – they take those latter responsibilities extremely seriously. It's not enough to just serve up 'not losing' football. There's a responsibility to give fans something to get behind, to develop players technically and mentally and to offer them something beyond football if that path doesn't work out for them. Most of all, the collective culture of responsibility towards football itself is huge. Germany underperforms in a few tournaments and there's a national inquest into training methods and style which leads to their FA, in conjunction with clubs and, crucially, schools and grassroots football, to try and implement a national style of play developed from evidence-based best practice.
As a result, the German league is accessible, stuffed full of gifted young German players playing for German coaches who train entertaining teams who themselves take development very seriously (to the extent that the trickle of English players will become much more of a flood when the ones already there start raving more and more about the quality of life and education both footballing and non-footballing) and who all play a part in contributing to a national team that, at least in terms of playing style, does actually represent something of the best of German football.
Germany is far from perfect – the cultural/media response to Sterling Vs Ozil speaks volumes there – but in footballing terms actually, yes, there is a fucking lot to learn.
And I think that's the most galling part. Allardyce perceives this as a culture of 'everyone saying' that 'they' do (though the idea that there is a culture in this country of 'foreigners know better' is itself so absurd as to betray a wholly insular and xenophobic mindset) things better. For him it's a personal affront – yet he's never coached or played abroad (as far as I know), never tried to absorb those lessons. Never to consider that, actually, maybe the reason why people are saying that is because other countries actually do do lots of things better than we do. What he has been happy to do, though, is be a complete hypocrite and pioneer the signing of undervalued and highly skilled foreign players with great technical ability at the expense of those English players and the English game that he cries crocodile tears about.
I mean, if you don't like the way the foreign game is, Sam, how about you stop fucking well signing foreign players? How about you show that you can develop a club using the youth that's already there? But no. That doesn't work because of his responsibility not to get the club relegated (and I'm sure it's purely a coincidence that his own wages and bonus schemes will also be entirely tied to that singular focus).
I found out a while ago that a German nickname for the English is 'inselaffe', which means 'island apes'. People like Allardyce are the reason why.
4 – Grover on Klopp's reaction to defeat in last season's Champions League final:
It is amazing to see how well Klopp, his staff and all the players responded to such a gut-wrenching CL Final last May. Klopp said it was the beginning and not the end.
Two days later Fabinho is signed, then Alisson comes in and we have gone from strength to strength since. Klopp is such an amazing leader and we are so lucky to have him.
Edit: It is also worth repeating what a tremendous decision it was to hold out for Virgil when the transfer broke down the first time. Such coherent and joined-up management. Well done to all involved.
5 – Mobykidz on destroying Bayern Munich:
Thank you Paul. What a night. A brilliant, brilliant performance. So super consistent. Looking fitter and hungrier. Klopp stuck to his game plan. And with a little luck and perseverance we could be celebrating quite a lot in Madrid come early June.
That was a dismantling of an in form Bayern. We looked dangerous from all manner of situations. And Lord on High we scored from two very different crosses. A superb and seriously professional performance. You won't see much better than that. And scarily it's a performance which matches our rhythm in the Premier League. This is a confident squad going into the run in. The credit goes to Klopp for all that mental conditioning and how consistent he is when you listen to him. He does not micromanage. Like a brilliant leader he trusts his team. In any walk of life where your self worth does not start or end on a whistle or on a balance sheet our boss is simply inspirational.
I agree that the media hype after both Manchester games was generating a lot of shit air. City less so as they are in serious form. But tonight's performance was ruthless, efficient and crushed the German Champions in their own backyard. For me the performance of the round even more so than Juventus beating Athletico (bar Ajax). Though Bayern did have a chance that's to be expected. It was our constant threat which denied Kovac the chance to flood our box. Klopp has stuck to his guns and his players delivered again, which reinforces the belief he gives them.
What is amazing is the little differences making big gains compared to last season's CL run. We recycle the ball from our back much better with Fabinho looking at home in that trio. Or how we can vary our speed of play with every player seemingly aware of their role in each scenario is a great testament to Klopp sticking to his game plan this season.
I'm not sure any team let alone a PL team would want to face us. We look the most equipped to get to a final. I do not think it will affect our chances in the PL if we stick to this game plan and see how far it takes us. Obviously the CL comes a close second in priority. But one can never discount however fanciful it may feel, of Liverpool being one of two sides who could complete a PL-CL double. The fact we're talking in these terms is testament to FSG's ambition and their own game plan.
With Ox. Gomez and Lovren all getting closer to fitness our squad is stronger coming into April and not (touch wood) ravaged by injuries. Players seem to miss less games with niggly injuries and wherever that constant little critic is of Klopp's methods has suddenly gone very quiet. Again credit Klopp and the medical staff for the physical conditioning come April. Amazing stuff.
So Fulham next. I am expecting a tricky match but when you add up our recent performances including those nil-nil draws I hope our current form makes more sense because of those scrappy games. We stuck to Klopp's game plan in each game. And whatever happens I don't expect much difference bar the odd flashes of individual genius Salah is threatening. The biggest compliment I can give this team is we are full of passion, look competitive in every game, are fitter than the opposition and are not reliant on one magic ingredient making us one of the most consistently excellent sides in European football. FFS we've lost one league game. 73 points. And QF of the CL.
I feel lucky. It's a great feeling when you know… really know… the club is in very good hands irrespective of what now happens. With a bit of good fortune we'll be holding that bit of luck aloft with two hands at Anfield… and another in Madrid with Sergio Ramos looking on. How lucky could that be 🙂 Well not that lucky if you've been watching Mr Neville!
Allez Allez Allez.
6 – Andrew posting a tweet from John Henry:
It read: "75% of the earth is covered by water.
"The other 25% is covered by Virgil van Dijk."
Articles published since last Friday:
Sunday March 10th:
Liverpool's Incredible Season Rolls On, Despite Abysmal Refereeing and Rivals' Alleged Dodginess, by Paul Tomkins.
So it was somehow then more galling when, a few minutes in, the ref allowed that copybook to be blotted by two fouls on Alisson that stopped him jumping. The Reds are now up to six set-piece goals conceded, which is still an elite number, but this one should never have stood. It's arguable that the one conceded at West Ham was also a foul on a Liverpool player, and the one Leicester scored at Anfield was in imaginary added-on time.
It's doubly ironic that these two goals – that cost four points – came after the aborted trip to Dubai, when food poisoning stopped the Reds doing the planned set-piece work that better suits warmer weather (Klopp thinking it's too cold in winter to do all the standing around it requires). In both of those games, van Dijk was arguably not well enough to be playing but one of the reasons he had to was Joe Gomez having his leg broken at Burnley.
So don't let anyone tell you Liverpool have been lucky this season. The first half of the campaign had some good fortune (and bad), but lately it's mostly been a slog against the odds and the elements. To be on course for 92 points remains a minor miracle, and yet it still might not be enough – perhaps in part due to financial rigging by City.
Monday March 11th:
Post-Match Analysis: Liverpool 4 Burnley 2, by Daniel Rhodes.
This was the Reds' highest average xG total all season, with 3.79 and beating the previous highest on the opening day of the season against West Ham. It is also the highest xG difference, with 3.35. Hammering the Hammers must be the norm, because going back to 2017/18, it was West Ham again who suffered the highest xG beating of the season once again with 3.91 (which is the highest average from one game in my records).
Four big chances in this game, which seems a little low considering all of our dominance. More so with 23 shots in total and 13 shots in the box. In fact, the shots in the box difference of 12 is the highest since we gave Man Utd a spanking and got Mournho sacked.
My Day at the Match – Burnley (H), March 10th 2019, by Chris Rowland and Tim O'Brien.
The Kop flag display is quite impressive today, and it's not the doziest atmosphere I've ever known for a midday kick-off (that might have been Fulham in November!), Still not buzzing, not like when it caught fire towards the end of the 13/14 season, but that may come for the next one against Spurs. It is I note a standing day today – the Kop remains standing throughout the game.
As for the game – well like the weather, it was a bit weird. Going behind so early, and in that manner, was definitely a shock to the system, and if that wasn't a foul on the keeper then I'm a fucking aubergine – how can referees be so consistently shite? And is it paranoid to think we get the shitty end of the whistle far too often, on the same weekend when City's crucial breakthrough goal yesterday was so clearly offside and flagged as such, yet mysteriously overturned by the ref?
We recall that it was Matip's bizarre header that led to the corner Burnley scored from, but in his defence the wind was strong and squally – we seem to have playing in bizarre conditions for weeks – Burnley away (heavy rain, heavy pitch), Leicester at home (hail and sleet, almost unplayable pitch), Everton away (wind), now this – I observe that Burnley have brought their own Pennine weather with them, the sort of wind and driving sleet that is classed as  a 'leveller'. I don't take the 'same for both sides' argument if both sides emphatically do not seek to play the same way. Adverse weather is more likely to nullify us and make it easier for the Burnleys and Evertons of this world to do what they do, with accompanying shithousery.
Tuesday March 12th:
18/19 Champions League | Last 16 2nd Leg Preview | Bayern Munich (A), by Gary Fulcher.
Since that first leg at Anfield, Bayern have recorded three consecutive wins (1-0, 5-1 and 6-0) and Kovac's side moved to the top of the Bundesliga courtesy of goal difference ahead of Borussia Dortmund (+35 to +33) following the Bavarians' 6-0 home win over Wolfsburg, with both sides having picked up 57 points from 25 matches.
If the Reds are going to progress to the quarter-finals, Liverpool will need to end a sequence of four consecutive defeats on their travels in the Champions League, having lost all three away games in the group stage this season (0-1 at Napoli, 0-2 at Belgrade and 1-2 at PSG), plus the semi-final 2nd leg in Roma last season (2-4).
Bayern's home record in the Champions League is hardly one to be intimidated by, having won two of the previous five matches (both in the group stage this season), drawn twice (1-1 with Ajax this season and 0-0 with Sevilla in last season's quarter-final 2nd leg) and lost one (1-2 against Real Madrid in the semi-final 1st leg last season).
Wednesday March 13th: 
English Football is the Best Right Now, and Liverpool are Historically Good By Paul Tomkins
To win both of the biggest trophies would be unthinkable with a squad that costs so much less than the European power elite, but it's also easy to forget how much progress has been made in such a short space of time. Jürgen Klopp inherited a mediocre Europa League side, and maybe that's being generous to the state of the team he was bequeathed; and just over three years on, it's a team that can compete for the league title whilst simultaneously facing teams as strong as PSG, Napoli and Bayern before the quarter-final stage, and able to beat them all – without any blowback (yet) on the league form.
They are three of the best 15 teams in Europe, and all are out.
But of course, as my research (outlined in some recent pieces) shows, the league games after the quarter-finals and semi-finals are where Premier League teams often drop the most points, in part due to the hectic turnaround time, and often because Big Six clashes are scheduled in between. If it ends up with either Liverpool or City drawing Man United or Spurs it might get harder still, with the battle those games would be. And what would another Liverpool vs Man City quarter-final be like?!
Whilst the further you go in the Champions League the more likely you are to see some league drop-off, it's not mandatory. That said, if the Reds had gone out I'd have taken solace from the fact that it would probably have helped with the league campaign; but beating Bayern 3-1 on their turf will have its positives, too. And for all the logic, sometimes you just have to go for the win, game after game, and see what happens. Nights like this are what football is all about.
Maybe Jürgen Klopp can magic some way to make this season even better; even if there's still the likelihood of being in a Champions League final, a title race and back in the Champions League quarter-finals within 10 months could still result in an empty trophy cabinet. But if anyone can't see the progress, and the utter brilliance of the journey, they're either blind or batshit insane.
The second half of this article is for subscribers only. See details below on how to sign up.
What a ride!
Are you telling me that winning the League Cup is better than the year we've just had, and which shows no sign of ending? To be in the hunt for the major honours, and to be playing and beating the elite of Europe, means so much more than having a couple of good games and a couple of lucky wins – maybe against lower division sides – to land a tin-pot trophy.
Should Liverpool have given all this up to focus on the League Cup?
Friday March 15th:
New Book On Liverpool FC's Rise Under Klopp 2015-2019 By Paul Tomkins
For the past several months I've been working on a new book about the staggering progress made my Liverpool football club, on and off the pitch, since 2015. Even if Liverpool end up empty-handed this season, the transformation from mid-table Europa League also-rans to Champions League and Premier League title contenders is astonishing.
In the book I cover a whole range of issues behind this resurgence. Like a reputable massage parlour I can't guarantee the happiest of endings, but I can assure an interesting and well-researched read on the developments the club has made at all levels since the final six months of Brendan Rodgers' tenure, when Liverpool won just five of their 17 league games and racked up a -11 goal difference in that time – with Klopp inherited a team lacking goals at one and and shipping like crazy at the other. The club is utterly transformed. If nothing else it will be a celebration of good football and undoubted progression seen in the past three and a half years.
While I am writing the book, I am also collaborating with Daniel Rhodes, Andrew Beasley, Graeme Riley, Terry Dolan and others on research and ideas, and both Daniel and Chris Rowland are involved in the editing and some contributions of their own, and with some exclusive content from Anthony Stanley, author of "A Banquet Without Wine: A Quarter-Century of Liverpool FC in the Premier League Era".