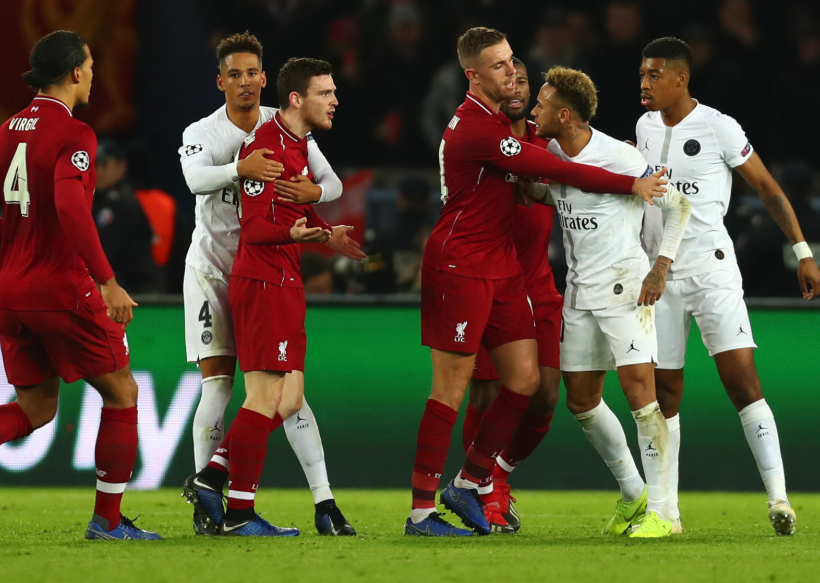 Posts selected by Chris Rowland and Daniel Rhodes.
The idea of this weekly round-up is to give you all some idea of the range of debate on the site and the articles we publish. If you'd like to be part of our troll-free community, there's a 'Subscribe' tab at the very bottom of the page.
1 – Mobykidz in praise of Andy Robertson:
I agree with all the praise Andy Robertson receives. He is an honest player who has shown Jürgen Klopp that there is a balance to be struck between substance over style. Our 2018-19 season seems to be following similar lines.
I think Robertson's development has been two-fold with our attacking play for the season of 2017-18 helping him show in particular his potential and worth after Christmas. But more than that what helped was the signing of our defensive talisman Virgil van Dijk.
I sincerely believe Andy Robertson is a fine player. But like Joe Gomez and Trent-Alexander their subsequent development playing alongside a player of van Dijk's world class quality has been untold. And this brings me to my point. Van Dijk cost £75m but his signing has helped three young players settle into Jürgen Klopp's first team, who cost under £20m combined and demonstrate how they can excel in our current team system.
Liverpool FC spent that on van Dijk not just to improve our defensive record but allow key younger players to settle and be consistently excellent. Andy Robertson has been the most consistent of those three young players over two incomplete seasons and that deserves huge credit as we have the best defensive unit in the Premier League.
My personal view is, on balance, Chelsea's Marcus Alonso is a better left-back based on his attacking play and goal scoring (though not defensively, where Robbo outscores him). But there is very little in it. If Robertson continues to assist as he did at Vicarage Road on Saturday and remains solid in his defensive duties I am more than happy to change my mind come end of this season.
This brings me to a broader point of signing pivotal players. Alisson, van Dijk and Firmino are like the central nervous system to our system of play. It strikes me to bring the best out of our talented midfield players Jürgen Klopp and the transfer team could decide to surprise us again, this time next summer, and spend on a "van Dijk" player who has a similar impact in dramatically improving his midfield colleagues. I would rather we spend £100m plus on a player like that so that the Andy Robertsons in our squad hit the next level and make that outlay look small when you consider the wider impact.
So Andy Robertson is more than just our left-back. He is proof of what happens when you put talented players alongside a world class player and coach. They develop faster. The fact we are discussing him as being, very legitimately, the best left-back in the Premier League is a testament to that.
2 – I.wilson on comparisons between Liverpool and City at the moment:
Hi Matt, I feel that the point that you are missing is that City's squad has been accumulated over most of the last decade at a cost allowing for footballing inflation of many times ours. Their players are paid so much that they have never been vulnerable to losing their best- Unlike us – Sterling, Suarez, Coutinho for example.
We have been building this team for three years – with far less money net – while losing the likes of Coutinho the bulk of the squad is new playing together and incredibly young compared to City's.
They have a team with experience winning things who last season continued to build the expectation into opponents that they would be sliced open.
Also we have had a vastly harder start. All of their cup games have been easy barring Lyon – we have played Chelsea in the middle of a tough run in our only one and have PSG and Napoli in the CL. As well as playing tougher away games and more of them.
Despite that and their ability to slice teams open (As we did to them last season 3 times) and all of their advantages we are 2 points behind. With a better defence, midfield we are in the process of building and a better attack we are re-training and re-building its confidence.
The formation is coinciding with a huge points total and few goals conceded – Gini has been excellent – Naby and Fab will no doubt get there but they aren't there yet.
Patience is key- I sadly remember Utd winning the league without ever getting near slicing teams open. But you knew they would rarely concede a goal and always get one by the end of Fergie time.
Newcastle were going to win a league by slicing teams up. Not as successful a route as learning to be reliably patient and believing you will get the result.
It will be tough they were record breakers last year and have improved. But that I can see us taking it to the end of the season is  incredible given that they were 25 points ahead last season – SO should be 8 points ahead by now. Huge improvement – that they and their fans spend so much time talking about us I a sign of that.
3 – DavidW responding to John Toshack's comments that Klopp needs to win a trophy this season:
Reputation (and narrative) tends to lag somewhat behind reality, and the lazy pundit/journo will always bank on reputation as it is part of the received or conventional wisdom that prevails. To overthrow this requires "revisionism", and that takes some effort and bravery – firstly to actually analyse the current facts and secondly revisionists face the derision of their peers in the first instance. So, I expect these sheep to continue to parade the "dodgy defence"," spent more than anyone", "need to win a trophy" arguments for a least a few seasons after we win everything, and they will still tip United for the league/top four for another couple of seasons even though the more enlightened could see they were a spent force last season.
Ex players tend to be the worst as the nature of football became frozen in time the day they stopped playing and they will always measure today in terms of a version of reality sometimes decades old – any form of revisionism is beyond them as it will erase their relevance from the debate.
4 – Tattva on this season's Champions League, and the PSG match:
This year's CL was always going to be an anti-climax for me. 2018/19 was such a wonderful, exhilarating exhibition of football to the final, Liverpool could surely never deliver again. Back to back finals are like defending the title, very hard to do.
So when the competition started this year with such a tough group, it was almost an albatross to me. Then our league form presented almost more points and clean sheets than ever before, but without the lightening breaks and confident interplay, the joy had almost gone from winning too. It all seemed so hard. Cheer up, we're second in the league and unbeaten!
I missed the game and only got updates at half and full time. I sighed, only a little. But when I read the reports and all though TTT I couldn't get over the referee accusations and the play acting. Coupled with our own underperformance it seemed a dreadful night.
Have Your Say on BBC Salford was full of anti-Liverpool posts; whinging Scousers, always the victim, repeated mentions of throwing objects at City's bus last year (almost oblivious to the fact City fans have done the same recently). I sighed a little more.
Luckily my circle of friends aren't so idiotically wired so all this abuse can be dealt with by not reading anymore.
My football carrier offers sub three minute highlights, 20+ minute highlights and the full game and post match chat. I opened with the entré.
No contentious points until we see Di Maria's new long jump action and then at the end, Neymar's rainbow flick, which actually got him nowhere, and left the commentator joyfully claiming Neymar was God's gift to football trying this move at this stage of a CL game. Three minutes into five of injury time when you're leading 2-1 and bearing down on the opposition goal, is that daring? Twat.
The footage was stopped pretty much after Neymar received a WWF attack from Shaqiri breaking his nose and cheekbones but still having enough wherewithal to raise his arm to alert the ref to look at me, look at me I've been brutally attacked.
I haven't ventured any further. I have better things to do today than get riled by something I can't change. The football authorities don't wish to acknowledge a flawed product, they'd not acknowledge that nice holiday home either!
But with it all seeming so obvious, how can it continue? In such a high profile game surely it is there for the world to see.
The celebrity element PSG have rankles a little too, Di Caprio, Jagger in the crowd, and Khabib Nurmagomedov was personally invited there for last night's game. Other guests have included JZ, Beyonce, Michael Jordan, the Hadid sisters (are they models?), Naomi Campbell, Rhianna, one or more of the Kardashians and Lenny Fuckin' Kravitz. All. Fuckin. Show. Add the showboating and the idiotic chest bump (do kids even do that anymore?), it points towards all things shallow. It's a loathsome situation.
Ignoring the cliche, I would quite happily concentrate on the league. It's been so long now, it pains me. To be able to take on the EPL's finest along with the having to beat the more agricultural teams as they fight for survival on their own cloggy turf in midweek means more to me this season than the CL.
Articles published on the site this week, and samples from them:
Saturday November 24th:
Van Dijk Bullies The League's Biggest Bully To Help Reds Batter Watford,by Paul Tomkins.
In fairness, Liverpool never looked in trouble at Vicarage Road today, controlling the game and forcing three good saves from Ben Foster in the first half, before turning the screw after half-time. But boy, have you ever seen a brick shithouse of a centre-forward so absolutely owned by a centre-back? Whereas Martin Skrtel squealed around the bullying Troy Deeney, Deeney admitted he more or less cowers around van Dijk. Today he tried but couldn't get close to the Reds' vice vice-captain, who just oozed world-class quality.

And Liverpool continue with an absolutely amazing start to the season, even increasing the lead when down to ten men.

And that was one of the best centre-back displays I've seen in years, especially as van Dijk got even better after Jordan Henderson was sent off for a silly second bookable offence, even if his first should have been a free-kick for the initial foul on him, and Isaac Success was diving any time Henderson went near him.

No wonder Jürgen Klopp hugged and kissed van Dijk at the full-time whistle. What a pair of leaders Liverpool have there. And in fairness, Henderson often is too, but today he let himself down – not on the initial booking but in making a foul when the ref was already close to sending him off. Still, maybe it stopped a breakaway Watford goal – we'll never know. The only cost is that he misses the Merseyside derby.
Tuesday November 27th:
18/19 Champions League Preview | Matchday 5 | PSG (A),by Gary Fulcher.
Both sides have poor overall form in the Champions League with PSG's 6-1 rout of Red Star their only win in their last seven Champions League games dating back to last season's competition, while Liverpool's two defeats away from Anfield in this season's competition, means we've lost our last three away fixtures including the 2nd leg defeat to Roma last season (four if you count the Champions League final as 'away') and have recorded just five wins from our last 21 on our travels.
The Group's Most Interesting Game So Far: Tactical Preview of PSG v Liverpool F.C.,by Benjamin Magnusson.
You could argue that Neymar's high positioning was a tactical decision from Tuchel, as Liverpool could be punished from over-committing and thereby leaving space for Neymar during PSG's attacking transitions – similar to what Chelsea did with Hazard. However, as Neymar would occasionally track back and defend this area, it was very hard to see a clear pattern. Therefore, it makes sense to assume that his positioning was a direct result of his inability to follow Tuchel's tactical instructions. This idea seems even more likely when one considers Tuchel's comments after the Napoli game, which ended in a 2-2 draw:

"At this top level, we must not lose our structure. We must not give away such simple balls. We need to improve structurally, but also mentally. Without compactness, there is no intensity." – Tuchel.

Tuchel also admitted that it was hard for his players to follow the match plan for a whole half. This was further backed up by Thomas Meunier who said that PSG "did not really follow Tuchel's instructions."

As such, the high positioning of Neymar and Mbappe looks more and more like a structural mistake from these players than from Tuchel himself. However, their positioning still created a problem for Liverpool due to their attacking threat. This threat was bypassed by clever positional rotations from Liverpool, which enabled them to protect the wide spaces during PSG's attacking transitions.
My Day at the Matches – Part 1, Watford (A), Nov. 24th 2018, by Paddy Smith.
The 2nd half starts and you can feel the growing tension amidst us. Then Mo does what he does and the place goes bananas! It felt like a really important kind of goal, a cup winning goal, a last minute, derby-winning type of goal, a keeps-us-in-the-hunt-for-a-league-championship type of goal. I'm not sure about the players but in the away support I felt a belief, a belief I've not felt for a long time, a belief we've got a chance, a proper chance with a proper team that we can win the league. It was there that day long ago on the crumbling terrace because that was what we'd always believed, we were the best and it's taken a long, long time to come back, even under Rafa it felt like we were always underdogs, fighting with one hand tied behind incompetent owners' backs. It didn't feel like that this time, this feels real, a proper club once again.
Wednesday November 28th:
Hail The Cube! TTT Player of the Month for November 2018: Xherdan Shaqiri,by Andrew Beasley.
It's interesting to look at Shaqiri's headline stats during the last month or so. Two goals, both against teams who were in the Championship last season, and that's your lot. Hardly feels like it merits a whole article, does it? Yet it has felt he has been involved in the majority of Liverpool's best moments during this spell too.

This feeling is borne out by Liverpool's performances this season when the former Stoke man has been on the pitch alongside all three of Liverpool's swashbuckling musketeers up front. It may be premature to herald the arrival of a new fab four, but Liverpool have scored every 28 minutes when Firmino, Mané, Salah and Shaqiri have been on the pitch together, winning all five matches where that is the case. That's a better record on both goals and wins than when Coutinho was in the gang last season.

In the four league matches covered by this article, Liverpool have had a total of 13 clear-cut chances, or one every 28 minutes. Three of the seven which have occurred whilst Shaqiri has been on the pitch have either been created or taken by the Swiss powercube. It's figures like this which have him near the top of the club's chart for clear-cut chance involvement this season.
Friday 30th November: 
"Liverpool Aren't Very Good" by Paul Tomkins
Liverpool are virtually keeping pace with "the greatest team of all time" (part sarcasm on my part, but also partly true; City are pretty fucking awesome, and breaking all kinds of records, it has to be said, although they dropped points versus Wolves and allowed lowly West Ham a ton of chances. And against Lyon – far weaker than PSG – they have lost and drawn. So they're not perfect either…).

Statistically, Liverpool being unconvincing in the Premier League is bullshit. In pretty much every way you can analyse football, the statement is provable bullshit. As such, I thought I'd throw out a rare free piece these days to just counter a lame statement.

While Liverpool's attacking play hasn't been as fast and fearless as at high points last season – and remember, comparing to last season's high points alone is a kind of selective bias – does that mean the Reds have been "unconvincing"? I haven't been as "wowed" by the front three as at times last season, but the team is not just its front three. And at times last season the front three wasn't on fire, either.

Isn't great defending whilst creating more chances than the opposition at the other end actually quite convincing? In the xG (expected goals) league table, Liverpool are still 2nd, with an impressive record; deservedly 2nd. This is not like Man United last year, who posted average numbers – something worthy of several positions below their actual league standing – but had a great goalkeeper who rescued them time and again beyond a sustainable level. By contrast, Liverpool now have a wonderful keeper too, but he rarely has more than one save to make per match in the league.

Liverpool have conceded just five league goals this season, a club record, and have a points tally that is the club's Premier League record.