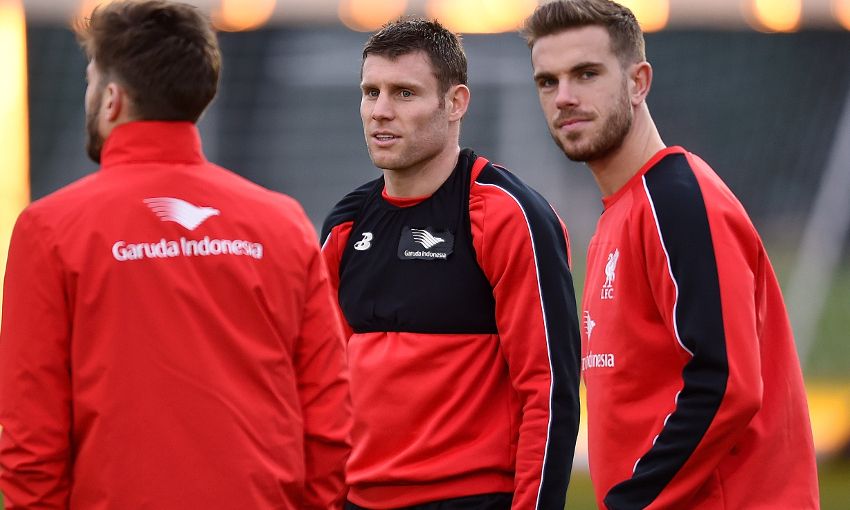 "Perhaps Liverpool are the second-best team in the Premier League at the moment but that does not mean they are very good. So far in the league they have been unbeaten and unconvincing."
Utter guff in today's Guardian, albeit from one of their writers with a strong Man United bias. (Which is fine if on a Man United site, but maybe tone it down a little in the "neutral" press?)
What does "unbeaten and unconvincing" mean? Isn't it almost a contradiction in terms?
Liverpool are virtually keeping pace with "the greatest team of all time" (part sarcasm on my part, but also partly true; City are pretty fucking awesome, and breaking all kinds of records, it has to be said, although they dropped points versus Wolves and allowed lowly West Ham a ton of chances. And against Lyon – far weaker than PSG – they have lost and drawn. So they're not perfect either…).
Statistically, Liverpool being unconvincing in the Premier League is bullshit. In pretty much every way you can analyse football, the statement is provable bullshit. As such, I thought I'd throw out a rare free piece these days to just counter a lame statement.
While Liverpool's attacking play hasn't been as fast and fearless as at high points last season – and remember, comparing to last season's high points alone is a kind of selective bias – does that mean the Reds have been "unconvincing"? I haven't been as "wowed" by the front three as at times last season, but the team is not just its front three. And at times last season the front three wasn't on fire, either.
Isn't great defending whilst creating more chances than the opposition at the other end actually quite convincing? In the xG (expected goals) league table, Liverpool are still 2nd, with an impressive record; deservedly 2nd. This is not like Man United last year, who posted average numbers – something worthy of several positions below their actual league standing – but had a great goalkeeper who rescued them time and again beyond a sustainable level. By contrast, Liverpool now have a wonderful keeper too, but he rarely has more than one save to make per match in the league.
Liverpool have conceded just five league goals this season, a club record, and have a points tally that is the club's Premier League record.
Just because it's not been achieved with the attacking elan of Man City – whose team costs twice as much (when adjusted for football inflation; all that expensive attacking talent!) – does not make it unconvincing. And remember, Liverpool have already gone away to three of the Big Six (as have City, but no one else; Chelsea, Spurs and Arsenal have had most of theirs at home. You have to account for fixture difficulty in any fair assessment).
The occasional stuttering league performance is to be expected; you won't be brilliant in 13 games out of 13, especially on the back of international breaks and midweek European aways. But even at, say, Watford, the Reds still merited a clear win on xG terms. (By pretty much the exact same xG margin as the Reds deservedly lost in Paris. But PSG's front line cost more than the entire Liverpool team.)
So far this season the Reds have gone away to five of the top 13 teams in Europe (and the Reds themselves are one of those 13, so it's five of the twelve remaining teams); three in the Premier League, and two in the Champions League. No other English club has faced such tough games.
Liverpool's away performances in Europe have been poor, without question, but two were at Napoli and PSG; and yet how does that seep into the league perceptions, other than through some kind of lame bias? And the Red Star game was largely lost due to poor finishing, given the chances created.
Indeed, Liverpool's results when weighted for the quality and form of opposition in the league actually has them top of the table (the American-style Ratings Performance Index, although Terry Dolan's site is currently listed as down; there's a screenshot from earlier in the week below). City have two more points in the actual league, but from slightly easier fixtures. The whole point is to weight fixtures vs opposition form.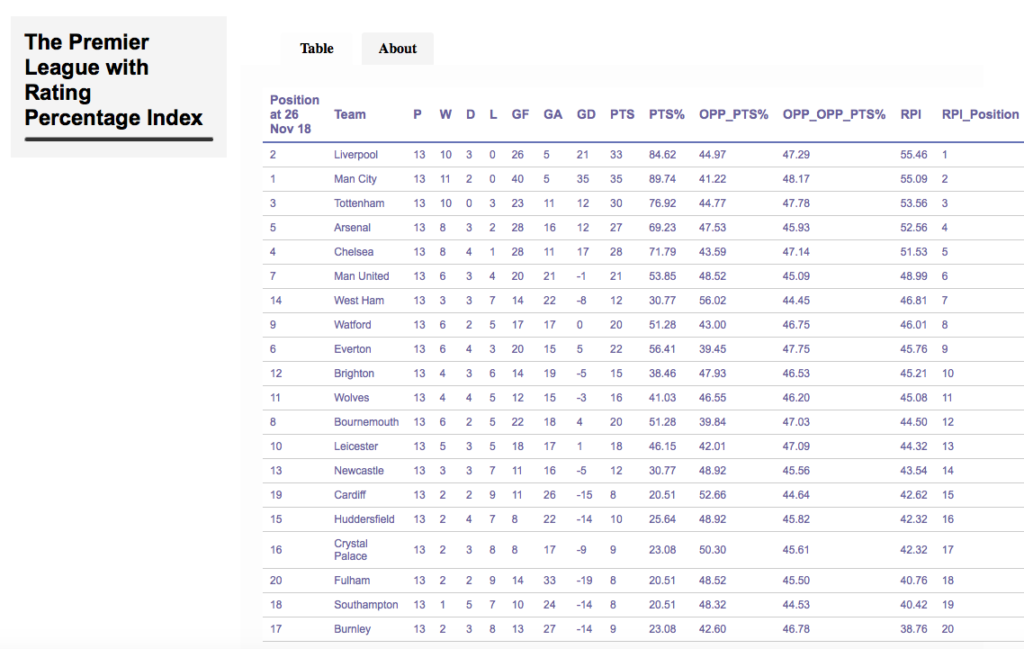 We have used this established American system on TTT for three seasons now, thanks to Tim O'Brien and Terry Dolan, and it's a pretty good indicator of final league positions – not perfect, but a better indicator than the league table of this time of the season. (City have also had six away games in the league so far, to Liverpool's seven.)
Does that mean Liverpool will therefore win the league? No. Because City are sensational a lot of the time. But you can't call Liverpool unconvincing because of City's standards. Liverpool have to conserve more energy, as they simply don't have the luxury of a £1bn squad when all fees are adjusted for 2018 money. Adjusted for inflation, Liverpool have a £300m team; the Manchester clubs between £600m-£700m.
I don't think any team with this kind of budget has had a better start to the season; certainly not in recent times (Leicester was a much lower budget, but they had far fewer points at this stage). Liverpool are the 4th-costliest team and squad in the league using Transfer Price Index inflation, at roughly half the cost of the Manchester clubs. Liverpool have the 4th-highest wage bill. And yet, by metrics such as xG, RPI and Packing (for and against), they are deservedly right up at the top or in 2nd place.
(Re Packing from that Anfield Index article, which shows that Liverpool's midfield is not being overrun: "What does this indicate? Well, it shows us that Liverpool are strong in both categories [for and against] when it comes to bypassing opponents, whereas Man City and Chelsea are only strong with the ball.")
So Liverpool are doing a ton of good things in the league. It's not a fluke. This is indeed an excellent side.
All the while, Liverpool rank near the bottom of the table – for the third season under Jürgen Klopp – for penalties won, and for penalties won versus those conceded. Liverpool still have a massively positive goal difference, yet in the league at least, penalties do not come their way; especially at Anfield, where it's now just one in the league in over 18 months (and one overall in the league this season, on the opening week – almost the exact same pattern as last season). A less-attacking team like Man United has five league penalties already this season. Brighton and Bournemouth tend to get four times as many penalties as Liverpool these days.
I've said for years that a club on Liverpool's budget cannot carry a dual league and a Champions League assault. It just doesn't happen. In great detail I've proven in the past that statistically, reaching the Champions League final takes 7-11 points off teams on a similar budget (Liverpool and Arsenal, a combined four times) when compared against the point tallies of the season before and after; and even takes a bit off those teams with double the budget (Man United and Chelsea). Liverpool were also in an extra-tough Champions League group this season because they were only in pot three. Playing in a tough Champions League group has to sap some energy in league performances. We all know that players cannot sustain the same intensity every 3-4 days. It's probably even harder in a tough physical league like ours, where teams can't afford to rest big players like they can in a certain farmer's league south of the Channel.
This fitness information is basic football knowledge now. And Liverpool haven't spent as much on squad players as other big clubs. (Just to add: recently, both Leicester and Chelsea won the league with no European games at all; while Liverpool's best recent title challenge, in 2013/14, also came without European football.)
Also, while other clubs have had their injury problems, nothing seems to get mentioned about Alex Oxlade-Chamberlain who, like Andy Robertson, took 4-5 months to settle (like Fabinho, Shaqiri and Naby Keita), but who then offered searing pace and directness from midfield to help propel the Reds forward after what had been fairly average league form for the club in the early months.
Ox was unique in Liverpool's squad in that sense; and while Keita can offer some of that bursting from midfield, he's also adapting (and overcoming injury), just as Ox was last season. Almost half of all Klopp's signings are "under-used" early on because he is working with them on settling in, getting them to adjust to the system and the pressing style.
Liverpool are not pressing as hard as in the past, certainly in the final third; but actually lead the way in midfield pressing, according to this TTT article by respected football analyst Will Gurpinar-Morgan:
"The [Reds'] midfield zone is as strong as ever in terms of pass disruption and leads the league this year by a wide margin"
Again, Liverpool's midfield is not being overrun. (In the league, at least.)
In the last six months Liverpool have been battling clubs who are financially doping and who, in some cases, were probably literally doping (as well as some of the worst diving you'll ever see). City have an incredible manager and play incredible football; just as PSG have some incredible talent, but were allowed to bend the rules beyond acceptable limits this week, in a sport that Der Spiegel is showing to be increasingly corrupted by money. (Money can buy Qatar World Cup – can it buy them a mere referee?)
With that said, if Liverpool go out of the Champions League there can be no complaints, either, based on the away performances so far. But that's in Europe, where Liverpool have been a big scalp for opponents this season, after last season's heroics. Even Red Star was a bear pit, with the fans' noise amplified by loud speakers according to the TTTers who were there.
Liverpool are far from perfect, but by all metrics, "unconvincing" in the league is a total misnomer.
Or bullshit, if you want to be blunt about it.