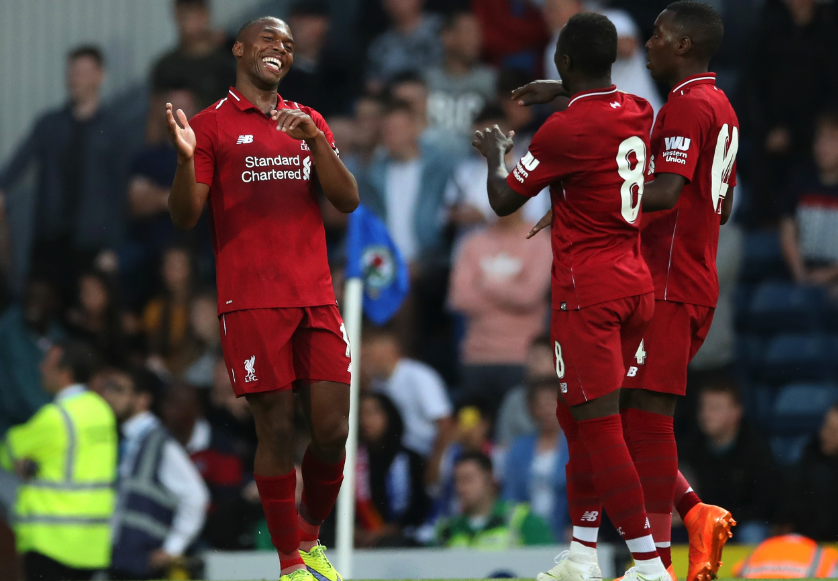 Posts selected by Chris Rowland and Daniel Rhodes.
The idea of this round-up is to give you all some idea of the range of debate on the site. If you'd like to be part of our troll-free community, there's a 'Subscribe' tab at the very bottom of the page.
1 – Chris Rowland responding to Andrew Beasley's observation that Man City have only won twice at Anfield since 1956, and are thus probably due one:
That's more a reflection of the fact that City haven't been very good, or even in the top flight, for most of that time, apart from a brief spell of pre-eminence in the late 60s when they won the league and an FA Cup. It's only in the last few years that they've become significant opposition, though even then their record at Anfield is surprisingly awful. So they are due one in that sense, but that doesn't mean it will be this Sunday. Liverpool are better than we were when we beat them twice at Anfield last season.
2 – Paul Tomkins posting on Benjamin Magnusson's debut article assessing the tactics of the Chelsea-Liverpool match:
A big thank you to Benjamin for this piece – always a lovely feeling when someone emerges from the shadows on TTT and offers something like this! One of the sadnesses of TTT is how some great people leave, but sometimes it's to go on to work in the media or at clubs, while one fairly regular commenter recently quit the site because he was spending too much time on here and it was too addictive!
Just like a football club, we need new people coming through as well.
As for Chelsea, they were champions in 2017. Sarri had a massive squad to choose from, including those out on loan and what has been an incredible success story at youth level (paid for by Roman's billions). They also added two excellent midfielders with big pedigrees, and clearly it's clicked together well initially. But they're an ageing side.
As of match week 3 their average age was 28.4, which is extremely high for the PL, and ranked 4th, behind Watford, Burnley and Cardiff. A long season with a side that old could be interesting – by contrast, our average age was around 25.6 after game 3, and that ranks as the PL's third youngest, behind Leicester and Huddersfield. (Spurs now rank as the 8th youngest.)
I think both sides have been using mostly the same players so I imagine the average ages remain similar four games on.
Giroud is 32, Azpilicueta 29, Willian 30, Pedro 31, Fabregas is 31, Luiz is 31, and a few of the other regular or semi-regular starters are 27 (Hazard, Alonso, Kante, Moses). So they will have to transition soon. Of course, they have the disruption of the Europa League but can afford to leave players at home, and those aged 27 are no worry yet – but there's a lack of youngsters to balance out the older ones.
Also, a bit like Arsenal, perhaps their underlying numbers aren't as good as the results have seemed. And for this game, Chelsea were home and yet underdogs, which had to free them up. That said, you have to applaud Sarri for changing the style so rapidly, but these are pretty much all experienced players used to playing in expansive teams (with club and country) before joining Chelsea. We're talking Spaniards, Brazilians, Frenchmen, etc. Also, their £XI is £100m more than ours – even though their spending has slowed lately.
Interestingly, on both the Times' podcast and also the Independent's, neutrals said that they thought Liverpool were the better team and probably deserved the win, having worked a greater number of better positions (which I guess shows up in the non-shot xG).
3 – Grahamg responding to news of a Take That concert at Anfield next summer and in the process letting loose another TTT Take That-related pun tirade!:
I'm not a fan of this. Non-sporting activity can ruin a football pitch really quickly… it only takes a minute.
4 – Jeff on how injuries impact players:
To me injuries are a reality and have negatively impacted any number of players. I had the good fortune to see Rob Jones play for Liverpool before injuries in the first instance derailed his career and in the second instance ended his career. I have no doubt in my mind that if he had stayed healthy, he would easily have been one of the top 10 or 15 Liverpool players of the modern era. To me Daniel Sturridge is another lad whose career has been negatively impacted by injuries. To me he is not only a natural goal scorer but he is also the most technically gifted English forward of his generation. To me the goal he scored against Chelsea shows what we have missed due to his injury problems and what we will get if he has the good fortune to stay injury free. To me one of the tasks confronting Klopp and Liverpool's coaches is how to mange Sturridge's fitness and time on the pitch this season. I might add that I would not fall over shocked to see him as the season progresses to play a larger and larger role on the pitch if he can avoid injuries and I think there is a real possibility that he might well pair with Firmino in much the same manner Firmino paired with Volland all those years ago.
In every match I watch I see full backs seemingly caught out of position because in today's game they are being asked to provide width in attacks and at the same time to defend against wide attacks which means they have to get their reading of the match spot on. On this point, TAA has grown by leaps and bounds since the beginning of last season but he is still a young lad who will make mistakes. I might add that Andy Robertson makes very few mistakes but as with every player I have ever seen he will made the odd mistake. To me Liverpool are flat out lucky to have them as the club's full backs and I can live with their odd mistake because they will help Liverpool win far more matches this season than they cost the club in lost points. Simply put, I do not expect perfection but I do expect the mistakes to be minimal and I am confident they will be minimal.
 5 – Klopp's pre-match comments:
Klopp's press conference notes:
Keita might train, needs to see doctor. Not decision yet.
We don't save lives, we don't plant anything or create anything. We only play football. The most important job of football is to entertain people.
Doesn't make too much sense to think about the title, and all games are tough against Man City who were excellent even when we beat them twice. We had to score exceptional goals in all the games.
Sometimes teams can lose focus, but that hasn't happened to City at all. Not one bit.
Timing of defence not good, nor did we adapt to Napoli. Again with the ball the timing was not good, even not under pressure – as well as poor decisions going forward, choosing the wrong space or side of the pitch.
You don't lose it overnight. We have to start again. And my faith in the team is so big. We want to show a reaction.
Milner matched my expectations when I arrived, and I hope he learnt a lot when he played left-back because of the different angle on the pitch. I knew he could do it, or else I wouldn't have asked him.
We've played against very demanding team in the last few weeks, and we have to play the players in all these games for the defensive organisation they have together. This is the last of these tests. They performed in all of these games, apart from Napoli. We didn't react. It wasn't a high quality game.
We've won our last three games against Man City. But we didn't come back and think "now we know how to beat them" because we don't. Sometimes it works, and others not. We need luck at times. If you work hard, you earn it, you deserve it. You have to create your own moments, but no certainty.
Pep says his side are better this season. They are outstanding and play brilliant football but I can't say if they are better now than last time we played.
No more injury issues.
Salah set a new standard last season, but he's doing exactly what we expect of him. Each striker could write a book about scoring goals and how to do it, but they don't really understand it. Nor do I. If I win I know everything about football, if I lose three in a row I know nothing. Neither is true. I am completely relaxed about Mo. Normal situation. Nothing to worry about…
Articles published on the site this week:
Sunday September 30th:
Jürgen Klopp Is So Demoralising, by Paul Tomkins.
Monday October 1st:
Specialism, Marginal Gains, the Ministry of Nudge and an Apology to Extinct Dinosaurs,by El Indio.
My Day at the Match – Mainz v Wolfsburg Edition!,by Kris Patterson.
Tuesday October 2nd:
18/19 Champions League Preview | Matchday 2 | Napoli (A), by Gary Fulcher.
Chelsea 1 Liverpool 1 – Analysis of a Tactical Masterpiece, by Benjamin Magnusson.
Wednesday October 3rd:
Liverpool and Manchester City: Closer Together Than Last Season's Table Suggests?, by Andrew Beasley.