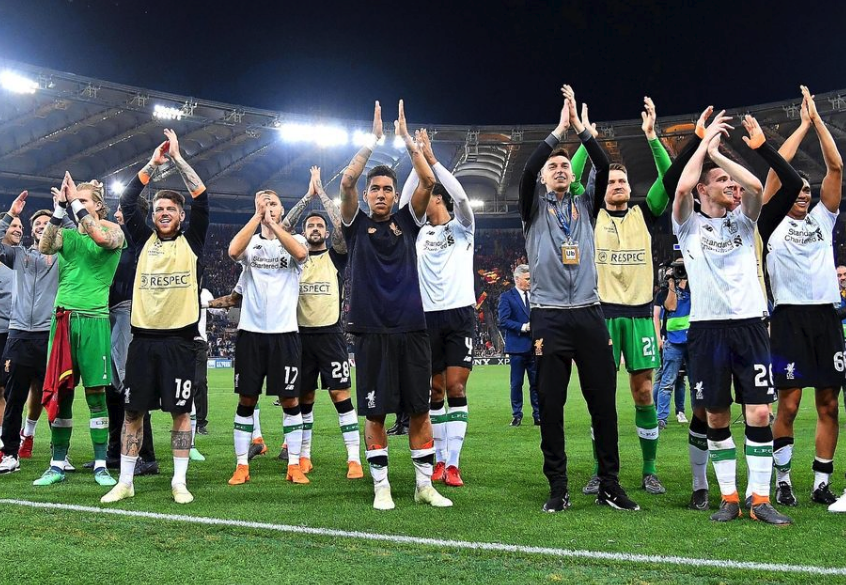 This week's posts selected by Chris Rowland and Daniel Rhodes.
The idea of this round-up is to give you some idea of the range of debate on the site and the type of articles published. If you'd like to be part of our troll-free community, there's a 'Subscribe' tab at the very bottom of the page. 
1 – Leifur Geir reacting to the news that Klopp's assistant manager Zeljko Buvac has taken time away from the club 'for personal reasons':
The human brain apparently dedicates many times more neurons and nodes to detecting threats than finding food, let alone enjoying pleasantries. The obvious reason is that it's much more beneficial to us as a species to detect potential threats, and do it as early as possible, so that we can maximize our chances of survival.
This threat-detecting-mechanism is activated automatically, easily and extremely quickly. Therefore, in ambiguous situations such as this one, with Buvac temporarily leaving and us not knowing what's really going on, we tend to gravitate towards the more threatening (and negative) explanations. In this case, the threat is that there was a serious bust-up between Klopp and Buvac, that Buvac has in fact been terminated, that this will have negative consequences in the semi-final or final of the CL and in the remaining games in the PL, ruining one of the most promising seasons of this century.
Normal reaction, but not very helpful. Not to us as (already over-anxious) individuals, TTT as a society or to LFC as a global family. The thing is that negative (over)reaction at this point will only amplify negativity, anxiety, uncertainty and fear. All emotional states that inhibit the instinctive, aggressive, free-flowing decision making our brand of football needs and our players need to be protected from.
I firmly believe that the emotional state of fans will find a way to affect the players positively or negatively. Not only the fans who are on the pitch during the game but all of us around the world. Our thinking, conversations, tweets, writing on message boards can and will influence journalists, the occasional player (or friend of a player) and somehow, in some small capacity contribute a tiny bit of doubt somewhere close to the club, where it can have real and negative consequences. We don't need that at this point in time.
Now is the time to be strong. To pull together. To not let negativity, anxiety, fear or doubt sink in. We choose what we believe, what explanations we adopt. I choose to believe that Buvac's absence is caused by something personal and serious, and what we're seeing here is another example of Klopp's brilliant leadership, where he demonstrates his unwavering commitment to prioritizing family first, even though the club stands on the threshold of a huge achievement. I choose to believe that this, in turn, will pull the team together, increase their commitment to the cause and their belief in Klopp's leadership and that this will enhance our chances of getting to the final and clinching CL next season by holding Chelsea to a draw.
I challenge you, members of TTT, to do the same. Choose the most positive explanation available. Let's use our voice to point out the alternative, positive explanations for the situation at hand, and not spread fear and negativity, at least while we don't know more about the matter.
Let us make TTT be the voice of hope and reason, as it so often is. Let's use our voice to make the best of this unfortunate situation and through our collective thinking, speaking and writing maximize Liverpool's chances of finishing the season with a sixth CL trophy and double qualification for next years CL.
Because that's our duty as proud supporters of this great club.
2 – Al looking ahead to the Roma match on Wednesday night:
I think we can overemphasis the scoreline aspect of this. It's tempting to start imagining score lines and situations;  when the first goal might go in, what's the score gonna be at half time, will Roma need two goals with ten minutes to go; i.e. the usual stuff we start to consider as fans. But, for a moment, focus on what we've already witnessed. Focus on the number of quality opportunities Roma actually created against us? Hard right? The Kolarov strike in the first half? Yeah, that was good. It was also a pot shot from 30 yards. That was Roma at their best, when they 'controlled' the game. It's not exactly a barrage is it? They only really became a threat once Salah went off and our boys were knackered. But guess what? Salah starts on Wednesday night and he plays for at least 70. Roma won't have what they had for the last 20 against us for an entire half. It's not happening. It doesn't fit with what we've seen. It's the just rules they have to play with now. That's the bed they made for themselves.
But maybe you want to be a little more generous to Roma. Okay. After all they'll be the home team and there's an advantage in this. Liverpool surely can't expect to have such overwhelming success passing long balls down the channels two matches in a row? Eden Dzeko will get chances with his head, he might even have a few penalty shouts. There was that first half at the Etihad. I can confirm we did concede in the first 2 minutes against City. We then proceeded not to for the next 43. Last week, we unleashed hellfire for 15 solid minutes on them but it still took two WORLD CLASS finishes by Salah for us make our dominance count. Scoring goals in semi finals, it's hard.
They can change formations, they can change tactics, they can go to the long ball or whatever but for Roma to go through, it basically requires for them to be as dominant as we were at home whilst improving defensively to such an overwhelming degree that you'd think we're watching a different team. Think about that. A side that failed to control a Liverpool attack to basically become defensive masters in the space of a week? That's quite the turnaround. p.s. I hear on the grapevine they haven't conceded at home in the champions league this season. Great. They haven't played us yet. Roma surprised Liverpool early with their 343 formation last week before Liverpool eventually cracked it and all hell broke loose for them. So now they have the choice to either go back to the 433 they've played for most of the season, the formation Liverpool prepared to face in the first leg or the 3 at the back they played last week. Yes they stopped Messi and co with 343 in the previous round and then they tried it against us and for twenty minutes it worked. Then it didn't. Then all hell broke loose. But regardless of the formation, they're playing a high line (they have to) and they're going to concede chances (it's inevitable). That's not the Liverpool fan in me speaking, that's anyone who watched the first leg and saw what our attack did to them. Believe or not but they know, deep down, Liverpool will have to be wasteful beyond belief for them to have a chance of going through. The wasteful Liverpool. The Liverpool who are top scorers in this competition. The Liverpool who've scored in every away game they've played in the competition. It's not impossible but don't think for one moment we won't have quality opportunities to put this tie to bed. Have more respect for what we do to teams. And that's the real advantage Liverpool have, not the scoreline but the damage they do regardless of where we play.
3 – DavidW responding to a newspaper article critical of the club for its part in the poverty and decline of the Anfield and Walton areas:
As someone who is from Anfield, and still owns property near the stadium, I can tell you that this article is churning some very loose stats and assumptions into a vague finger-pointing argument at LFC.
From the 70's right through to the current decade, Liverpool was a city in decline. From a work perspective the city was a one-tick-pony, the docks. My Grandfather was a stevedore, he and his gangs used to man-handle cargo off ships. The docks employed tens of thousands of people, and the industries that supported them tens of thousands more. The end of Imperial Preference saw the commercial traffic arriving at the port dwindle and containerisation put paid to it all. Two men can now do in a day what would have taken 30 men a week. Thatcher's policies of "just leaving it to fall" rubbed salt into the wounds – hence why she is so popular in these parts. Poverty in the city, and Anfield, is not the responsibility of LFC.
The housing stock around the ground is not fit for purpose. Most of it is Victorian era housing of the two-up-two-down style. No bathrooms or separate kitchens, a toilet in the yard was the only amenity. Many where "extended"  in the 60's and 70's using the yard (3m x 2.5m) to build a small extension to accommodate a small bathroom and kitchen. From the 90's on people who had any choice didn't want to live in them – fleeing to "Barrrat Boxes" in the outskirts and suburbs that even if cheap and nasty, offered some taste of 20th Century living and often a small garden too. I haven't had a tenant with a job in Anfield since 1995.
For as long as I can remember the club has bought houses near the stadium, it did so in order to build what is now the Kenny Dalglish Stand and it had to do so with no assistance from the council. (That stand was delayed for many years as one family in one house refused to sell.)
At the turn of the century the council started working with club forming the Anfield Regeneration Project. This started before Hicks and Gillett took over the club as there has been ambitions to redevelop or rebuild the stadium for a long time before they arrived. Their plans were hugely ambitious; they intended to basically buy up and knock everything down from the stadium to Sleepers Hill, so as well as the club, the council started to buy up houses and ultimately planned to use compulsory purchase orders to finish off the job. This effectively destroyed any market for these houses and created an area where nobody wanted to live, with houses that nobody wanted to live in.
The credit crunch put paid to the grand ambition of the scheme and the slashing of central government funding to councils burried it. The houses the club bought have been knocked down to make space for the Stadium and the open spaces – with some areas handed over to housing associations for new builds. However further afield the council was left with hundreds of "tinned up" empty properties that no one wanted, and no money to do anything with.
Things have started to improve recently. The council have improved some of the stock, some has been handed over to housing associations and some are being sold for £1. (You have to prove you have £25k in cash available to renovate the property, and there are time based restrictions on re-selling). With the death of 125% mortgages from Northern Rock and the fact that you have to be actually earning money to get a mortgage these days has made this an attractive offer for some, and for the first time since the 80's, owner-occupiers are returning to the area – which is always a good thing,
The poverty and decline of the Anfield and Walton areas are not the responsibility of LFC or EFC, they are part of systemic city wide problems that started decades ago and the responsibilities for solving them lie with central and local governments, not football clubs. In the last decade, in my experience as a property owner in the area, the club has been forthright in its ambitions, keen to communicate, and looked to work with the council in partnership more so than it has ever done before.
4 – Fady on the 4-2 defeat to Roma:
I actually think it might be a good thing that we had this loss and performance before the final. First of all, no one will give us a chance now. They will all say that this is the 'real' Liverpool and that you cannot win the biggest trophy in Europe by being this loose and flaky in defence. Second of all, the players will know that they were complacent and a little comfortable and left the door slightly ajar for another Roma miracle. They know that at their best they can beat anyone but will also know that nothing short of their best will do the job against Real. Thirdly, Klopp will use the performances from both ties to remind the players that they can be equally devastating in attack as well as poor in defence. I think this result, in time, will prove to be the loss the team had to have so that they could perform at their devastating and brilliant best for the big one.
5 – Andrew discusses expectations, and the issues facing the team at the moment:
And this from the Independent is also a fantastic summary of the game, with much of the considerable context taken into account. A wonderful passage:
The nerve slipped a little in the second half but the ideals, still, were not compromised. This is not football characterised by fear, doubling down on defensive strengths in order to mitigate offensive weakness. Nor is it total dominance, or an attempt at such scientific superiority that defeat becomes unthinkable, if no less inevitable. Instead, it is flawed but unflinching, sometimes imprecise and sometimes incisive, always a spectacle. If you are not ready to lose, you cannot win.
Paul often reminds us of this, and I think it's beautifully put here – we cannot expect perfection. To be honest, I don't think we can even expect constant excitement. But the latter is what we get.
The article touches on a lot of the challenges we faced in prep for this one – Buvac on leave, Salah image rights, Ox injury, Sean Cox horror – but I would like to mention a few more (sorry if repetitive, but I just think they are worth highlighting again).
1. We do not have a senior midfielder on the bench. This is an incredible situation. For Hendo, Milner and Gini to have done the job they did over two legs against some of the most powerful midfielders in the world is staggering. So, with all due respect, Gullit and Collins, take your negativity and pipe down thanks.
2. We are the youngest team (on average) in the premier league and incredibly inexperienced in ucl. This too is extraordinary. I don't know the official number, but if I had to guess at how many players had been in a UCL knockout game before this season, let alone a semi-final, I would say Milner, Henderson and Salah. Roma, Man City, hey even Porto, we're full of them! So again, pundits, enough of that trash. This Liverpool team is  learning as it goes, so some slack is absolutely due.
Yes, it was less than ideal. Yes, we don't have a perfect midfield. Or a perfect defence. Or a perfe… well, maybe. Or a perfect squad. But we're bunch of young talented footballers giving it everything we've got for the most committed manager there is, and playing some damn attractive football while doing it. And we're in a fucking Champions League final. That's sure as hell enough for me.
6 – Mobykidz on … you guessed it … beating Roma to reach the Champions League Final, and appreciating our captain:
I slept 3 hours. My ten year old woke me at 5am … the little fella asked if we won … Yup. He jumped up and down on the bed and smiled ear to ear. Remember being an expat in India he'd slept through the whole thing. I didn't. But he's gone to school ready to tell all his Indian mates why we're the greatest club in the world.
The thing is I didn't say too much about our performance. I think the little fella would've been wound up too tight knowing we'd conceded 4 goals and it was 7-6 on aggregate. But I told him how special being in a final is (this is his first time as a LFC supporter) and that whatever the result to appreciate the hard work, endeavour and togetherness of this campaign and how things don't just happen magically overnight nor do you have a big piggy bank to wish your problems away.
We'll be back in the UK for the final. He's delighted because his Uncle is an Arsenal supporter (imagine me as a 13 year old when Mickey Thomas scored and eating carpet prostrate) and the plane ticket is worth every penny to watch that little scene. It's fantastic and we think next season will be better.
I asked why he thought Liverpool were doing so well. He said good players. Good manager. But then surprisingly he said a good captain. I double checked and he said Jordan Henderson was a good captain because if he wasn't how did we get to the final? I thought that was a ten year old speaking and Hendo missed a couple of key games.
However I appreciate what the little fella meant. Hendo will lead us out. He'll be on the half way line with Ramos. And if (edit: I mean when) we win he will hold aloft our 6th European / CL cup. I'm not his biggest fan. But if my kid recognises the Captain then I think we need to as well. Here's what he said after the Roma game:
We never do it the easy way but it was an amazing effort. Overall we handled the situation well apart from the last 10 minutes. We need to stop that but I'm delighted we're in the final.
"We have another important game on the weekend against Chelsea and then we have Real Madrid in the final. We will go there with confidence."
That's what a Captain says. An extension of the manager on and off the pitch. He recognises the issue of late goals and returning to business on Sunday. He celebrates, is confident but doesn't forget the bigger picture.
My ten year old reminded me Jordan Henderson is not 21 years old. He's a mature player who is important. Captains are often not the best player on the pitch. Stevie G spoiled us. But they show leadership, courage and empathy. We have that in him. He deserves our support for the player he has become today. Because come 26 May he could be lifting that trophy…and that surely stops debate around whether he is a good player or Captain. He's a decent lad and it might be time to sing his name in the stands because I think he deserves it. But you'll never ever hear him say that.
Articles published on The Tomkins Times this week:
Monday April 30th:
My Day at the Match – Stoke City (H), April 28th 2018: This Is Anfield, by Andrew Fanko.
17/18 Champions League Semi-Final Preview | 2nd Leg | Roma (A), by Gary Fulcher.
Tuesday May 1st:
Why Liverpool Will Definitely Score In Rome, by Andrew Beasley.
Wednesday May 2nd:
Jürgen Klopp Is A Winner! Reaching Champions League Final An Incredible Achievement by Paul Tomkins
Friday May 3rd:
My Day At The Match, Roma (A) – Eternal City, It's Them Scousers, Again!! By Allen Baynes