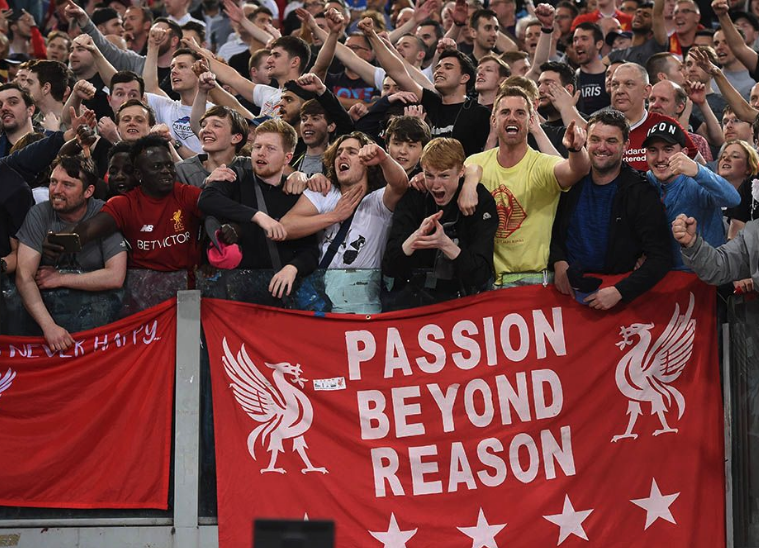 By TTT subscriber Allen Baynes
"We didn't win a raffle to get here", so Jordan so rightly said. That demonstrated to me a) why he is captain and b) he/ they believe that we can do it. Not a shred of doubt and neither did I have before the City game. But, this is Roma, like us they must be saying, hey we can win this.
I love European trips, this one started like so many at John Lennon Airport. The buzz of lads young and old, many old hands but many young ones too. A group of, I guessed to be sixth formers, sat behind me on the plane and their conversation ranged from Archimedes to Astronomy and the speed of the expansion of the Universe. Highly enlightening and a sign of the times, this is what education does!!
We, on the other hand, focused on guessing the price of a pint of Guinness in Geneva, our overnight stop. (For the record it was a few cents short of 10 Swiss Francs, about £7)!!
So Mulligans Bar, with its Irish-Manc barman, hosted our watching of the other semi-final. We managed a swift pre-match bite to eat and our waiter was an Egyptian, he nearly wet himself when he found out we were on our way to the match. He was a lovely lad and we taught him the Salah song. Not just spectators but educators as well!
The big day, up at 4.30am and back to the airport for a 6.40am flight. The airport shuttle driver saw us running to the bus, but sped past us, the 'bitters' they get everywhere. Happily that was the day's only mishap until we got to the ground. We found Rome to be very relaxed, the only hassle being that all the ticket machines at the airport station were broken. (I mention this because failed technology was a feature of the day).
We couldn't get into our apartment so went in search of sustenance. Every bar, those that were open, was showing "no drinking outside", but we found a very quiet bar off the Via Corso. We were joined by two Danish lads who had travelled with no intention of going to the game, but were there just to savour the LFC atmosphere, it is 'unique' in their opinion; they clearly love Liverpool, its humour, friendliness and the socio/political stance taken by many Redmen. Another reason to love these trips is because we always meet like minded people from all over the world, all with a focus on fun, good football and a desire to part of a great story, our story. A similar scenario has happened on all our trips over many, many years.
The rest of this article is for subscribers only. 
[ttt-subscribe-article]