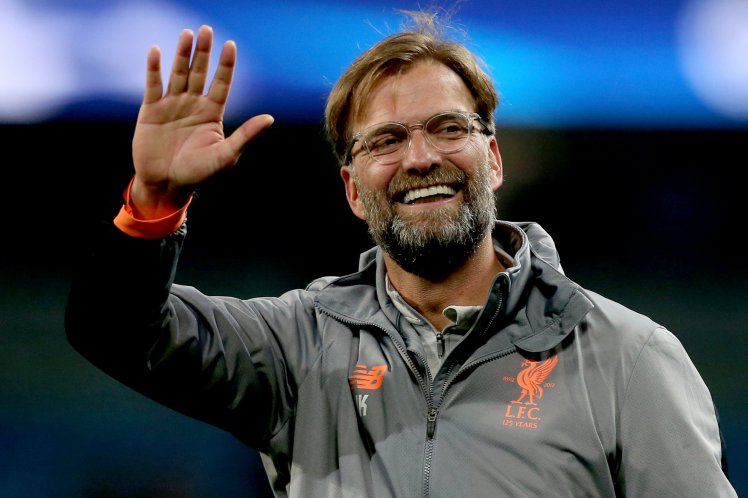 Before people get too pissy about Jürgen Klopp losing his last five cup finals – noted as soon as the Reds reach the Champions League final – consider the efforts to get his teams there. Liverpool were around 30-1 outsiders to win the Champions League in August, and his young side – average age of 24-and-a-half (and with the midfield decimated by injuries, plus Philippe Coutinho jumping ship in January, and the assistant manager taking time away) – find themselves in the final. To even be in the final is a ridiculously good achievement. To have been in the semifinal was an unexpected wonder, when Man City were drawn in the hat.
Klopp's previous finals with Liverpool were against Sevilla – older, wiser, used to winning the Europa League – and Manchester City, with their much more expensive squad and their greater winning nous (and it was decided by a shootout). To be reaching major finals is a huge step forward; and just as Spurs shouldn't be expected to reach finals or win titles on their budget (so the "Spursy tag is misleading), Liverpool should not be expected to win the biggest honours with theirs – especially not with financial behemoths in their way. Klopp has now taken two outsiders to the biggest game in club football.
Klopp lost his previous Champions League final against the superpower of Bayern Munich, who had just announced that they'd poached his best player (the start of a trend), but he took Borussia Dortmund to the final; a fairly big club, but a club that was bankrupt when he arrived in 2008. Irrespective of how Liverpool do against Real Madrid's ageing but über-expensive and über-experienced and über-talented side in the final, this has been an absolute joy of a season. Just as he did in leading Dortmund to back-to-back league titles, Klopp has defied the odds. And there can be little doubt that he's a world-class manager.
After all, how many other managers in England have taken their team to a Europa League final and a Champions League final in the last three years; incidentally, Klopp's only two seasons in European competition? (In part because the team he inherited in his first season was mid-table at the time, and well outside the European places.) Other managers have had far more money, and not seen their star leave mid-season, but he has shaped a wonderful team from youngsters, rejects and, yes, one expensive centre-back.
And although it was a bizarre night in terms of the scoreline, with nailed-on penalties missed at both ends by the ref and a soft one given to Roma again (I may have to revisit my notion that continental refs are better; there have been five handball penalties in the entire Premier League season, to contrast how rare these decisions are), Liverpool broke the Champions League scoring record for goals by a single club in a single season. Klopp's men equalled it with Sadio Mané's goal, and beat it with Gini Wijnaldum's – the club's 46th of the campaign. FORTY SIX!
That's more than all the amazing Barcelona sides managed on their way to multiple glories, and Liverpool still haven't even played the final. When Klopp turned up, Liverpool were averaging a single goal a game in all competitions; now it's nearly 3.5 amidst Europe's elite. And the Reds have 130 goals in all competition, which I'm pretty sure is another club record, and again, with fewer games than in many seasons (and no games against third division teams you can whack in eight against.)
Imagine doing that with a Chelsea reject, a player bought from Southampton (to choruses of "Really?") and a Hoffenheim attacker who "doesn't score goals" and that the previous manager didn't rate? Imagine doing it with a Sunderland lackey who apparently only passes sideways, and a boring old journeyman alongside him, and a Hull City full-back, and a teenage rookie on the other side, and with players like Gini Wijnaldum, who plenty of ex-players said they just didn't see what the fuss was about when he joined the Reds, but who I think is the most underrated player in world football? Imagine doing that when backed into selling the club's "best" player and not rushing into replacing him?
The rest of this article is for subscribers only. See below for details on how to sign up.
[ttt-subscribe-article]