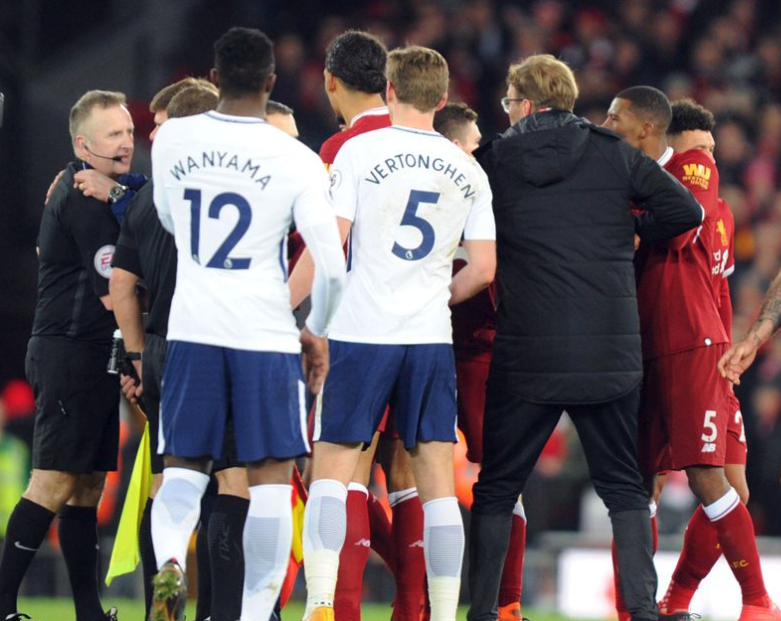 This week's posts selected by Chris Rowland and Daniel Rhodes.
This gives you some idea of the range of debate on the site and the type of articles published. If you'd like to be part of it, there's a 'Subscribe' tab at the top of the page. 
1 – Mortiklopp still sickened by those penalties at Anfield yesterday (Spurs getting more penalties in ten minutes than Liverpool have had all season at Anfield in the league!):
I am 100% behind you when it comes to officiating and the diving British players. I've just had enough. It has now come out that Moss said: "I have no idea if Lovren touched the ball" to his linesman. To then decide it wasn't an offside is beyond belief. He just admitted he didn't see Lovren touch it, how can you then decide it's not offside because Lovren interfered? And this offside rule is bonkers. All kinds of referees have come out and they can't even agree. If you ask me its pretty damn easy. Of course Lovren didn't "pass" to Kane. The game didn't "restart" when Lovren touched the ball. It's just idiotic to say or believe that. But it's shambolic now that managers and referees and everyone else can't agree on a rule. It should be easy, that's why we make a damn rule.
For the second penalty, I said it yesterday. I'm sick and tired of any little touch is deemed a penalty when similar incidents aren't even looked at if it happens outside the boxes. I have no doubt that that linesman wanted to make a name for himself. I've stopped believing in coincidences a long time ago, and for whatever reason, Smart wanted to take the limelight yesterday. Maybe some fans had been on him the whole game, or maybe he just had a bad day, but he decided that he wanted to be the man. How Moss, who clearly saw the incident and deemed it worthy of nothing with the way he waved his arms, changed his mind after talking to Smart is another conversation. Moss was nothing but shocking yesterday.
I bet FA is doing everything it can do slow down the introduction of VAR. We are all talking about the game now, and will for days after what happened. VAR would have made this conversation a non-starter. That is not good for business and the FA knows that.
Still livid about yesterday. I can't even get myself to watch Salah's wonder goal because it's heart breaking what happened minutes afterwards.
2 – Stevenson 1988 on the same subject:
Whilst I cannot agree that they were both penalties, I am prepared to accept that the "experts" say they were. What I will never agree with, though, is the process by which they were given. Kane was offside when the ball was played, end of story. Surely the issue about the ball being played by a Liverpool player would only relate to an incident similar to our first goal – ie Salah was in an offside position but the ball was effectively passed to him by a Spurs player. For their first penalty Lovren clearly did not pass to Kane, Kane was clearly offside when the Spurs pass was made and he was clearly interfering with play – or else Lovren would not have tried to clear (pretty disastrously it has to be said). That is before we even get to the issue as to whether Kane dived for the penalty as well. Whilst it can be argued it had no impact because it was saved, who knows what a hash Kane may have made of the second penalty if he'd not already had the first one?
Moving on to the second penalty, the referee saw the incident and waved play on, only to stop because his assistant had flagged. However, Moss was actually in a far better position to see whether there was an actual foul than his assistant and he waved play on. The assistant then convinced him it was a penalty and, as Jeff has already pointed out, it is the first time I can remember the ref allowing himself to be overruled by his assistant having already waved play on – in other words having seen the incident himself and decided it wasn't a penalty. It is also somewhat ironic that he effectively overruled the assistant for the first penalty, yet allowed himself to be overruled for the second. Given some of the cast iron penalties that we have not been awarded ourselves this season, we do seem to be on the receiving end of some seriously soft ones ourselves.
As I said, it may well be that they were both penalties (I don't think they were), but the routes by which the decisions were made were self evidently flawed, with officials guessing as to what they think happened and an experienced ref allowing himself to be overruled by an assistant who was in a worse position than him to see the incident. My final point is that apparently the Mail asked this morning whether Spurs are a team of divers – I think that we have all the evidence we need in support of that one!
3 – RedPeter (a qualified ref) having his say on the officials' performance at Anfield:
I was a Class 1 referee who retired from the game in 2006. The formal rules knowledge test, which is part of the Class 1 qualification, is based on FIFA's criteria and therefore consistent around the globe. I recall that the pass mark for this test was 70%. This allows a Class 1 referee to not know up to 30% of the rules and still pass.
The referees' association that I was part of had several FIFA referees and assistant referees within it and at our monthly meetings we would discuss rule issues and in-game scenarios. I was constantly amazed that so many of the referees, including Class 1, 2 & 3 referees, didn't really know some of the key rules or their correct application. Once qualified, many referees seem adopt their own "journeyman" interpretations of particular rules.
I recall Harry Kewell getting sent off in a world cup game for deliberate handball on the goal line when a shot bounced off his body with his arm tightly held against his body. The ball hit the top part of his arm just below  his shoulder. After the game the assembled FIFA referees announced that the game referee had correctly interpreted the rule and deemed that Harry deliberately played at the ball. I still think this is nonsense under the actual rule for handball. However, at the same tournament an identical thing happened to a German player and the referee played on, clearly ruling that the same contact was not deliberate. How's that for consistency!
My point is, if the relatively simple handball rule cannot be correctly interpreted and applied by an assembled group of the world's top referees, what chance a proper interpretation of the more layered off-side rule?
I chimed in a couple of times after the game to post what I know to be the correct interpretation of the rules and essentially agree with Keith Hackett's opinion of the application of that rule as it related to the Spurs game. This part of the rule has not changed since I was an active referee and I applied the different aspects of the "gaining advantage while in a off-side position" rule in my games. In one game I had to explain the rule to my match inspector when I disallowed a goal scored by an attacker, who was standing in an off-side position when a ball was played, before scoring after the keeper parried a save straight to him.
I have always understood that the meaning of "deliberate" in the gaining advantage section of the off-side law requires a player to be in control of the ball such that they have made a back pass or other intended play that is intercepted by the attacker. If the ball is deflected off a player who intends to clear ball with an opponent standing in an off-side position to gain an advantage then the attacker is off-side under the provisions of that aspect of the off-side law. As Keith Hackett has stated, there is further reinforcement to this position in that the player standing in an off-side position creates the advantage because he causes the opponent to play at a ball that he would otherwise not play.
4 – Watyeonabout on about Lemar – and Liverpool apparently backing out of signing him:
Krish I've not read the Echo article but you can hear the lunatic asylum screaming from hundreds of miles away upon hearing this news. Again the Lemar transfer smacks of "let's just scramble to buy the biggest name out there" without even considering that this guy's market value more than doubled between June and August 2017, from £40m to £90m, without doing more than scoring a fine goal in an international friendly. No wonder the LFC transfer team don't think he is value for money. I've not kept up with the French league this year because it is a waste of time seeing PSG smash everyone every week, but by all accounts Lemar has reported some lacklustre numbers so far this season. The transfers of Mane, Salah and Robertson show there is serious value to be had out there, and the way we do that is by cashing our chips on players deemed to not be good enough "at this level" (by virtue of being a reserve team player at a top European club, or playing well at a lower half of the table side) and then proving otherwise.
Besides, it may well be that he's made it clear he's only interested in moving to Barcelona, and they will pay £900m if it means they get him, so in that case there's no point pursuing him. We only want players who really want to be here, not mercenaries like Sanchez, or ones who would rather be somewhere else.
Having said that I'm seriously hoping we're making some moves behind the scenes to recruit Leon Bailey of Leverkusen, some of his play in recent weeks has been absolutely outstanding and he would become an incredible player working with Klopp. But he may well end up as this summer's Lemar. The current asking price is 50m Euros but will most likely be 80m Euros by May.
5 – Martin discussing the current context at Liverpool:
We're third in the table, QF of the Champions League, second highest goals for in the league. Separately to all that we've got three of the most enjoyable attackers in the league to watch. After a 6 month delay we've gotten our top defensive target in VVD – someone all the other top teams wanted. In another 6 months we'll have one of the top young midfield talents in the world arriving at a massive discount.
Separate to all that again, we've got one of the most honest and likeable managers in the whole of world football. He's one of the few who is both a good manager and a good human being! (not gouging at people eyes it appears may be too much to ask of some managers). Historic stadium, recently expanded, and rumours now that it will be invested in again with a further expansion many were suggesting we very unlikely. New training ground too. Could also add that in TAA there is a local back in the team in the mould of Carragher or Gerrard, who may be there for years to come. The club's even run by a Liverpudlian in Peter Moore.
I feel sorry for anyone who looks at all this and comes to the conclusion the sky is falling in. It must lead to an existence which is constantly miserable.
Articles published on The Tomkins Times this week:
Monday February 5th:
Post-Match Analysis: Tottenham (H), by Daniel Rhodes.
Liverpool Try To Defend A Lead, Officials Smoke Crack, Sensational Salah, by Paul Tomkins.
Tuesday February 6th:
My Day At The Match – Spurs (h) Sunday Feb. 4th 2018, by Graham Gilby.
Effing Reffing Takes The Headlines Again, by Chris Rowland.
Wednesday February 7th:
Expected Goals – a Deviation, by Thanos Panagos.
Thursday February 8th:
Scouting the Opposition: FC Porto By Andrew Beasley