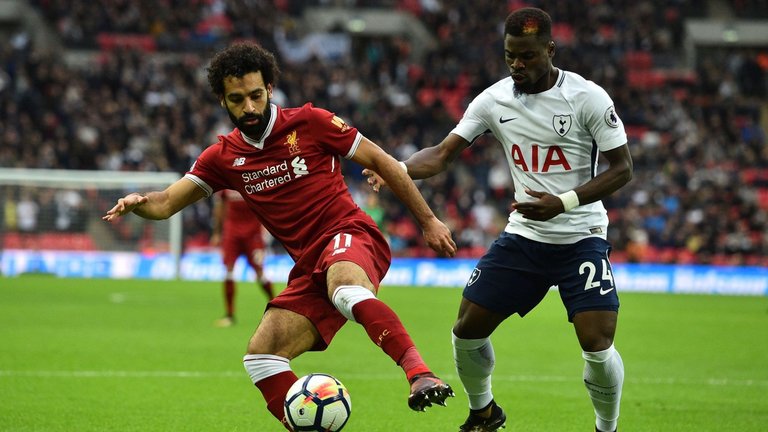 Here's a little fact. Teams awarded Premier League penalties at Anfield this season: Spurs 2. Everton 1. Liverpool 1. And Everton didn't even get in the Liverpool box during their game for theirs. A gust of wind took down poor Dominic Calvert-Lewin, on a day when Liverpool deserved all three points. Yesterday Spurs had twice as many as the Reds have all season, and the officiating was yet again (at times) unfathomable. Even ex-referees were baffled by some of the decisions.
It seems you can be unbeaten in the league at home, score lots of goals (over two per game), have Mo Salah tearing at the opposition (who hack at him and push him), but if you're British and/or you don't play for Liverpool you're more likely to get the decision at Anfield. British players are winning far more penalties than foreign players this season, pro rata (at almost twice the rate), and the most regular penalty winners in recent years are Jamie Vardy and Dele Alli, two proven divers. It took VAR to finally give Mo Salah a penalty in England this season, although the ten minutes that should have been added in that game were reduced to four, as referees, whether at the game or in Stockley Park, showed that they can't even do the basics of timekeeping right. That should be the easiest thing of all. Stop the fucking watch!
If anything, the game against Spurs showed Liverpool doing what a lot of fans want Liverpool to do, until Liverpool actually do it, and then they want the opposite. Be tight, defend the early lead, hit on the break. It's great in theory, until you have to watch it. Committing six men ahead of the ball is terrifying when it breaks down, so we don't want that. Stay tight! Sit back! But having eight or nine men behind the ball at 1-0, at Anfield, leads to mass anxiety too. So we don't want that either. Go forward, get out! Even then, Spurs didn't create much from open play. Defending is the best form of defence until you are defending, then attacking is the best form of defence.
Dejan Lovren was excellent, until he mishit a clearance that bobbled in front of him, when Kane was already offside. Virgil van Dijk was imperious until injury time, when he took a tired swing at a ball and Erik Lamela got himself in the way of the Dutchman's boot (fair enough) as the Dutchman tried to pull out, and milked it for all it was worth; although it was marginally offside, and Mark Clattenburg said "As we have seen with VAR now, offside is a matter of fact and no benefit is given to the attacking team." Spurs had already had one penalty that was offside before the ball even got to Lovren (it was heading for Kane, so he was offside and interfering with play before all that technical nonsense of whether Lovren intended to play the ball in that direction; you are surely active if the ball is played to you and at no point are you not in an onside position), and already had Dele Alli booked for diving in the box.
You'd hope that Liverpool would get a few flukey or borderline decisions, but as I keep saying, English refs hate to be seen to be swayed by the Kop, as if the Kop was like it was in olden days when it really could sway refs (the VAR is different, as they are not present). Also, Loris Karius was also excellent, and yet Jamie "Do you agree, Gary? Do you, Gary? Do you? Please say you do!" Redknapp said he was "disgraceful". Meanwhile, had a foreigner dived he would have been labelled "disgraceful" but Dele Alli, it seems, was merely anticipating contact that never arrived. Hmmm, okay. And of course, you get a yellow card for diving unless the ref misses it; then, if you are foreign, you get a two-game ban. (Only foreign players have been hit with this so far. Because English players don't dive, they merely go down a bit easily.)
But I want to focus on some of the positives from a mixed display, and offer some praise for Mo Salah, Loris Karius, and the returning Jordan Henderson, in particular.
The rest of this article of for subscribers only.
[ttt-subscribe-article]