By Paul Tomkins.
It goes without saying that there's the predictable 'fume' that goes with any non-superstar Liverpool try to sign – even if almost all of the Reds' best signings throughout its history had hitherto been non-superstars – but to my eyes, Sadio Mané has the pace the Reds need out wide, with the essential element of being a goalscorer too.
It was a miracle that Jürgen Klopp got the Reds to two cup finals last season whilst lacking pace in pretty much every area bar full-back; indeed, hopes of Europa League glory were probably killed with the injury to Divock Origi, the one attacking player the Reds possessed who could terrify defences. Once Funes Mori "did" him, Klopp's team lost a key weapon. At the time, Origi was the Reds most effective player.
Liverpool have too many "talented but similar" players: Coutinho, Firmino and Lallana the most obvious trio who, while not identical, all favour a central position, and all lack electric pace. They are "into feet" players. If you can't run in behind, then you lack a key attacking weapon (a bit like Spain against Italy just now).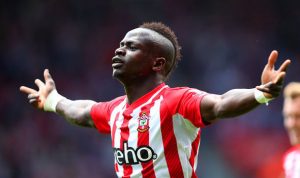 If you lack pace out wide, and have to rely on the full-backs providing it (another reason why Alberto Moreno was important in the system, despite his glaring deficiencies), then you become more predictable.
Daniel Sturridge also now appears to fit the "in the hole" category, with his injuries apparently sapping him of top gear, and his skilful link play making him a candidate for playing behind a quick striker rather than as the spearhead himself.
As mentioned, only Divock Origi can terrify defences with his pace; Jordon Ibe, who should be more of an option by now, has seen his progress badly stall, and Sheyi Ojo, just turned 19, is likely to be exciting but erratic in his first full season. Of course, Ojo might suddenly transform from a hugely promising talent into a key first man – I think he will at some point – but Klopp can hardly wait to see if that happens, and then act in 2017 if it doesn't. (And of course, the Reds need more than just one option, especially with Ibe faltering and Lazar Markovic's future unknown, and his appetite still questioned.)
I remain uneasy at Liverpool going back to Southampton for a fifth time in two years, and there's no doubt that our club should be looking to buy these types of players before they end up there in the first place. But although the transfer committee remains, it now has a different person heading the decisions.
To me, Klopp seems far more eager than Brendan Rodgers to look overseas, and that's a huge advantage – although with the fallout from Brexit, it's hard to know for certain what the future holds in terms of scouting and the movement of players across Europe. After three successive British managers, who preferred Premier League buys, Liverpool finally, and correctly, went continental again, only for the continent (or Britain, at the very least) to start self-combusting.
It's also hard to know what Brexit will mean in terms of transfer prices, given that the latest TV deal has pushed fees through the roof once again (yet more inflation – add more millions to these prices from last summer). If European players will need work permits within a couple of years, will clubs still take a risk on them? Will that, and whatever might happen with the economy, affect how players move clubs? (I've been so busy thinking about the political fallout I haven't had a chance to think about these things yet.)
Klopp has already agreed to sign three players for a combined fee of just under £10m – so we can't moan that players aren't good enough because they're cheap and relatively unheard of in England, and then moan that someone who did very well in the Premier League at the age of 22 and 23 is somehow a crazy buy, now that he's just turned 24; not least because he plays for an unfashionable team, albeit one who finished above Liverpool.
I argued the case last summer for the merits of Christian Benteke, given that Brendan Rodgers wanted a target man to bypass hard-pressing opponents. But in came Klopp, and Benteke no longer suited the criteria. Benteke didn't fail because he was from Aston Villa, but because he wasn't a pressing forward. For a Klopp team to work, everyone has to press, or the system breaks down; unless a player is so damned good the team can carry him regardless. And Benteke was never that good.
Benteke actually did okay with goals and assists based on playing time, but the team mostly did better without him. And how the team plays always trumps the merits of any individual.
Had Rodgers remained, Benteke may have been a success – the situation being a bit like Djibril Cissé in 2004, when the French striker signed for the two-fast-strikers-counter-attacking compatriot Gérard Houllier, but ended up playing for the 4-2-3-1-favouring Rafa Benítez, who preferred a striker to bring others into play for onrushing midfielders (and then Cissé broke his leg).
Mané will be playing for a manager who has sought him out for a specific purpose: to get goals from wide, and to run in behind defences. Mané's stats were excellent last season when playing on the right (mostly) or the left; less so in central areas. But Liverpool don't need him to play centrally, especially behind another striker. (I guess he can at least do a decent job centrally, if others get injured.)
And Mané may have been on Klopp's radar from his time in Austria, where, with Red Bull Salzburg, the attacker had an amazing scoring record at the age of 20/21 (45 goals in just 87 games). It may not be the most competitive league, but Dortmund brought Robert Lewandowski in from Poland, and these are the kinds of countries Klopp will be most familiar with, outside of Germany.
And of course, any player, no matter where they are bought from, has to handle the pressure if moving to a bigger club for a higher fee. No one can guarantee anything on this, beyond checking the player's mentality and hoping that he settles. I personally prefer younger players with big club experience who are perhaps undervalued due to being on the bench (like Coutinho and Sturridge), but if someone like Mario Götze cannot be got, you move on – and shouldn't sniff at extremely effective players who perhaps play for unfashionable clubs and countries.
For a club in Liverpool's position – not in the Champions League, not in metropolitan London, not the biggest commercial behemoth, and not under the ownership of the richest men in the world – then the options can be narrowed to unknown potential superstars of the future (which I'm all for), and the best Premier League players currently at clubs who are usually going to be happy to sell to you (i.e. not Chelsea, Spurs, Man United, Everton, Arsenal and Man City). If you have to buy in England, you're unlikely to get anyone from the top four, plus those clubs who are rivals.
And it's also true that the Reds' Southampton purchases haven't been as catastrophic as I feared they were a year ago.
Liverpool bought hard-pressing players and put them into a lower intensity team under Rodgers. By all accounts, training was much easier at Liverpool than it had been under Pochettino at St Mary's.
If you buy players and then train them differently, then in addition to changing their environment and their team-mates, as well as their manager, you are essentially getting a different player.
In the case of Lovren, to ask him to play without midfield shielders and without a quick partner (something Southampton assured as part of their scouting of him in France), and to not have him be as fit, meant that you got an aggressive but far-from-quick stopper who was easily run-at in marauding counter-attacks. As soon as Klopp put a shield in front of him, Lovren looked better. (Ditto Mamadou Sakho, and even Kolo Toure.)
Rodgers managed to make some attacking players look better by giving them freedom, and allowing the whole front six to get forward, but Adam Lallana and Rickie Lambert, along with Lovren, looked sluggish when taken away from über-fitness regimes, and indeed, no centre-backs thrived in the Ulsterman's three-and-a-bit seasons with 'open' midfields ahead of them.
Perhaps I'm just making assumptions here, in thinking that the Southampton players looked less fit under Rodgers, but it's how it appeared – and there's little doubt that Pochettino, like Klopp, relies on extreme fitness measures, while Rodgers was more about practice with the ball.
That said, Nathaniel Clyne looked super-fit regardless of the training regimes, as some kind of hardcore running machine. While his final ball nullifies much of his threat as an overlapping full-back, his defending is mostly excellent (unless in the air), and his forward runs still create space. Liverpool didn't do bad at all getting him for £12.5m.
And there's also the good chance that, playing in a better team, Mané's stats will improve – as long as he can handle the pressure. While Southampton finished above Liverpool, they didn't have to play an additional 25 cup games (which often takes a lot of points off a league campaign), and clearly the Reds have the better players – certainly in terms of attacking depth and variety (bar pace, of course). And of course, Liverpool were always recovering from a bad start, and bedding in a new system from October onwards. At 24, Mané may not now dramatically improve, but if the system suits him, and his team-mates feed him killer passes, he could automatically look better.
The miracle of Southampton is how they retain a strong team despite losing so many players, but they don't go around frequently overpaying. They are a wonderfully run club, who sign mostly obscure talents. But even then, not every player they go for is a bargain, and like anyone else they end up with flops.
But let's be clear: if Mané becomes the Reds' fourth addition of the year (with two of the new arrivals pre-arranged in January), then he will be the first to cost over £5.1m; and these days, the average price of a Premier League player is up towards £10m.
(Click here see our pro-scouting analysis of Joel Matip – one of the Reds' summer signings – and a comparison with Lovren.)
So this is hardly a case of regular overpayment this year, if indeed Mané is overpriced. Buying from the Premier League is okay, depending on the player, and as long as it doesn't become a fixation.
And it's also odd to moan about the owners being stingy when obscure young talents are being bought, then moan that they overpay on others. There will always be a blend of signings. The key is to avoid doing what Leeds United did over a decade ago, and spending money the club don't have.
I'm optimistic about Mané, not least because all last season I bemoaned the lack of pace and goals from out wide (and I guess Klopp must have, too). Whether or not Mané proves to be the solution only time will tell. But he seems to fit the bill.