By Chris Rowland and Daniel Rhodes.
W/c Monday 11th April 2016.
Welcome to our (free this week) round-up: a diary of news and events on the site, matters relating to LFC and the world of football generally.
The Week in Football – Liverpool FC:
Monday 11th:
Joe Allen hailed Liverpool's strength in depth after the much-changed team defeated Stoke City 4-1 at Anfield yesterday. (LiverpoolFC.com)
"We talked about [the changes] a lot but it's something we've always had faith in, our strength in depth.

"It's great when you can make those sorts of changes and still put on a performance like that."
Sheyi Ojo tweeted after his first start for Liverpool: "Crazy day.. proud to make my first start for @LFC & assist the big bro @DanielSturridge, still got a lot to learn."
And LiverpoolFC tweeted: "Congratulations to #LFC fan @Danny_Willett on winning @TheMasters last night!"
Tuesday 12th:
With an atmosphere matching 'anywhere on the planet' at Anfield, James Milner expects the home fans to help Liverpool rather than hinder Borussia Dortmund on Thursday night.
He told Liverpoolfc.com:
"Any player wants to play in the big games and the best atmospheres. European nights at Anfield are definitely right up there with anywhere on the planet.

"That's going to be massively important for us no matter what happens. Even if the worst happens and they get an early goal, [the fans] can roar us on to get back into the game.

"We managed to nullify their fans – which is a great atmosphere as well – and got a good result. Hopefully we can use our atmosphere.

"There are a lot of experienced players in there and they are used to playing in front of the Dortmund crowd and other big games, so I think they'll probably be used to it.

"It can probably help us more than it can damage them. The fans are always brilliant and hopefully it's another special European night."
Jordon Ibe, 20, has fuelled speculation about his future at Liverpool by removing all references to the club from his Twitter profile. (Independent)
Wednesday 13th:
Liverpool are set to appoint Bayern Munich fitness coach Andreas Kornmayer to Jürgen Klopp's backroom staff this summer. (Liverpool Echo)
Klopp has hand-picked the 41-year-old as the perfect replacement for Ryland Morgans, who parted company with the Reds last month.

Kornmayer has worked with Pep Guardiola, Jupp Heynckes and Louis van Gaal during a decade of service with Bayern. He is expected to start work as Liverpool's fitness coach prior to the start of pre-season training in July.

Liverpool head to California for a training camp in mid-July and will play three friendlies in the States.

Morgans, whose contract was set to expire at the end of this season, left his role as head of fitness and conditioning a fortnight ago.

Liverpool U21s fitness coach Andy O'Boyle has taken on the first-team duties for the rest of this season.
Thursday 14th:
Liverpool fans gathered along Anfield Road to cheer to team bus making its way to the ground: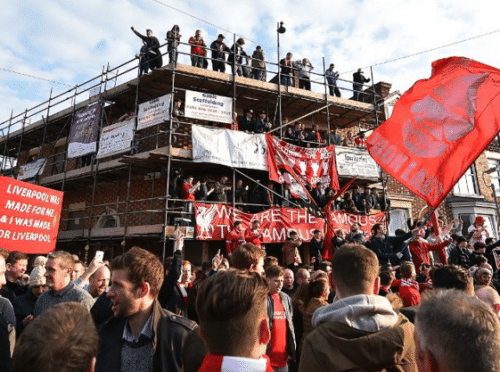 A look back at ten awe-inspiring versions of You'll Never Walk Alone at Anfield:
One week ago in Germany, both sets of fans came together to deliver a spine-tingling version of the anthem ahead of kick-off at Signal Iduna Park.

As we prepare for another rousing performance in the stands prior to what will be a mouth-watering contest with the teams battling it out for a place in the semi-finals, we look back on some of the greatest YNWAs in the Reds' history.

Friday 15th: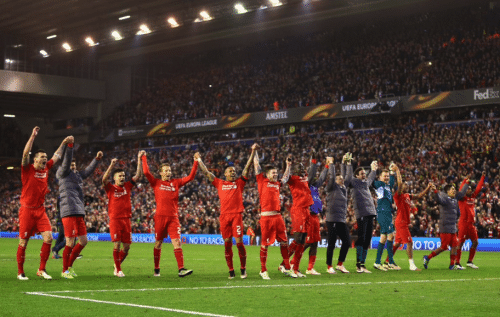 The Reds produced one of the most stunning comebacks ever seen at Anfield after conceding two early goals, and trailing 3-1 midway through the second half; Coutinho, Sakho and Lovren scored to take Liverpool through to the Europa League semi-finals.
In his post-match press conference, the manager offered his reflections on an epic contest: "I saw the game, I saw all the different moments in the game and I thought from the first minute we were in the game. The problem is that after four minutes, we lost the ball in a not so good moment. The counter-attack of Dortmund is in some moments not to defend anymore, to be honest, and that's what we saw after four minutes, [and] after nine minutes.

"Very often in football life, a game is over [at 2-0] – but not here, not with this Liverpool team and that's great to be part of. In the first half of the game, we created a lot of chances, we didn't score and then it was really, really difficult to stay in the game because we are all human beings – we tried everything but nothing really worked.

"At half-time, there was a good atmosphere to be honest because I was satisfied with the game – not with the goals, but with the game in general. I told the lads, I was not there but a few Liverpool players who are a little bit older and work now as experts for television, they were 3-0 down at half-time but won a Champions League final. So even when it's not really likely, it is for sure possible and we should try it.

"They did it and made it 2-1. I think even before 2-1, we had a chance and two or three really good moments but didn't score. Then we scored and then everyone could see something happen in the stadium. You could feel it, you could hear, you could smell it… But then there was a brilliant, brilliant attack situation [from Dortmund]. It was not too good defending from our side, to be honest, but it was brilliant play from Dortmund and 3-1.

"Then that was the moment in football – and in life – when you have to show character. That's what the lads did and it was pretty cool to watch. In the end, to come back in a game like this against this highest quality opponent and to win, you need a little bit of luck, but I think everybody who was part of the game, who saw the game, has to say at the end it was deserved.

"We had more bad moments in the game, we had to react more often in difficult, difficult things in the game, but then to score the fourth goal it was strange. It was a long time before I was sure the ball was in – but obviously it was until somebody tells me something else!"

"The players did it, it was not the team of Istanbul," he said. "It's easy to say it. I'm a football fan so I saw the game [in 2005] and to be honest at half-time I did not think, 'Oh it looks like Liverpool will strike back'.

"I only told them that it's possible, but it's much more difficult to do it than say it. They showed that they have potential, real potential, and I'm completely happy.

"Forget the story about 'these could be heroes' – give us the time to play the semi-final against probably a really strong [team]. They are all pretty strong so we don't need to compare this. This, tonight, was brilliant in itself."
Match highlights are available here…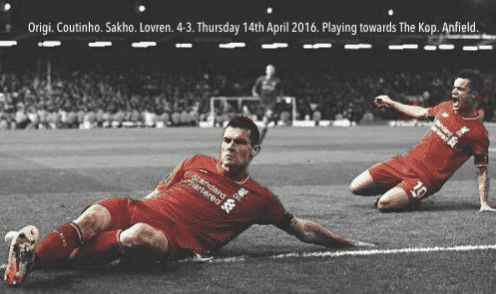 Liverpool's remarkable Europa League match against Borussia Dortmund understandably received considerable attention and even before the start Swansea midfielder Wayne Routledge tweeted:"#YNWA being sang by both supporters at Anfield… #Goosebumps."
Match of the Day presenter Gary Lineker tweeted: "Got home late, missed the first 10 minutes of Liverpool game and it looks like it's all over."
After the match the former England striker amended his earlier view and wrote: "Wow! Just Wow! Liverpool have come back from the dead. Brilliant stuff!"
Ex-Liverpool striker Peter Crouch wrote: "Wow #LFCBVB had a feeling."
Former Liverpool goalkeeper Ray Clemence tweeted:"What a night rivals any of the great European nights fantastic comeback #YNWA #great belief."
West Brom striker Saido Berahino wrote: "Unbelievable game lost for words."
Former Liverpool striker Mario Balotelli tweeted:"Wow Liverpool what a game. So happy for my brothers Lovren and @mamadousakho."
Ex-Liverpool midfielder Dietmar Hamann wrote: "What a game. Special night at Anfield, one to remember … Well done lads, now go on and win it."
Liverpool tweeted:"No words!!!" to which Dortmund sportingly replied:"True. Except: Congratulations and all the best on your #RoadToBasel, @LFC! #lfcbvb."
Liverpool will play Villareal in the semi-final of the Europa League with the second leg at Anfield on the 5th May. Sevilla will play Shaktar Donetsk.
The Week in Football – General:
Monday 11th:
Swansea are trying to bring back Brendan Rodgers as the club edge towards a takeover worth a potential £140m. (Telegraph)
Everton have sounded out former Argentina and Chile boss Marcelo Bielsa to be their next manager. (Goal.com – in Portuguese)
Nigel Pearson and David Moyes are the leading contenders for the vacant Aston Villa job. (Telegraph)
French forward Samir Nasri, 28, believes he is the type of player Pep Guardiola will want at Manchester City and says the Spaniard is lucky to have him. (Guardian)
Tuesday 12th:
The Football League is investigating Leicester's finances for the 2013-14 season amid concerns they may have cheated financial fair play rules.(Guardian)
Tickets for Leicester City's final home game are being offered for £15,000 a pair through an online re-sale website. (BBC Sport)
The 7 May match against Everton, which could see the Foxes become champions, sold out in 90 minutes on Monday.

But within hours, individual tickets were being advertised for more than £3,000 each and a pair for much more.
Leicester manager Claudio Ranieri has taken to banning Jamie Vardy from shooting in training, so as to keep the 29-year-old striker fresh for games. (Guardian)
Olympic Stadium bosses have been ordered to reveal details of their deal with West Ham United over the club's use of the east London venue. (BBC Sport)
The London Legacy Development Corporation (LLDC) fought a ruling that the contract should be made public, but the appeal has been rejected by an Information Tribunal.
The LLDC said the decision could cost the organisation "millions of pounds".
West Ham are due to move to the Olympic Stadium at the end of the season.
A LLDC spokesperson said the decision "could significantly impact [on] the stadium's ability to act competitively" and it is considering its next steps.
It has the right to appeal against the latest decision, but only on a point of law.
Final bill raises questions over West Ham deal
Paris St-Germain captain Thiago Silva has warned team-mate Zlatan Ibrahimovic, 34, he would be taking a "step down" if he moves to the Premier League. (Mirror)
Manchester United are the only Premier League club to make an offer for Sweden's Ibrahimovic, who is out of contract in the summer. (L'equipe, via Daily Star)
'Meltdown' at Manchester United; apparently the United players turned on manager Louis van Gaal and labelled him "clueless" after Sunday's 3-0 defeat by Tottenham, with some openly questioning his future.
Jose Mourinho remains confident he will replace Van Gaal at Old Trafford and wants to sign five new players for the club this summer. (Daily Express)
Chelsea's goalkeeping situation is looking unstable for next season, as Thibaut Courtois, 23, is keen on a move to Real Madrid while Asmir Begovic, 28, does not want to stay without being first choice.(Telegraph)
Everton have not approached former Chile boss Marcelo Bielsa about replacing Roberto Martinez as manager, despite reports in South American media.(Liverpool Echo)
Newcastle defender Daryl Janmaat, 26, broke two fingers when he punched the dressing-room wall during Saturday's defeat by Southampton. (Mirror)
Neymar's Barcelona contract has been leaked and it shows the 24-year-old Brazil forward earns £77,000 a week and has a £153m buy-out clause. (Daily Mail)
Wednesday 13th:
Manchester United's value has fallen by £412m since the start of the season because of poor performances on the pitch. The club started the season with a market capitalisation of £2bn, which has now dropped to £1.58bn. (Sky Sports)
Leicester City's Jamie Vardy, Riyad Mahrez and N'Golo Kante have been nominated for the PFA player of the year award. The six-man shortlist is completed by West Ham's Dimitri Payet, Tottenham's Harry Kane and Arsenal's Mesut Ozil.
Philippe Coutinho is among the candidates in the Young Player category.
Thursday 14th:
Manchester City reached their first ever European Cup semi-final after knocking out PSG at home, with a goal from Kevin De Bruyne. They become the tenth English club to achieve this feat, can you name the other nine?
La Liga needs to catch up with the Premier League, according to their president Javier Tebas: 
"We hope to grow so the Premier League does not become the biggest competition in the world and we can be at the same level economically,"

"We do not want the Premier League as a leader one step ahead of the rest."

Tebas, a 53-year-old lawyer, told BBC Sport: "If we fail to do this [compete economically], the Premier League could become the NBA of football and that would not be good not for us, not for the sport.

"We plan to work harder in the TV rights market and in the sponsorship market to get more money."
Friday 15th:
Premier League clubs saw combined revenues increase by 3% in 2014-15 to £3.4bn, according to business group Deloitte.
"The perennial problem for Premier League clubs was to convert impressive revenue growth into profitability," said Dan Jones, partner in the Sports Business Group at Deloitte.

"We saw this problem solved with record-breaking results last year. The new challenge was to sustain this financial success, and the Premier League clubs have accomplished this in impressive style in the latest results.

"With further significant revenue increases already guaranteed for the next broadcast cycle, starting in 2016-17, there is every reason to be confident of the Premier League clubs' profitability being here to stay."
Manchester City and Bayern Munich have been kept apart, avoiding the awkward reunion of the Citizens' new manager with the departing one. City face Real Madrid, and Ath Madrid travel to Germany in the first leg.
Transfer Rumours – LFC:
Monday 11th:
Jürgen Klopp has asked scouts for the lowdown on Poland starlet Dawid Kownacki. (Daily Mirror)
The 19-year-old striker, who has been likened to Robert Lewandowski, is currently starring for Lech Poznan but has a number of Bundesliga clubs on his tail.
Jürgen Klopp is set for a summer battle with Merseyside rivals Everton for Sevilla's highly rated goalkeeper Sergio Rico. (Daily Express)
The Spanish club are ready to cash in on the £15 million-rated Rico, 22, this summer and Klopp is said to be keen to add him to the Reds' squad.
Everton, Liverpool and West Ham are all lining up summer bids for Lyon ace Alexandre Lacazette, according to Le 10 Sport in France. ( talkSPORT)
Rated as one of the hottest attacking talents in Europe, Lacazette rejected a move to Newcastle in January after Lyon accepted a £22m bid for him, with the intention of waiting for a club with European prospects to come in for him.
Liverpool are lining up a transfer move for £9.6million-rated AZ Alkmaar forward Vincent Janssen this summer, according to Don Balon in Spain. (Metro)
It's understood Manchester United, Atletico Madrid and Paris Saint-Germain are also interested in the Netherlands international who scored against England last month.
Liverpool target Piotr Zielinski has confirmed that he has had transfer talks with Reds boss Jürgen Klopp.
Zielinski, who is currently on loan at Empoli from Udinese, is being strongly linked with a move to Anfield and his comments would suggest he could be joining the Merseyside outfit in the near future. (Metro)
"There is a lot of truth in rumours about Liverpool, Jurgen Klopp is interested in me, we had some talks," Zielinski told Polish outlet Sportowe Fakty.
Tuesday 12th:
Liverpool and Borussia Dortmund are both keen to sign Borussia Monchengladbach's 20-year-old midfielder Mahmoud Dahoud.(Guardian)
Bayern Munich chairman Karl-Heinz Rummenigge says he is happy to meet with Liverpool target Mario Gotze, 23, at the end of the season to discuss his future. (Daily Star)
Liverpool are joining the long list of clubs eyeing the transfer of Rennes wonderkid Ousmane Dembele. (Metro)
Still only 18, the French forward has managed 12 goals in 21 games for Rennes, with Manchester United, Barcelona and Bayern Munich also mentioned as potential suitors.
Wednesday 13th:
Liverpool have stepped up their interest in Koln duo Jonas Hector and Timo Horn, according to website Football Insider. (Daily Express)
Reds' German scout Matthias Hamann (brother of Didi) reportedly watched the pair in action on Sunday in the 2-0 defeat to Bayer Leverkusen.
Thursday 14th:
Serie A leaders Juventus are considering a £20m bid for 25-year-old Liverpool striker Christian Benteke. (Talksport)
However, Belgium international Benteke wants to stay at the Merseyside club, despite his lack of playing time under manager Jurgen Klopp.(Independent)
Charlton defender Regan Charles-Cook, 19, is attracting interest from Premier League sides Arsenal and Liverpool. (South London Press)
Liverpool have made £300,000 from Manchester City's Champions League success, thanks to a clause regarding European progression in the transfer of Raheem Sterling, 21. (Daily Telegraph)
Friday 15th:
Rashford spurned Liverpool to join Manchester United when he was seven. (Daily Mail)
Transfer Rumours – General:
Monday 11th:
Arsenal have opened talks with Borussia Monchengladbach for Swiss midfielder Granit Xhaka, 23 and have made a £24m bid. (Mirror)
The Gunners are also tracking Boca Juniors' 18-year-old Uruguayan midfielder Rodrigo Bentancur. (ESPN), and are interested on Marseille midfielder Mario Lemina. The 22-year-old Gabon international is currently on loan at Juventus. (Le 10 Sport – In French)
But a player who could be on his way out of the Emirates is England winger Alex Oxlade-Chamberlain. Southampton defender Jose Fonte is trying to persuade the 22-year-old to rejoin the Saints. (Mirror)
Tuesday 12th:
Arsenal have joined Manchester United in scouting 18-year-old Benfica midfielder Renato Sanches. (Daily Mail)
Manchester City are set to beat their Premier League rivals to the £35m signing of 21-year-old Athletic Bilbao defender Aymeric Laporte.(Mirror)
Branislav Ivanovic could leave Chelsea in the summer, with Roma interested in the 32-year-old defender. (Talksport, via Corriere dello Sport)
Wednesday 13th:
Real Madrid winger Gareth Bale, 26, is set to turn down a new Real Madrid contract in favour of a move to Manchester United or Manchester City.(Tuttomercatoweb – Italian)
Manchester United are moving closer to a deal for the £60m-rated Real Madrid striker James Rodriguez, 24. (Express)
Chelsea midfielder Eden Hazard, 25, will join Real Madrid in the summer for a £32m fee, with Paris St-Germain set to miss out on his signature.(OK Diario, via Express)
Tottenham have opened talks to sign Rennes striker Ousmane Dembele, 18, in the summer. (France Football, via Metro)
Liverpool were also linked with Dembele yesterday – see the LFC section above.
Spurs and West Ham are leading the chase for Bournemouth striker Callum Wilson, 24, after his eight-month injury lay-off.
West Ham will target forward Theo Walcott, 27, if they are unsuccessful in their pursuit of his Arsenal team-mate, 22-year-old midfielder Alex Oxlade-Chamberlain. (Bleacher Report)
Thursday 14th:
Chelsea's Belgian midfielder Eden Hazard, 25, has denied speculation suggesting he has already signed a deal to join Real Madrid in La Liga. (Daily Mirror)
The Premier League has changed the referee for Tottenham's game against Stoke on Monday following pressure on social media, with Leicester-based Kevin Friend originally scheduled to take charge. (Daily Mail)
Manchester United will miss out on Germany international Mario Gomez, with the 30-year-old striker instead set to sign a permanent deal with loan club Besiktas. (Daily Star)
The Stamford Bridge club have made a British record £63.5m bid for 30-year-old Real Madrid and Spain defender Sergio Ramos. (Don Balon via Metro
Friday 15th:
Everton are interested in signing Michael Carrick if he leaves Manchester United in the summer. The 34-year-old has yet to be offered a new contract even though his present deal expires in just over a month. (Daily Express)
Tottenham's quest to keep head coach Mauricio Pochettino out of the clutches of his growing list of suitors could be helped by former American sports agent Jeff Moorad's attempt to secure finance to invest in the club. Moorad is a former minority owner of both the Arizona Diamondbacks and San Diego Padres Major League Baseball clubs. (Daily Telegraph)
Fulham boss Slavisa Jokanovic believes he will persuade Tottenham target Moussa Dembele, 19, to stay one more season at Craven Cottage. (GetWestLondon)
The Week on TTT – Articles Published:
Monday 11th:
Young, Red-Hot and Ready by Paul Tomkins.
Tuesday 12th:
Managers, and The Law of Diminishing Returns by Paul Tomkins.
Wednesday 13th:
Europa League Quarter-Final 2nd Leg: Dortmund (H), by Gary Fulcher.
Thursday 14th:
The Boy From Madrid by Anthony Stanley
Bloody hell! Bloody bloody hell! by Paul Tomkins
Friday 15th:
Premier League Preview 15/16: Bournemouth (A) By Gary Fulcher
Comments of the Day (click on the links to read the full posts on the site):
Monday 11th:
Bazz posted in favour of the Sturridge-Origi partnership:
Sturridge blocks spaces and closes passing lanes. That's how he defends: patiently and without much effort. Origi defends by harassing and chasing. Then Origi attacks with pace and power and having a run at defenders, and Sturridge on the shoulder of defenders and exploiting spaces in behind, stretching play vertically, and with great accuracy in shooting.

We have a really balanced strike partnership if Origi's form remains and we have both fit. This is good for Liverpool, isn't it?!
Jeff highlighted FSG's policy of developing and buying young players:
If you are a baseball fan and have seen the Red Sox over the weekend, you will see that the vast majority of players on the field whether in the infield or the outfield were players developed by the Red Sox in their farm system – youth system – which means the vast majority of players were signed as youngsters by the Red Sox and developed by them. Anyone who reads Paul's first class article can see that the goal of FSG if for Liverpool to either through their own youth system of the astute buying of young players before they become established pros is happening in Liverpool. Now in Boston the Red Sox have never been reluctant to spend the money to fill in needs. Have they always gotten their signings right? Of course not but this has not stopped them. I assume that they will do the same in Liverpool which means that transfer mistakes will be viewed as just the reality of the business and not stop them in the future of signing established pros.
Tuesday 12th:
MCheyne on the issue of managers' second terms at a club:
… almost any manager who is brought back to a club is likely to have had a very successful initial run with a team. Part of that success is down to luck, and the shorter the initial term at the club, a larger amount of luck is involved (most likely positive, but luck is a larger contributor to results over small samples regardless). Since selection bias in these managers means luck was present initially but likely to be neutral in their second terms, we should expect decline (and perhaps large decline). That is, regression toward the mean takes place on their subsequent terms. So it will be interesting for you to go back at some point to try to normalise for context and luck.

There is also the question of what is the peak age of a manager. Are these managers past their primes when brought back? It is possible that on their initial runs they were tactical leaders in the game, but when when brought back those tactics are no longer the most relevant. So maybe it is not the managers who have failed, but the clubs that appoint them.
Madchenkliop's concerns about Jordon Ibe:
There is 'something afoot' with him and that thing concerns his ability to learn.  He might be able to move forwards, but without doubt he's hit a mental wall where the instructions being given to him have caused him to focus on what hecan't do rather than what he can.  And that's been going on for a considerable time.  I don't doubt that he could ultimately come out of that cycle of negativity – but I think the comparison with Andros Townsend is a good one – it's like for him to be successful the situation needs to change to suit his attributes rather than the other way round.  It's mental and to be honest, whereas he could go on and make us regret it, with the options available to Klopp, it seems to me better for him to prioritise other prospects.
Work your way through Tony Kckenna (Macattack)'s thesis on chance and fortune:
Four principles: you can try and recognise what is not random and take advantage; if you cannot plan for it, you can at least position yourself favourably for when it occurs; when it goes against you recognise it not as failure; when it goes in your favour be mindful not to attribute it solely to your success.

….

Gary Neville touched upon it commenting on Sky TV at Ferguson`s managerial finale.  Recalling the time when Kenny left Liverpool, he explained the communal thinking of the United fan-base: "Is there a chance here?"   Well, hindsight tells us it was.  Liverpool fell by the wayside.  But the ex-Valencia Manager was possibly also very prescient: Ferguson`s departure has initiated a ramshackle break, similar to when Busby left the Old Trafford helm. There was no smooth transition.  Perhaps there never will be.

What was different to when Shankly stepped down? As opposed to what happened to Leeds after Revie; or to Forest during Clough`s overstay?  What created a dynasty beyond the presence of the same one manager?  The possible answer is that there was a host of future Managers already in place, from Paisley onwards.  Totally random of course.  Yet, can we borrow from the example? Take what was random and successful as a template?
Wednesday 13th:
Daniel Rhodes questioned dismissing the departed Rylands Morgan's medical abilities:
where you come from is surely irrelevant when it comes to injury prevention? Bayern had loads of injury issues last season, and Pep got rid of the crazy doctor quoted above. Some of the best medical research and treatment is in the USA, who have no football pedigree. Arsenal also invest vast sums in this area, but always have injury issues. Looks like Klopp has gone for those he knows best, and so he should, but it doesn't mean one guy is decent bloke from Wales, and the other some kind of medical magician because he's from Bayern/Germany!

I welcome the recruitment, of course, just think the framing of it, is harsh, in one of football's big unknowns. Injury prevention and fitness are so complex, with conflicting theories, that it is tough to say one is better than the other when results and assessments are so muddy.
Thursday 14th: 
Divilmint, with one of the best posts of the year, here it is in full:
"We don't want to score one, we want two or even more. We want to see what is possible in terms of our potential.

"We do not want to feel our boundaries. This is the pressure and I love it."

I think Tuchel has potentially taken care of tonights team talk with these comments.  Talking about LFC in Europe, at Anfield as some kind of yardstick by which his side can measure their awesomeness?  He really musn't have heard about us.  Anfield Nights like this are when and where the fairytales get written.  The only potential BVB need to worry about tonight is that this is the night they potentially find out that they are not as good as they thought they were.  Tonight they potentially find out that you can have some of the best players in the world, disciplined and drilled into a relentless footballing machine and it still isn't enough.  Potentially tonight is the night poetry kills theory, art defeats reason and magic defies science.

For a man who doesn't want his team to feel their boundaries he really has brought them to the wrong place.  Tuchel's biggest concern might be that Liverpool could be dangerous like a cornered animal. The thing is, it's our corner and we are a bloody big animal.  BVB will be stifled, closed in on all sides by an atmosphere probably unique in world football and they will not like how it makes their air taste thinner while breathing fearlessness into the men in red.  Oh they'll feel their boundaries all right. That atmosphere is going to press right down on them from all sides and squeeze the oxygen from their footballing souls.  No boundaries? Poor man has no idea what's coming.

He talks big now but as the game unfolds the realisation will slowly begin to dawn that a force he can't explain and cant quite quantify is taking a hold on the game. Tactically he wont be able to counter it and if you ask him afterwards he'll probably only wordlessly shake his head but the penny will have dropped that at Anfield, on a European night and with it all to play for it matters not that you have already proved to the world how good you are, or how may teams you tore up in your own league.  Skill, self belief, confidence, practice, reputation, determination, none of that counts for anything because once that penny drops, once the realisation dawns that when you are at Anfield & playing in Europe then it doesn't matter what plan you showed up with, Liverpool FC have you exactly where they want you to be. Then things change. Men become supermen, the unlikely becomes inexorable and the hardest 2 lessons in European football get learned. Firstly, at Anfield magic is not only real but flourishing, and secondly that magic belongs to us, not to them.

At least thats how I see tonight panning out!  And who's to say it wont?

Not like it would be the first time…..
Nostrada…WATSUPKLOPP (at two nil down):
Remember Istanbul!!!
Friday 15th:
DeetotheGee, looking at the contrast between individual players dragging us through, and the team contribution last night:
The Olympiakos game was a remarkable come back. But it was one of those games where Gerrard seemed to carry the whole team on his back. We got through and we thanked the Lord for Stevie G being the inspiration that he was.

But tonight it was the team. There were brilliant performances all over the place – and a few fitful ones too – but the never-say-die spirit seemed to be coursing through everyone's veins.

Allen, Mignolet, Sakho, Lovren, Can, Origi. That's six players who – at the time of Klopp's arrival – hadn't really won the fans over. (To varying degrees and in Origi's case, he wasn't really expected to have done so…) But all six of them were important tonight.

That's immense. We're a team.
Tony Mckenna, on the same thread:
Liverpool Football Club, in an unprecedented move, have set up a Helpline for hapless fans who are having difficulty coming to terms with the reality of recent events.

Of course, I am only kidding but that is the kind of realm we have been catapulted into.  It is an occasion when Fact displays more artistic liberty than fiction could ever dare to take. Except, being rooted in reality, it imparts more entertainment value than fiction could ever wish to match.

It is a movie moment. Like the scene in Grease where the rickety car goes into the garage.  One song later, and the same car is a hot rod destined to win a race at Thunder Road.  Similarly, and overnight, the Europa League has morphed from Fiat to Ferrari.  It is a fairy tale. A much maligned ugly duckling transformed into a beautiful Swan.  For Liverpool supporters, movies and fairy tales became entwined with reality.  This… really… happened.  It`s still hard to comprehend.

But we have a new reality.  Whilst LVG is exasperated with reaching a domestic semi-final, believing this proves he is not a `lousy` Manager, City and Liverpool happen to be in European semi-finals.  Touch for that.  If our European semi-final is inferior to that of City it is the case that the Europa League can make us aspirational towards it`s bigger Sister.  Just a few games away from Champions League competition posits us as if fifth in the League just a few points away from finishing top 4.  It was our best ever chance.

I admit I have had always had a romantic leaning towards this competition.  How could I not? My first ever football match was the then UEFA Cup.  I was 8 years old.  I wrote about the experience for TTT in the `First Ever Time I saw the Reds' series.  You have to understand that, as a boy, I had only previously seen football on a black and white TV screen.  I was then exposed to a world where colour ran riot and the noise scared the living daylights out of my soul.  It was beautifully terrifying.  And we won.  I fell in love.  I stayed in love.  I loved what happened last night.

Should we get into the Champions League think about where this places us for next Season`s campaign.  Klopp can secure the interest of higher quality players.  Moreover, we get to start the season with our Manager already in place; not having to change mid-stream; whilst United, Chelsea and City will all need to embrace the uncertainty of new personnel at the managerial helm.  We already know the new Chelsea guy is steeped in controversial corruption.  Have it!  Wenger, too, grips onto his position on a wet cliff side with criticism raining down from the terraces.

Stability has eluded us for far too long and now we glean an edge over our competitors.  Re-read Paul`s inspirational piece on the youngsters coming to the fore.  Recognise, also, that with our ownership we are in far superior business hands than we have been for a very long time – whatever your views on FSG may be.  Liverpool Football is so well placed for the future.  Maybe our luck is changing.

Last night`s events were played out in different Universes were the end result differed.  In some of those, Dortmund were the victors.  Even the outcome where we won, the luck we gleaned could have happened another time; in another match; in another life.  But, to paraphrase the Beautiful South:

"Don`t want it in the next life…I want it in this".

And we got it.  Meanwhile, down on the Waterfront in Liverpool, many gibberish reds fans hold hands looking out to the Mersey.  Still trying to come to terms with reality.  I am one of them.  Say hello if you come down.  Whisper it quietly; (I won`t tell anyone): "I love the Europa League".

Bloody, fucking hell, indeed!
Allen Baynes on the significance of last night's game:
Is anyone out there still bouncing?

Thought so 🙂

What a week, I think arguably the best in my years as a red. To be in Dortmund, which was a special time thanks to the wonderful reception from their fans. (At half-time, we were in the German end, a Dortmunder brought me and my two mates a beer each to our seats, how brilliant is that?)

Then to be there last night, wow!!!! I was at the Milan game in 65, St Etienne, the two Bruges finals, Wembley in 65,74, and 86, Juve away, Chelsea at home and Istanbul, never mind the three cups in 2001 and Cardiff 2006. But I think that was the best atmosphere and the most brilliant fightback against a very talented side. To hear the singing as people poured out into the night was truly magnificent.

The Klopp effect eh, no one leaving early, surge in belief, now he has just got to work on the moaners! I had 3 behind me slagging us off when we were 2-0 down. I told them they were privileged to be in the ground watching such a high quality team, (Dortmund not us!!!) It was their brilliance not us being crap. At half time when they were still moaning, I told them not to worry I'd seen it before, (Bruges 76), played off the park first half and 2-0 down, second half we scored 3 and won 3-2.

At the end of the game they were no longer moaning and regarded me as a new age Nostradamus, (Or just a spikey old twat who is always banging on about the past).

Well I have new event to bang on about now and, with Klopp, the promise of many more to come.
Chris Rowland, on how the match developed:
Like Milan in 2005, what Dortmund failed to cope with is a developing situation, a confluence of circumstances that coalesces into something of a supernatural, irresistible phenomenon. When all those factors – Anfield, past lessons, belief – come together, it doesn't matter how good your team or individuals are, how experienced in such occasions they may think they are, there is no human or collection of humans that can navigate the unnavigable. Although we were always behind, I just kept thinking 'how will Dortmund react if we start closing the gap, getting close, and the atmosphere cranks up correspondingly? How cool will they be then?'

To be honest, I thought them less likely to crack than Milan. But they're still human. They cracked.

The trouble with LFC's magic is, it can't be conjured up at will. It can't be summoned if you're 1-0 down in the league against West Ham or Palace. There have to be exceptional circumstances for it to happen. But when it does, there is no opposing it. It will prevail. And the more it happens, the more we – players, fans, managers, opposition players and fans – believe it can happen, and the stronger the magic becomes.

Potent indeed.
The Hillsborough Inquests:
Here's a reference of the personal statements given by the families of the 96 victims, by David Conn
Ninety-six people went to see a football match and never came home. Their families remembered them in moving personal statements at the new inquests into the 1989 disaster.
The story of the Hillsborough tragedy in photos, on the official site.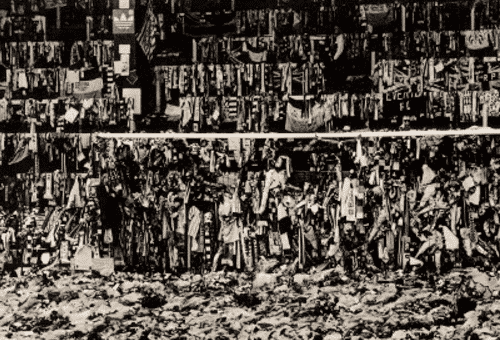 (Above photo by Dave Sinclair)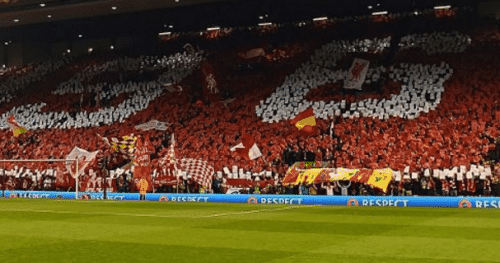 You can watch the 7:30pm (UK time) showing of the memorial service, for free, here on the official site.