By Paul Tomkins.
I've been arguing that this has ended up being an enjoyable season, despite (and partly because) of various challenges … but even with Klopp's ability to eke the last drop of effort out of his players, and his constant ability to change games with players from the bench, I didn't see "4-3" coming when it was 2-0 or 3-1 to Dortmund.
Not a chance.
Twenty years on (almost to the day) from Liverpool 4 Newcastle 3 – a game I was not only at but took half-time penalties – we've just seen the best European game at Anfield for a good few years – one that is up with the very best. Like the game two decades ago, this was another 4-3, with a last-minute killer goal.
I started writing before the game that Liverpool could follow Dortmund and Atletico Madrid's lead in recent years and reach European finals, and become challengers domestically, despite not having the riches – it seemed set, after the way performances have been improving.
But by half-time that was in the bin, and I was writing a piece called "Liverpool 8, Dortmund 11", referring to the fact that Liverpool still had two or three passengers in the XI, whereas Dortmund were just further down the road to perfection, with pace and skill in every position. They seemed to have 11 great players, all on the same wavelength. Of course, that's now in the bin, too.
So this is my third attempt, and it's not easy to write coherently when you are newly doubly incontinent, and have screamed so hard at the winning goal that your throat is now hanging out of your mouth as if something from Alien has burst forth. (Apologies in advance for any typos, or moments where I drift off into euphoric reveries.)
Due to my health I don't get to games anywhere near as much as I used to, and most of the time I don't miss it too much – apart from on a night like this.
European nights bring out the best in Anfield, and every now and then the script is beyond comprehension. I was lucky enough to be at Istanbul, and this was probably the best feeling since then; possibly even better than being in Cardiff a year later, for another crazy outcome. This feels bigger because this is the start of a new era, where we all need something to cling to, and Dortmund are two or three levels above West Ham in 2006. This is against European elite, even if it was just the Europa League. (Who knew the Europa could be so good?)
In general, the atmosphere at Anfield had been getting increasingly worse over recent years – something you really notice when go back when you're no longer a regular (although I expect the regulars notice it too) – but as was seen in the run-in in 2013/14, it can still be very special. Sometimes I'm embarrassed when overseas players, managers and fans talk about the fabled Anfield atmosphere, because due to various reasons it's not what it was, and I expect them to be disappointed. But this showed that it can still be one of the very best in the world, especially with something to hang onto.
And in Jürgen Klopp, Liverpool have a manager who has looked to feed off the crowd, and made it about a symbiotic relationship. (One manager who didn't get that – Roy Hodgson – looked stony faced at the end in the director's box, as those around him celebrated.)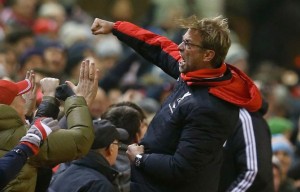 Also, it has to be said, that Klopp seems to have a habit of making insane things happen. This result doesn't come with silverware, but a big part of football – to the German, without doubt, but also to fans – is the occasion. The occasion is what is often spoke about in decades to come, not certain results.
This was one of those incredible nights that will live longer in the memory than, for example, many a League Cup triumph (although he also managed to take the team to within a penalty shootout of winning that, too).
He just seems to have some kind of winner's edge, although maybe he's also lucky, in the way that all managers rely on luck here and there. If Sakho heads the chance at 3-2 wide, then Klopp looks a fool for his side going 2-0 and 3-1 down, and blowing the great situation set up after last week in Germany.
In the end, it was hairs-on-the-back-of-the-neck special, and enlarges the aura that already surrounds him; an aura that in itself is of course purely metaphorical, but which can lead players to believe. (Unless he genuinely has a glow, as he emanates his own aurora: a one-man northern lights display.)
After several great league performances that will live long in the memory (even if they don't count for an awful lot), and the destruction of Manchester United in the previous round, this was somehow even better.; not least because, unlike United, Dortmund look pretty decent. Whether or not momentum exists, belief is such a key part of football, and few people understand that as much as Klopp.
This wasn't as one-sided as the 4-0 destruction of Real Madrid seven years ago – indeed, this game was hugely two-sided – but it was probably the most exciting since St Etienne in 1977, because of the uphill task (from the 9th minute onwards), and the level of the opposition. (Edit: I overlooked Olympiakos, which was a great occasion, but they weren't 2-0 and 3-1 up, and neither were they a great side. But that was also a great European night, no doubt.)
It wasn't the most tense: that was Chelsea in 2005, and the 87-minute wait on the one-goal lead. And that also led to the first European Cup final in over two decades: the reward was far greater that night. This has 'only' the reward of a semi-final, in a lesser competition.
But this was perhaps the most thrilling Anfield European game ever – certainly in my lifetime. It almost had all the goals of the 6-3 versus Sion in 1996, but with far more meaning.
It almost has the meaning of some of the great European Cup nights too, because this is the start of a "project", and Klopp had a lot of pride at stake against the team he helped create, who were starting to embarrass him so early in the match. So much seemed to be riding on it, not least Liverpool's season. People all over the world will have been watching this games, and top players will be more sold on the idea of joining the club with Klopp at the helm, overseeing nights like this.
We often look back at events and call them turning points, but this feels like the moment Liverpool turned into a proper side. One of my "passengers" – James Milner – yet again defied logic to put in a great cross from open play, when doing so from a corner seemed beyond him (as can simple passes at times); making for his second assist of the night, when I'd have taken him off well before then. He's far from perfect, but he stuck at it, and even John Barnes would have struggled to beat the perfection of that cross, at a time when others would have lashed it.
And Dejan Lovren – so utterly awful in the opposing penalty box since arriving at Liverpool – joined Mamadou Sakho in becoming an unlikely goalscoring hero. To see the pair at the end, celebrating like escapees from an asylum, was one of the great Anfield images. Team spirit is everywhere, but also tactical rearrangements, too – it's not just about heart. Klopp is not just some jack-in-the-box manager jumping about on the sidelines; he clearly sees stuff and makes clever changes.
However, the biggest praise should go to Divock Origi – a 20-year-old who scored a great goal, battled away, held it up, flicked it on, ran in behind, came short, dribbled down the flanks, and generally tore Mats Hummels to shreds.
Origi is still raw, but I've loved the potential of this kid since we signed him, and defended him since day one. He is in red-hot form, and showing what a complete striker he can be. Daniel Sturridge did well too, when he came on, but Origi – to my mind in the team mainly for his work-rate and pace against such strong opposition – is doing pretty much everything right at the moment. Even so, singling out anyone on a night like this seems unfair.
But seriously – bloody hell! Indeed: fucking hell!