By Mihail Vladimirov.
Making a combined total of 15 substitutes for the weekend league games, both managers demonstrated that the Europa League was the top priority. Come Thursday evening, both sides were at full-strength, with Henderson the only notable absence. Gundogan and Sturridge remained on the bench.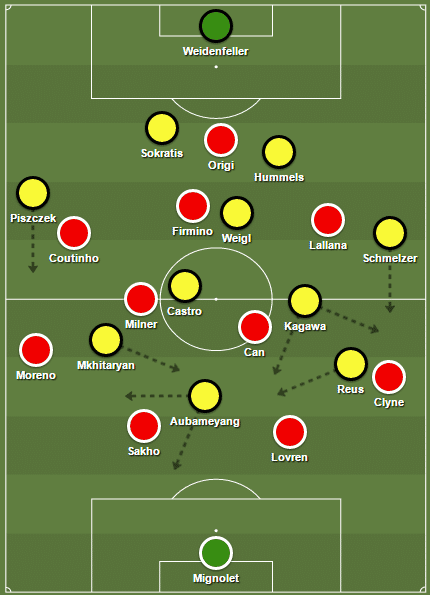 Tactics reversal from the first leg
In the first leg, understandably given the occasion and the nature of the game (first game of a tie), both teams deviated from their usual tactical approaches, formation and style instead going for a more cautious and pragmatic outlook. From their usual fluid and attack-minded 4-3-3 shape, Dortmund went with a more structured and conservative 4-2-3-1 while Liverpool made the opposite trip – preferring the more rigid 4-3-3 over their usual free-flowing 4-2-3-1.
For this game though, both managers returned to their customary attack-minded formations and styles of play, creating a nice match-up of offensive tactics leading to a highly entertaining clash.
Intriguingly was also the fact that both managers made a subtle tweak to their team's usual structure and movement patterns. Neither did something previously unseen or completely revolutionary but both added another layer of the on-going tactical battle.
For Liverpool, Klopp took the decision to field Milner as the left-sided midfielder and not on the right (and effectively play him in the Henderson role). This didn't result in drastic change in Milner's own role but it had an impact on how the rest of the team behaved movement-wise. Instead of, as per usual, seeing him continually drift infield off the left flank, Coutinho kept his position much wider. Meanwhile, with Lallana doing his customary thing to drift between the lines from the right flank, Liverpool looked exclusively oriented to the left hand side.
This effect was further emphasised with Milner drifting wide to the left as often as he tried to roam forward with Moreno's overlapping runs adding yet another body down that left channel. It felt like Klopp was specifically planning to overload the inside-left channel with no less than three players; but keep his right flank rather empty with Clyne as the only permanent presence there.
This was the total opposite of how Liverpool in this 4-2-3-1 is usually set up. Often we see Coutinho drift infield from the left and vacate the whole of the left flank for Moreno, with Henderson (from his right-of-centre position) drift wider to combine with Clyne and often a create 3-v-2 overload with whomever of Lallana or Milner is playing down the right. It was kind of Klopp switching his side over, presumably to try and catch Dortmund by surprise.
Meanwhile, Tuchel rearranged his side in a way that looked to occupy all attacking channels instead of trying to overload only one of them. Usually we can see Dortmund try to push all of their players towards the left channel with Mkhitaryan getting into very narrow positions off the right flank and Aubameyang working the inside-left channel to get closer to and combine with Reus. The same left-sided oriented movement is also done in midfield with Kagawa often working down the left channel and Gundogan getting over there. The end result is that Dortmund often have no less than six players in close proximity down the inside-left channel with only Piszczek as the sole presence down the right flank, allowing for the possibility of a sudden switch of play.
Here though, Tuchel asked his front players to spread across the final third much more. His staggered midfield three were balanced in that Kagawa was, as per usual, working the left channel in advanced areas but Castro stayed deeper and to the right. Similarly, while Mkhitaryan continued to come infield from the right flank, Aubameyang was repeatedly drifting to the right to retain the width and allow Reus come into greater space when he opted to cut infield off the left.
Earn the right to attack
With both teams giving all the indications they were aiming to attack right from the start, they key was who would earn the right to showcase their own attacking patterns and dominate more into the game. Often, when both teams are well set up to materialise their attacking intent whenever on the ball, the answer to this question is found in which team is better when it comes to regaining possession and limiting the opposition's time on the ball. Or in other words – which team is better at pressing and specifically counter-pressing.
Right from the first whistle, Dortmund showed themselves to be more efficient on this front and willing to put the extra effort to achieve their goal – regain possession to then go on and attack purposefully. Meanwhile, Liverpool surprisingly showed themselves to be passive and rather content to wait for errors rather force the issue and try to exert the same amount of pressing on their opponent. It was that key difference in both teams' early behaviour that made the overall difference and allowed the visitors to settle better into the game.
Dortmund's first goal originated from a poor Coutinho back pass to Moreno and as a whole was a brilliant counter-attacking move. But their second goal, and a couple of the other attacking moves early on, was perfect evidence of how the visitors were better in terms of counter-pressing, which then allowed them to attack through their fluid 4-3-3.
That Liverpool were unable to cope with Dortmund's early pressing wasn't a strictly tactical issue. It was just the home team's passing and composure on the ball weren't offsetting the intensity and efficiency of the visitors' counter-pressing. Nevertheless, that the Reds couldn't guard against the German's attacking moves had a logical tactical explanation.
The fact there was no natural holding midfielder to sit tight ahead of the back four and patrol the space between the lines clearly made it drastically easier for Dortmund to waltz through the midfield zone and quickly develop their dangerous attacking moves. In the first leg, Liverpool were again playing without a typically defensive-minded midfielder, but at least they compensated that absence by changing the formation from their usual attack-minded 4-2-3-1 to a more structured and rigid 4-3-3, which had the benefit of increasing the numbers in midfield to offer greater protection. This wasn't the case here and it was telling.
All of the above wouldn't have been such an obvious issue if Liverpool were at least trying to utilise their 4-2-3-1 structure and have all their energetic players pressing hard right from the start. But Klopp's team didn't, and were generally passive, so made it even easier for Dortmund to apply their own version of counter-pressing and then break forward dangerously upon each possession turnover.
The rest is for subscribers only. 
[ttt-subscribe-article]