By Mihail Vladimirov.
After the emotionally-draining Europa League clash on Thursday and with a Derby looming on Wednesday with only two full days for rest, Liverpool were always going to rotate and make this game less of a priority. Even so, few would have expected Klopp to make 10 changes from the Dortmund match, including the 'keeper.
Meanwhile, Bournemouth had already secured their stay in the Premier League for next season. So, apart from trying to finish a couple of places higher, they had nothing to play for in the remaining five games, except perhaps some pride and further self-esteem. But given their key absentees and lack of strength in depth in key positions, it wasn't really surprising that they continued with their first-choice XI here.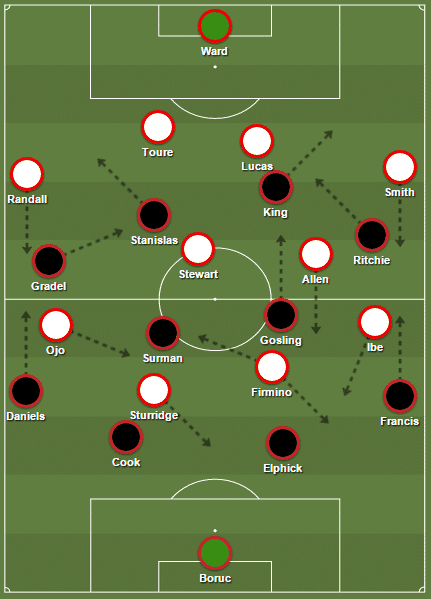 All the above could have taken the game in one of two directions. Either it would have made it a very flat and uninteresting affair with neither team really busting a gut to perform to their best. Alternatively, it could become a clash where both teams look to attack and enjoy themselves in a free-flowing spectacle as there was no pressure on either side to chase a result.
In fact the game proved something in between – it wasn't one of the classics or the type of performance that would be talked about once the season is over. But it was also obvious both teams took it seriously and approached the game in a very professional manner without any signs of 'saving themselves'.
Bournemouth's approach
The key question regarding Howe's potential overall macro strategy and micro tactics was whether he would go 4-4-2 or 4-1-2-3, the two variants most used by him up to now this season. With Harry Arter out injured and O'Kane rarely used since the team got promoted from the Championship (he has six Premier League starts, but only one in last four months), the 4-4-2 option was always going to be the likelier.
There were a couple of intriguing aspects regarding Howe's chosen 4-4-2 formation though. First, when out of possession the team didn't look to press on the verge of the attacking third (the Cherries' usual approach), but instead looked to drop into a Pardew-esque 4-4-2-0 with the front pair dropping deeper to keep the side compact and prevent easy passes straight through the middle from Liverpool's defence and make it hard for Allen and Stewart to link up with the front four.
This had the knock-on effect of making the rest of Bournemouth's side stay deeper and form a tighter defensive shape as the midfielders stayed deep, the full-backs tucked closer to the centre-backs with the wingers getting back to protect the wide areas.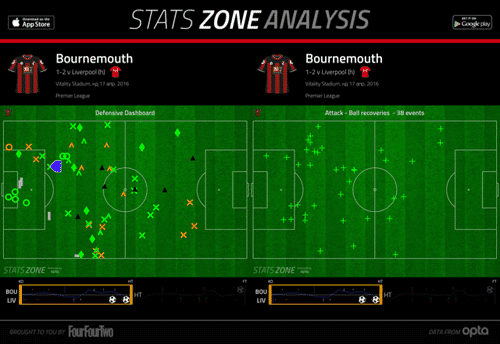 The second aspect was that instead of using a front duo of proper centre-forwards, Howe opted for a pair of wingers, or at least players who in their career up to now have been used mostly out wide – Stanislas and King. This resulted in a very versatile front quartet made up of four wingers who offer different and complementary movement – the wide men cut infield, while the central forwards looked to often work the channels and drift wide.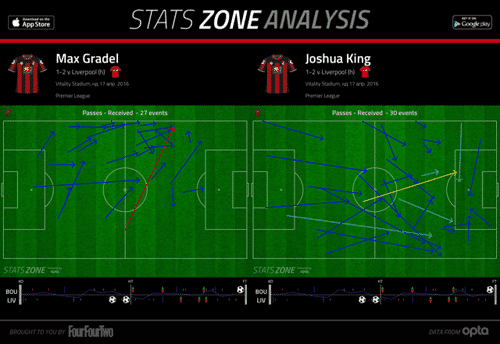 The rest of this analysis is for Subscribers only.
[ttt-subscribe-article]