By Paul Tomkins.
What is the point of football? I've asked myself this question with increasing frequency in recent years, with the game becoming more and more about money, and perhaps in direct correlation, more and more about fan rage. Who does it 'belong' to? What do we expect from it? Why does anyone bother anymore?
It got to the point where it seemed that unless a team won all 38 games 7-0, fans of certain clubs wouldn't be happy; while everyone else had little chance of anything meaningful. But Leicester have bucked the money-league trend, and that will lead to more hope for everyone else which, of course, could lead to even more despair (conceivably, fans of all 20 clubs will think they can win the league next season – if the team tipped for relegation possibly can – which means 19 sets of very disappointed and angry fans; indeed, god-help any small club finishing merely mid-table).
But to me, football is about what it means to you. And in the social media age, too many worry about what it means to them – the "other"; the fans of another club. All joy or pain has to be experienced through the lens of what it means in terms of bantering potential.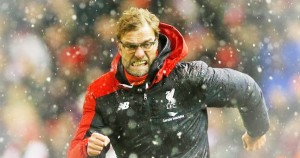 Last season I wrote about trying to be more in the moment as spectators and fans, and not obsessing about results; and this is why Jürgen Klopp is such an important manager. He is an obsessive winner, but he seems to cherish the moments. It has to be fun, and it has to make you feel alive. No one can guarantee great performances every time, and no one can guarantee victory, even if his team plays better.
This article is for subscribers only.
[ttt-subscribe-article]