By Paul Tomkins.
It's fair to say that I don't watch enough of the world's other leagues to make a definitively accurate comparison, but the more I think about it (from inside my bubble) the more it strikes me that the English Premier League's unique challenges lay not in the quality of the teams and the tactical acumen of their managers (although there are some good teams and some very clever coaches), but in the brutal intensity of almost every 90 minutes – as well as the number of games played (without a winter break) and the wide variety of approaches faced.
I recently noted that the Bundesliga has a large number of German managers (approximately half of all bosses, plus others from German-speaking neighbouring countries like Austria), but in England, perhaps as a result of the "effective but limited" management styles of so many homegrown bosses, as well as the masses of cash swilling around, there are just a small number of Brits – most of whom fit the stereotypical mould, and manage plucky underdogs. In addition to these handful of Brits there also those from France, Spain, Germany, Chile, Holland, Italy, Croatia and Argentina. Until recently, there were also managers from Portugal and Denmark (both of whom – Mourinho and Laudrup – were recent trophy winners). And in almost all cases, these imported managers never played football in this country (by my reckoning, only Roberto Martinez did so), so perhaps weren't overtly influenced by our league.
Whereas the Bundesliga has almost exclusively teutonic types, it's fair to say that the footballing cultures of the non-Brits are far removed from what our game used to be all about.
La Liga is even more remarkably stark in its contrast with the Premier League: 16 of the 20 clubs are managed by Spaniards, and a further two are managed by Argentines, whose native tongue is Spanish (and who both played for several years in Spain). That leaves just two clubs, managed by a Brit and a Romanian – and even then the Romanian spent a decade playing in Spanish football. Gary Neville sticks out like a sore thumb. There is little cultural diversity, and while this is due to the country's renowned cultivation of coaches, it would logically suggest a more homogenous approach.
By contrast, England is a melting pot: where northern European meets low countries meets Latin meets Latino, with Eastern European influences thrown in for good measure. We talk about players getting used to English football, but aside from its unrelenting breakneck pace, it's hard to say what English football actually is.
My hunch is that to be competitive in the Premier League requires a greater variety of approaches than in other countries, and that dealing with this, in addition to the pace of the game, makes it harder for English clubs in Europe.
(On top of which, as I've mentioned before, the elite talent that goes to Spain has a choice of just two clubs, and in Germany it's just one, making those stronger than the other Champions League participants from those countries; whereas in England there isn't a club with the pulling power of Real Madrid or Barcelona, so the next tier of players – the not-quite-world-class-at-the-time – go to Man United, City and Chelsea, with Arsenal and Liverpool diluting the pool by occasionally attracting one themselves, who they then sell to Barcelona or Real Madrid. Weirdly, I'd say that goalkeeper is the only position where most of the world's elite play in England – De Gea, Courtois, Cech, Hart and Lloris are probably all in the world top 10 – yet it's still a massively underpriced and undervalued position.)
As much as anything, injuries seem to be playing a key role. An injury crisis seems to be the norm for top clubs. Leg breaks, shoulder dislocations and cruciate snaps may be hard to guard against, but muscle injuries must cost clubs tens of millions of pounds each season in 'wasted' wages, as well as maybe even 10-20 league points in extreme cases (how many points is Daniel Sturridge worth?), which also cost tens of millions of pounds in addition to disappointing the fans by not being competitive.
Sports science and medicine has improved beyond recognition, yet muscle injuries remain widespread, particularly in pacy players like Sturridge, Walcott and Aguero, whose sprinting powers are hindered by the strain of stop/starts, jumping, stretching and hurdling, all of which actual sprinters don't have to contend with.
(That said, seeing these players – and someone like Vincent Kompany on Boxing Day – reintroduced as subs seems odd. In this day and age, with all the money and expertise in the game, why aren't substitutes warming up the whole time, and already wearing their shirts, shorts and shinpads? Why is being introduced as a sub always a total surprise to all concerned?)
Perhaps it's the same in other countries, but English football is getting harder and faster. At times it can look brutal.
According to a study by Barnes, Archer, Bush and Bradley for the International Journal of Sports Medicine, between 2006 and 2013 the average distance covered by a Premier League footballer fell by 2%. But the distance run at high intensity increased by 30%, the sprint distances increased by 35%, and the number of sprints rose by a barely comprehendible 80%. The number of passes rose by 12% and the number of "actions" by 50%. With cameras trained on every player, as well as tracking devices sewn into their shirts, there's no longer anywhere to hide; or, it seems, draw breath.
And this isn't even covering the last two and a half seasons, when our game appears to have grown even more frenetic.
It's getting ever-harder to make sense of the game, with the old reliable measures of what leads to success no longer applying. Possession has changed from being the thing that the winners dominated to where victorious sides are now only averaging 49% of the ball. (Maybe Roy Hodgson was ahead of his time at Liverpool in having just 35% possession at home when beating Chelsea 2-0 – his one really good result. Then again, that was a horrible six months, and there wasn't a lot of winning going on.)
It strikes me that you can be a good team in many respects, but it's very hard in England to be a complete team, because you have to face so many different styles, and the Rich Three, though able to assemble the deepest squads, aren't quite as strong as they could be with many of the world's elite game-changers now in Spain (three of whom – Ronaldo, Suarez and Bale – were plundered from this country).
It's probably also no coincidence that many of them are South American (Messi, Suarez, Neymar and James being three prime examples), and work permit, language and climate issues mean that Spain is a more desired destination for Brazilians and Argentines.
Jonathan Wilson, writing recently about Pep Guardiola and a potential move to England, noted:
"…while the cliche the Premier League is the only major league where the bottom can beat the top may grate, there is some truth to it: Louis van Gaal is not a man given to platitudes, so his assertion the Premier League is a 'rat race' unlike any he has known can be taken at face value. There is a constant attrition that takes a toll – and perhaps partly explains the recent underperformance of Premier League clubs in Europe – and it is Guardiola's capacity to deal with that grind that would define him were he to come to England."
In many ways league games are becoming more like cup football, with the smaller and mid-ranking clubs now fielding reserves in the actual cups because protecting their Premier League status is far more important to their sustainability.
I've conducted a couple of studies looking into the effect of cup football on Premier League performance, with the most recent one showing the more cup games that are played, the greater the chances of it taking points away from expected league tallies.
Teams often look sensational as the underdogs – in part because they are allowed to cede possession and hit on the break – and then when they play someone they're expected to beat they wilt under the pressure, as the tables are turned. So many teams appear to be brilliant some of the time and awful at others.
This time talking about Jose Mourinho in a mammoth piece taken from The Blizzard, Jonathan Wilson discussed the Portuguese's seven-point philosophy (which itself was taken from Diego Torres' book on the ex-Chelsea manager).
1) The game is won by the team who commits fewer errors.

2) Football favours whoever provokes more errors in the opposition.

3) Away from home, instead of trying to be superior to the opposition, it's better to encourage their mistakes.

4) Whoever has the ball is more likely to make a mistake.

5) Whoever renounces possession reduces the possibility of making a mistake.

6) Whoever has the ball has fear.

7) Whoever does not have it is thereby stronger.
It is almost anti-football, and yet it also makes some sense. Fear plays a huge part in modern football, perhaps because players have never been under greater scrutiny – there's nowhere left to hide – and also perhaps because (at the big clubs at least) the steep ticket prices make fans less patient and more demanding; home crowds seem increasingly hostile, or at best, indifferent (in contrast to smaller or recently promoted clubs, whose fans produce electric atmospheres because they haven't been sated). And of course, social media reduces patience to nanoseconds.
But not everyone has adopted this counterattacking tactic, and fans of clubs where possession still equates to "good football" tend to hate seeing what they see as a cautious approach – especially if the opposition isn't going to come out of its shell. This is true of Manchester United fans and Louis van Gaal, most of whom seem to see their club's boss as negative and boring.
Simon Kuper wrote on ESPN earlier in the year that:
In 2009 … Van Gaal published a book, in Dutch, called "Visie" ("Vision"). The title says it all: the book is the ideological statement of an ideological coach. Its opening words are, "I sometimes suspect myself of being more interested in 'playing the game well' than in 'winning'." When he lists the characteristics of his teams, the first is, "An attacking playing style is used."
How does a maniacal idealist who prefers 'attacking football' to 'winning football' end up being the poster boy for boring, non-winning football?
It seems that unless you can do possession football to devastating effect (Barcelona, Bayern Munich), then it can be a hindrance in the age of packed defences and athletes sprinting upfield on the break.
Rock-Paper-Scissors
All of this leaves Premier League clubs facing what, to me at least, looks like 38 games of rock-paper-scissors.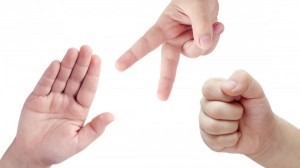 You have the "Rocks" – teams like West Brom, Crystal Palace, Watford and Leicester, who use solid players in defence and midfield, and often two strikers (at least one of whom is huge) to bully teams into submission, with varying degrees of skill added to the mix (they all have some, but it's mostly limited to a couple of players, rather than a half-and-half mix of skill and brawn).
Of the big clubs, Chelsea (at least until this season) were archetypal Rocks too: Terry, Cahill, Matic and Costa (and in years gone by, Drogba) comprising a non-compromising spine. They were possibly the most Rock-like high-profile side, until weirdly, they became one of the rockiest.
And yet even this remarkable decline has been put down to burnout by some analysts, with the work-rate necessary to win the title last season perhaps leading to mental and physical exhaustion; or, if the players had recovered by August, the hunger to do it all again had vanished.
Next you have the "Papers", such as Arsenal and Manchester City – as well as what Manchester United are trying to do but without much success – who mostly dominate possession and look to smother the life out of opponents with ball retention. (Something that Brendan Rodgers' Swansea did back in 2011/12, albeit with possession in deeper areas.) Unfortunately, paper isn't very strong, and folds all too easily.
And you have the "Scissors", like City and Arsenal, who as well as papering with possession, are capable of cutting teams to ribbons with penetrative passes, due to players with exceptional vision, and often, quick forwards, wingers and inside-forwards who can get in behind defences, should the opposition squeeze up and hold a higher line.
(Leicester, meanwhile, are rock-scissorors – no attempt at papering, they simply defend deep in a tough shell, and hit teams with incisive counter-attacks; although I still expect them to have fallen a good few places come May, with 5th or 6th my likeliest guess.
The problem for Arsenal and City is that, in assembling sides with such gifted technicians – these are the paper-scissorers – they can look a little lightweight in match-ups against physically imposing sides, and often appear to lack the kind of rock-like character that Chelsea had in spades, until someone buried it. Arsenal, in particular, are perceived as chokers with a soft underbelly, due to failing to sustain a title push in recent seasons, although in that time they've been only the 5th (and now 4th) most expensive side in the land, at a reasonable distance behind the Rich Three. So they have had a handicap in terms of genuine squad depth, even if that financial gap is closing.
City, more than Arsenal, actually have a few Rocks: but with Vincent Kompany an increasingly frequent absentee, Mangala more like pumice (looks strong but porous), and with Yaya Toure a melted force of nature whose game seems to have been reduced to that of a long-distance sharpshooter who moseys around the pitch, they appear a soft touch at times.
And right now, Manchester United appear to be just paperers (with much of it going over the cracks). Not only do they lack the old rock-like core that made them so strong in years gone by, with the likes of Roy Keane and Jaap Stam to ward off the bullies (ditto Arsenal in the Vieira/Campbell days), but there also seems to be no great ability to cut through opponents. (And to use a politically-heated phrase from the Ferguson era as a metaphor, Wayne Rooney now looks like the Rock of Gibraltar – although I don't mean the infamous horse.)
Then there's a weird anomaly like Stoke, who went from being Rock-like to the point where, under Tony Pulis, their line-up resembled a phalanx of Easter Island statues, to where they have at least two attacking players who genuinely resemble little boys in oversized kits (Shaqiri in particular freaks me out), out of a technical front four who have played for major European clubs. They are still mostly brutish at the back, but through Mark Hughes' connections have managed to add a Catalonian flavour.
… Applied to Liverpool
Which brings me to what Jürgen Klopp has inherited at Liverpool. And how, despite a fair smattering of talent and potential, he has taken on a muddled, mixed-message squad which, in Brendan Rodgers' final 16 months at least, was not Rock, not Paper and not Scissors: little solidity, no outstanding possession and no cutting edge.
If this seems like a sharp fall from 2013/14, it's worth remembering that there was little solidity then either (over 50 goals conceded, often to bullying sides), and not a great reliance on the possession that defined Rodgers' early days at the club as distinctly Paper in style – but there was by his second season a quite remarkable cutting edge. That side was as Scissors as it gets, scoring a phenomenal 101 goals.
For the second half of 2013/14 in particular, Liverpool could cut teams apart from deep, with Steven Gerrard's laser-guided passes (before teams cottoned on and man-marked him), and had the pace and skill of Suarez, Sturridge and Sterling, aided and abetted by Coutinho and Henderson, to make incisions further forward.
But by the end Rodgers' vision was not clear, and not necessarily in line with the vision of the transfer committee, who seemed more interested in youth and pace. Rodgers wanted proven Premier League players, perhaps in an attempt to toughen Liverpool up: but Dejan Lovren struggled in Rodgers' system (though thankfully is finally looking the part), and Rickie Lambert was rock-like only in his movement, while Christian Benteke has the requisite physicality, and is a good player, but one not necessarily suited to Scissors-type of game (Klopp is working on him). Mario Balotelli had the physique, and the skill, just very little intensity and even less football intelligence.
By contrast, Adam Lallana was suited to an incisive game – but he just isn't at the level the transfer fee suggested; he can be creative, and he can score goals, but doesn't create as many chances as is necessary for his "type", and just one goal in his last 27 league games (and zero in 19 for England) is terrible for someone who isn't racking up the numbers of assists (just two this season) or chances created to compensate (Firmino creates more, even though he's in-and-out of games). In many ways this makes Lallana worse than Stewart Downing, who at least made telling passes and crosses.
However, Lallana is at least someone who understands Klopp's pressing game, so that's a plus – providing he can add consistency. But his lack of strength and any real pace seems to make him unable to do more than have the occasional good game; he's physically like David Silva, only nowhere remotely as good, and therefore more easily shut out of games.
While Lallana could possibly be very useful in the right team, his lack of height, pace and strength meant he ended up joining several other diminutive players who would make life harder for the team to defend set-pieces – an achilles heel for the Reds – when, to me at least, most of those other players (Coutinho, Clyne, Allen, Ibe, Ings, Milner and Moreno are all 5'9" or under) offer more.
Lallana seems more in keeping with Rodgers' early transfer business, when the manager was still talking about Barcelona, and comparing Joe Allen with Xavi. (As a quick aside, can Liverpool managers stop comparing new signings with world-class players; 13 years on, we're all still reeling from Bruno "Zidane" Cheyrou.)
And in fairness to Rodgers I was more than happy at the time to see him try to replicate the Catalan club's approach, seduced as I was by the beauty of their game … but it turns out that tiki-taka was very hard to replicate (especially with seriously inferior players), and rather than move towards that style, a lot of the more exciting sides – such as Klopp's Dortmund (and even Rodgers' Reds during 2013/14) – ended up eschewing possession in favour of lightning counters.
And this summer, in trying to (understandably) gather a variety of approaches to have different types of options (as seen most clearly with Benteke), Rodgers' team ended up lacking an identity – again, it was not Rock, not Paper and not Scissors, and resembled none of the good things we saw with his Swansea or his mid-years Liverpool.
Indeed, in this case, rather than Scissors, it was more second-hand Swiss Army Knife, with tools missing, and with a silly little pair of blunt scissors that weren't much use for anything. Perhaps Rodgers was trying to adapt to the changing demands of the English game, and make Liverpool more versatile, but it didn't come together, with this season panning out exactly like 2014/15.
However, now that Klopp is in charge it's time for some joined-up thinking. The problem is that this won't be an overnight fix.
The number of different approaches dating back over half a decade led to some smart isolated purchases (Henderson, Suarez, Sturridge, Coutinho and Can), but no great identity, and that is what may well take Klopp a year or two to put right. There are the remnants of at least five different approaches in the last six or seven years.
There was the tail-end of Rafa Benítez's tenure, when Gillett and Hicks were removing funds (contributing to the club falling out of the top four), which was followed by Hodgson doing more damage than good with a small budget (better players left the club than joined, and the average age of his six signings was almost 30, with almost no pace, and little hunger, between them. All were soon gone).
Then there was the Dalglish/Comolli venture, which added two great signings, one of whom would go on to be the best player seen in decades while the other would become club captain (who shone against Leicester), but also made a couple of expensive mistakes, as well as buying some mid-priced turkeys from within the Premier League.
Then, with both Dalglish and Comolli gone, came Rodgers' ill-feted 'Barcelona-lite' project, followed soon after by the committee being formed in order to take transfers away from the manager. Barcelona-lite lasted a season.
The committee then had one great window (January 2013) followed by one bad window (summer 2013), and by 2014 Rodgers, now playing a totally different brand of football to a year earlier (and which in 2013/14 had worked brilliantly, even if with virtually none of his own buys), clawed back some input into transfers on the strength of his coaching, which was seen most clearly with the raid on Southampton. (Cynics may say that Liverpool were now Southampton-lite.)
All of which brings us up to the business of the summer just gone, where none of the new recruits have yet to add anything really significant, but where it's too soon to conclusively judge any of them. There have been positives from all of them, which is isn't a bad start – particularly from the younger ones, who are adjusting, adapting and growing.
And yet so far, when the team is not playing well their weaknesses seem to define them: Milner has incredible stamina and is strong, but is another short-arse, and bar the odd great cross has been unremarkable on the ball; Clyne has strength, stamina and pace to burn, but doesn't appear to have the ability on the ball to make the most of the space he powers into, and is another short-arse; Benteke has ability, and definitely isn't a short-arse, but seems too static; Origi (albeit bought in 2014) struggled for confidence, although has all the necessary attributes to be a big success, as his form increasingly suggests; Firmino has at times looked lost and, like a few other technically-gifted imports, shellshocked, which people have been quick to highlight – but has created more Clear Cut Chances than any other Liverpool player this season in less playing time than the rest, and has shown glimpses of real class – in his case, adapting to the pace of the game (and learning the language) are the main hurdles.
(Gomez and Ings both looked good, albeit in just a few games before serious injuries struck, and Bogdan is merely a reserve goalkeeper, who looked good in the League Cup but whose drops-per-game ratio in the league is already too high, after just one match.)
In all of these cases, some leeway is required, and it's especially true of young players and/or imports. But what Liverpool need to do now is settle on a vision and implement it. In Klopp the Reds have appointed a manager who sticks around and builds things – albeit with the aid of noisy fans backing the team to the hilt (something he's trying to reintroduce to Anfield; as if to say to 45,000 people with pent-up emotions "it's okay, let it out").
Klopp's hurdles
There are no guarantees with any manager, but I still think those who have been there and done it make for better appointments for big clubs; you know they can handle the pressure, and that they have found telling solutions often enough in the past, even if they are not immune to bad seasons. And their CVs buy them a bit more time, which helps keep fans onside for that bit longer when things aren't going well. But of course, every club is different: different players, different cultures, different expectations, and so on.
We may want Liverpool to instantly play like Klopp's Dortmund, but he can't magically turn Christian Benteke into Robert Lewandowski, or have Lallana perform identically to Marco Reus. But we must also remember that even Lewandowski, Reus and Co. didn't play like Lewandowski, Reus and Co. right from the start.
One of the potential problems I can foresee is if 'fashions' change again, and Klopp either cannot adapt, or like Rodgers flails around for an identity – although this seems less likely, as Klopp seems to know his own mind, and seems less swayed by a desire to be liked.
Then there's the question of coping with the various challenges of English football, as outlined earlier in the piece. If Liverpool are going to go down the route of high energy, counter-pressing, is there an alternative approach for when teams park the bus – which all sides can struggle against if they don't get the early goal – and can they deal with physical, high-energy teams who dish out the same medicine to the Reds when they are not as fresh, especially post-Europa League fixtures?
And although Klopp has inherited some players perfectly suited to his style, how long will it take him to replace those who aren't with those who are (which is never as easily done as said), and gel everyone together as a team? How long will it take to turn a collection of players into a well-oiled machine?
The German brings high-energy game, which seems suited to the Premier League; but could that be less of an advantage – less of a point of difference – in 2016 or 2017, in England, than it was in 2011-2013 in Germany? This is something that is hard to forecast, and to me, it's more important to back the manager with time and money, in order to give him a fair crack at implementing his vision, rather than returning to a chop-and-change philosophy (even if the club never intended it to be a chop-and-change philosophy).
Shoots of optimism
The points return so far may be unremarkable (15 from 10 games), but the fairly important metric of TSR (Total Shots Ratio) and SoTr (Shots On Target Ratio) show Klopp's Reds as ranking 1st and 2nd respectively over his 10 league games, according to stats4footy.
A couple of months ago Andrew Beasley wrote on this site that Klopp's Dortmund team also always scored highly in this – in other words, on average they "outshot" the teams they were playing by a large margin, and had far more shots on target than they allowed at their own goal. For instance, in 2010/11, when they won the league, they averaged 71% – meaning they had 71% of the shots that were on target during their matches, and that their opponents averaged just 29%.
Doing so well in this metric under Klopp suggests that if Liverpool's strikers (and midfielders, of course) can be a bit more clinical, and whoever plays in goal for the Reds stops dropping the ball and/or punching it straight to the opposition, then results should start to reflect the underlying numbers.
However, another metric – expected goals (xG) – suggests that Liverpool are having lots of shots (and not allowing many at their own goal) but creating precious few Clear Cut Chances (albeit more than in the eight games under Rodgers this season). So shot quality is a problem. This is one for the analysts to slug out as to what it all means, but with so many injuries to key attackers over the past few months, some drop in quality is to be expected.
But this job is not about quick fixes. Klopp is a motivator of world-renown, but beyond a bounce of a few games he still has to deal with a club where expectations outstrip the resources, and where no clear tactical plan appeared to be in place. He inherited a squad that, accentuated by absentees (and those loaned out), lacked pace in several areas, and with too many diminutive first-team players.
With diminutive full-backs and several attacking options that also lack height (which is more common), it perhaps needs a central midfield two of Henderson and Can to provide something rock-like on which to build a scissors-like attack. Getting the right balance from the current squad won't be easy. As Jamie Carragher noted on Sky, both Gérard Houllier and Rafa Benítez had to add bigger players soon after taking over, having inherited squads that were easily bullied.
Klopp has already increased the pace of play, according to Michael Caley, and had shored up the defence up to early December (something slightly undone since by some bad goalkeeping at key times during games, although the Reds became the first team to shut-out Leicester):
The defensive improvement, it appears, has more to do with stopping opposition penetration than breaking up possession with an early, high press. I use my expected goals passing system to find the best penetrating passes conceded by Liverpool. Of the 36 most dangerous passes conceded by Liverpool, 25 came in the first ten matches with Rodgers as manager, and only 11 have occurred under Klopp.
Other changes will take longer to take hold, and require new personnel. So ignore talk of Klopp being found out; he's barely got started.