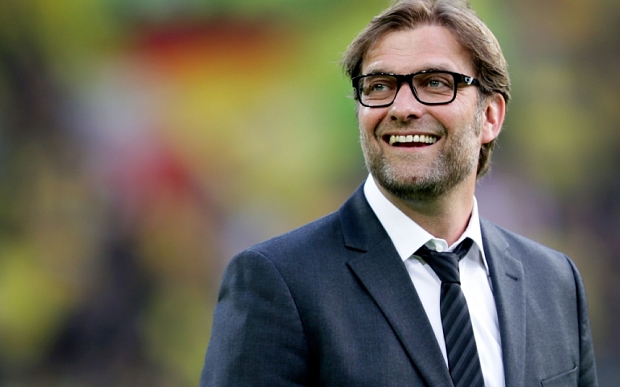 Written by Andrew Beasley (Beez). 
Now that Jürgen Klopp has been confirmed as the new manager of Liverpool, it's time to look at a few stats from his time at Dortmund, to see if his championship winning sides were that good, or if the team in his final season were that bad.
Time constraints sadly prevent me from going really in-depth on this, but I've returned to an old favourite of mine for this article: Shots on Target ratio (SoTR). It's a great stat as it's really easy to figure out, using widely available data, and best of all (as this article shows) it's almost as good as fancy expected goals models. Simple but effective; perfect.
I first wrote about SoTR in 2013 for the Tomkins Times book These Turbulent Times (and you can read the article here), but for the uninitiated, SoTR is a simple measure of how many of the total shots on target in a game one team has. So if Team A has six shots on target and Team B have four, their Shots on Target ratios are 60% and 40% respectively.
For one game it may not tell us a lot, but across a whole season it can be very useful, as teams tend to finish roughly in order of their SoTR. Using six seasons of data from the Premier League, I have found that the champions average 66%, second place posts 64%, third 62% and fourth, you guessed it, 60%. (Liverpool in 2008/09 averaged higher than the usual champion mark, at 67.1%.)
I haven't checked if these figures apply to Germany, where there are fewer financial behemoths and only eighteen teams in the division (plus as TTT subscriber WillTGM has noted, analytic standards from England don't always apply in Germany), but the below table certainly suggests that similar figures are probably in play in the Bundesliga; the two Dortmund sides with a figure below 60% both finished outside the top four, for instance.
What we have here is a table showing the shot figures for Dortmund in each of Klopp's seven seasons, the same years for Bayern Munich (to provide some context from Germany) and also the last three seasons for Liverpool. The clubs are sorted by their shots on target ratios.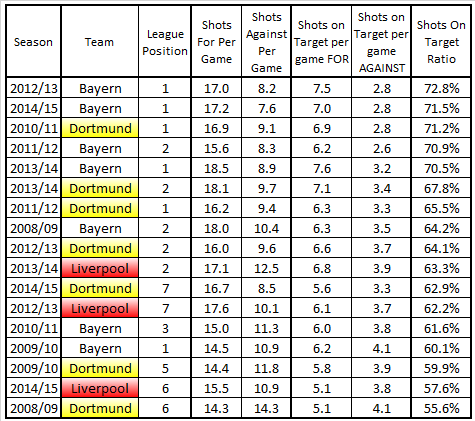 Here are the main points of interest for me:
I've looked at seven seasons of Premier League data for this, and only one team has either averaged over 6.8 shots on target per game, or posted a SoTR of over 70%. In fact, it was one team who did both: the Chelsea side of 2009/10 (whose manager Liverpool definitely haven't spoken to), yet we can see here that Klopp's Dortmund managed both of these feats on their way to the title in 2010/11, and also hit over seven shots on target per game in 2013/14.
Dortmund weren't as bad in 2014/15 as the league table suggests. Colin Trainor proved that here using in-depth data a few months ago, but again, the simplicity of the shots data makes it clear too. They allowed their opponents the second fewest shots in the division hat season (behind Bayern, inevitably), and their SoTR was (by English standards) akin to that of a third placed team.
Over his seven seasons with Dortmund, Klopp's team averaged a SoTR of 63.7%; if he can repeat that at Anfield then he will surely bring Champions League qualification (and who knows what else) to Liverpool.
The other stat of interest that I have recently noticed is that Klopp's Dortmund were not prone to committing Opta-defined defensive errors which lead to shots. This was a major problem for Liverpool throughout Brendan Rodgers' time in charge; for instance, the Reds' previous two 1-1 draws in the league both saw leads wiped out by a defensive error.
In total in Klopp's final three seasons, Dortmund made 34 defensive errors. By contrast, Liverpool made 36 in Brendan Rodgers' first season alone, and were in the top three Premier League teams for most errors in every one of his three full seasons (and at the time of writing, also for 2015/16 so far).
There will now be countless articles out there providing a variety of in-depth analyses of Klopp's tactics, his favoured playing style and so on, and with this brief scratch of the surface I can't hope to compete. But what I think I can say is this…
At his Liverpool best, Brendan Rodgers built a phenomenal attack but it was combined with a flimsy defence, which was prone to mistakes and allowing good chances. But at his Dortmund best, Jürgen Klopp had both a phenomenal attack AND an excellent defence, and repeating that will give him a fantastic chance of succeeding in what I still believe is arguably the hardest job in football.
Welcome to Liverpool, Jürgen. Make us dream please!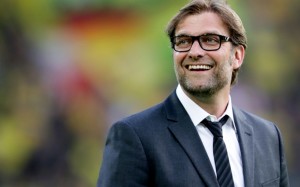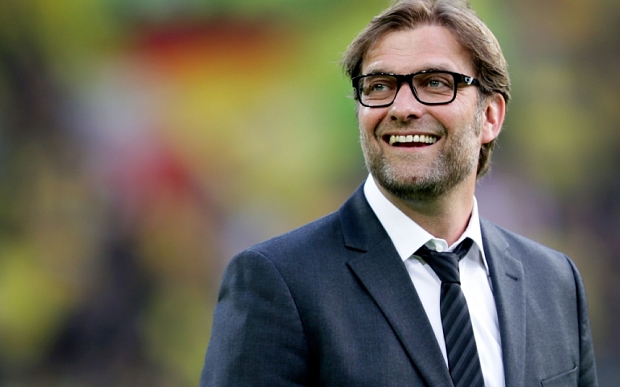 Read more at basstunedtored.com.