By Chris Rowland.
'You can't get value in the January transfer market'.
It's a Quoted Football Fact.
Like 4-4-2 is attacking/brave (and let's face it a bit British), fancy foreign zonal marking isn't as good as good old British man-to-man and foreign players go down too easily, it's parroted ad nauseam by pundits, commentators and managers.
This being TTT, I thought I'd have a look back to test whether January being not a very good time to buy is a claim that bears scrutiny – at least as far as Liverpool are concerned..
In fairness there are plenty of good logical reasons why January signings shouldn't have the same impact as summertime ones.
For a start they don't get the benefit of a full pre-season with their new club. They can't get up to speed quickly enough, get to know their new team mates and how their new manager wants to play. If moving to England from abroad, there is also the very considerable culture shock that is the PL to assimilate – Stoke away on a wet Tuesday night in January syndrome – and no time to do it in. The only meaningful instructions they're ever likely to get are 'Win us the title', 'get us into next year's Champions League' or 'Save us from relegation'.  In short, panic buys. Last rolls of the dice. Desperate measures.
Not ideal in the considered world of squad development and planned progression.
Besides, new signings in January are harder to come by. Teams who are still in the Champions League are unlikely to wish to lose players, unless to other even richer clubs still in the Champions League. You don't change horses in midstream and all that, and you certainly don't want to strengthen your rivals.
Of course conversely applying the same logic should mean that certain players might be available – from the Europa League drop-down clubs, or the clubs who were knocked out completely, or the just-never-were-in-European competition in the first place. Even then, those clubs still in this season's Champions League are in pole position to cherry-pick from amongst that lot.
The January value, if there is any, lies in identifying the disillusioned genius, the disappointed to be a bit-part, the talented wantaway who can't stand the new manager, the one whose star has faded slightly and wants it relighting, the one who's dropped off the club's radar or maybe the national team's, and wants to reappear on it sharpish ahead of a World Cup or Championship summer…
The present system was introduced for the 2002/3 season. Prior to that, players could be traded throughout the season up until March 31. The winter window is deemed to start on January 1 and last to the end of the month, given certain differences if Jan 31st falls on a weekend etc. But basically, that's yer window.
Liverpool made a very cautious start in January 2002/3, by not buying or selling anyone, though they did send left-back Gregory Vignal to Bastia on loan.
But who did? Leeds were the big selling club as their Peter Ridsdale-funded speculation began to collapse. Jonathan Woodgate joined Real Madrid for £9m, Robbie Fowler went to Man City for £6m, Lee Bowyer left for West Ham and Oliver Dacourt also departed the Yorkshire club as the wheels started coming off the Tour de Yorkshire.
In all there were only nine +£1m deals – the January window did not catch on immediately.
The following January, 2004, Gerard Houllier brought in goalkeeper Paul Jones from Southampton on loan. It wasn't until Rafa Benitez's first January, 2005, that things started moving. In that first Rafa window, halfway through what was to turn out to be a highly improbable Champions League winning season, he brought in goalkeeper Scott Carson for £1m – another departing the sinking ship of Leeds – and Mauricio Pellegrino from Rafa's old club Valencia on a free. It's not recorded whether his feet had been set in concrete before or after the move.
The one major signing turned out to be a disappointing flop. Hopes were high when Spanish international striker Fernando Morientes arrived from Real Madrid for £6.3m. They soon plummeted southwards as the Spaniard failed to ever really come to terms with life in the PL.
Stephane Henchoz left the club in that same window, bound for Celtic on a free.
The club's first truly excellent-beyond-any-dispute January signing came in 2006, when Dan Agger arrived from Brondby for £5.8m. During his seven years with the club he went on to become a Rolls-Royce of a centre-back. One Robbie Fowler also arrived that January on a free from Manchester City.  A few others crept in unnoticed through the arrivals lounge – Paul Anderson from Hull (with John Welsh travelling in the opposite direction), 'keeper David Martin from MK Dons for £250,000, and right-back Jan Kromkamp from Villareal on a player exchange with Josemi.
January 2007 was distinctly underwhelming – in came a crop of 'promising youngsters' who all went precisely nowhere: Astrit Ajdarevic, Jordy Brouwer, Francisco Duran, as well as Italian 'keeper Daniele Padelli, on loan. But there was one astute bit of business by Rafa – the acquisition of Alvaro Arbeloa from Deportivo La Coruna for £2.5m.
In the departure lounge were Stephen Warnock (Blackburn, £1.5m), Darren Potter (Wolves £525,000) and one of Houllier's worst ever buys, Salif Diao, to Stoke on a free. They were done.
In January 2008, a cat-stroking James Bond villain with a soft centre arrived. Martin Skrtel came to Liverpool and £6.5m went to Zenit St Petersburg. He's been pretty much a regular centre-back ever since, which represents pretty good value even if you don't rate him and thinks he's a walking lunging error. Successive managers have rated him enough to keep selecting him – Benitez, Hodgson, Dalglish, Rodgers and Klopp.
There were two very contrasting departures – folk hero Momo Sissoko joined Juventus for what still seems a very decent sum of £8.2m, whilst Lee Peltier headed for Yeovil on a free.
There followed in 2009 a completely transfer-less January as the volume knob on Rafa's travails with Hicks, Gillett and Purslow began to be turned up towards No. 11. There was still time for Rafa to conjure a free rabbit from the hat though – in January Maxi Rodriguez was lured from Atletico Madrid. A free that most emphatically paid off many times over.
By January 2011, the reins were in the hands of King Kenny. How apt then that his first signing should be a player who could actually rival him at the head of the list of Greatest Ever Reds players. Enter the Mad World of Luis Suarez, a £22.8m capture from Ajax. When he left the club 3 ½ years later, his fee had risen to £75m, his tag to world superstar status. 3 ½ years of frequently jaw-dropping performances, almost always football-related, and a massive profit.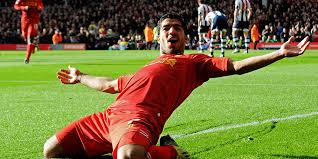 One of the best players ever to wear the liver bird was a January signing.
There was, of course, another transfer on that January transfer deadline day of 2011. Long blond locks lover boy Fernando Torres and £50m changed hands between Liverpool and Chelsea. But there was a catch – were Liverpool really paying £35m of it for Andy Carroll? As it turned out, yes they were.
And as Luis Suarez was signed in the same window, it still seems faintly surreal that it's the Carroll transfer that still gets the attention.
Elsewhere, an almost pre-pubescent Jordon Ibe arrived from Wycombe Wanderers for £500,000, Ryan Babel left for Hoffenheim for £5.8m having never fulfilled his promise, and 'keeper Charles Itandje was shipped out to Atromitos in Greece on a  free.
2102 was a quiet window, and the club got heavy criticism as such, not least on TTT, for sitting on its hands when work needed doing. The only arrival was another promising youngster (cliché alert), one for the future rather than for now – the perennial debate. It was Joao Teixeira from Sporting Lisbon, for £830,000. He's still only 'promising' now, but no longer a youngster.
By the 2013 January window we had another new manager, and Brendan Rodgers – or the transfer committee (another perennial debate) – spent £20m and pulled off two of the best transfer coups in years when they brought in Daniel Sturridge from Chelsea for £12m and Philippe Coutinho from Inter Milan for £8.5m. A combined total of £20.5m for two players with a current combined worth at their considerable peaks of maybe £80-90m?
Joe Cole and keeper Alexander Doni were also released on frees, and Nuri Sahin returned from his loan.
The last two Januarys have produced no signings, though a few departures – young striker Adam Morgan to Yeovil in 2014 and in 2015 Oussama Assaidi to Al-Ahli for £4.7m and Suso to AC Milan for £920,000.
It's been said often enough that it's unlikely we'll be doing any business this January – though with a current injury list comprising Sturridge, Origi, Skrtel, Milner, Flanagan, Rossiter, Ings and Gomez, the return of most of those during January (Ings and Gomez won't make it) will be like a raft of new signings.
There wasn't really time or space to study January signings for other PL clubs – though we know Chelsea paid £50m for Torres in one – but Liverpool's record suggests that to anyone passing on the old mantra that there's no value in the January transfer market, just say Agger, Arbeloa, Skrtel, Maxi, Suarez, Sturridge and Coutinho.
They all worked out OK didn't they?
With thanks to lfchistory.net as always.