There's no doubt about it. Dalglish has to go. Also, he has to stay. If FSG listen to the fans, they'll be left in no doubt: only sacking Kenny, whilst simultaneously keeping Kenny, will bring success. The league form is everything, although nothing (bar winning the league) beats a good cup run. Being in the Champions League is the only place to be, but no-one puts a 4th-place finish in the trophy cabinet.
Fenway Sports Group got their first sacking right: Roy Hodgson had to go. No matter what he does at West Brom, his Liverpool side played ugly, anti-football. Daniel Agger, the most cultured defender in England, was told to just "fucking launch the thing". Ironically, Liverpool might not have lost to the Baggies had Glen Johnson – another thorn in Hodgson's side, with that pesky passing stuff – just lumped it clear. But good sides play from the back, and accept the occasional lapse. Pep Guardiola doesn't change Barcelona's style if Dani Alves gets caught out, and at Swansea, if people want a more down-to-earth comparison, Brendan Rodgers doesn't berate players who lose the ball in dangerous areas.
No amount of revisionism will change the fact that 'Royston' was wrong wrong wrong; just as Lawrie Sanchez was wrong at Fulham before him. Hodgson has had 20-odd seasons outside Scandinavia and won nothing. Nada. Zilch. That doesn't make him a bad manager, as there are so many different targets each year; but it doesn't make him a suitable big-club manager, either.
His West Brom side were completely outplayed yesterday, just like his Liverpool side so frequently were. For 75 minutes they were on the wrong end of one-way traffic, and somehow escaped with their goal intact. They grabbed a goal against the run of play, and fair play to them for that; no-one says 'no' when that happens, and asks the ref to chalk it off as unfair. But if the game highlighted what's wrong with Dalglish's latest vintage – some shortcomings that are costing points – it also showed how the current side at least play with ambition, and unlike Hodgson's Liverpool, at least look interested.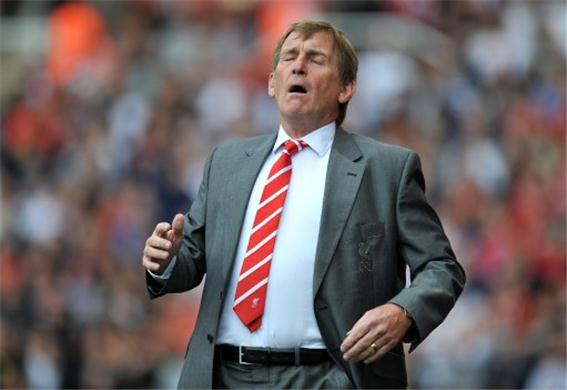 It's a results business, but I'd much rather take playing well and losing over playing badly and losing; the main difference between Hodgson and Dalglish in the Liverpool dugout since 2010. Ideally Liverpool would be playing well and winning – that's the obvious aim – but if people will insist on saying how poorly Hodgson was treated and how prematurely he was sacked, that comparison remains important.
(People keep saying they'd rather be playing poorly and winning. Well, playing poorly and winning is nice, but it's not like you can build success by looking to offer little and hoping for the best, is it?)
Goals goals goals. Where are they?
If scoring goals is the hardest thing to do in football, then creating chances is the most essential building block. You can of course score a goal without creating anything – benefitting from an own goal, for example – but you'd much rather be a creative side working openings than one riding its luck.
Personally, I prefer this side to, say, the one that finished 4th in 2004 in Gérard Houllier's final season, where the goals of Michael Owen just about dragged a hugely dull and mediocre side over the line. While this current team is nowhere near as good as it was in 2008/09, it's got some oomph to it, unlike latter-years Houllier's set-up. It just hasn't got a reliably goalscorer.
Newcastle haven't created hatfuls of chances, but have been clinical. That is to be admired, not least because they've bought predators without paying the earth. But is it a platform for long-term success? Is it sustainable?  It may well be, but let's see. Swansea have played more aesthetically pleasing football than their fellow 'promotees', but are 19 points behind the Geordies. Both sides have their merits, and of course, in the cups this season, Liverpool have had theirs. Those teams will win nothing but plaudits, but of course, they also merit their applause.
While Liverpool often haven't shown enough canniness to take leads in games and then shut them down – although it hasn't been a problem when the name of the competition has become the FA or Carling Cup – the margins of their failures have been slim.
The move that led to the shot from Jordan Henderson, and the shot itself, were technically far superior to West Brom's goal, but what could have been a contender for the Reds' goal of the season (well, runner-up to Coates' vs QPR) ultimately meant nothing, as the ball bounced back off the bar, rather than in. Even then, it hit the back of Foster but didn't cross the line or roll to a red shirt; earlier in the season, the same thing happened to Pepe Reina at Sunderland, and the bounce was cruel to the keeper. Maybe Liverpool lack strikers who are quick to the loose ball, but at times it can just roll to the exact point you're standing, whether or not it's a good position.
It's not just about luck, because the finishing from the whole team has been substandard. The worse the finishing has got, the more the players have almost expected to miss. It's become a joke; a black joke. Here we go again ….
At times, the manager has had a right to expect more composure in front of goal. He can't run out there and do it himself; not like he could in 1986. Equally, his selections, and his signings, could be said to have contributed to the problem. (And obviously he wasn't helped by Fernando Torres' long-standing desire to depart, having scored three times in five games under Dalglish.)
I'd say that there have been a few overlapping problems. Aside from the near misses and woodwork thumping, I'm not sure that there have been enough natural goalscorers in the team. It doesn't have to just be about the strikers; in the best years under Benítez, we had six players in double figures. Right now, we have one.
While I like the fact that Dalglish trusts footballing defenders, with both Johnson and Agger in his back four and encouraged to play in all areas of the pitch (contrary to the way that Hodgson preferred the likes of Kyrgiakos, Konchesky and Carragher, and the constant 'out' ball), the midfield balance hasn't been so successful.
Losing Lucas remains a massive blow, but that bad luck aside (although some see playing him in the Carling Cup as folly), but there was no-one on the staff who could play that same tactical role.
Dalglish started the season by leaving out Kuyt and Maxi, and they are two who can get goals from midfield, even if neither is 100% reliable (Kuyt misses chances, and Maxi can disappear from games).
You'd expect at least 5-10 from each of them if they started most games on the flanks. By contrast, in the league at least, Liverpool have just one from Henderson on the right, and none from Downing on the left. Given that, in the modern game, at least one central midfielder holds (and therefore hardly ever scores), it's imperative that others weigh in.
Again, this lack of goals from wide areas needn't necessarily be a problem in itself; if the strikers were getting 20-30 each, and one of the central midfielders adding 15, there'd be little to worry about, beyond a perceived over-reliance on the prolific players (see Arsenal, and Van Persie). In that situation, Downing and Henderson could simply do what they've been doing, knowing full well that someone in the box will gobble up a good percentage of the balls they deliver. It only becomes a serious problem once the other players stop scoring. Despite needing a lot of chances to score, Luis Suarez can get 20 goals in a season; that's pretty clear. But can he get 20 in the league? What's his upper limit?
This season, he's been far more likely to net a goal after just one or two touches; so often he dribbles past three or four only to shoot miles over, as if he gets too excited, or is falling off balance having worked so hard to get into the position.
By contrast, a ball to him in the box when he's facing the goal often seems to end up in the back of the net; certainly more so than when he's been running with the ball. Let me take you through this season's 14 strikes.
Everton last week: one touch into space after receiving Distin's back-pass, second touch past Howard; vs Aston Villa, one touch – a header; vs Wigan, one touch – side-foot finish from low Gerrard centre; vs Stoke in FA Cup, curled finish from edge of box, shot being his second touch after receiving ball back from Maxi; Brighton, one touch – close-range header; Man United, close-range first-time volley when alert to defender's mistake; QPR – one touch, a header; vs Stoke in the Carling Cup, winning goal a header from Henderson's looping cross; vs Exeter, first-time half-volleyed shot after keeper flaps at cross; vs Arsenal at the Emirates, a one-touch tap-in from unmarked central position after good supply from the right; and a deft header from a Charlie Adam free-kick against Sunderland on the opening day.
Stoke away in the Carling Cup is the main exception, as he receives the ball out wide, takes a couple of touches, nutmegs a defender and then curls the ball into the far corner. Brilliant stuff. Wolves at home sees him run in behind the defence, turn Berra one way then the other, then fire in left-footed from a tight angle. Everton (at Goodison) is also an exception of sorts, as he dribbles his way into a dangerous position, but loses the ball. However, it fortuitously bounces back to him, when he's facing goal on the edge of the six-yard box – as if he's just received a pass – and he takes a touch to steady and fires in. So that could go in either category.
I make that 11 – maybe 12 – finishes within two touches; nine with just one touch, five of which were headers. It suggests that, while others may benefit from his mazy dribbles and clever touches, he has been more effective finishing off others' good work. So he can do the poaching, but if you limit him to a central, advanced area of the pitch, you lose his creativity, and his ability to drag defenders out of position.
Having missed a fair chunk of the season, 14 goals – all from open play (although two missed penalties will keep him off spot-kick duty) – isn't too bad at all. But it's not especially prolific, either.
Again, that's not a problem if Suarez is the support striker; it's a Beardlsey-esque goal tally, for a player who can drift all over the front line. But Suarez isn't the support striker; at least, not in terms of goals.
The elephant in the changing room
Now, I rate Andy Carroll reasonably highly. I think he's playing well right now, and is a good target-man. He's got underrated technique, and looks capable of scoring more goals than he does at present; this analysis by Andrew Beasley points out that he aims for the corners, rather than just blasting at goal. As such, he's had a lot of near misses by trying to do the right thing, when closing his eyes and belting it, or even scuffing it, might have had better results. There's a player in there, I have no doubt; the question is, whether it can be brought out sufficiently at Liverpool, and whether it's worth the time and effort (and money) trying.
Let's be clear: his record since joining Liverpool is mediocre at best. Again, if he was paired alongside a nimble poacher – or if Suarez could somehow translate his Ajax scoring form – then it becomes less of an issue. Didier Drogba only scored 10 league goals when Chelsea won their first Premier League title in 2004/05, even with the abundance of quality in that side (that was with Damien Duff and Arjen Robben on the flanks, not Henderson and Downing).
A year later, when the title was retained, it was still only 12 league goals from the big Ivorian. But elsewhere, players like Robben and Frank Lampard were banging them in. Drogba could be the menace-maker, while others pounced amid the mayhem. Carroll, though still three years younger than Drogba when he arrived in England, is capable of performing a similar role. (At Carroll's age, Drogba hadn't even played in a top division; aged 23, he was with Le Mans in the second tier of the French league, where he'd scored just 12 goals in 64 games. This is not to say that Carroll will be better than Drogba, or even get to be as good, but it does show how big strikers can get better with age.)
While Carroll and Suarez have played fairly well as a partnership, with the Uruguayan scoring more frequently when paired with the big Geordie, there's a distinct lack of killer pace in the partnership. How many top teams can say that?
Suarez is nippy, but not especially quick. Carroll isn't as slow as some make out, but is slow off the mark, and even once into his stride, is no Drogba (at his devastating peak) or Emmanuel Adebayor. Perhaps one of the reasons Downing has been chosen over Maxi is his pace; but all the time, no matter how the pack gets shuffled, Dalglish and Clarke have not found a sufficient combination of both pace and goals.
The only way to present a threat in behind defences is to push Suarez up against the last man, with Carroll deeper and, if he wins headers halfway or two-thirds of the way up the pitch (as he did for the equaliser against Everton last week), he has Suarez already in position ahead of him to get onto them. So there's a logic there, and it was also the way the pair lined up in the 3-0 win over City last April, when Carroll got his only brace so far. Look at heatmaps, and you'll see Carroll often touches the ball in deeper areas than Suarez.
But if you play Suarez as the spearhead, you lose a lot of his strengths. With five headed goals to Carroll's one, it's not exactly illogical to play Suarez as a target-man, and he can be quite brilliant at holding off defenders, but Carroll isn't going to speed into the box in the manner of a more mobile forward (or, by comparison, in the way Gerrard used to a couple of years back from the second-striker position).
Again, if you switch Carroll to the focal point, you can have Suarez buzzing about, but it reduces the threat in behind teams; Carroll, if isolated up front, can't do what Torres used to, and turn and run at defenders, either with the ball or without. His only option is to hold it up and wait for support. And Carroll doesn't have the clever movement, or the pace, to make runs off the back of centre-backs.
So with two strikers who either have yet to mature into goalscoring machines in English football, or who simply may never do so, the onus is on the midfield. And this, to me, is where this Liverpool side have failed. There just hasn't been enough threat from that quartet.
The Everton hat-trick aside, and the late strike versus Newcastle, Steven Gerrard hasn't been scoring in the league from open play, although those four goals show that he can still put the ball in the back of the net when he's in advanced positions. He's had an injury-blighted campaign, but as he approaches 32, the days of regular barnstorming may be beyond him. Getting the best out of him is another dilemma.
So, with two strikers who, at best, look incapable of scoring more than 25 league goals between them – and right now, share a measly 12 (and have just 19 between them in almost 18 months) – then unless that pair radically improve their chance conversion rates, the midfield has to pose more of a goal threat than it currently does.
I believe that Henderson has the ability to score more goals, but I'm not sure he'll do so from the right flank. A quick look at some of his career goals, particularly for the England U21s – where four in 16 from central midfield shows his potential – highlights how he seems to prefer instep curlers, and even though his one Liverpool goal to date was left-footed in that manner, he hasn't had too many memorable shots from right of centre.
He reminds me of a free-kick taker, whose right foot means he only takes shots from either the centre, or left of centre. From the right, with his right foot, he's provided hardly any goal threat; very few stinging drives across goal. Yesterday, against West Brom, he used his instep to curl a fine effort against the underside of the bar, having received the ball centrally.
He's clearly a far better player in the centre than out wide, but I understand some of the reasons he's been used out there: as a 'solid' option to counterbalance the winger on the other flank (the Houghton to Downing's Barnes, although the comparisons end there!), and the fact that he can cross the ball. That said, the goals issue from midfield makes it a problem in terms of him playing there in this side.
(Videos of his 10-or-so career goals to date can be found here:
http://www.youtube.com/watch?v=W2CHIQcG0CA
http://www.youtube.com/watch?v=Z9issYqWK_I
http://www.youtube.com/watch?v=MvWQ1K5G6Bk
http://www.youtube.com/watch?v=83-_upzwi2w)
Who else can score goals? Craig Bellamy was banging them in during the middle of the season, but then injury blighted his career yet again, and since his return hasn't looked half as confident. Again, he's never likely to be regularly prolific enough up front these days, and perhaps is not reliable enough, fitness-wise, to plan a best XI with him in.
Bellamy's chance conversion rate has been excellent, as has Maxi's. But both are in their 30s, and both have been behind Downing and Henderson in the pecking order. Kuyt's not having his best season, but he got double-figures under Kenny alone last season, and has five this time, in his first season as a mere squad player. If Liverpool lose both of these players in the summer, then the squad will have even fewer goals in it; their replacements will need to be ultra-reliable to make it worthwhile.
With Kuyt and Maxi having scored their only three Premier League hat-tricks to date in the second half of last season, as part of almost 20 goals the pair shared within just a few months, it does continually bring us back to why Kenny (and Damien Comolli) felt that new players would do better.
If the manager genuinely felt that they would improve things, then he had to go with that belief; but if it fails, then just as he got heaps of praise for revitalising Kuyt and Maxi after their struggles under Hodgson, he has to take the blame for the new approach falling short. The only way it can be redeemed now is by Downing and Henderson going on to show that this was just a bedding-in period; which is more plausible in the case of the 21-year-old than the man who is seven years older.
Missed opportunities
A key question remains: should Liverpool have signed someone in the January window? I know that, as winter approached, FSG felt Liverpool needed a striker and were happy to supply the funds for one; but that Damien Comolli felt Liverpool needed a centre-back. At the time, I still felt Suarez – who'd just scored four in a tough game for Uruguay against Chile – would suddenly transform into the striker who once netted 50 in a season in Holland; or, at least, the one who gets a goal every two games for his country. But by the time the window opened, it was looking increasingly like Liverpool needed a dead-eye poacher, with ice in his veins (as opposed to the fire in Suarez's).
There's no doubt that the January window is not the ideal time to buy. But both Papiss Cissé and Nikica Jelavic were new to the Premier League, and both have been sensations. Yes, they might end up being overnight sensations – we can't yet say that they are long-term solutions – but the signs are that they are the real deal.
They were inexpensive – the pair combined cost less than Downing – and neither striker commands massive wages. You can argue that the pressure is much tougher at Liverpool, and that's true. But they've done more than could reasonably have been expected at what remain fairly large clubs.
Demba Ba, though no longer scoring as many due to Cissé's arrival pushing him out wide, only arrived in English football at the start of 2011; in that time, he's scored 23 league goals. He was another inexpensive January purchase, initially for West Ham.
Kenny to go?
As much as I love Kenny Dalglish, for the incredible amount he has given to Liverpool as a player, manager and dignified grief counsellor, I can see the argument for the league performance signalling the end of his reign. Equally, I can see a valid argument which says it's crazy to sack a manager who may win two cups in his first full season (in his case, after 20 years away).
I can see why some people think his record in the transfer market is worthy of dismissal (after all, it helped cost Comolli his job). It hasn't been like when he brought in Steve McMahon, John Barnes, John Aldridge, Peter Beardsley and Ray Houghton within a couple of years of first landing the job in 1985; and as such, it doesn't provide optimism for the future. Equally, I can fully understand the argument that Liverpool have played some excellent football this season, only to fail to convert total domination into points. While a Barnes would be lovely, it's perhaps just needed an Aldridge to prod the ball over the line from six inches.
To me, this is not sitting on the fence, but seeing both sides of a complex situation, where a mix of the incredibly good and the incredibly bad leaves individuals deciding if their glass is half full or half empty.
For me, the glass is simply filled to the midway point right now, with an equal mix of sweet and bitter. And I've honestly no idea if it's going to fill up or drain away.