Our tactical expert Mihail takes an in-depth look at our options on the right flank – and comes up with some interesting possibilities for the short-and medium term.
Prior to Steven Gerrard's return from his long injury lay-off, there were plenty of discussions about his best position and tactical role. It's been long argued that he is not tactically disciplined enough for a more deep-lying midfield role, to 'sit' and control the tempo a la Alonso, conducting the orchestra. The main consensus amongst we fans is that Gerrard was at his best in the hole behind the main striker. Yet a few years back , when Rafa first started to deploy him in just that role in his favourite 4-2-3-1 formation, most pundits and many fans initially questioned this decision, stating that Gerrard's all-round set of skills should be used in a central midfield place, driving from box-to-box (the oft-repeated  Andy Gray view, ad nauseam).
From a purely tactical and strategic point of view, those pundits and fans are not taking into account two of the most important overall factors – the current formation and style within it (that the manager is obviously trying to install within the team), and the player's current state of development (is he starting to develop some skills that should be best used in a different position and/or role; or are some of his best skills starting to decline so a change in his position and/or role is necessary?). These two factors are the most important when the manager is deciding who plays where and how to execute the grand tactical master plan.
In essence, playing best in one position/role in a certain formation doesn't mean you will be at your best in the same position and role in a different formation. But on the other hand, it doesn't automatically follow that you won't be!  Especially as not only is the formation different, but the majority of your teammates that will play alongside you are different – which means different playing styles and the need for a different overall tactical balancing act from the manager.
It  seems that Gerrard is losing his physical drive and power, something that was a big part of his all-round skill set. His driving Captain Fantastic persona is no more.  That doesn't mean he is horribly slow, or that he can't last a full match. But given his age and injuries he is never going to return to his previous physical attributes, which will only decline further. This is one of the main reasons why he can no longer provide the attacking drive and power in the hole in the manner he was once so eminently capable of, effectively driving the whole team.
In that zone (the hole), you need to be either fast or mobile enough to provide all-round attacking drive, and capable of either dribbling past the opponent's defenders or physically driving past them, effectively being a false 10. Or, if you are initially a slower type of player with weaker overall physique, you need to be a genius in terms of vision and passing to create for your teammates enough chances for at least one or two of them to be turned into goals, effectively playing as a typical 10, an old-school playmaker.
For all of his great attributes, Gerrard never possessed the vision and playmaking skills of the classic playmaker, so losing that extra physical drive means his time playing in the hole is rapidly drawing to an end. It may already have done so.
And that's why before the season, given the then apparent signs from Dalglish that he was going to play with a 4-4-2 formation with variants of 4-4-1-1 (including the 4-1-2-3) as the prime alternative, I've already argued Gerrard is best suited to the more deep-lying, controlling type of midfielder. And with hindsight, fast forwarding to the present, this is exactly where and how the manager is using our captain (both in the 4-4-2 and 4-1-2-3 formations).
However, watching the last match against Brighton in the FA Cup, in particular how Gerrard executed his role during the whole match and most importantly after the first twenty minutes when the team switched from a lopsided 4-2-1-3 to a lopsided 4-4-2, I've started to think about something. After that formational tweak, Suarez went to roam up top around Carroll, with Henderson being slightly tucked and narrow on the right flank as Gerrard played in his deeper role, collecting the ball from deep and controlling the team's passing rhythm. And after exploring the overall flow of the game which this change brought about, I noticed that Henderson's switch to his tucked and narrow position,  joining the overall recycling process (effectively proving once again why a few months ago I labelled him as the team's recycler but from wide areas),  gave Gerrard freedom to roam and move wider (as the widest right midfielder) in order to deliver his trademark crosses-cum-through balls. This particular aspect of Gerrard's play, coupled with the way he played after he came in against Newcastle (with similar central-cum-wider right role), prompted me to think about how it might work if Gerrard started on the right rather than starting in the centre then moving into wider areas.
Current wide right options
The manager currently has several options right side. If we are playing the classic 4-4-2, both Kuyt and Henderson have been used as wide right players. The former, given his work ethic, natural fitness and stamina, perfectly combines the roles of the defensive winger (tracking back to protect his fullback and marking out the opposition threat from the fullback area) with the attacking winger (cutting infield to give the team another attacking angle via late runners into the box on the opposition's blind side, all the more so if Downing on the opposite wing is delivering the natural stretching that will force the opposition to re-position themselves towards that flank, leaving acres of space on the right). Henderson, as already stated, carries out the role of the wide recycler, slightly tucked inside and joining the overall build-up play and ball-recycling process, instead of occupying the area down the flank. Doing this, Henderson is effectively making the 4-4-2 lopsided, no matter if on the opposite flank there is a player providing natural width (Downing) or a player capable of driving infield (Bellamy, Maxi).
In the other 4-4-2 variant – the 4-2-2-2 with inverted wingers – it's often Downing on the right as inverted winger. When he plays this role he still keeps his wider starting position before deciding to cut inside with or without the ball, as he did for example against Blackburn. In the other single match when the 4-2-2-2 was used but Downing wasn't used on the right – the away league game at Stamford Bridge – it was Kuyt who played on the right in a narrower wide right role.
From a purely tactical point of view, the 4-1-2-3 formation is more fluid in terms of its wide attacking players. As a result, some players who weren't used down the right in the 4-4-2 framework have been used in the 4-1-2-3 variant. Bellamy has played there on a few occasions to provide both natural stretching and additional attacking verve (more so when Suarez was on the left, as for example against Fulham), while Suarez has also recently played there, with  the freedom to roam all over the last third. But one player who played there within 4-4-2 didn't feature in the 4-1-2-3 variants – Henderson.
Others – Downing and Kuyt – kept to their 4-4-2 roles within the 4-1-2-3 formation. Downing provided the same inverted intentions (Newcastle), while Kuyt played better in his combined role higher up the pitch (Wolves, Man Utd), where he was closer to the opposition's fullback but also because he is naturally more suited to provide the additional attacking angle with his diagonal runs when higher up the pitch.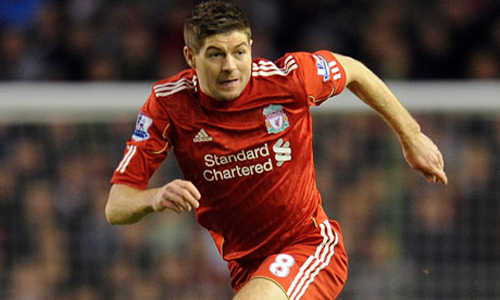 The rest of this post is for subscribers only
[ttt-subscribe-article]