The omens were good. Newcastle had failed to score in their last five league games at Anfield, and Gerrard (although he was on the bench) had scored six in his last eight against the Magpies. Kuyt had also scored in each of his last three league games against Newcastle, bagging a further two assists.
The match
In terms of tactical performance, there was little of interest in this game. It was one of the, if not the, dullest match (tactically) since Dalglish took charge last January. Instead of doing a run through of the game chronologically, therefore, I'll look to highlight some key aspects from both sides.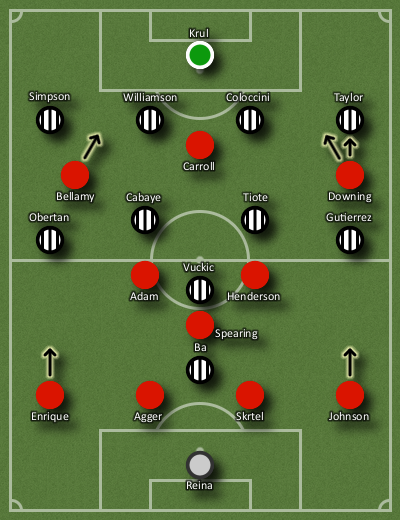 Newcastle's approach
Pardew did little to surprise in terms of his starting XI (only the selection of Vuckic ahead of Ben Arfa could even begin to raise an eyebrow, and even this was understandable given the Frenchman's fitness issues at the moment) or in terms of formation. He used his usual backup formation the 4-4-1-1, with everyone playing in the positions one would expect.
Their main tactical approach was to sit deep and hope to hit Liverpool on the counter attack with passes towards the flanks or to Ba up front. With the slight move to 4-4-1-1 rather than 4-4-2, Cabaye was sitting much deeper than usual, level with Tiote in defence. This created two banks of four when they didn't have the ball, with Ba making horizontal runs to create space for a counter-attacking long ball from deep. Vuckic was tasked to help him by sitting in the hole, but he was Newcastle's poorest player on the night.
Newcastle only created two notable attacking moves in the entire match, and funnily enough both resulted in direct goal-scoring opportunities. In the 25th minute, Jonas Gutierrez managed to fight his way down the left flank before passing to Ryan Taylor, who with his right foot delivered an inverted cross into the box. An unlucky rebound saw Agger divert the ball past Reina after the thinnest of flick-ons off Cabaye's head.
The second situation came in the second half, in the 70th minute, when Cabaye sent Ba into the penalty area with a quality through ball. The striker beat Reina from an acute angle, but Skrtel rescued the situation with a miraculous clearance off the line.
Liverpool's approach
In the press conference before the game, Dalglish hinted several times that he was looking not only to stop Ba but the entire Newcastle team playing to their strengths. Liverpool's approach was good evidence that the Scot knew what he was talking about.
First, Liverpool went with the 4-1-2-3 formation with Spearing as defensive cover behind Adam and Henderson. Up front, Carroll was helped by the inverted wingers Bellamy and Downing. This tactical decision showed exactly how Liverpool were going to defend and attack.
Newcastle were playing with 4-4-1-1, so the 4-1-2-3 meant that Liverpool were matched one-on-one with their opponents all over the pitch – most importantly through the centre where Liverpool's 1-2 triangle mirrored Newcastle's 2-1. One would expect the home side in this situation to aggressively press their visitors. Actually, Dalglish took the wiser decision to not use this approach. Newcastle' aggressive nature, coupled with their ability to counter-attack directly down the flanks and the on-form Ba meant that heavy pressing would leave gaps that Newcastle could have exploited ruthlessly. From the very beginning of the match, Liverpool's players closely followed their opponents, but did not engage them immediately, waiting for the perfect moment to make the interception or tackle.
This "passive" strategy led to certain periods where Newcastle had the upper hand in terms of possession, but crucially they were unable to do anything with it. They are not comfortable in situations where they have a lot of the ball – their style requires a quick move forward as soon as they regain possession – and so were of little threat to Liverpool. In certain situations, mostly during the period just before Bellamy put Liverpool 2-1 ahead, when Newcastle reached the final third they had to pass the ball backwards as there were too few attacking players. This was evidence of how little attacking intention Newcastle had in this match, or at the very least how uncomfortable they are with long periods with the ball at their feet.
The main idea appeared to be to give Newcastle time on the ball, hand them the initiative and hopefully drag them out of their two banks of four. Then Dalglish's men would exploit the space on the break. From the beginning, Liverpool's two wingers were pushed high up the pitch and were often fed with direct balls from deep. From there they either tried to dribble inside and shoot or go down the line and get a cross in. But this approach failed to deliver any more than the occasional wayward shot or cross. Newcastle didn't commit many players forward when they had the football, and Liverpool were attacking too quickly, meaning they had too few players in advanced positions to really provide an attacking threat.
The rest of this post is for subscribers only
[ttt-subscribe-article]