By Paul Tomkins
The year 2011 began with Liverpool FC and its fans in the midst of a great depression, heading nowhere under Roy Hodgson. Before long we were losing our main goalscorer, and spending the £50m (plus the fee for Ryan Babel) on two new, young strikers. With Torres gone, and Steven Gerrard about to be sidelined for more-or-less the rest of the year, it was going to be no easy task for a new manager to drag the team from the bottom half of the table towards the top six. Kenny Dalglish did just that.
Dalglish had money to spend, of course, thanks to the arrival of FSG. But it was not a case of adding £100m+ to the squad; as part of the rebuilding programme, good players were sold (along with the deadwood), often to bring down the average age or increase the necessary English quota levels. (Hodgson had signed seven players, six of whom had an average age of 30, which only served to move the club backwards in the short-term, and offer nothing but problems in the long-term.) Had Liverpool spent £115m in 2011, but kept Torres, Meireles and one or two others, then that would be a different issue.
The two transfer windows under Dalglish and FSG have proved hit and miss, but very few clubs will have a large number of players come and go in a year, and see all of the new arrivals succeed, either immediately, or indeed, over the long term. Take the examples of Meireles and Henderson; essentially a 28-year-old central midfielder who didn't meet home-grown criteria was swapped (£12m received, £13-16m spent) with a 21-year-old alternative.
Meireles was good, but not perfect, and in fairness, it took a while for Henderson to look even remotely of that standard; as a result, and in terms of results, Liverpool perhaps suffered a little. But with Henderson growing into the role, the decision now seems wise; his best days are ahead of him, and experience gained now is money in the bank for the future. Then there's the fact that Henderson will not be on the wages that Meireles would have been entitled to, had he stayed.
Given the number of changes to the squad (and coaching staff), 2011/12 can only be regarded as a transitional season; although no-one likes acknowledging it when they see one (not least because, in the modern era, every season spent off the pace of the top four seems like a disaster). And the second half of 2010/11 was merely an attempt to for the club to dig itself out of a hole. It's been a year of ups and downs, but after 2010, at least there are some ups in there, too.
To illustrate the level of improvement, Dalglish would need to lose the next fifteen games in a row to equal Hodgson's points-per-game, so far ahead is he. (Hodgson's level should not be the benchmark, but people keep bandying about erroneous stats; and while acknowledging that it shouldn't be the benchmark, it was the reality that Dalglish inherited.)
So far this season, with just one game left in 2011, the Reds have the best defence in the league, and have had the most attempts at goal, suggestive of getting certain things right at both ends; the disconnect lays in between, in how many chances have been squandered, rather than any fundamental problem with the approach. (As an aside, look at how Spurs were struggling for goals last season, particularly from their strikers. Also, in 2010 they were 5th, with 30 points, after 18 games; Liverpool are now 6th, with 31.)
Anyway, enough scene setting. What follows is my full review of Liverpool FC's fortunes over the past 12 months – the good, the bad, and the ugly – and how it all bodes for the future.
This post is for Subscribers only.
[wcm_nonmember][ttt-subscribe-article][/wcm_nonmember][wcm_restrict]
First of all, a fundamental question right now would be: is the squad better than this time a year ago? Have we improved?
Circa £75m was raised from selling Fernando Torres, Ryan Babel, Paul Konchesky, Milan Jovanovic, Daniel Ayala, Nabil El Zhar, Sotirios Kyrgiakos, Emiliano Insúa, Christian Poulsen, Raul Meireles, David N'Gog and Philipp Degen. Joe Cole and Alberto Aquilani have been loaned out, both with no apparent future at the club. The Italian will raise another £5m (though I cannot grasp why it's such a low fee) when he plays a certain number of games for Milan, and a sale automatically follows.
It would be particularly nice to still have Aquilani and Torres, if fit and at their best (I don't think we miss Meireles that much) – but overall it was a case of necessary culling, plus players who wanted out, anyway. Insua and Ngog were pretty good for their age, but Enrique and Bellamy are better; and while I liked Ayala, Coates is already an established international. Kyrgiakos was honest and committed, but ageing.
Several of those players were on big, or relatively big, wages; a few were on massive wages.
That £75m, plus a further £40m or so, was reinvested in Luis Suarez, Andy Carroll, Craig Bellamy, Jose Enrique, Jordan Henderson, Charlie Adam, Stewart Downing, Sebastian Coates and Alexander Doni. Two – Suarez and Enrique – have been sure-fire hits. Bellamy and Coates have been about as good as could reasonably have been expected, and better than those they replaced.
Adam, Downing and Henderson have been hit and miss, but with an average age of 24.3, there's potentially still more to come from that trio. While Downing's fee seems exorbitant, it's worth noting that even when failing to enthral, he's performed a lot better than the plodding, ponderous Joe Cole, whose fee was £0m, but whose wages were £100k a week.
If that particular £20m may have been better spent, Downing has done okay; and after a slump has started to look brighter again in recent weeks, playing on the right. Henderson, in particular, looks like he could be a gem in a couple of years, while Adam, although hugely frustrating at times, has shown more than a few glimpses of class. I still can't quite fully work him out, but he's lightyears ahead of Poulsen, and not noticeably inferior to Meireles.
It's clear that the overall composition of signings lacks a little something; swap Downing for Mata (had it been possible) and we'd probably be proclaiming the year's business a resounding success – that it was better than we dare hope. But with at least 15 players off the wage bill, and only nine added, it's fair to say that the Reds are cutting their cloth according to a new reality. This is no longer a Champions League side, and it may take time to build back up to that level. Most of the players signed lack that bit of star quality, and that's reflective of where the club found itself.
It also became a team without Steven Gerrard in 2011 and, in recent weeks, Lucas Leiva. All clubs miss their best players, but that pair are pretty special, and hard to replace. None of the new signings have yet to feature as part of the Reds' strongest XI.
If, in gross terms, approximately £115m was spent in 2011, I believe a case could be made for the group of signings now being worth more; at the very least, the club could break even if it had to suddenly sell everyone overnight (without fire-sale prices being taken into account).
Suarez must be worth £40m (although the racism issue, as part of a series of controversies, may affect his valuation), Enrique £15m, and given the potential he has, Coates could be a £10m centre-back. Maybe nobody would pay £5m for Craig Bellamy at 32, but he must be worth that to Liverpool. Stewart Downing looks more like a £12m player, and while Andy Carroll has struggled, you'd think £15m would see a few takers. Charlie Adam, having now proved himself to some degree at a big club, is probably a tad more valuable now, at £9m, and Jordan Henderson looks worth the £13m minimum payment in terms of long-term investment. Finally, Doni could raise a couple of million. That's £121m, although those hypothetical figures can rise and fall from month to month.
Perhaps there's no great sign of the 'Moneyball' principles paying off just yet (although several youth captures could prove bargains), but it was never about the quick fix, and by buying mostly players in their early 20s, there's plenty of time for their values to improve.
Signing of the Year
Despite the controversies, Luis Suarez, has been worth every penny (plus another £20m). Yes, his finishing has grown increasingly erratic, and that's not helped the Reds at times this season – his confidence in front of goal seems to have dipped since Patrice Evra publicly labelled him a racist, and a saga took on a life-force of its own.
Suarez creates chances out of nothing, and if he had someone in form he could lay the ball to, and who could be trusted with scoring, his own value to the team would soar; and with the burden shared, he may score a lot more himself. Right now, he's hanging onto the ball too long, and then shooting off-target. It's perhaps tricky to play 'off' him as he's so unpredictable, and often fools team-mates as much as opponents. But he's still a genius.
The impending ban may serve him some good, as he's in need of a rest – although if he fails to clear his name, the lingering antagonism towards him may make it harder to relax into his natural game, and only serve to drive him abroad. It may not yet be an option as far as I know, but a big money move to Barcelona or Real Madrid may end up making sense to all concerned; he'd be back in a familiar culture, and Liverpool could invest in two new strikers.
Disappointment of the Year
As I've noted many times, Andy Carroll is the type of player that takes time to come to fruition. But it's not abundantly clear if he'll be able to do so at Liverpool; at least to a sufficient level. I'm not sure that he has the necessary drive or mentality to flourish, based on a few comments about his training style and social habits, but he's a better player than he's given credit for. Maybe he just needs to mature, in general, and the rest will take care of itself in time.
If, in pure business terms, Carroll was worth £15m less than (the five years his senior) Torres as part of a three club exchange deal, the flaw seems to have been that as Newcastle pushed for more and more money, it placed more and more expectation on the two strikers being traded – even though there was absolutely no difference to the Reds' purse strings whether it be £30m and £15m, or the eventual £50m and £35m. Forwards are judged on goals, and players are judged against their price tags. In both cases, these men seem to have struggled with a massive burden.
People are now raving about Demba Ba, but a year ago, Carroll had almost as many goals for Newcastle, and was four years younger. By the age of 22, Ba had yet to even play top-level football, having spent time in the French and German lower divisions, before promotion with Hoffenheim in 2008. Put a large price tag on Ba's head, and expect him to score goals for Liverpool, and it might be a very different story. As we saw with Robbie Keane, sometimes good, reliable strikers with previous 'big(ish)' club experience wilt in the piercing limelight of Liverpool FC.
Carroll has been unlucky in the last few games, when hitting the target with good efforts, only to be denied by excellent goalkeeping. If – and it's always a big if – he can get a few goals under his belt in quick succession, we might see the burden lifted.
(Having said all that, some blinding pace up front would be nice. Perhaps Carroll and Bellamy will prove to be an effective partnership until a new striker arrives and/or Suarez serves his eight-game ban. With the Uruguayan definitely out of the Anfield match against Newcastle, it could be the ideal chance for two former Newcastle forwards to combine.)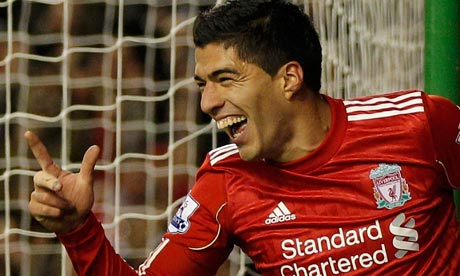 Lowlight of 2011
Without doubt, the Suarez/Evra incident, and its continued influence on the fortunes of Liverpool. Suarez looks set to serve an eight-game ban, and it's clearly affected his form. The handling of the whole affair by the FA and media leaves a lot to be desired, and it's something that no-one associated with Liverpool needed.
I believe Suarez has the right to defend himself, and Liverpool fans also have a right to be sceptical about the disciplinary process. Some charges are so serious that they transcend usual procedures, and a criminal trial may have better suited the accused. Had Suarez a) not been provoked, and b) used an unambiguous racist term, then fair-minded LFC fans would have accepted an eight-game ban. As it stands, it just doesn't seem quite right, on a number of levels, given the nature (and language) of the insults traded. As with his one-match ban for the middle-finger, we want some consistency; three England internationals (Rooney, Neville and Ashley Cole) made similar gestures without punishment.
The lowest point in terms of our football was the defeat at Blackburn under Hodgson, although it at least that led to …
Highlight of the Year
Kenny's return. It's worth reminding ourselves where we were when he returned to the dugout, and how far we've come. Anyone who wanted Roy out ASAP, but is not happy with Kenny, needs to remind themselves of the reality of the situation as it was at the time. We, as fans, helped create the untenable situation, in that we didn't quietly endure the Croydonian's 36th year in management.
Roy simply had to go. There, and then. I don't think we could have taken any more; he was doing a terrible job, and we were up in arms, scared of key players exiting. And Kenny was probably the only realistic option at the time. Others were on the TTT radar: Di Matteo, Coyle and Rangnick were three I liked the sound of. One was sacked soon after, and is now merely an assistant manager; the other is all but propping up the Premier League; and the third has retired due to ill health. Andre Villas Boas was probably the favourite, but he's come in for lots of criticism since moving to England.
It's easy to forget how different they all appeared back then. Kenny was always going to be something of a gamble, but I think we all preferred him to Roy, even with a decade away from the dugout.
Kenny did so well in those first five months – obviously slightly aided by a natural bounce effect – that it would have been unthinkable for FSG to dare try and replace him in the summer, even though it was initially only a temporary role. After all the turmoil of the past couple of years, some stability was paramount.
Goal of the Year
On the pitch, I'd say the win against Manchester United in March was the highlight. Dirk Kuyt got a long-overdue Liverpool hat-trick, against the best opposition possible, and Luis Suarez produced a jinking run that I think I repeatedly watched more than any other LFC moment. In terms of a finish, it was a prod from a yard; but the creation was an act of true beauty.
TTT Poster of the Year
Just over a year ago, Jeff (Reed) was reluctantly quitting TTT due to poor health. I decided to give him free access, such was his insight from across the pond. Hopefully it's not been a case of exacerbating his health issues, but giving him a pleasurable way of spending his time, to help him relax. In return, we get a constant stream of sagely wisdom, and tales of a dog called Buddy. Dan, Beez and Lee all deserve their places towards the top of the table.
The indefatigable JoeP has accepted that he will be forced to post on Thursday nights on RAWK, having fallen from 1st to 5th in a year. In his case, consistency has possibly been his downfall; steadfastly sticking to certain arguments, although he may well be proven right on some of the issues. Maybe he's the Hodgson of TTT: has one way, and sticks to it. And it's usually quite suited to the Europa League.
In truth, almost all posters are worthy of praise; while I want the site to be welcoming, I want people to think twice before sharing their views, to make sure they are adding to the debate. In that sense, I think that, for the majority of the time, it works very well; and at times of major talking points, exceptionally well.
Before moving onto the last few categories, I'd like to thank Anu and Chris for their help behind the scenes, and express my appreciation for all the guest articles. Mihail's regular tactical pieces add a new dimension to the site, and thankfully, most of the old hands continue to contribute (although it's a shame Graeme hasn't had the time anymore). It's also been pleasing to see Beez and Dan get some writing gigs beyond TTT; just stick around on here as well, lads!
Player to Watch in 2012
Thirteen years since the last occurrence, Liverpool are long overdue the emergence of an absolutely stellar youth prodigy. At 16, Suso looked like being that player; but like so many others, he's not pushed on as hoped – although individual development can be an up and down process. Conor Coady and Andre Wisdom seem to have the physical gifts to succeed, and young full-backs Flanagan and Robinson have gained valuable experience, but right now, none of the promising kids are even making the bench; a good sign in terms of senior squad fitness and depth (with the likes of Kelly and Coates often not making the team, or even the 18), but also proof that they haven't gone on to make their inclusion unavoidable.
I've not seen as much of the reserves and youth team this season, but Raheem Sterling has to be a major star in the making. Surely?
The capture of 16-year-old Jordon Ibe, who played and scored for Wycombe this season at the age of 15, has to also bode well; he is due to arrive in the summer.
Hope for 2012
The aim has to be to get back into the top four, although the top six has become incredibly competitive. So much has changed in the last two years that it remains hard to get a grip on our new reality. Finishing in the top four this season still looks possible, with just a few points separating 4th and 6th; and yet outperforming both Chelsea and Arsenal over the remainder of the season somehow seems unlikely. Therefore, the hope has to find ourselves safely nestled within the top four in a year's time.
More specific hopes are that we sign a striker to solve the goalscoring problems; or, as in the second half of 2008/09, players start sharing the goals around. And obviously a satisfactory outcome to the Suarez situation would be ideal.
Equally, maintaining Skrtel's confidence and Agger's limbs is essential to obviate signing a new centre-back.
On a personal note, I hope that 2012 is a little easier than 2011, and that I can get back to producing my best work. With a house move in the spring, and then my dad's cancer taking hold in the summer  through to his passing just before Christmas, it's been hard for me to keep on top of all the issues. I hope that the site has maintained its high standards, but I'm not sure I added as much as I'd have hoped to.
And on that note, I'd like to thank you for your continued support (especially in the light of a few technical issues), and wish you all the best for the year ahead.
[/wcm_restrict]