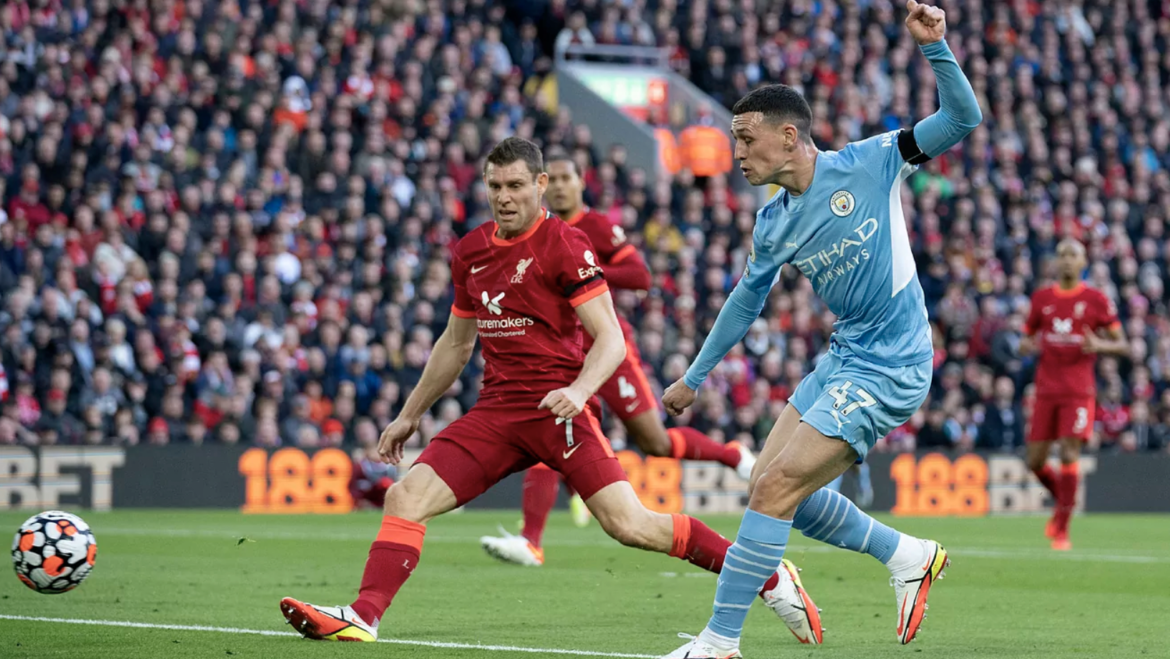 Best posts of the week, as chosen by Chris Rowland and Daniel Rhodes.
1 – Mobykidz's reaction the draw with City:
We were a bit rubbish first half.
We were a lot better second half.
We were lucky to draw.
The constant throughout the whole game? The elegant dribbler and one man wall. Joel Matip.
I am beginning to suspect VvD wore that fan boy t-shirt with Joel's image emblazoned on it not for a joke but as a tribute to how good he is. Even that deflection was outstanding defending but bad luck. He did his job.
If you begin with Matip then I end with Salah. Where did that dribble and right foot stunner for the ages come from? It was so good I swear his mini-afro grew by an inch. Look, sometimes a side needs brilliance. That pulled the guts out of Cancelo, Dias and Rhodri.
What about the middle? The story was intensity. Henderson just looks heavy legged and couldn't buy a pass. The same affliction but slightly better was Robertson. Their heart and desire can never be questioned but output, in a side that relies on its parts working, was overall poor.
My biggest concern, and has been for a couple of games, is Fabinho. He looks flat footed and unsure, at crucial times, on getting his foot in or making a pass. The build up to Foden's goal he put out a desperate back leg and to me that was a lack of sharpness and positioning.
Someone posted how Klopp described the defence as too passive and that caused problems for our midfield in the first half. Who am I to disagree? But I think there's an element of tiredness. It pains me to say it but VvD needs a rest and that game in Porto was possibly one to do that.
I think Klopp will be asking Pep (Ljinders) and his medical department to look at the fitness and energy levels of this midfield. Jones looks sprightly and I think with Fabinho stays a starter. With the international break Henderson is away and those two games won't do him any favours. He's definitely not melting but looked well off the pace. City are an excellent side but we've never been done for intensity.
Arguably Brentford and Man City were games that we could have closed off. Maybe we missed Wijnaldum, who used to be everywhere tackling, pressuring and keeping the ball in tight spaces. But I suspect its deeper than just one player though at 3-2 and 2-1 you suspect Thiago's entrance could have helped Henderson, Fabinho and Virgil.
As it is Curtis Jones looked as good if not effective as Grealish. Harvey Elliott will come back but the silver lining is I'm seeing a lot of parallels with Trent's breakthrough. It's something that pleases Klopp no end and is another future-proof cog. I think he's a bit better than Jude Bellingham. Put those two in the same side though? Come on Gareth.
Anyway we've still not lost a league game. That matters massively. We know from experience this is a really tough block of games (Watford, Athletico and Man Utd all away) but if we come out of it unbeaten, close to the top then that's a brilliant month.
We might not be playing as well as we can. But winning a title in this standard slug fest manner comes down to getting to January and getting stronger. If we can find that intensity, rotate our players to stay fresh, including giving Tsimakis a run, then we have all sorts of fun coming up.
Crucially amidst the whole drama of yesterday someone needs to put an arm round Jota and tell him to keep going. As with his Wolves days he can be patchy. But yet again our strikers delivered and Mane's finish was instinctive. He looks good.
And if Fabinho had reacted quicker another midfielder goal would have been instrumental. As it was it was blocked and somehow that was the story of our past two matches.
The Big Red Machine got away with one. It's time to rest and be ready for the Hornet's nest. I'm looking forward to seeing Ismalia Saar.
2 – Fady with praise for Liverpool's coaching after the second half improvement against City:
You know if there was any doubt about the credentials of Klopp and Pepe (there really shouldn't be) they have surely provided further evidence of their quality after the complete turn-around in the second half. I don't remember having watched a performance that was so unlike a Klopp team in the first half. As good as City were, we made them look like they were from another planet. It was bad enough that the team press was out of whack, but what made it worse was the ball retention (there was rarely any) and the passing was abysmal (aside from Matip of course). It was just weird. But to come back after that horrid first half and produce the complete opposite in the second just reiterates how good Klopp and his coaching staff are. We are extremely lucky to have them and after Salah hopefully signs an extension on his contract the owners should look to lock Klopp, Pepe and the others for another 5 years. I don't even want to think what a post-Klopp Liverpool looks like so the further down the line that is the better for the club.
3 -Madchenkliop on Garth Crooks' sniping comments in his BBC Team of the Week article:
I read that Garth Crooks line and was annoyed. This is a perfect example of how we end up with fake news. Pep makes an insinuation whilst in post match emotional turmoil. A high-profile media figure then passes it on to millions more as an established fact backing it up with evidence that is several decades out of date.
Garth is like Pierce Morgan, as are quite a few other pundits these days – he's so established that he's almost an institution in his own right. People don't bother challenging them because they are so self-confident and assured it's like trying to argue with a teacher or policeman. It's not worth the effort. But then that's how people get away with shit like Jimmy Saville – because no one could be arsed to challenge them.
Personally, I'd like to see all establishment figures getting flushed out and refreshed with new ones every 5 years or so.
4 – Criynwa2 on the same subject:
Well, the sports media have successfully created a narrative around one call in one game that will be used again and again to defend indefensible refereeing decisions against Liverpool in the future. Sigh.
Do we supporters add to it by honestly agreeing that the ref missed the call? Shouldn't we just be grateful that we got a deserved rub of the green on this call – unlike sooo many last season? And point out we lose the luck index and win the fair play league year after year? After all, we know that no ref gets all the calls right.
While I thought Tierney wasn't that great, I felt he was at least missing calls for both sides and I was okay with that. What really struck me was how much complaining the City players did. Every time a call went against them. I started calling them Moanchester City during the match. I think I'm gonna copyright that.
5 – David on the takeover of Newcastle:
The way I see it, there's sport and sportspeople, then there's sport finance and financiers. The two things are separate. In practical terms, the 2nd group have a parasitical relationship to the former. They exploit people's interest and they can do that to such a degree it skews the competition itself – but even then, the fact remains the initial interest in a sporting matchup pre-exists.
When John Houlding created LFC in 1892, he was building on and exploiting an interest. He may have had amazing vision and facilitated the emergence of many new fans who might not have otherwise come to follow LFC, but he didn't own them and their interest was not in him. He didn't create LFC, because he didn't create sport – that's already there inside everyone.
Because of our tribal nature, people will almost instantaneously create attachments and connections based on location and familiarity and these will inevitably develop into institutions, but you can't own that. Or rather, if you have financial control over the institution, it doesn't mean you own people's interest. People's desire to form and be part of a tribe and compete against other tribes is that strong that it has an inevitability about it. A fan of Newcastle or Citeh or John Boulding's LFC has an allegiance to their own tribal chemistry. Nothing else. And often, you can't fight it. If the owners want to be twats, you have to grin and bear it, because it's not them you are supporting. You have to be loyal to your tribe.
We all have an innate desire for sports match ups to be fair and essentially, I think the conception of sport has a noble heart. I mean if God existed (which for some may be true) and chose to use their power (which if they do exist they don't chose to use) to take over Fifa and Uefa and put in place a set of global rules that somehow expunged the financial disparity at the top of the game – i.e. made it impossible for clubs in the same division to be 10 x richer – then, beyond an initial gnashing of teeth, the global population would adjust pretty quickly to a new set of fairer rules. It's not like people voted for the rich to forever get richer – or rather they did! but that wasn't the ultimate goal of their voting decisions – it's more like an unwanted side effect. There's no doubt that if there was a simple way that things could be fairer – in football for instance – people would vote for it if they could.
The point is individuals or fans have no power other than to support a club or not and that's not really a realistic choice. Collectively if everyone acted at the same time and voted with their feet, it might have an effect on those at the top, but there's a lot of evidence that we're not capable of that kind of democratic sensible decision making – besides the powers of misinformation won't allow for a clear enough picture for people to act on. It may well be better for your health to crawl out of the cesspit of tainted glory, but that also requires that you turn your back on the tribe which is far beyond the mental strength of most mortals. As with bias, we continually underestimate the power of our tribal wiring.
At the end of the day, football forms a kind of narrative and narratives are a form of escapism. That's why we love narratives. As with all narratives there is good and evil – it's to be expected, but you don't stop following it because you are worried evil might win. You stick with it. The stories not over. You still hope good may triumph. And besides, we're in it for the escapism. We're trying to block out all the other nightmarish shit we feel is outside our control.
I feel for the people of Newcastle, (a city that I have a lot of affection for), in that they have been waiting for an incredibly long time for something good to happen with their story – not just the football part. The choice they've been presented with is an unedifying prospect, but the chances of an FSG type alternative coming charging over the horizon seem negligible. Basically they've given up hoping. They've accepted it's a dog eat dog world and they want a bigger dog. I still can't see any way out of the horrible situation than having better politicians and leaders who offer something worth voting for – but how do you stand up to corruption and the power abuses of the super rich? I just watched a Panorama on the Pandora papers – it doesn't look like UK politicians are about to set a good example.
The only thing to grasp onto is that people do actually seem to care, at least within the context of a football match, that things are fair. They care very much!
6 – Umar on the potential implications of the Saudi takeover:
I don't think people are understanding the serious implications this is about to have
I do genuinely believe the Super League and Project Big Picture were initiatives that were set out because the big clubs saw what was on the horizon and it is ominous
Saudi Arabia won't let their name be on something that isn't going to be the best, they will completely disrupt the market and make some real statement signing and honestly not care about how much it would cost to sign the best players in the world, 200-800 mil a year is a drop in the ocean for them
What this means for LFC is that you are now the 5 th club in the league financially speak behind
1) Newcastle
2) City
3) Chelsea
4) United
5) Liverpool
We will be fighting it out with United and Chelsea for 3rd and 4th most seasons, now it doesn't mean we cannot win the league but now we will need two teams to not do so well
City's owners are nowhere near the financial power the Saudi Ruling Family will be investing in football and it's a great way to clean your image
I think when Klopp leaves I will be done with football, I love my club but what's the point, this isn't really a sport but a exercise for repulsive nations to clean their image.
The grim reality of the world we live in creeping into all of our passions that was a distraction from thinking about these horrific regimes
Most people haven't been to Saudi or dealt with the people who support these regimes I can assure you they are dispicable
Articles published since last Friday, with excerpts:
Sunday October 3rd:
*Bumper* Post-Match Analysis: Liverpool 2-2 Manchester Cityby Daniel Rhodes and various.
Andrew Beasley: However you look at it, matches like this are rare. And so is Mohamed Salah, surely in a class of his own as far as the Premier League is concerned, and maybe Europe and the world too.
He either shot or created five of the Reds' six attempts at goal – shout out to Joel Matip for setting up Liverpool's first open play chance of the match, in the 49th minute(!) – and Salah even topped the tackle chart too.
But we need to talk about his dribbling ability. Every other home player completed three take-ons between them; Salah was successful with one for the first goal and two for the second (plus another two in the match).
There was an interesting aspect to his assist too. It was Liverpool's third via a through-ball in the league this season, the same number as the Reds mustered in the whole of 2020/21. As they only have two from crosses – though Trent Alexander-Arnold will no doubt get some more when he returns to the side – are we witnessing a slight shift in attacking emphasis?
Arguably should've won and arguably deserved to lose. Sounds like a draw is about right, no? Whichever side ultimately played the better, the result means Liverpool have made up three points on City on the corresponding fixtures from last season. The Reds are reeling them in and the title race is very much on.
Monday 4th:
Bullshit Football vs Proper Football: Liverpool and Manchester City's Elite Qualities in Age of Lazy Superstars, by Paul Tomkins.
Looking around Europe right now, Liverpool and Bayern Munich are perhaps the only recent title-winning teams that also competed for or won the Champions League without financial doping or financial mismanagement – spending what they didn't have – that would cripple them soon after. (Inter crippled themselves winning Serie A last season; losing €246m in 2020/21.)
And Bayern have the closed shop of Germany, where they win the title every year and buy all their rivals' best players. All the while, Liverpool have revamped the ground and built a new training complex; and are now expanding Anfield once more.
As impressive as City are on the pitch, their helping hands (delving into the deepest pockets) off it make their achievements less remarkable. In that sense, Liverpool surely have to be the best-run club in Europe when it comes to fielding a team to match that excellence.
Some fans might not like the owners, but these days (after a few crackpot years), Liverpool are a proper football club again.
Tuesday 5th:
"It's Anfield!" – Facts That Show Guardiola and Crooks Are Totally Wrong, by Paul Tomkins.
Liverpool win roughly half – HALF! – the number of penalties at home than either Manchester club.
And City get far more red cards in their favour at their own stadium than either United or Liverpool.