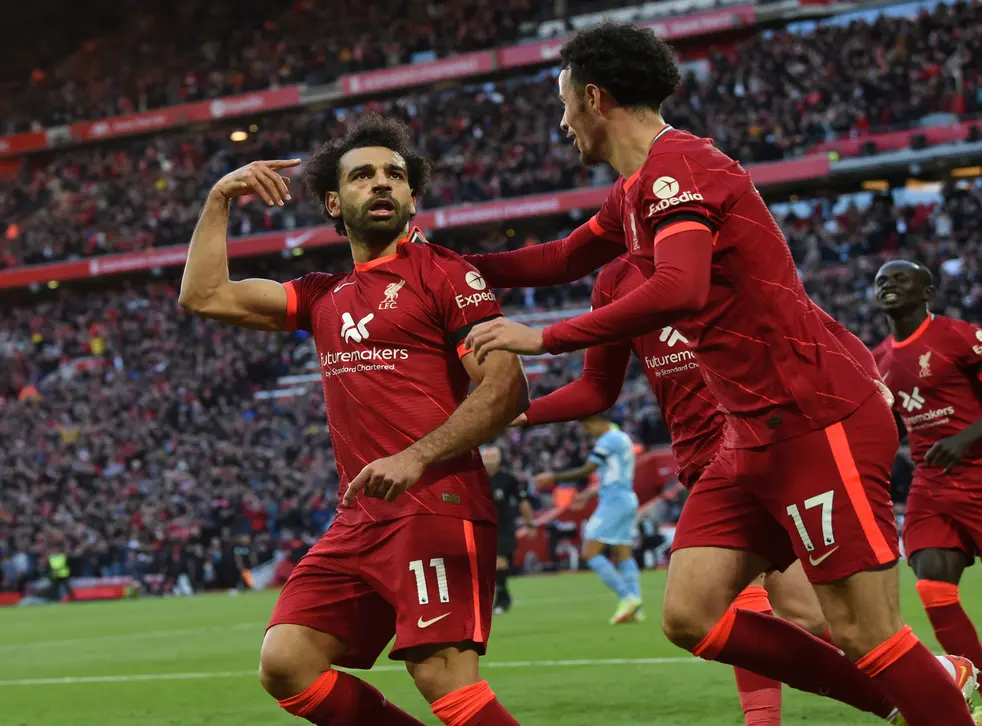 While I don't think the way Manchester City are funded is in any way good for football (quite the opposite), as they frequently stand accused of financially doping and sportswashing the fairness out of the game, at least the two clubs – epitomised by their managers' ideas in a pulsating second half where Liverpool came to life to score two sensational goals – have a proper approach to playing the game on the pitch: a team sport, where people work for one another, and egos are parked.
While every club has to define "proper" within its own terms, and beauty is not a prerequisite, the game seems blighted by both the big-bastard bruisers who take advantage of weak, ageing referees (but are often teams who at least give honest effort, if not honest tackling), and the new kind of show-ponies who care more about their image and global brand than actually playing the damned game properly. 
(A team like Brentford seem refreshing, as they mix a bit of brute force with pace and skill, and clever routines, backed by sensible spending. They don't seem to be as cynical as a club like Burnley, or Wimbledon, to go back to the prototype a few decades ago.)
The more football I see, the more egos bother me. I keep talking about the 'egosystem' at clubs, and how individuals interact to exceed the sum of their parts. Some players seem to just want to play an individual sport. Maybe some younger fans are also more obsessed with individuals than teams.
We all have egos, but unless it's a keepie-up exhibition, football is a game about the team, not the individual. The talent freakshow at PSG is enough to turn the stomach, with the hard-working (but badly advised) Gini Wijnaldum, on £300,000 a week, not able to get into a team so top-loaded with slothful attacking shirkers that the rest of the team has to almost all be defenders.
(I still admire Gini, and – as someone who had to argue in favour of his qualities early on in the face of constant criticism – what a player he was for Liverpool; but there for the grace of Coutinho go you. I also hope you're thinking of those friends as well, Mo, whilst hopefully negotiating a new deal at Liverpool – but more on that later.)
The YouTube generation may venerate the Cruyff turn or the Zidane pirouette (things I did in games as a an attacking semi-pro in the 1990s, as well as, years earlier, mastering the Ossie Ardiles' inspired Rainbow flick in the back garden but without working out how to deploy it in practice, when a defender was in the way), but my aim with skill – at that modest level of the game – was only to beat the man and make the quickest beeline for goal, or to create the space to find a teammate. 
It was not art for art sake, albeit art for art sake is fine by me when it comes to art (for art sake, which is why I also write fiction – I'm close to finishing writing my second novel – having been to art school; creativity is not a sport in itself, as the competition is based on taste, and sales, and fashion – not one artist or writer physically stopping another, nor any easily proven subjective measures). 
Sport is an entertainment industry; but sport is also sport, obviously. Without the meaning of the best versus the best, giving their all, it's diluted. 
So, football should ideally be entertaining, but also with a purpose. Sometimes it has to be ugly, but ugliness is not an appealing long-term plan. 
Meanwhile, exhibitionism is low-risk; showboating seals are only interesting because they are a sea creatures – if they have human limbs and human brains, it's a waste of billions of years of evolution. We don't need to throw fish to Neymar, the king of going missing in big games, or for a month each year at the time of carnival, and whose only absence at the high-profile Copa America for Brazil still happens to be the only one they've won since he hit the scene (as some nobody called Roberto Firmino led the line in his absence). 
The past week, in particular, has highlighted the gulf in attitudes, with superstar Disneyland-dreaming and lineups of ageing superstars, in a kind of grossly bloated, lazy, arrogant ostentation that is better placed in a circus. This is football as pro wrestling, as Harlem Globetrotter stunts. Except we pay good money to see honest competition and a will to win, not grown men peacocking. There are also football clubs crippled by their own hubris, going into free-fall. 
Liverpool and Manchester City work incredibly hard as teams. They mix skill with energy; work with invention. They carry zero passengers. That was evidently clear yesterday, once the Reds shook off a nervy first half. 
Both teams played great football (once Liverpool got going), and City were a constant threat; while the Reds scored from two throw-ins, if you want to reduce it to such basics: but the first involved the ball going to the goalkeeper, around the back four, into Salah sprinting into his own half, onto Fabinho, back to Salah to jink past a player and sprint 40 yards to play in Sadio Mané – sprinting off the ball in hope of the pass – to ruthlessly fire home. 
If that was the 2nd-best goal of the game (just edging out Phil Foden's into third place), the best was a work of jaw-dropping art: the ball moving around from a throw into Curtis Jones' feet, and he'll get an assist for basically giving the ball to Salah to slalom and slice the Citizens into salami. 
I wrote 1,000 words straight after the game for the Bumper TTT Post-Match Analysis that included: "The great shame was that it wiped out Mo Salah's best-ever goal for the Reds, mixing up the first-season jinking runs against Everton and Spurs, but somehow finishing with his right foot from a narrow angle, having worked space he had no right to conjure. When you are so one-footed, the feint to switch onto your weaker foot becomes an incredible creator of space, but then you still have to hit the shot with that weaker foot. He should do it a bit more than he does, because defenders are convinced he'll use his left. The close skill involved was supreme."
Salah's work-rate in this game was jaw-dropping; the sprints up and back a joy to behold.
To appreciate these two teams, who have lit up the last five years of English football, it also needs some contrasting with what they are not: the toxic egotists and teams of indolent superstars who, rather than grace such a game, would have soured it; and the clubs run by self-indulgent fools whose vanity has become self-destructive.    
The majority of this article is for subscribers only. See details below on how to sign up and become part of a community, and to read all paywalled articles and comments.
[ttt-subscribe-article]