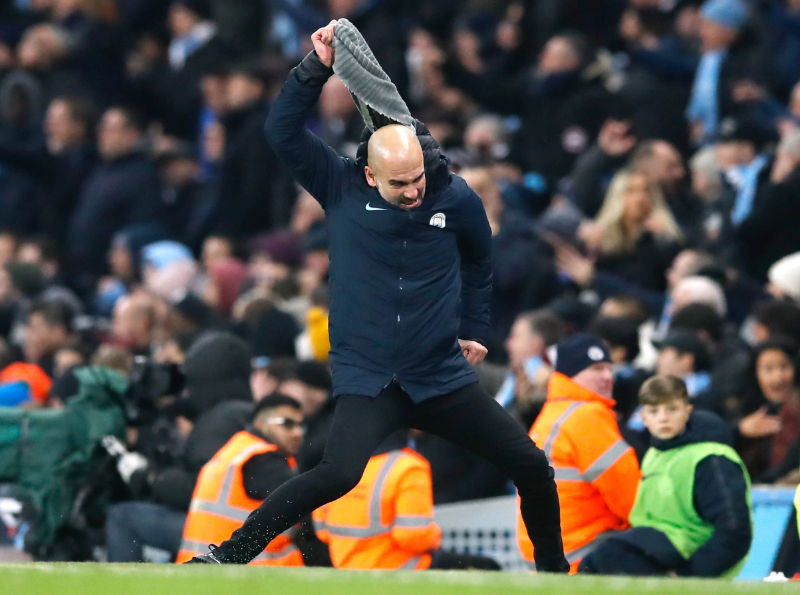 While I totally agree that James Milner should have been sent off for a second yellow (assuming that the referee, like most of the people watching, didn't think the foul was actually by Jordan Henderson), let's first not forget that Pep Guardiola was strangely silent when Vincent Kompany scythed Mo Salah down so brutally that his team sang a song about him escaping a red card. Remember that? It changed the title race, at the Etihad.   
Yet the myths about Anfield and Liverpool getting favourable decisions are such utter bogus bullshit that it's beyond a joke. Aren't we supposed to leave old stereotypes from the 1970s behind these days?
Go look at the data. 
Check the facts. 
Examine the truth.
"But it's Anfield, it's Old Trafford," Pep Guardiola said, locked in some timewarp. "In our situation a City player is sent off. It's clear. It was a second yellow … It was a yellow card, it was too obvious. I know for referees it is not easy at Anfield and Old Trafford – there is a lot of pressure for everyone."
Yet the data shows that City are much, much more likely to get big decisions at the Etihad than Liverpool do at Anfield. 
Guardiola says that football is about emotion, but then shows that he's talking with emotion and ignoring the facts. Indeed, he simply points out a truth by mistake: that it's easier for refs to give City decisions at the Etihad.
If anything, refs are scared of Anfield, and of the idea that they give Liverpool too many decisions (as I've been saying for years). These days, it's not the baying fans in the stadium who sway officials, as may have happened 40 years ago, but the online and phone-in mobs, ruled by emotion and misinformation, and skewed by availability heuristics. 
Under Klopp, Liverpool get very few big decisions at Anfield.
Garth Crooks followed it up with some utter wank of his own on the BBC, that is frankly unhinged:
"Silva was also booked in the match for a genuine mistimed tackle but it was neither cynical nor calculated. However, the tackle on Silva late in the match by James Milner was both. Milner should have received a second yellow but didn't. Manchester City boss Pep Guardiola suggested in his post-match interview that he wasn't surprised by the referee's decision, after all it was Anfield. It's true and it used to happen in my day and it's time it stopped."
(My emphasis.)
Except it's not fucking true!  
If it was, it stopped donkey's years ago.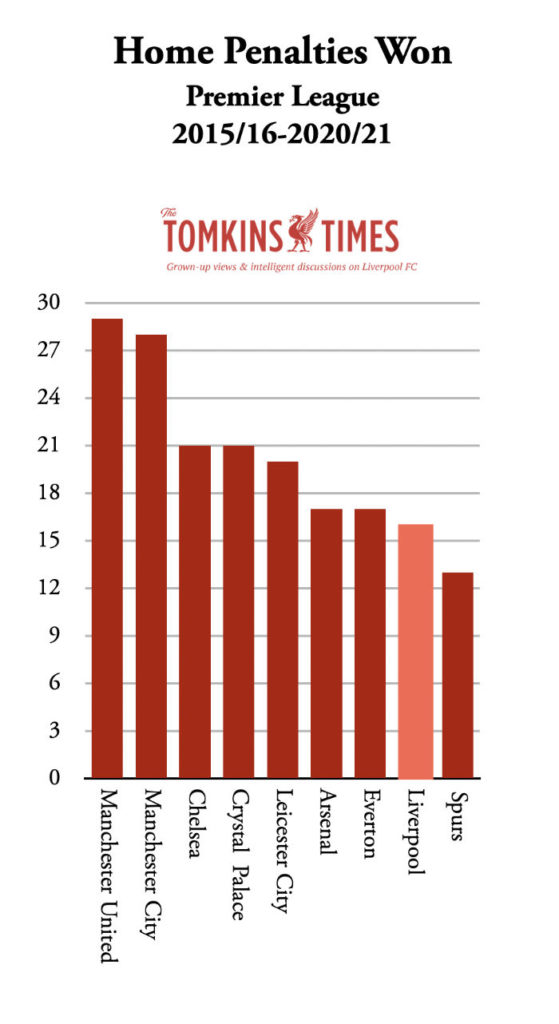 So yes, Liverpool have won roughly half – HALF! – the number of league penalties at home than either Manchester club since Jürgen Klopp arrived in 2015. 
And since the start of 2017/18, only one opposition player has been sent off at Anfield in the league, and that was Reece James this season, given not by the referee but VAR. You have to go back to 2016 to the last time a referee sent off an opposition player at Anfield in the league.
Wow, talk about lucky, lucky Liverpool eh?!
Liverpool have had two sendings off in that time (Alisson and James Milner, both totally correct decisions). That leaves Liverpool with a sendings-off score at Anfield of -1, which is frankly bonkers given the domination the side has enjoyed their since 2017.
Manchester United are at +1 on the sendings-off balance at Old Trafford in that time: three opposition players sent off, two United players sent off. 
But staggeringly, Man City are at +4 at the Etihad in the same period! Two City players sent off since the start of 2017/18, and six (SIX!) opposition players dismissed on Pep's home turf.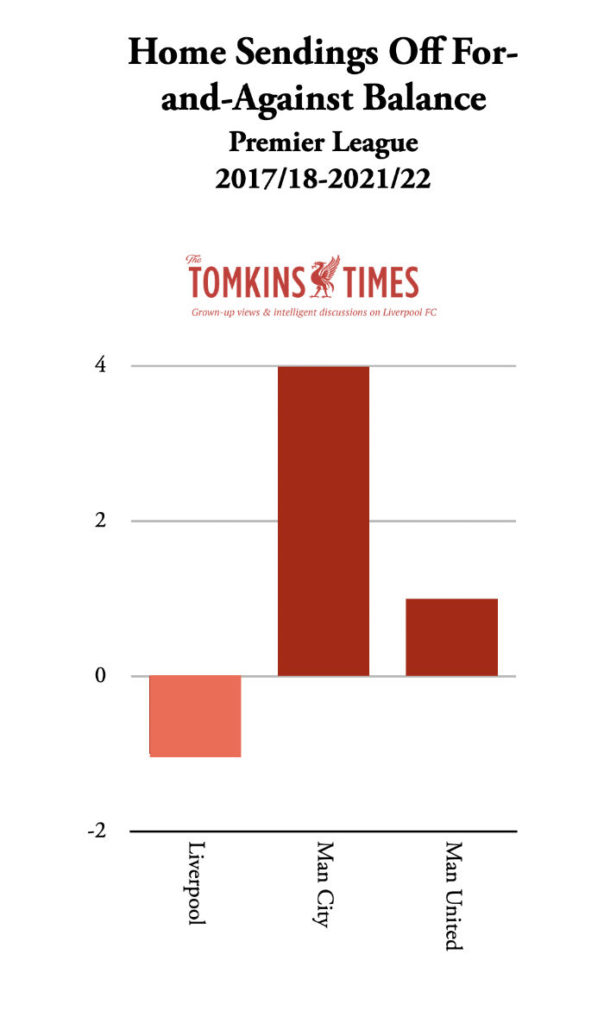 Again:
Liverpool win roughly half – HALF! – the number of penalties at home than either Manchester club. And City get far more red cards in their favour at their own stadium than either United or Liverpool. 
You could argue that City deserve to win a few more penalties than the Reds, given they've been slightly more dominant out of the two teams to excel in this period; yet the gulf is almost doubled. 
Also, since Klopp arrived in 2015, Liverpool have won about 25% fewer penalties at Anfield than Crystal Palace – playing turdball under Sam Allardyce and Roy Hodgson – have won at Selhurst Park, and about 20% fewer penalties than Leicester City have won at their home ground. 
(Penalty data is correct up to March 2021, when we did a study on the subject, and the weird absence of refereeing input at Anfield: referees tend to just pretend they don't see things, and it usually – if not always – benefits the opposition. The Reds' only home penalty since then was against Chelsea; a quick check suggests three league penalties to United in that time, with one at home; and City have won one at home, which Sergio Agüero famously missed. And Liverpool don't exactly win many penalties away from home, either, compared to the other clubs.)  
Clearly Anfield is not somewhere where the Reds get all the decisions. It's apparent in the facts. The opposite is true. Go double-check the data yourselves if you don't believe me. 
Now, of course, we can't calculate all the decisions not given, as they don't show up in databases – but then again, in the past we compiled video of at least 10 penalties and/or sendings off Liverpool should have benefited from at Anfield in recent years; such as Mo Salah, in on goal vs Newcastle, being booted up in the air by the last defender, Jamaal Lascelles; or also against Newcastle, Joel Matip being headlocked to the the ground. There are many more. And of course, Bernardo Silva could also have been sent off at the weekend.
So, to conclude: Man City get far more home penalties compared to Liverpool (almost twice as many), and benefit far more from for/against red card decisions to a balance of -1 for Liverpool (punished more often than not) to +4 for City (favoured more often than not). 
So Pep Guardiola and Garth Crooks are right: this has to stop!
And one more time, for those of us who are hard-of-seeing:
Liverpool win roughly half – HALF! – the number of penalties at home than either Manchester club. And City get far more red cards in their favour at their own stadium than either United or Liverpool.