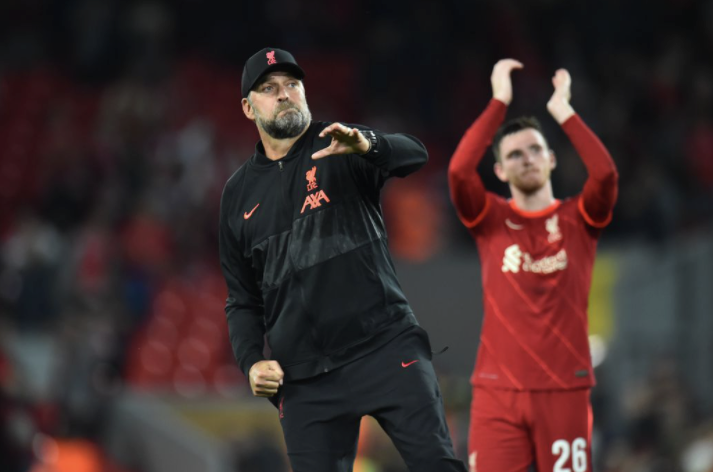 Best posts of the week, as chosen by Chris Rowland and Daniel Rhodes.
1 – L7 Kenny responding to news that some hospitality tickets for the Atletico Madrid match at Anfield are priced at £185:
I had a season ticket for as far back as I can remember. Sat in the old Kemlyn Road stand, first row in line with the 18 yard box, Kop End. I gave this up eventually for a Kop Season ticket, which I actually hand delivered back to David Moores in disgust at Souness and that article he did in the rag of a comic (I won't call that disgrace a newspaper as it doesn't warrant the description). Anyways where I am going with all this? – £185 a ticket just leaves me staggered at prices, as even my last season ticket didn't cost this much. I remember days even travelling to away games, plus tickets costing about £20 max. Sorry but I feel football has just gotten ridiculously pricey and will eventually just completely price itself out.
I haven't been a game since 2019. My mate has two season tickets for the upper Centenary (Sir Kenny Dalglish stand) and I think he charged me £100 for both tickets. I struggle at justifying such an outlay on most occasions now.
In comparison, I went to an international Ice Hockey match in Riga, Latvia. It was Latvia vs Russia and three tickets cost me about £25 in total. In fact with beers and hotdogs, parking for the car etc, I think the entire game came to about £45 and that's for three of us and the entertainment was none stop, even during the intervals.
2 – Nari Singh reacting to Mark Cohen's article on xG and game-state goals:
I also really love the game-state numbers, and glad you were able to come up with this analogy when analysing the bigger picture of why we were miles ahead in 19/20. It just makes so much intuitive sense to me, and also backs up a lot of what I see when watching matches.
The stat that stood out at me a lot was this:
Liverpool have a 1.26 overall, but produce nearly 98% of that number in the most essential game-states.
I've underlined the bit that grabbed me. It's so powerful, and something that really kept us focused in the title winning season. We've also seemed to have changed our play slightly this season, as Beez's recent articles show, more "chipped-through balls" already being played, and we seem to be taking much more shots, and more from outside the box.
I was surprised a little that Citeh got back into the match at Anfield, after we led twice, that showed a bit of character from them, as they normally struggle once being behind at Anfield. But I think Foden exposing Milner coupled with our flat first half probably gave them a bit of belief that they could get something out of the game.
I'm definitely looking forward to seeing how the numbers look after yet another utterly pointless international break before Christmas!
3 – Mark replies to Nari about peaking around December:
I absolutely agree re: City coming back into the game twice.
For me, it was clear that Milly at right back was no match for their rampant left hand side, and was always likely to cause us issues when they pressed forward.
The key is that I don't think we are structured to be at optimum at this point and the fact that we are still producing such nice underlying numbers suggest there's lots to come;
In 18-19 we hung on to City through a mixture of resilience and good fortune until after the third international break in late November and then we went completely bonkers, winning all eight fixtures until the new year (City would lose three in December, having earlier drawn at Anfield in a game they just about shaded, similar to this term).
In 19-20 there was actually much hand-wringing about our opening ten or so games. Although we won all bar a draw at Trafford, there was a general feeling that our attacking effervescence had slipped off from its 18-19 heights and a fall was due.
We had conceded some goals that term too, keeping just two clean sheets till December!
Again, we would explode after the third international break winning 15 in a row on our way to the most one sided title in history, consigning talk of a drop in level to fringe lunacy only.
We would keep ten clean sheets in those 15 games, with Liverpool's dominance reaching an embarrassing level in a 4-0 thrashing of second placed Leicester at their patch on boxing day where we won the expected goal battle 3.77-0.12. A complete bollocking.
This season seems to be following this pattern very closely so far:
Settle into a nice high-line, control games in the game-states that matter, produce a good return of points, have a few issues at the back (this season – teething issues due to having numerous returning injured and/or new players in our defence).
If things keep going like this – I am expecting fireworks in December.
4 – NickM on Utd's missing centre-backs, reminding us that Liverpool had five of them missing last season but everyone said it didn't matter, it was just an excuse:
Well at least they used the benefit of hindsight and brought in another defender in the summer which is obviously what Liverpool should have done last season especially with Mystic Meg having emailed Klopp on the eve of the season.
Not only have they brought in a new centre-backs they have also discovered Phil Jones and Eric Bailly hiding down the back of the sofa who can accompany Lindelof at the back. Of course they could even use McTominay there but using a defensive midfielder as a centre back is really really stupid and no pundit would recommend that even if you have almost no other options. Of course there is always the youth team if things go really badly….Of course Utd fans don't need to worry because losing your main centre-backs doesn't affect how the team plays in the slightest.
5 – Anthony O'Brien on the notion of 'invisible goals':
Mark, fantastic read and I love your point about "invisible goals". I posted this in another thread a few weeks ago, but I think it neatly illustrates your point about how the ability to manage game state was the big difference in 2019/20.
During the 19/20 season Man City won 10 games (so more than 1/4 of the season) by 4 or more goals but they only ended up with 81 points. Those 10 matches, despite the +50 goal difference, was still only worth 30 points to them, meaning that they only achieved 51 points for he the other 28 matches (which is about 69 points for a 38 match season and would have still seen them second with Utd & Chelsea on 66). Even more telling the GD for the "other 28" matches was just +17.
Liverpool had achieved 82 points after 29 matches, not because of massive wins but because of the ability to squeak out tight ones like the 2-1 at Villa where the two goals were scored after the 85th minute. City scored 6 at Villa but it didn't get them extra points.
The big difference between Liverpool and City that year was Liverpool winning 14 matches by a single goal (1-0, 2-1 or 3-2). In contrast City won 5 while it was still mathematically possible for them to win the league and 1 more after it was "lost". The first of their wins was November (just before they came to Anfield), as that stage we had 5 in the bag and were in the course of the 2-1 comeback win at Villa mentioned earlier that would make it 6 one goal wins in the first 11 matches.
Articles published since last Friday, with excerpts:
Monday Oct.11th:
Curtis Jones Has Been at the Heart of Liverpool's Goal DNA, by Andrew Beasley.
When you picture a through ball, you're probably visualising a beautifully weighted pass, rolling smoothly across the turf between two defenders and into the path of a forward who has a clear route to goal. As a Liverpool supporter, you may have an image of Philippe Coutinho in your head at this point, and rightly so; the Reds were joint-top of the Premier League for through ball assists in both 2012/13 and 2013/14, with the Brazilian their key man in this regard.
Klopp's side had looked to have left this method of attack largely in the past last season, as they only had three through-ball assists in the league, and a pair in Atalanta was all they managed on this front in the Champions League.
However, just as set piece goals are on the rise, so are through-ball assists – the Reds already have three in the league and one in Europe (albeit one of the domestic ones occurred in the draw with Manchester City, which is not part of this article). The trio from the last two months are also interesting as while they might be through balls as far as Opta are concerned, they wouldn't match the description in the opening paragraph of this section.
The style of these assists is clearly not a deliberate choice like the set piece actions might be. But whether it's coincidental or not, it's interesting that Fabinho and Divock Origi's passes to Salah were officially chipped and the ball from Trent Alexander-Arnold to Sadio Mané was dinked, if not actually over the heads of the backline. They're through balls, Jim, but not as we know 'em.
Tuesday Oct.12th:
Klopp At It Again – Expected Goals Show Liverpool On Top, by Mark Cohen.
… it looks like, yet again, Klopp is building a team with a similar efficacy at controlling the vital pressure points:
Klopp's goal is to be the master of dominating the game-states that matter, taking a two-goal lead, and then conserving energy.
This is generally why you won't see Liverpool racking up lots of 5-0 wins, this type of scoreline being generally the remit of City.
What is amazing about Liverpool is that, whether we are a goal up or level, we appear to play with the same intensity (0.57, 0.51 GD), showing how vital it is for Klopp that his team remain highly focused after the first goal, in order to get the second and wrap the game up.
Wednesday 13th:
Diogo Jota's First Year at Liverpool (With the Help of Data Viz!), by Mizgan Masani.
'Successful pressures' is defined as the number of times per game the team has won possession within five seconds of the player putting pressure on an opponent who is on the ball. And to no surprise, Liverpool's current front three are leading this chart since the start of 2020/21 season, and Jota is ahead of Salah and Mane in this.
Putting everything into context with regards to how Diogo Jota has done for Liverpool so far – it has been more than fantastic. Looking at the comparative visuals, it is clear that the Portuguese has turned into a genuine goal threat for the team, along with his precision in shooting and excellent work off the ball to help the team defend from the front. He is an all-around package, and at 24, there is a lot more to come from him in a Liverpool shirt. At last, I would say, almost 13 months on from his signing, I am still surprised none of the big clubs went for his signing. It also shows how well the Reds are run in the recruitment department.