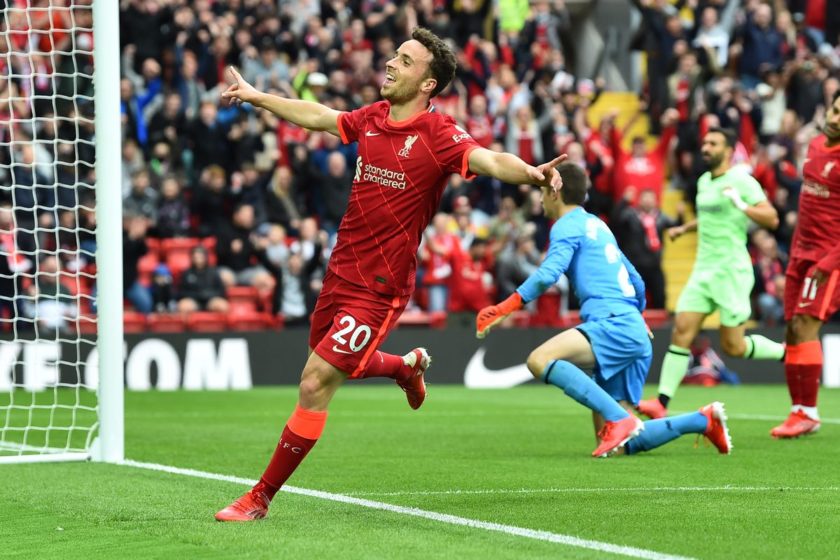 It's been just over a year (almost 13 months) since Liverpool signed Diogo Jota from Wolverhampton Wanderers. The transfer wasn't a part of the summer rumour mill last year, hence many were surprised by the swiftness of the deal and how it was kept under the radar, that no one could report about it happening even 24-48 hours before it was signed and sealed.
The 24-year-old has made a seamless addition to the much-favoured Liverpool front line, by scoring goals whenever he got the opportunity and has led the line well when Roberto Firmino is not in the team. Furthermore, the best thing about him is that he is comfortable playing in either of the front three positions, meaning the manager is comfortable to use him in any way he sees best fits.
In his time at Liverpool so far, Jota has played 20 of the 39 games in all competitions as a centre-forward, 11 and six as left- and right-winger respectively, and the remaining games as a second striker. So, it is clear that Jürgen Klopp fancies him to lead the line more often than not, which is a change for a player who played less than half of his games (26.7%) in that position when he was at Wolves.
To look at it from the numbers' viewpoint, there have been benefits of the Portuguese leading the line, with his non-penalty goals per 90 rate increasing from 0.40 at Wolves to 0.62 at Liverpool thus far. His shot-taking capabilities have gone up a level as well, with his shots on target percentage increasing from 42% to 52.8% from when he was at West Midlands to now at Merseyside (shots on target percentage means the number of shots that are on target divided by the total shots attempted).
Keeping the numbers game intact, let us take a look at how Jota has fared as a Liverpool player when compared to some of the top forwards in Europe. Note that every metric shown here is in "per 90" form to showcase how the player has done on a game-to-game basis over a period of time, and also because Jota would be behind in some of the metrics (goals count) because of the number of games he missed last season due to injury (21 games in total).
The rest of this article is for TTT subscribers only. You can join our community for just £5 a month.
[ttt-subscribe-article]