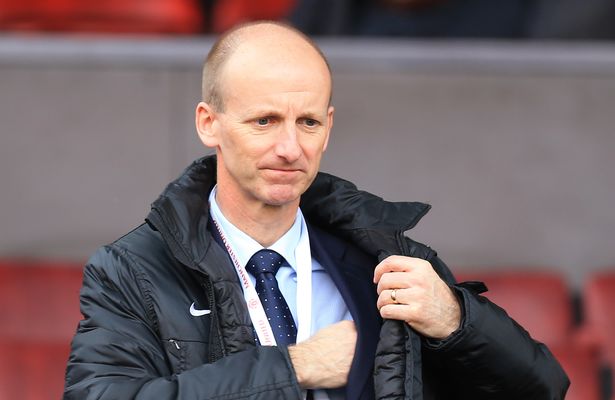 This horror show started against Burnley when 15-stone men were flying into 18-year-old Harvey Elliott all game, to some daft new leniency that made zero sense. 
Klopp could see it. We could see it. A bad injury was coming. 
Burnley spent the game flying into Elliott, feet off the ground. And while the leg/ankle-breaker Elliott suffered against Leeds wasn't the worst of the tackles put in on him this season, it was another lunging attempted tackle that was out of control. The attempt was eventually to play the ball, with the hooked leg, but then what happens to the 15-stone of man in motion? 
And now England's best teenager has his season ruined. Maybe his career ruined, as his foot faced one way and his leg the other. Is that enough yet, Mike Riley, you utter cunt?
I cannot express how much I loathe the officials and the PGMOL, although that previous sentence was a reasonable attempt. He's a useless middle-aged bald shithead (speaking as a fellow useless middle-aged bald shithead).
This was not down to Craig Pawson (although he was having a poor game until the red card, and then felt swayed by the Leeds crowd afterwards, just as Chelsea were allowed to intimidate Anthony Taylor into, surreally, not giving one single free-kick to the Reds in the second half), but was down to the fucking insane way over-the-top tackles are allowed to persist in this stupid fucking league. 
How many more players can Liverpool have kicked out of a season? Van Dijk and Thiago at this stage last season, both from shocking red cards, albeit only one was given. Others followed. An injury crisis in part fuelled by reckless tackles. Game four, and already a player in hospital. 
It's not good enough from the officials. Why does the Premier League insist on officiating so differently to everywhere else? We can still have blood and thunder, just no cowardly, dangerous and dumb "feet off the ground" challenges.
Full-blooded tackles are fine – 50/50 block-tackles at full-speed are part of the game – but stretching, lunging and sliding players are risks in this age of bulked-up giants. 
Players with both feet off the ground or, in this case as with Jordan Pickford, the trailing leg scissoring (albeit Pickford did both). It's just not good enough – several wobbly men who are older than me (and I'm 50), are a bit part of a rubbish pool of officials led by a spineless leader of the PGMOL, that seems full of cronyism and purblindness.
Klopp could see this coming. Mike Riley couldn't. Which one knows more about football and can get a sense of what's happening in the real world? Who wins the Fair Play award every year? Liverpool. The Reds, under Klopp, rarely launch into tackles, but try to block, intercept and close-down. He hates shithouse tackling, and to be honest, it was also not okay in previous decades when Liverpool had players doing it. I didn't like it then, and was glad when Rafa Benítez (mostly) curbed Steven Gerrard from doing it. I don't want the game to become tame, but launching towards a player has to be outlawed. It causes more and more damage.  
Look at what wasn't even given as a free-kick against Elliott against Burnley, which I highlighted at the time. It wasn't even a free-kick! Look at the follow-through, which shows both legs were off the ground, and which scissored Elliott. Seem familiar?
Fuck!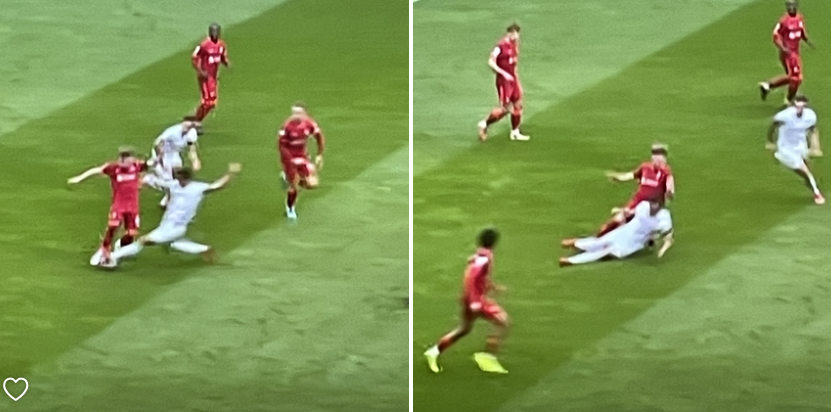 It's hard to express how much I've been saying this is coming. I don't care if you win the ball if the inevitable result is breaking someone in two. The officials need to protect players, not allow thuggery.
Elliott had spent the first four games jumping out of late tackles. Go and watch how many he's had to jump out of the way of, as a small (but not timid) technical player. I am so angry, because this has been coming. A lunging tackle that takes a player into the opponent is rarely "innocuous". 
Update: New Section – Images
EDIT: I've now added these screenshots of the incident, and a couple of other things from the weekend. This is a 6'3″ centre-back chasing to tackle a faster player FROM BEHIND, and as you can see in the right-hand image, he has gone through Elliott and as with Jack Cork of Burnley, has had both feet off the ground to end up in that position. It's not malicious, but it's an ankle-breaker.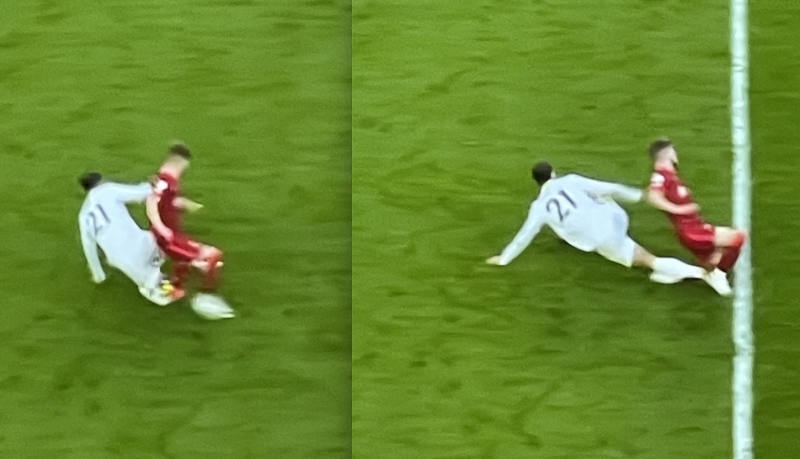 Then there is this angle, which someone shared on Twitter, which shows the out-of-control nature of a player who has launched, without malice (but with recklessness), his huge, heavy frame with all that weight to come down on Elliott's ankle. So, no wonder it dislocated it. It's a genuine but dangerous attempt to win the ball.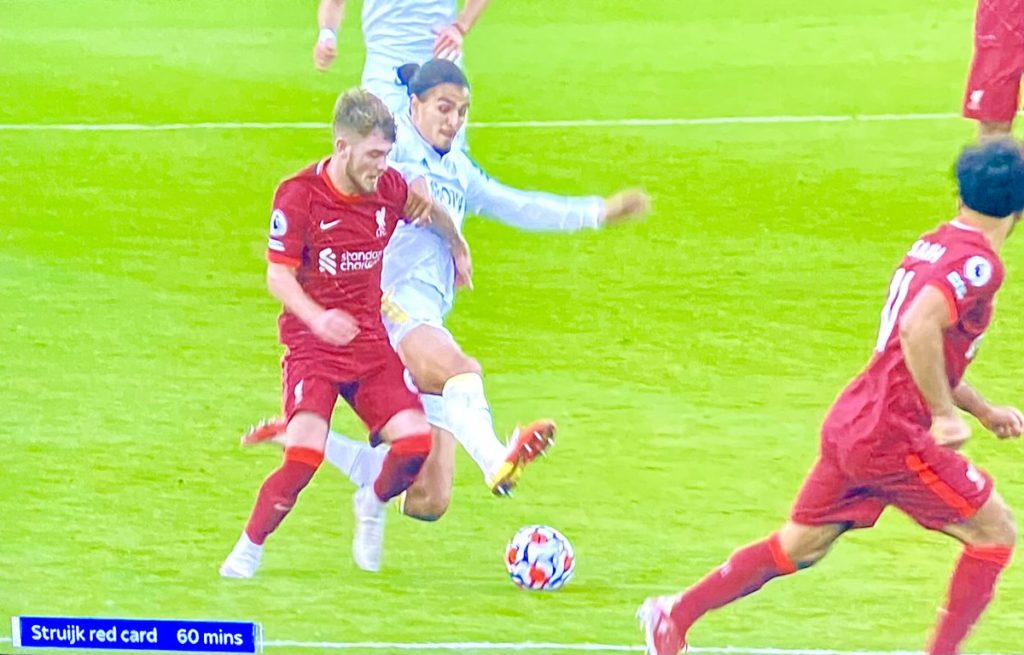 Watching the game again, I then noticed this Luke Ayling two-footed foul on Harvey Elliott (below) that again wasn't given as a free-kick, as he attempted to play the ball. But look at the scissoring that makes it two-footed. If Elliott hadn't jumped – as he did against Burnley – he'd have been in hospital about 20 minutes earlier. Again, there's no malice, but both feet end up beyond Elliott, which shows the player was out of control and going "through" Elliott. Referees did fuck-all to protect Elliott this season, and the result?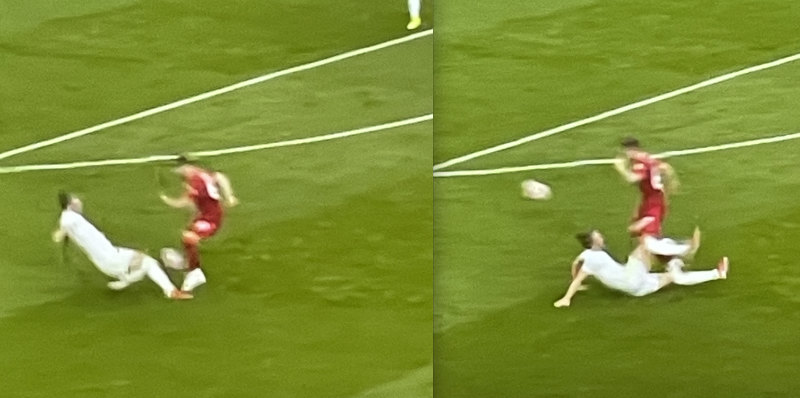 Then there's this "let it flow" foul on Mo Salah, which is not dangerous, but where Kalvin Phillips uses both his knee and his arm across Salah's chest to foul him. Result? Play on! Leeds go up the other end and nearly score.
The new "let it flow" rules seem to be a continuation of giving far more free-kicks to English players (based on our four-year analysis of all Premier League data) than foreign players. Salah has turned Phillips and the Leeds man brings him down with two parts of his body, no less! Rather than get out of the way, he has his arm right across Salah's chest, and his knee thrusts out into the Egyptian.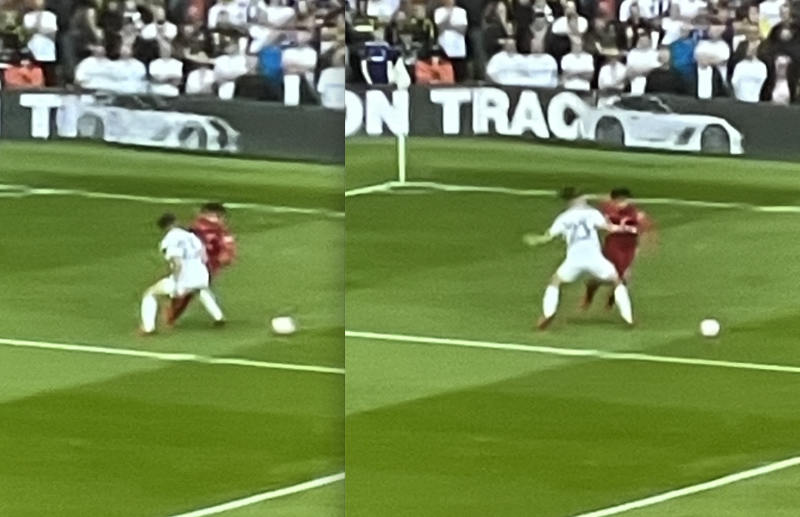 Just to add a couple of incidents from the weekend's U18s game, too, that also saw Liverpool players hospitalised.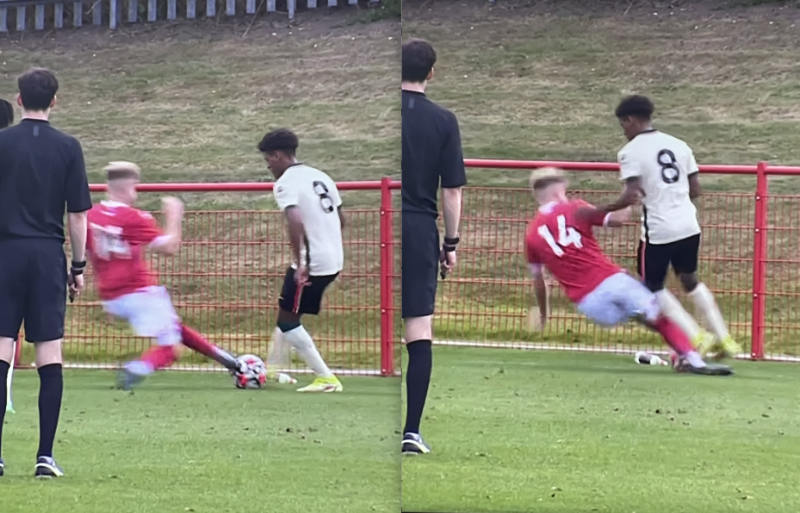 Had Melkamu Frauendorf not just ridden this, this is another one-footed lunge at the ball that turns into a two-footed lunge with the follow-through. This was not one of the trips to the hospital, but it could have been. The Forest no.14 ends up out of control and his direction of travel takes him into the Liverpool man. These have to be outlawed. Or rather, punished, as I'm not sure they're legal anymore anyway.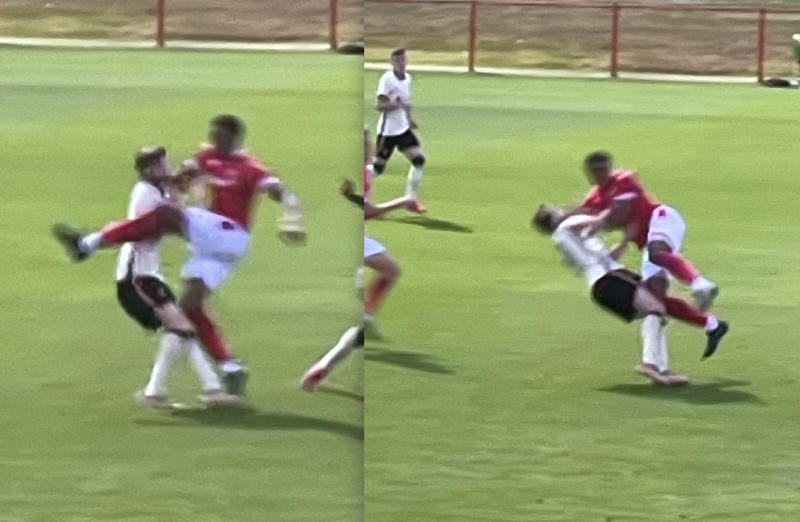 This one was accidental, but it shows that, even at U18 level, some of the players are man-mountains, playing against literal boys. The U18 game, on Saturday, had to be delayed as they ran out of ambulances.
Standing upright and making full-blooded block 50-50 tackles are part of football. I'm not a "safety at all costs" person (and believe that if footballers know the risks of things like getting dementia from heading, there should still be heading in football).
But the lunging in is reckless, and sees so many players have their seasons and even their careers ruined. It can break and dislocate legs and joints from first contact, or the follow-through, and winning the ball or not should be utterly irrelevant. The game is so faster than in the past, the players so much taller (on average), the builds of the players so much greater, that this risk needs addressing. I want to watch Liverpool play, and not just the players who are not in hospital.
Anyway, back to the original article from last night:
Potty Mouth
It's never a good look to say I told you so, but three things I've made clear this season: another Liverpool player would have his season ended soon with this dumb officiating; Sadio Mané is not necessarily finishing ruthlessly but has scored freely since April and is sharper than ever (discussed by me at length in the comments section behind the paywall); plus a more minor point about how many more goals (and players) score from set-pieces when players like Virgil van Dijk and Joel Matip are in the team. (This time it was Fabinho, who I also suggested stop being kept back at corners.)
The three points and the easy win seem utterly ruined by yet another super-serious injury from yet another bad tackle on a Liverpool player.
To paraphrase Hamell on Trial in the intro to the song Choochtown: Mike Riley – go fuck yourself.
(PS I'm donating £50 to charity in the absence of a swear jar. FUCK! Edit: donation made to UN World Food Programme.)