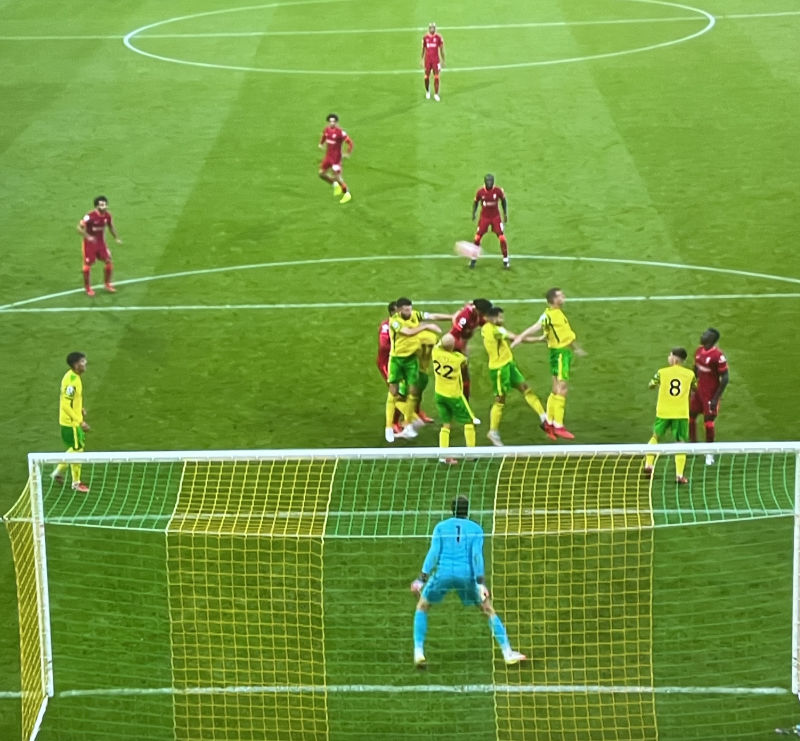 Even ignoring Virgil van Dijk's deep-lying creativity and the ability to turn opposition teams with the best long passing from any centre-back in world football (and how he had at least some kind of role in around 50% of the Reds moves that led to goals in winning the title), as well as Joel Matip's rangy runs upfield that create space and havoc, a point I made a lot last season was how Liverpool score a ton more set-piece goals with the pair's height and prowess than without them. 
This is not even about them scoring the goals, which they do. 
Or even getting the assists, which they do. 
Up to and including just a handful of games last season, just when they play, Liverpool score a set-piece goal every three games. Put them in the opposition box, and the opposition panic.
Last season, at the very moment Joel Matip went off injured against West Brom – to join van Dijk in having his season ended – the Reds went from having scored six set-piece goals in the first 14 league games (a very healthy rate) to zero set-piece goals for the next TWENTY; which is terminally bad. 
Adding the game when Matip went off early (after which West Brom equalised and the rut began), they conceded six set-piece goals in that run of scoring zero. Again, terminally bad. There's your slump, right there. (Note: obviously tons of other factors were at play, but this remains the main one, to my eyes, and I seem to be the only person pointing this stuff out.)
You cannot ignore Virgil van Dijk at a set-piece. You also cannot ignore Joel Matip, who is not as powerful but who is even taller. And it's often just the sheer size of them that matters, before their heading ability even comes into the equation. Liverpool switched to getting a stunning six set-piece goals in the final four games of last season, not by playing elite centre-backs, but by playing bloody giant rookie centre-backs. The pair , who had never started a Premier League game before last season, scored, and assisted, and created the space – even, in a first for the club, for the goalkeeper to score.
Last season, when his goals dried up, I pointed out the the crazy number that Roberto Firmino often gets from set-pieces – when the presence of really tall teammates can leave him free. He scores almost as many from set-pieces for Liverpool as van Dijk (indeed, he's scored more since the summer of 2018, but van Dijk did miss a season). And of course, van Dijk would score far more if he didn't have three or four players holding him, but it's good that he needs that much attention. 
(Important aside: the referee should have been suspicious that the tiny Teemu Pukki was "marking" van Dijk, which gave away that his only job could to illegally try and block and even rugby tackle the Reds' giant while others contested the header. But refs seem to have little football nous. Pukki did this all game, and it needs to be addressed. Some 'honest' blocking should be allowed, but not this type of targeted, waist-grabbing cheating by someone who cannot hope to win a header. At no point does he look at the ball.)
Just look at it yet again yesterday, only this time for Mo Salah: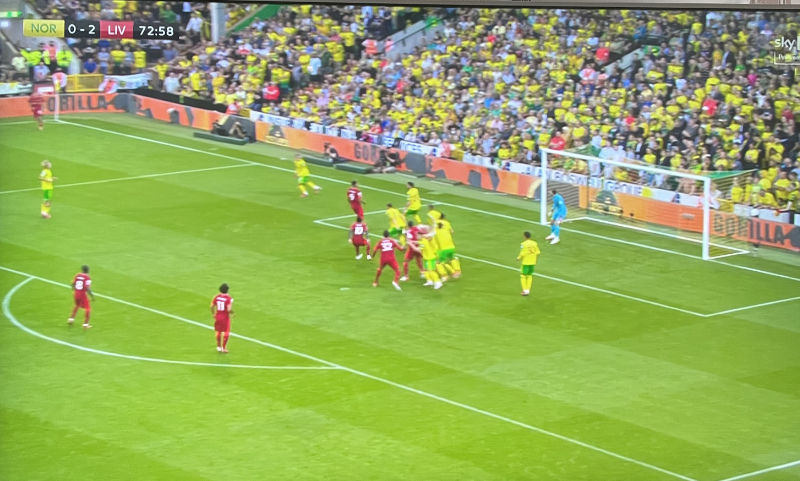 The entire Norwich team are essentially dealing with van Dijk (illegally – you can see the arms around him) and Matip (in that tight area alone it's a five-on -two with a sixth yellow shirt covering), with Firmino and Sadio Mané adding to the confusion with near-post movement. In the process, Liverpool's best finisher is left not just unmarked, but along with Naby Keïta and the elite striker of the ball from 20-yards, Trent Alexander-Arnold (about to head into the picture and around into the inside-right channel), standing in a world of their own.
And yet, if they didn't crowd out van Dijk and Matip, they'd be in a different mess.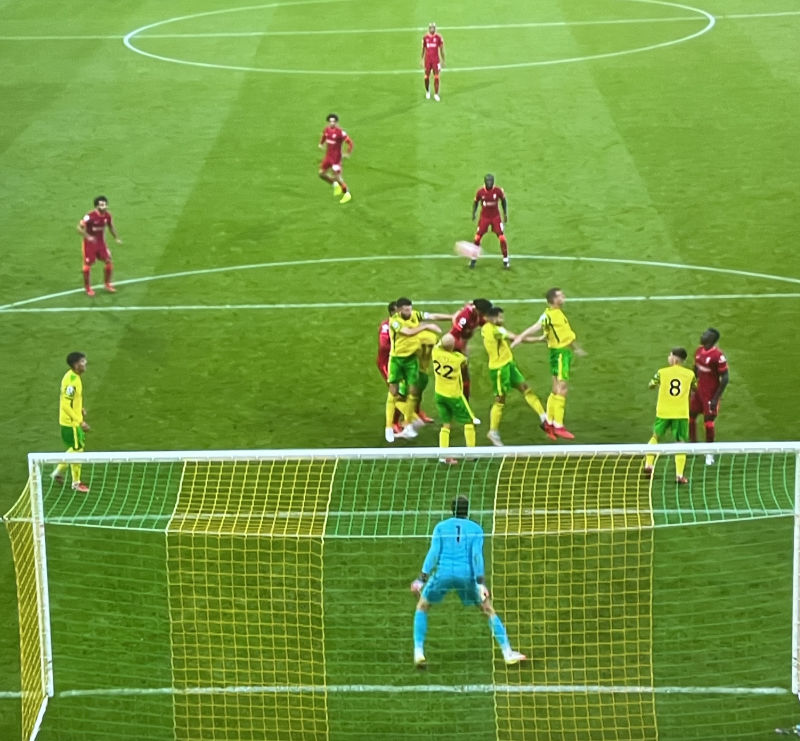 EDIT: Here (below) are a couple more shots of Pukki's "marking" of van Dijk from an earlier corner, where you can see he's looking only at van Dijk, then rugby tackles him. This is something VAR have to step down upon, but of course, they won't – except occasionally, at random times.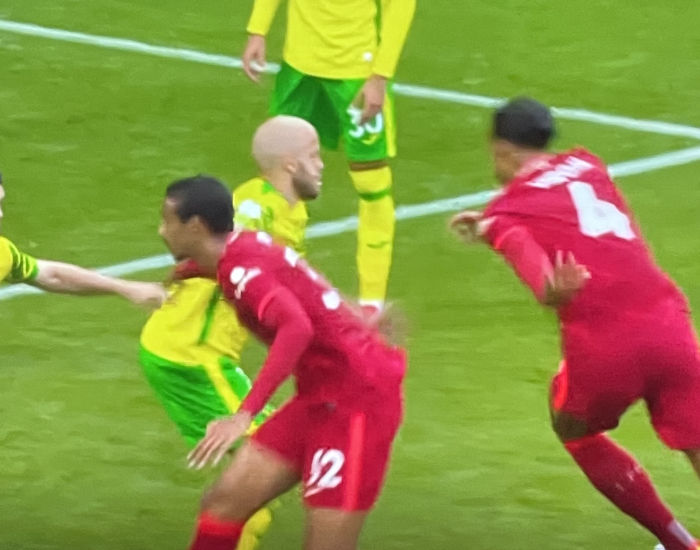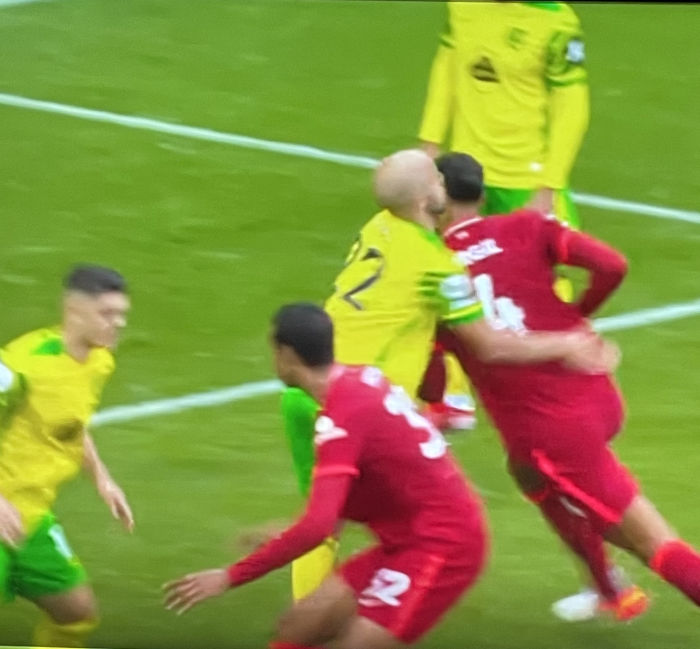 Here's a chart from last season's games, that I will go on to explain in the rest of the article (as well as a few other talking points from yesterday's game), if it does not explain itself: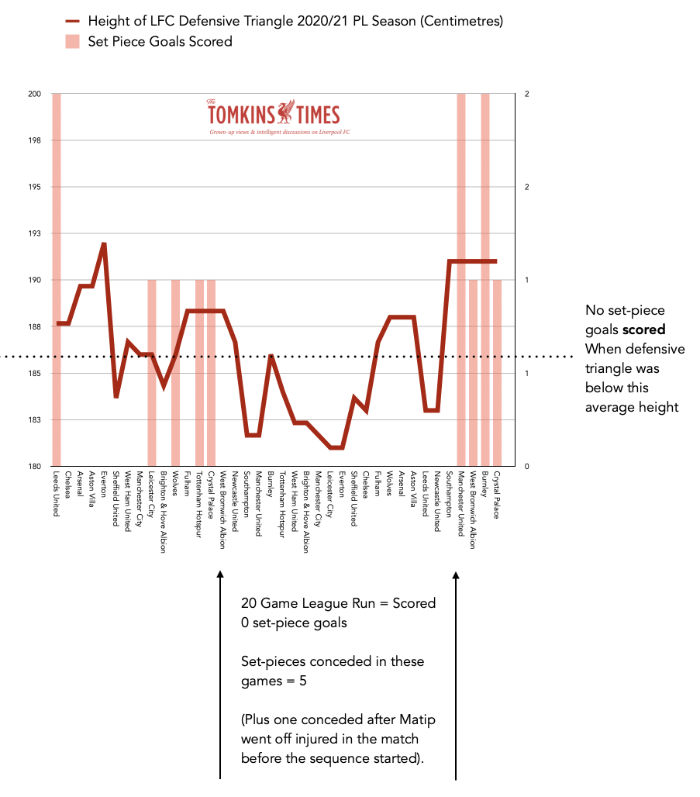 The remaining two-thirds of this article is for subscribers only. See below for details of how to becoming a paying member. 
[ttt-subscribe-article]