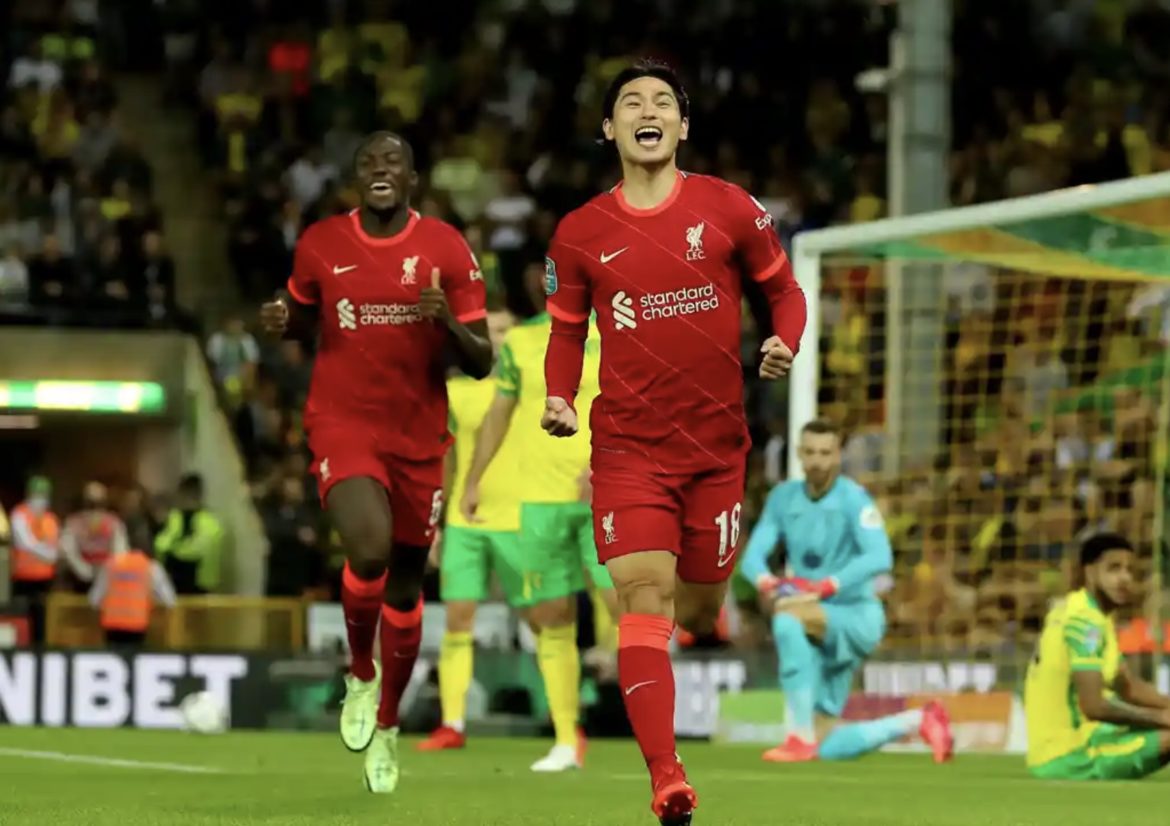 Best posts of the week, as chosen by Chris Rowland and Daniel Rhodes.
1 – Jeff on Liverpool's smartness in the transfer market:
I have been doing some work on the business reality of football and I watched the Crystal Palace match this afternoon. In particular in this match and so many over the years I have been impressed with Liverpool's forward line. Liverpool normally play with three forwards and more often than not in recent years it has been Mane, Firmino, and Salah and the total initial cost of these three lads was roughly 100 million. Now, if Firmino is not playing and Jota is you can add roughly another 10 million or a total of 110 million. There were some add-ons to the Salah deal and we might add another £8m to either total or in the first instance £108m and in the second instance £118m. Then again, if you add that Liverpool legend Divock Origi who was good enough to play for the club in a Champions League match against Milan, you can reduce the cost of Liverpool's forward line to under £100 million. Therefore, would you rather have these 5 lads or Lukaku?
Liverpool paid roughly £8m for Andy Robertson and £11.5m for Tsimikas, and Milner came on a free, which means Liverpool have spent less than £20 million on full-backs. On the other hand, Man City have spent £164 million for the full-backs on their books today. Would you rather have the Man City full-backs or the Liverpool full-backs?
I got into a discussion today and I argued that sometimes in this world it was better to be smart and know what you are doing and I gave the Liverpool transfer record as evidence of this point. I know some may scream that FSG should spend more money and FSG are not running the club properly by not spending money but on the other hand if you look at the talent on the books and on the pitch, it is in my opinion hard to argue that Gordon, Edwards, Graham, and Klopp have done anything other than an outstanding job in the transfer market and in building a quality side. Maybe having businessmen who know how to hire is a recipe for success. I am curious to learn what others think of my line of reasoning.
2 – Bobbypits on the joys of developing your own young players:
I'm loving the noises coming out of the club Lijnders discussing 'diamonds' who are en route to the first team. Gordon looks set to play a role in the game at Norwich and with the players who were in and around the squad during preseason it feels the hierarchy at the club have high hopes and importantly plans for a number of young players. Whether windows are open or closed I love a young player coming through more than any marquee signing which is why the Elliot injury is so hard to take. His progress was so exciting to see!!
Long may our club ditch busy transfer windows and focus on securing talent to contracts befitting winners and sourcing, developing and promoting young talent through succession planning and nurturing!
3 – Jeff, in his second FF post of the week, reacts to the victory over Norwich in the League Cup:
How many here can remember the days when you looked at the subs bench and hoped against hope that none of the lads on the bench would get into the match or indeed into any matches playing for Liverpool? Today, Liverpool played essentially a second 11 and beat a team in the Premier League. Okay, this team also played a second team but the Liverpool second team scored 3 goals which by any standard is an outstanding performance and oh yes gave up 0 goals. I know people as a rule talk about the starting 11 but under Jurgen Klopp Liverpool have built an outstanding first team pool with any number of young lads from either the Academy or reserves coming through who appear they have a future playing for Liverpool in matches that matter.
I have just tried in a short comment to show the sea change that has happened in Liverpool in the recent years.
4 – Tony McKenna on the lack of any serious injuries after the victory:
I am so glad that this game is all over and done. After last season, I have this anxiety about injuries which inevitably impact upon league performance. I actually get twitchy.
The one thing these games facilitate, however, is an insight into the depth of squad as Managers tweak and improvise. And we seem to have more than decent reserve options, should injuries be a factor as the season progresses.
Interestingly, United, Chelsea and Spurs, all have PL opposition tonight. But they will obviously not field full strength sides. So, we can glean a little peek into their reserve artillery room. You can probably be more sure of Chelsea, less so of United and hardly inspired by Spurs. Well, we shall see.
At times, though, I run an imaginary separate "Luck League Table" through my mind. Factoring in incidences of injury; match official decisions unfairly for/against; own goals assisted by opponents; etc. Clearly, my mind cannot hold all the information. Short term memory is a small bag.
But my fixation is born out of the deep regret and frustration of all those injuries last season. Albeit, many pundits refused to contextualise it that way. And that was another bloody frustration!
Generally, I am realising just how much the events of last season have impacted upon my emotions; and prevailing. Damn 2020/21. In the end, we still finished third just 5 points behind United who were supposed to be having a wonderfully progressive season.
There must be a parallel universe where all our injuries never happened. If anyone knows, let me know where we finished; and how many points.
5 – Tony Mc with his superb post-match analysis:
Carabao Dang is a Thai energy drink. The word carabao means "buffalo", in Thailand, a symbol of fighting, hard work, and patience. The energy drink is marketed with the slogan "Carabao Dang : The Fighting Spirit". The Carabao Cup could have been named with Liverpool FC in mind. So how is it that Liverpool have never won it? Since the Carabao sponsorship of the League Cup began in season 2017/18, the furthest Liverpool have gone in the competition was in 2019/20 when they were knocked out by Aston Villa in the 5th round.That was when the youth team represented the Reds because the entire first team squad was in Qatar for the 2019 FIFA Club World Cup. As well as that defeat, two 3rd round defeats and a 4th round defeat is a pretty poor record for a club which has contested more League Cup finals (12) than any other club, finishing as winners 8 times and runners up 4 times. It has obviously been a lower priority than the Premier League, Champions League and perhaps the FA Cup but nevertheless most Liverpool supporters would agree that it is a trophy worth winning.
The team selected for the 3rd round tie against Norwich was made up largely of first team players with plenty of Premier League and Champions League experience, although not usually first choice for the starting XI, with a leavening of hugely promising youngsters in Caoimhin Kelleher (22), Conor Bradley (18), Curtis Jones (20) and Kaide Gordon (16). And it looked from the start like they had imbibed that Carabao "fighting spirit". Which is not to be confused with whatever Norwich owner Delia Smith had imbibed when she went onto the Carrow Road pitch at half time in a Premier League game against Manchester City in 2005. Delia was in a very happy place when she urged the Norwich supporters to increase their support for the team by yelling "Where are you? Where are you? Let's be having you! Come on!" into a microphone. Cue 1,000 internet memes. She may have been tempted to put on a repeat performance at half time in this game, so comprehensively were the home supporters outsung by the travelling Reds throughout the first half; indeed, throughout the whole game including a rousing rendition of the Luis Suarez song just in case Norwich supporters had forgotten about the Uruguayan hitman's goal scoring exploits against them.
Liverpool's mix of experience and youthful enthusiasm, and no little skill and determination, helped the Reds dominate the Norwich team of "who-the-hell-is-hes?" for the opening half hour, bolstered by the early Minamino goal, yet again from a corner. But the failure to make the most of some promising situations and add to that early lead, and perhaps some sloppy organisation and positioning in midfield, allowed Norwich to launch a number of threatening attacks as half time approached. Kelleher redeemed both himself for an unconvincing parry and Bradley for a blatant foul by saving the resulting penalty and the slim lead was preserved. There was more of the same dominance in the second half with further goals from Origi and Minamino as the Reds cruised to a third successive 3-0 win in domestic competitions. So far in season 2021/22, across 3 different competitions, Liverpool have played 7, won 6, drew 1, lost 0, goals scored 18, goals conceded 3, clean sheets 5. Impressive start.
My top five performers were :
Joe Gomez – The captain for the night was immense especially with those two blocks in the melee after the saved penalty. Now officially the joint second best centre back in the world, alongside Big Bird.
Kostas Tsimikas – Another very good performance from TGL, contributing a corner and a cross on the run for two of the Liverpool goals. Still looks like he needs to take a fistful of Mogadon and have a good, long kip. Either that or watch half a dozen of Gareth Southgate's post-match interviews.
Curtis Jones – Bigger, stronger, faster, more versatile, same nimble feet. In my opinion, on the basis of what I have seen this season, Curtis may be pushing himself ahead of The Ox and Naby Keita in the midfield pecking order.
Taki Minamino – He got two well taken goals and was neat and tidy throughout in an impressive display of Tiki-Taki football.
Divock Origi – Two goals in a Champions League semi final and one goal in the final, that's enough for him to make my list. As a bonus, he scored a classic centre forward's headed goal.
A special mention for another youngster, Tyler Morton (19) who replaced Keita at half time and was outstanding as the defensive midfielder. I suspect he may have made my list if he had played the full game.
And an irritated mention for Darren England, the referee who clearly didn't get the PGMOL memo headed "Let the game flow", but did get the follow-up memo headed "Let the game flow unless it is to Liverpool's advantage". He awarded 15 free kicks against Liverpool and 8 against Norwich – at one time it was something like 12-2. Every time a Liverpool player went within 3 feet of a Norwich player, the Norwich player fell to the ground and was awarded a free kick. I praised England for giving a penalty in the weekend's Wolves v Brentford game following the usual wrestling match at a corner but last night he was poor.
And a gloating mention for Tom Davies, the talentless no-mark who missed a penalty for the Blue Shite in the penalty shootout against QPR which saw our neighbours knocked out. It is beyond me how he earns a living at the top level of English football.
So, Liverpool progress serenely into the 4th round of the Carabao Cup. Could it be the year of the Red Buffalo in this competition?
6 – Paul (and Beez) highlight where the height is in Brentford's team:
Beez just pointed out to me that Brentford have three of the tallest players in the PL.
"There are hardly any outfield players [19] in the PL who are 194cm or taller – Brentford have three playing CB every match"
Incidentally, we have 3 in our squad: Matip, VvD and Konate. Brentford seem similar to us in that they get most of their height at centre-back and use them for set-pieces at both ends. They don't clog the team with giants. They're a tall team, but [edit] not in every position.
Articles published since last Friday, with excerpts:
Sunday Sept 19th:
Big TTT Bumper Post-Match Analysis: Liverpool 3 Crystal Palace 0, by Andrew Beasley and Daniel Rhodes.
This match was all about the set pieces. While I was searching my database for the last time the Reds scored two goals from corners – turns out it was actually the win at Burnley in the penultimate match of last season – Naby Keïta lashed in a third from the edge of the area. Michael Reid of Opta confirmed that this is the first time since records began (2006/07) that Liverpool had scored three goals from corners in the same league match.
Yet while the result was determined by set pieces, they were far from all that the Reds offered. The home side had 17 shots in open play – putting six on target – and only Liverpool and Manchester City average at least that many shots in the league this season, even when set plays are included. It's a real shame City only had 16 goal attempts today, perhaps the 17th might have made all the difference for them.
But never mind them, let's focus on the Premier League leaders. The best opportunity in open play fell to Diogo Jota and he really should've scored. Per Understat, the chance he put over the bar in the first half was worth 0.66 expected goals, a shade more than Crystal Palace's entire attacking efforts today.
How LFC "Judo-Move" Fouls on Van Dijk and Matip Into Goals, Goals, Goals, by Paul Tomkins.
First of all, let me take a quick look at how much players, in general, are taller now. This is also to be used in relation to players like Pascal Struijk and James Tarkowski launching last week with both feet off the ground; Struijk accidentally (but recklessly) dislocating and fracturing Harvey Elliott's ankle, and Tarkowski looking to break Richarlison into pieces (which is an urge I understand, but the tackle remained reprehensible).
While the new refereeing edicts seem to be about letting the game flow, it seems to be more about clamping down on the perceived divers (usually fixated on as being foreign) and allowing more brutish football to flourish.
Why do I say this? Well, if you really want to speed up the game, what about the 30-60 seconds wasted with every single free-kick when the players stand two inches from the ball and don't retreat as required? What happened to a hurried retreat to ten yards? What was a clear yellow card a few seasons back is now never punished, so the game is slowed by time-wasting and fouls that are given are allowed to not just stop breaks but really, really, really slow the game down and allow everyone to get back.
And time-wasting, while often pointed out by refs, is never added on to the end; so it serves to slow the game, without the game being extended. But that's another issue; the PGMOL is a band of bad bald cronies (speaking as a bad bald dickhead).
…
This is the era of the bodybuilder player. This is why sliding, jumping, lunging tackles need to be outlawed, even if they take the ball, if they endanger an opponent; you can still (at times) make a clean and safe sliding tackle, but the angle has to be right, and the ball there to be taken cleanly without any kind of scissor movement. Anyway, that's another issue.
Monday 20th:
2021/22 League Cup | 3rd Round | Norwich City Preview | Carrow Road | 7.45pm Kick Off (UK Time), by Gary Fulcher.
Liverpool recorded a 3-0 win at Carrow Road when the two sides met in the Premier League last month but the Canaries may fancy their chances of progressing to the 4th round against what may be a much-changed side from the one that defeated Crystal Palace 3-0 at Anfield on Saturday.
Tuesday's tie will be just the third encounter between the two sides in this competition, with previous matches coming in 1979 at Carrow Road and 1982 (Anfield), which Liverpool won 3-1 and 2-0 respectively.
Despite lasting winning this competition back in 2012 and not reaching the final since 2016, Liverpool have won the competition eight times, a record jointly held with Manchester City who have lifted the trophy in each of the previous four seasons.
The prize for the side that triumphs in this season's competition is qualification for UEFA's Europa Conference League next season. (Some prize! – Ed)
Tuesday 21st:
Pens Across the Water: A Review of 'Red Letters', by Andrew Beasley.
Both Atkinson and MacCambridge are such fine writers that this would have been an enjoyable read no matter which season it happened to take place within. But, oh, what a season! It's fascinating to read their views of how the campaign unfolded with the benefit of hindsight, to reminisce about win after win after win after win, but to also wonder about the significance of moments from matches which they felt warranted mention but – to me at least – now lie long forgotten.
And in some ways, it's the other stuff in the book which is more interesting and thought-provoking, as much as it's a joy to look back on the countless fantastic victories which Liverpool provided in 2019/20.
Wednesday 22nd:
Mo and Mane – a Combination Representing Greatness, by Mizgan Masani.
In terms of playing for each other, 13 of the 45 assists created by Salah in all competitions is for Mane (29%), while 11 of the 29 assists created by Mane is for his Egyptian compatriot (38%). So that constitutes 24 Liverpool goals coming from these two passing to each other and resulting in a goal since the start of 2017/18 season. Not bad returns for players "who do not pass to each other and are selfish, especially Salah."