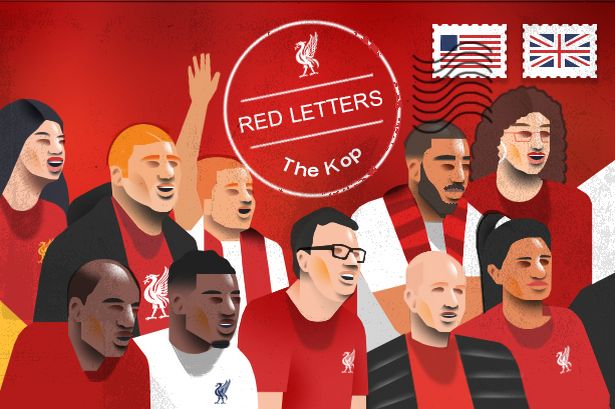 epistolary

epis·​to·​lary

|

\

i-ˈpi-stə-ˌler-ē

,

ˌe-pi-ˈstȯ-lə-rē

\

Definition of epistolary

1 : of, relating to, or suitable to a letter

2 : contained in or carried on by letters

3 : written in the form of a series of letters 
"My father says everyone should write letters as much as they can. It's a dying art. He says letters are a way of presenting yourself in the best possible light to another person. I think that, too."
So says the character of Andy in the play Love Letters, which was written by A. R. Gurney in 1988. It's probably far from the first time that the obituary was written for the art of writing a letter, but it feels an appropriate place to start here. After all, winning the league became a dying art for Liverpool Football Club around the time Gurney penned his 'Pulitzer Prize for Drama' finalist.
And a play in epistolary form is a good starting point from which to talk about Red Letters, a book composed entirely of correspondence between two Liverpool supporters throughout the 2019/20 season. One of them, Neil Atkinson, you've almost certainly heard of and one, Michael MacCambridge, you might remain blissfully unaware of at this point.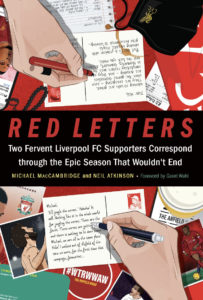 If this concept and those authors are starting to ring a few bells with you, it will be because the original home for this project was on Liverpool.com and you may have read the red letters there. It was the brainchild of Kristian Walsh, who approached Atkinson with the idea of he and another Kopite exchanging correspondence throughout the campaign, which could then be published on the website.
Neil suggested MacCambridge, whom he'd met in Liverpool in 2018, and they went from there. Ninety-four letters later, the Reds had won the league and there was enough content for a book.
But here's the rub; when Michael was in Liverpool three years ago, it was a very significant trip for him, as he is a resident of Austin, Texas. Indeed, the book opens with the first letter he wrote for the project, in which he details his match day routine which involves going to B.D. Riley's, an Irish bar in the city.
Tomkins Times subscribers will be very familiar with our My Day At The Match series; consider the opening chapter of this book something of the opposite of that. Fans from across the globe, the majority of whom don't get the opportunity to watch Liverpool in person, will also identify with the sentiment of a banner which hangs at Riley's: Our Austin Days Are Spent Singing About European Nights.
This sort of thing is what makes the back and forth between the two contributors work so well. At face value they have very little in common, separated as they are by approximately 5,000 miles, six time zones and 17 years in age. But they are bound together by their shared love for Liverpool FC. And even that has obviously evolved in different ways for the two men due to how and when their support began. As Michael notes:
"It is sometimes good to be reminded, in the throes of these epic season-long dramas, that this is something we choose to do, rather than something we have to do."
The coronavirus pandemic inevitably looms large. Reading the letters from the vantage point of September 2021, when the world is a lot closer to normal than it was for a chunk of the period both covered in the book and that which immediately followed, can be moving.
"But whether we're talking about the NFL in the U.S., or the Premier League in the UK, I think [former NFL commissioner Pete] Rozelle's essential wisdom still holds true. The caretakers of the game have to remember that the stadium experience is essential to making those who can't get to the stadium want to watch in the first place."
Read that now and you're unlikely to disagree. Read that now with the knowledge that it was written in November 2019, when the concept of football without fans was ludicrous, and MacCambridge's words certainly feel more poignant than they would have at the time. The same occurs when Neil, writing in January 2020, contemplates how Liverpool fans will respond to winning the league.
"We'll lose our heads, have a massive party. Then we will get our heads back for a bit and then have another massive party for the last home game of the season. Then we may have a parade depending on where we are for Europe and go mad again. And then it will be all finished."
If only you knew, eh, lads?
The NFL isn't just mentioned in the context of needing fans in stadiums but as an active sport within the book too. If you think waiting 30 years for a league title is bad – and that being a three decade period in which many other cups were gathered in May – try waiting 50 years for your team to win the main prize in their respective sport. That is the position Michael found himself in with his beloved Kansas City Chiefs, Superbowl winners in 1970 but not since.
His enjoyable tale about following a Chiefs game via a car radio will resonate with many sport addicts. Despite holding no interest in American Football myself, both his recollections of the past and his following of the side's quest for glory alongside the Reds' own meant that the book didn't fall victim to Liverpool overload.
Not that many of the intended audience would have cared if it did, of course. If anything, this book feels like it could've been written for The Tomkins Times' crowd. Bored of endless criticism of the team from the weirder corners of the internet? These guys are too, and perhaps Michael more vocally so.
"And yet, even in this glorious pomp, there is grumbling. Nit-picking on our missed opportunities, especially Mané's two second-half misses."
Does it matter which match he's referring to here? Not really, it probably applies to almost all Liverpool matches in the last five years to some extent.
"In the modern age, with the torrent of information and social media, the people that I'm most often vexed with aren't Man City fans or Man U fans or Everton fans. It's the small but vocal minority of fellow Liverpool supporters who reflexively call for firing the manager or selling a player or "FSG out" after one or two bad games."
If that's not a perfect summary of the TTT mindset, then it would be hard to distil it any more succinctly if you tried.
Both Atkinson and MacCambridge are such fine writers that this would have been an enjoyable read no matter which season it happened to take place within. But, oh, what a season! It's fascinating to read their views of how the campaign unfolded with the benefit of hindsight, to reminisce about win after win after win after win, but to also wonder about the significance of moments from matches which they felt warranted mention but – to me at least – now lie long forgotten.
And in some ways, it's the other stuff in the book which is more interesting and thought-provoking, as much as it's a joy to look back on the countless fantastic victories which Liverpool provided in 2019/20.
The evolution of following football in the United States ("what's a Celta Vigo?"), Atkinson's issues with the 'Scouse Not English' mentality, how it's easier to watch a Premier League match on a flight from Tokyo than it is in England, the battering of hope in the UK… these subjects and many more are all covered and covered well.
But more than anything, I'd love to try a shot of Bob Coleman's Baileys, he sounds like a wonderful man. Unless you're overly familiar with Kansas City then that won't mean a thing to you. But trust me when I write that it's details like this which make this book a thoroughly enjoyable and recommended read.
Up the Red Letters!
Red Letters is available via Amazon from November 1st (link below), Michael MacCambridge's own website, and no doubt everywhere in between.