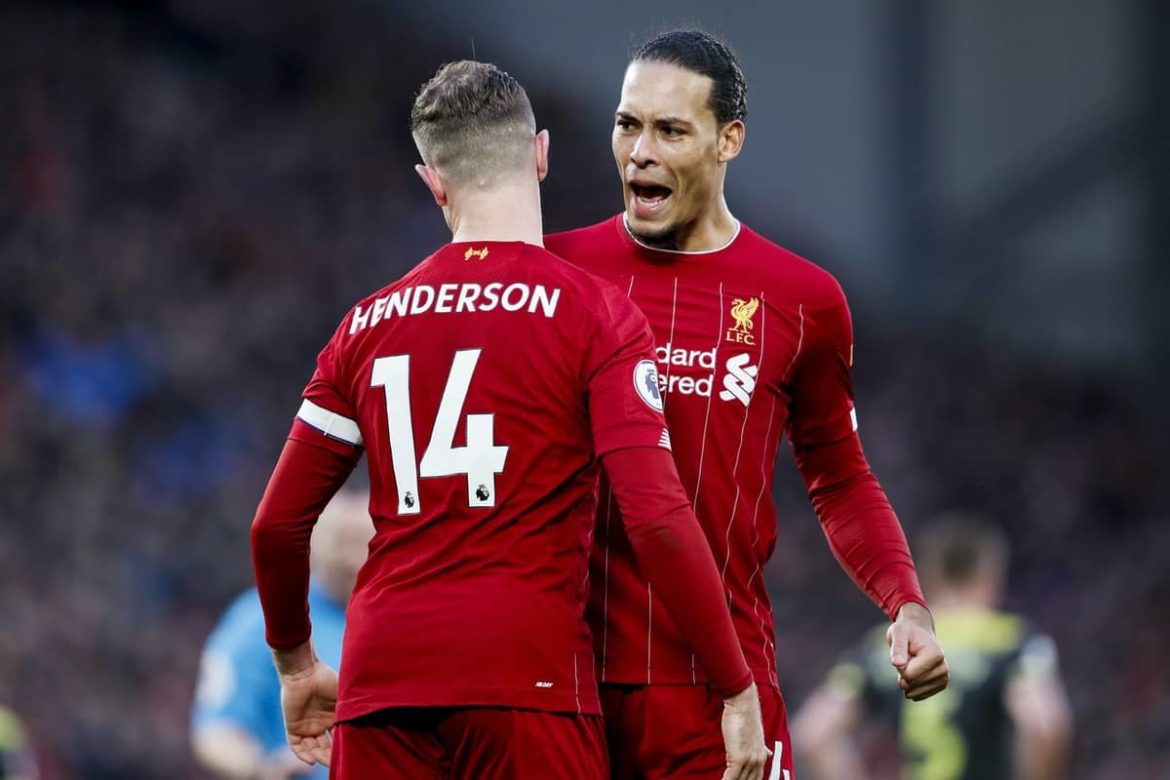 After Monday's big free piece, in a week of great subscriber-only content on TTT, I thought it was worth a further free article to just make a point about what a lot of observers seem to be missing about Liverpool's team right now.
To me, it feels almost as if Liverpool have just signed FIFTEEN "new" players – from the point where the Reds were top of the league last season before Christmas. It may be a cliché, but returning players are often just like new signings.
Indeed, often better.
These are fifteen players who played only a limited role in the last campaign.
Virgil van Dijk, Joe Gomez and Joel Matip all had their seasons ended before halfway; two of them well before halfway. Jordan Henderson played just 21 league games, starting 20, and essentially it was therefore just 19 – half the season – when considering that he limped off early against Everton.
Diogo Jota, in terms of actual time on the pitch (as he started out as a sub, before getting injured and then returning as a sub), played just 1,113 minutes, or less than a third of the season. A full season is 3,420 minutes. Nat Phillips played more minutes.
Add that a few hundred of Jota's minutes were when returning from a serious knee injury, and he had the issue that so many others had: nowhere near match-fit when playing after long lay-offs.
Even then, he scored the equivalent of 27 non-penalty league goals when extrapolated. He also added four more in the Champions League, and has scored a fairly incredible seven international goals in the last 11 months – all of which that suggests the extrapolation may have some validity. At the very least, he's developed into a player capable of 25 goals in a season in a top team.
Trent Alexander-Arnold had a campaign beset with Covid, injuries and niggles, and like so many, looked unfit without a proper preseason. But only in the final 1-2 months did he look like he was back to his physical best, to arguably then play the best football of his career (aided, as explained in The Athletic, by some peripheral vision training; the lad already had supreme "vision"). At 22, he's still going to improve. Soon he'll be able to see out the back of his head.
Alex Oxlade-Chamberlain, who relies on his pace and power, missed the first half of last season, and returned lacking both that pace and that power. Like Trent, he only looked sharp in the final weeks of the season. He played just 246 minutes, and while he's not a definite starter, a fit 'Ox' is a totally different proposition. In preseason he looked better than ever, and while it was only preseason, it was against top-division German and Spanish teams. He's in supreme shape, and gives the Reds something different.
Then there's the maestro Thiago, who only played around half the games in 2020/21 (1,858 minutes), largely due to Richarlison's assault.
He appeared to settle quickly in crazy a game-and-a-half, then missed months. He returned to a struggling side missing it's giant defenders and midfield bodyguards, and he spent months after his return being a fraction late in almost every tackle – often using the ball well, but not quite adjusted to the Premier League on the whole. But again, like Alexander-Arnold and Oxlade-Chamberlain, it clicked in the final half-dozen games, playing a slightly more advanced role (where he gave away fewer free-kicks).
Naby Keïta saw another season pass him by, with just 500-or-so minutes played, but he is now fit again; and if it can stay that way this is an elite player, who can dribble, press like crazy and score goals. As with 'Ox', you wouldn't bank on him being fit, but he's top-quality when he is. Like his fellow midfielder, it's harder for him to play fewer minutes than last season.
And while not listed as a new signing, Dr Andreas Schlumberger only arrived earlier this year. "If you would ask people in Germany, in this area – rehab, performance, recovery – he is No.1 in Germany," Jürgen Klopp said in January. He'll help players like Keïta and 'Ox'.
It's another behind-the-scenes improvement that people just notice, or laugh at – like Thomas Grønnemark – until suddenly results improve massively. There were no "Announce Schlumberger" trends or demands on Twitter.
Kostas Tsimikas should be another bonus – a fast, winger-like full-back who got Covid-19 soon after arriving, then was one of over half-a-dozen serious knee-injury victims at Liverpool, on the end of brutal challenges; then could not easily be used in the run-in due to the changes all over the defence. As with Thiago, he's had a season to adjust to the Liverpool way, and the English style, as well as settling in with the team culture and Liverpool FC egosystem. Not all new signings settle, but you have to give everyone at least a year of leeway.
Ibrahima Konaté has of course joined, as the one proper signing. He's arguably the most complete young centre-back in world football. It could take a while to adapt, but he had the full month in Evian in preseason, which is something Ozan Kabak never had last year (and it showed). More than anything, back four-work is about unity and understanding; and while attacking can be improved with the same kind of work, a front three doesn't have to be perfectly in line at any point, in contrast to a back four. It's about synchronicity, and that takes training-ground work.
Returning from loan is Harvey Elliott – who can spot passes some elite playmakers would struggle to see – ready for the Premier League. He's not the quickest or tallest, but he is extremely 'lively'. And incredibly clever. He can create and finish, and the sky is the limit. This is no ordinary 18-year-old, and indeed, he only turned 18 at the end of a superb season in the Championship. He went there a boy and returned man.
Taki Minamino – whose off-the-ball running opened up a ton of space in the 7-0 win at Crystal Palace – went away to gain some regular starting experience of the Premier League. He finally had a proper preseason, after a stop-start Liverpool career, where he experienced no fewer than four down-periods before his loan to Southampton.
It's one thing buying new players, but you also have to wait for the ones you've bought to settle in, and as noted, many can take 6-12 months (and some, like İlkay Gündoğan at City, only went up a level or two aged 30, after years in England; in part after escaping an injury hell).
Taki looks brighter, sharper and more relaxed, and while he's unlikely to make the first XI, it seems that he has that vital boost of confidence and feeling like he finally belongs at this level.
Ben Davies also joined in 2021, and at worst he'll be a reasonable backup in emergencies.
Kaide Gordon only arrived in February, yet at 16 he looks ready for the Premier League, if not as a starter. Like Elliott, he was training with the first team at a Championship club at the age of 15 and playing for them at the age of 16.
He's fast, supremely gifted, and fearless. Like Elliott, he looks a potential future superstar, if he can steer clear of injuries and remain as level-headed as he has been so far. Elliott, 18 months older, has developed a lot more physically in the past year, but both look like elite players for their age, and both have brilliant attitudes. They arrived without fanfare, and that's often the best way.
And then there's Ben Woodburn – a player I stated several years ago might only make a mark once he was 20-or-so (as he lacked pace, height and strength, but had a good football brain) – has grown, got stronger and even looks zippier.
In September 2017 I wrote:
"Ben Woodburn, by contrast to the emerging full-blanket talents, looks like an elite creative force who works hard too, but who doesn't have blanket-stretching pace. (Of course, it's no use having super-quick players who are useless either.) Woodburn is like Kenny Dalglish in how quickly he sees things without being able to run like a sprinter, although it's fair to say that Woodburn is quicker than the King. (And he certainly is now, with Dalglish 66.) As I've said many times, Dalglish only properly broke through at Celtic aged 20, and Paul Scholes (whose shooting I likened Woodburn's to in the summer) was also 20 when he got the nod at United. To be that good at 17 is remarkable, but this is his transition season."
(This was in an article calling for patience for Klopp, in the face of accusations that he was no better than Brendan Rodgers at Liverpool.)
By this stage, Liverpool's system started to rely on searing pace, especially in the wide attacking areas, and Woodburn fell away. I also made it clear on plenty of occasions that I didn't think he would be as good as Dalglish (who could be?), just that the slower, thoughtful attacker takes longer to make an impact. Searing pace takes years off the time it takes to make a big impact. Pace can get you in the team as a regular at 18, but few slower players can do that.
To be honest, given that he turned 21 last year, I'd written him off when things didn't work out at Blackpool, but he had a fantastic period of training with the senior team after his unsuccessful (but educational) loans, including a hat-trick in a game behind closed doors; and shone in the U23s with new nerve and vigour, and now looks like the player many of us thought he could become when aged just 16. He's bigger, stronger and a bit faster, albeit not fast enough to be ideal in this front three. He was nothing short of sensational in preseason, and at the very least, it shows his talent and rediscovered desire. Now he has to take that forward.
I'd be delighted to see him continue to emerge, after a difficult few years of physical and emotional transition (all the hype, then the stagnation and rejection, before overcoming those setbacks). Both Klopp and Pep Lijnders singled him out this week as a special talent. Had he been blessed with the pace of a Michael Owen he'd have been in the team years ago, but sometimes non-sprinters only become good players as they have to rely on their thinking. To me, he was the biggest bonus in a preseason of many, many bonuses.
So, that's fifteen players who either barely featured last season, or who played, at most, a maximum of about half the minutes (bar Alexander-Arnold, who played more, but often under par).
Indeed, Thiago missed many months, and had games as a sub at the start of the season and after his long layoff, and yet still ranked 9th for league minutes played, at just over half; while the Reds, with no comfort games to hand out debuts (such as after the league was won) were forced into using no fewer than 28 players in the 38 games.
That's chaos. (And it felt like 27 of them were centre-backs.)
The 15 also doesn't include Divock Origi, who played just 182 league minutes; although he's not someone – in contrast to most of the others – who, if he stays, you'd expect to nail down a place in the side if he got a run of games. (It hasn't helped him that he only gets a game every now and then, as the main strikers are – touch wood – so rarely injured. He's better than people realise, but he rarely gets a run of games; the two times he has, in 2016 and 2019, he did very well, but then he had his leg broken in 2016, and the season ended in 2019).
Ditto Xherdan Shaqiri, who may be leaving – still a very good player, but he didn't feature a lot last season. Bar two superb assists, I felt he was fairly quiet when he did play.
It also doesn't include another young wildcard or two – the unexpected player who pushes his way into the first-team picture; maybe Owen Beck, albeit he's got some filling out to do, or Leighton Clarkson, a majestic passer who is only 5'7″ (which is not a problem if he has tall bodyguards, but would be if in a small XI overall; Liverpool's results last season were worst when the XI was small, and best when the XI was tall).
The Reds – already set-piece specialists when the big guns were in the team – have appointed new set-piece experts as well; another quiet piece of evolution. (#AnnounceSetPieceGurus never caught on.)
Indeed, whenever van Dijk and Matip start together, the Reds, as a team, score a goal every three games; last season, when both were out, the Reds went five months without a set-piece goal. The set-piece threat this season is likely to be supremely high again, having been non-existent due to injuries last season.
In contrast to the "returns", Liverpool have lost Gini Wijnaldum (sadly; albeit, a player approaching 31), as well as Kabak – although the latter, while honest and not a disaster, was not yet settled into the defensive line, nor the pace of the Premier League (or the aerial challenges, where his stats were dreadful), and results improved only after he got injured – and taller, English-football-accustomed players introduced. Indeed, Rhys Williams, aged just 19 at the midway point, played more league minutes than both Virgil van Dijk and Joe Gomez.
Nat Phillips, seen as a Championship player, was one of the 11 who played the most league minutes last season.
Konaté appears a huge upgrade on Kabak, in part due to his extra size and strength, but also his dribbling skills and passing. All of the other departures so far have been players who were out on loan anyway, and if Origi and/or Shaqiri leave, it's still players who barely featured last season.
In terms of age, only Henderson, now 31, is in the melt-zone, aside from the never-melter, James Milner.
Another "bonus" from all the injuries from last season – aside from squad players getting time in the team to develop – is that it gave them a chance to rest and reset, after several intense seasons. They can come back hungrier, and the whole team has gone from the pressure of defending their title to the anger of trying to win it back.
As I've noted all summer, Liverpool can't let the current team stay together for the next few years, as it needs refreshing; but not immediately. And for all the talk of Sadio Mané fading last season, his underlying numbers were largely excellent. He was as fast as ever, brilliant at dribbling and taking the ball into the box, but he just had a dip with his finishing, as did Roberto Firmino, whose goals tally tends to rise and fall more than others, but who is always a creator of space and a drawer of attention. Both have finished superbly in preseason.
And even the dreaded African Cup of Nations (if it goes ahead) occurs mostly when it's the early FA Cup rounds. (Plus, as the three who are going play for different nations, there's no chance all three will be there all the way to the final, and as such, all three could be home early.)
Then there's the energy, the buzz, the super-fitness, that was missing last season, with the 2020 preseason plans left in tatters by Covid protocols, when there already wasn't enough time to get the stamina up to the levels required for insanely hard pressing that defined the team.
That insane pressing can now return, buoyed by the fans. That pressing could be worth 10-20 points. (Plus, van Dijk's passing alone feels worth 10 points a season, without getting onto the set-piece threat he, Matip and Konaté could pose. Set-piece goals also take pressure off the strikers. And of course, Liverpool can now send Alisson up for every corner 😉 Career stats: headers: one. Goals: one.)
The home form – imperious under Klopp for about four years until the crowds were kept out – will surely not be as bad again. Last season was terrible for home form for all teams, overall, but it clearly affected Liverpool, as the contrast to the previous seasons was so stark. As Mark Cohen showed in his bumper season preview, it was a total outlier. That weird run of losses would surely never have occurred with a full Anfield.
And so, imagine if Liverpool had actually just signed van Dijk, Gomez, Matip, Thiago, Tsmikas, Konaté, Elliott, Keita, Davies, Jota, Minamino, Oxlade-Chamberlain, Henderson, Woodburn and Gordon, for £350m. Everyone would be going insane with joy.
Yet the Reds have essentially done that, compared to what was seen for a lot of last season – and unlike new signings, they are bedded in, and committed. They know the club, the pressure, the tactics, the pressing, the movement, the ethos. They can hit the ground running. (Although van Dijk and Gomez are a couple of weeks behind the others in terms of fitness work.)
Of course, another dozen injuries could occur – but if so, that would be hard for any club to deal with. Take away all the best players from any team and it will obviously get weaker.
One of the issues last year was how many players were on the end of bad tackles or unfortunate falls, rather than an excess of muscle injuries through bad preparation (albeit the lack of a proper preseason didn't help). If the same players, or the few key players who escaped them last season, succumb again, then apart from those recovering from surgeries that carry some risk of recurrence, that could also be bad luck.
Teams can often carry on without two or three major players, but for shorter periods; half the squad, for longer periods, is near impossible for any club to deal with.
(People outside of this site still talk to me as if van Dijk was the only player missing last season. The Reds were top of the league months after he got injured. The much bigger problem was all the other players getting injured too. Again, Liverpool were top without van Dijk, Thiago and others, but once Matip joined Gomez, Jota and others in falling, it was a bridge too far.)
So far, missing Andy Robertson for a few games is nothing too great to fear, especially as Tsimikas looked so sharp in preseason, and arguably attacks even better, with the ability to dribble infield and deliver a wider range of crosses; but Robertson is still the more dogged defender and gutsy competitor.
For so many pundits to write Liverpool off is absurd; the only senior player to arrive when winning the league was a reserve keeper. (Plus, Minamino halfway through.) With no new outfield players to integrate, Liverpool racked up 26 wins and a draw from their first 27 games – taking 79 points out of 81 on offer, and reached 30 league wins faster than any team in English top-flight history.
A fit squad, that is settled and fully on the same wavelength, and has what I call a Kloppian preseason under their belts, can trump major signings (which isn't to therefore saying signings are "bad").
That Liverpool finished 3rd with their 7th and 8th choice centre-backs, and, under pressure, won eight and drew two of the final ten games, despite so many absentees, should remind people what Klopp is capable of, with the tools provided by the people above him at the club, and those he has appointed to work alongside him, including the best coach in football, Pep Lijnders.
Let people write Liverpool off, but don't ignore that this is largely the title and Champions League-winning squad, and that even since 2019, only Wijnaldum, of the players of note, has left; while only Henderson is older than 30 (he's 31), so it's not like we're talking about Mo Salah, Mané, Matip, Firmino or van Dijk being 34 or 35 and on their last legs.
At 29/30, they are still at their peak, but younger players will be gradually phased in over the next two seasons.
And so, in Wijnaldum, only one first XI player has left since 2019, and he is about to turn 31.
Otherwise it's been: Dejan Lovren, 4th-choice centre-back, now aged 32; Alberto Moreno, as a largely unused reserve left-back; plus Daniel Sturridge and Adam Lallana, two players now well into their decline (32/33) who barely started games later on at Liverpool, are the other main departures from those two crazily successful seasons.
Players added in that time? Thiago, Jota, Konaté, Elliott, Tsimikas, Gordon, Minamino, as well as the emergence of the brilliant Curtis Jones (for a lad who's just 20) and Caoimhín Kelleher (aged just 22, the best no.2 the club have had in years), as well as other kids who gained vital first team experience. So the idea that Liverpool have not already been refreshing and revamping is clearly wrong.
Thiago, Jota and Konaté are all better and younger than the players they replaced, while the others are longer-term investments, with a couple of potential future superstars – and in the case of Elliott, someone who looks ready now.
Yes, rivals have also strengthened, but they have to integrate all the new players, and they don't have the kind of returning brilliance that the Reds do. I wouldn't make Liverpool favourites, but to write off the Reds seems weird to me.
Site News
As you may have seen, we've given the site an overhaul, to provide much needed improvement in performance, but also appearance and functionality.
To explain the changes to subscribers (i.e. the people who keep the site funded and alive!), see the details below.
This site news is for subscribers only.
[ttt-subscribe-article]