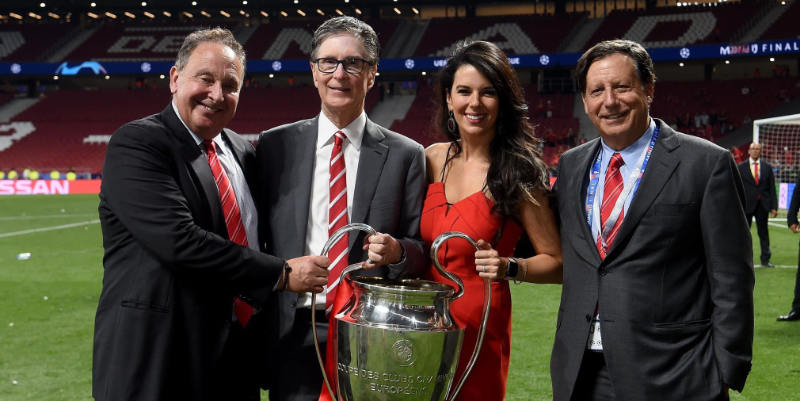 This in-depth free article – warning: contains ideas – appears on here (TTT), and on the TTT Substack newsletter (click link to sign up). 
One of the reasons I've generally defended FSG – if not all their judgement calls – since they baled Liverpool out of near-bankruptcy in 2010 is my preference for sensible, calculated ownership over emotional, often irrational decision makers, who play egotistical, high risk games with a club's future.
Now, I can be an emotional guy. But I'm also more of an arsehole when I'm emotional. I'm much nicer, much smarter, when I'm less emotional. With age, wisdom, meditation and a little medication, I try to limit my arseholery, but obviously I have lapses, especially when running a stressful business (upon which several other people also with chronic illnesses rely for their income) and trying to maintain a forum engaging in discussion about a high-passion issue. 
(One of the many reasons I despise Twitter is how much of an arsehole it makes me; and if I can see it doing that to me – as someone who never even spent 15 hours a day on there like some, and who has had varying IRL experiences amongst diverse communities, and have mostly only minor mental health issues – I can see it doing that to everyone on there, and then some. I see public performance arseholery taken to the level of an art form, and people with personality disorders scaring others into silence. Maybe that this stage, Tristan Harris is our only hope.) 
Anyway, at that time in 2010, FFP was being introduced, and so gazillionaire owners weren't going to be as powerful; it was more about strategy than just financial power. FSG (then called NESV) had ended a near-90-year wait for a title with the Boston Red Sox, using smarts. And people were wary? 
I'd spent the previous few years – in books and writing a weekly column for the official Liverpool website from 2005-2010, and then on here from 2009 – noting how much of a financial advantage Chelsea (financially doped) and Manchester United (off-field Goliaths) had over the Reds, and that gap only grew as Tom Hicks and George Gillett, a couple of chumps who had an acrimonious fallout, looked intent on driving Liverpool into the ground, complete with some little cock-strutter in Cuban heels.  
Whether or not Liverpool won the league or the Champions League after 2010, the aim, to me, was always to avoid seeing the Reds become a Leeds United; to be competitive, without being reckless. 
That was the one message I took from the 2000s, above all others. I never studied Greek mythology but I knew enough to see how Icarus perished. Sure, I'd like the Reds to win the league, but not at the risk of existential oblivion. That Leeds implosion scared me, as about 12 months earlier they were on a par with Liverpool, with a superb young team that was going places. That was the cautionary tale some younger fans may not be aware of. 
The places that team went, instead, were to Liverpool (Harry Kewell), Spurs (Robbie Keane and Paul Robinson), Roma (Olivier Dacourt), Newcastle (Jonathan Woodgate and James Milner), West Ham (Lee Bowyer), Man City (Robbie Fowler), Everton (Nigel Martyn), Middlesbrough (Danny Mills and Mark Viduka), Levante (Ian Harte), Man United (Alan Smith), Hull City (Nicky Barmby) and Blackburn Rovers (Dominic Matteo). All in the space of twelve months (and these were just the senior players). 
That would be the same as Liverpool selling Alisson, Caoimhin Kelleher, Trent Alexander-Arnold, Joe Gomez, Joel Matip, Virgil van Dijk, Andy Robertson, Thiago, Jordan Henderson, Fabinho, Diogo Jota, Roberto Firmino, Mo Salah and Sadio Mané between now and next summer, in the process of getting relegated. 
Some Liverpool fans still crave oligarchs or sovereign state owners, and care not if their wealth was built on the deaths and impoverishment and human rights violations of many, many people, so long as they "announce Mbappé"; by comparison to which, a few bespectacled American capitalists with slightly awkward social skills are surely not so distasteful. 
While FSG have made plenty of mistakes, they oversaw the delivery of two landmark trophies (the league after 30 years of waiting, to add to quickly ending the 84 year wait in Boston), and even in the midst of a global pandemic, did not leave the club at risk. 
Maybe that last fact is the most important. Even in the midst of a global pandemic, did not leave the club at risk
Again, maybe that last fact is the most important.
It now means less money to spend on transfers, but it also means sensibly securing the future of the club with new deals – spending via wages – for the best players aged 28 and under, and investing in teenagers with talent, hunger and humility, like the ridiculously prodigious Harvey Elliott and Kaide Gordon, amongst others. 
(I've done a lot of work in the last 11 years in analysing several thousands transfers in the entire Premier League era, doing so in books, an academic paper, and also at the request of a European Union study – and establishing the role transfer spending has in success. But the correlation has never really been about one transfer window, or an arbitrary period of net spend. It's about the total cost of the assembled team and squad, adjusted for inflation – it tracks fairly well with success. But it was also never to undermine the wage bill model, which does similar. There are pros and cons to both, depending on how clubs spend their money; and Liverpool have spent more, relatively speaking, on wages than transfers. You could call FSG misers over their low net spend, but they've ramped up the wage bill in a big, big way.) 
Deals for those closer to, or already over 30, are surely being negotiated, but without tying the club to excessively long-term or wage-bill distorting deals that would be costly when those 8-10 players – all soon to be in their 30s – then melt; which inevitable decline could be within a year, or within five years – no one knows the timing, other than, on average, players are better at 29 than they are at 34. (And no one wants a team of Trent Alexander-Arnold and ten 34-year-olds.)
Other fans want fan ownership, but my fear – having spent over 20 years discussing Liverpool online – is that a lot of fans are bonkers. Even the smarter ones.  
They are emotional and irrational, and social media has only sped up the irrationality and hyped up the emotion. 
(One of the worst things about social media is that, because nuance is difficult on places like Twitter, people then began to argue that nuance itself is problematic; which is like saying, where breathing is difficult, that we really need to do away with oxygen.)
The very thing that makes Liverpool fans great inside Anfield – passion, noisiness and sometimes irrational belief – are not what I want to see in a boardroom. (Although that doesn't mean I oppose some fan representation; and I wouldn't be opposed to someone at the table suddenly singing the full song for each player every time their name gets mentioned.)
Barcelona are an even bigger club than Liverpool – there are not many – and they also haven't had gazillionaire owners who are sportswashing their way to a kind of unpalatable success; but have had some kind of fan ownership. 
("Barcelona is a members-owned club, with over 144,000 members, and fans are encouraged to become members. This means that Barcelona is not owned outright by a single individual and decisions regarding the future direction of the club are made by the members.")
From what I can tell, it is all driven by some kind of election system, and we all know how honest, reputable people who never lie or make ludicrous promises to curry favour don't like to try and prosper from election systems in order to feather their own nests and elevate their own egos. Election systems are clearly logical, and always produce balanced outcomes, with zero false promises. No cockwombles are ever elected, right?
Maybe there is a way to marry different forms of ownership, but looking at the absolute catastrafucks at Barça and now Inter Milan (amongst many other clubs across Europe), I can't help but feel grateful that for all their mistakes, Liverpool have been run by people who have kept the club stable. Indeed, the team has been more competitive than I ever dare imagine (the Reds rose the 4th-best team in European history in 2020 based on the Elo Rankings, breaking many all-time English records in the process), and have navigated a situation where several other clubs who spent like there was no tomorrow are close to finding that … well, there is no tomorrow. 
Two years ago, Barça had a wage bill four times that of a fairly large English club; now they are closer to having the wage bill of a Burnley. Until late last week, they were trying to give a third of that wage bill to just one player, and to pay him until he was 39. They couldn't even register the four big-name free transfers they had signed (and it would have been a fifth but for PSG gazumping them over Gini Wijnaldum), because in recent years they'd splashed over £100m a pop on several players who failed to make them any better, and La Liga enforces strict FFP laws that it would be nice to see in the Premier League. 
Barça's view seemed to be that La Liga will simply change its rules for them and Messi, like a man caught doing 195mph in a 70mph zone asking that, if it's okay, they could just increase the speed limit by 125mph, and then everything would be okay.
While Liverpool – in recent times – are famous for negotiating startlingly low transfer fees for players whose value doubles and trebles almost overnight (and selling players for far more than they were worth), Barcelona were going into deals like dumbed down versions of Bill and Ted. 
From Simon Kuper, in an article about his new book on Barça:
When a club sells a player for €220 million, it doesn't actually have €220 million to spend. There are taxes, agents' fees and payments by instalment. Still, every other football club in 2017 knew Bartomeu had a wad of money in his back pocket and a need for a human trophy to wave in front of Barça's 150,000 Neymar-deprived club members.
Instead [of getting Mbappé], Barça targeted another young Frenchman, Borussia Dortmund's Ousmane Dembélé. Three weeks after Neymar left, Bartomeu and another Barcelona official flew to negotiate Dembélé's transfer with their German counterparts in Monte Carlo, a favourite hub of the football business.
The Barça duo landed with a firm resolution, reported the New York Times: they would pay a transfer fee of at most €80 million. Anything more and they would walk away. Before walking into the assigned room, the two men hugged.
But in the room, they got a surprise. The Germans said they had no time to chat, had a plane to catch, wouldn't negotiate and wanted about double Barcelona's budgeted sum for Dembélé. Bartomeu gave in. After all, he was president of the world's richest club, and still something of a football virgin. He committed to pay €105 million up front, plus €42 million in easily obtained performance bonuses – more than Mbappé would have cost.
Not six months later, Barça paid Liverpool €160 million for the Brazilian creator Philippe Coutinho. Neymar's transfer fee had been blown, and more. A transfer fee of more than €100 million should be a guarantee against failure, but neither Dembélé nor Coutinho ­succeeded at Barça.
It's not just Barça.
Inter Milan, immediately after winning the title, are without their elite manager, and the entire squad is up for sale. It smells very much of Leeds United, circa 2003. In France, clubs are in trouble – albeit there's one that is so rich and aims to add Lionel Messi to its sportswashing empire, as it turns a farmer's league into a farmer's cakewalk.
Football all over Europe is in turmoil, and while it's partly due to Covid, it's more a case of the chickens coming home to roost for clubs run irresponsibly, with greed, poor planning, vanity and irrationality. 
We live in an increasingly "pay for it later" society, as if the bills will never come in. I find fewer and fewer people living in "reality" (in all realms of life), but see the world as they want it to be, rather than how it is. 
But then Covid hit. Even before Covid, I felt sickened seeing insanely big businesses built only on borrowing, that are run at losses to drive the honest competition out of business, and then, if they have played their cards right, they sweep up. Or, they go bust, having manufactured nothing but some incredible share value and a lot of hype. (I'm not an expert on businesses, in case that isn't clear, beyond running this modest one for 12 years. This was built on zero borrowing, but the idea of doing the work, and getting paid for it.)
At a time when I expect many fans are going crazy at the lack of c.£100m signings at Liverpool (while rivals rack them up), the Reds have to do the more sensible thing, and sign up the players they want to keep on longer term contracts. They have to safeguard the future of the club whilst keeping the team as competitive as possible. 
It's not as exciting when Alisson signs a 6-year deal – sans fanfare – as it must be when £100m Jack Grealish can be shown in his socks lounging on some leather throne like he's just won the World Cup, but for Liverpool, supreme management of the wage bill has been a vital factor in over-performance on the overall budget (transfer spending + wages), allied to the talent scouting (Michael Edwards and co.) and player-improving (Jürgen Klopp and co.)
Rather than spend excessively on transfer fees, bar a couple of big-game (rather than big-name) players, the Reds worked on an incentivised wage structure, that meant the players could earn a lot of money – but only if they were successful; and if successful, the money to fund it would arrive via the rewards of increased television, merchandising, sponsorship and performance-related income streams. (And even the most expensive players did not come in on the highest wages.) 
If they weren't successful, the wage bill would drop, meaning less risk. 
Of course, even that sensible strategy took a hit with the unprecedented alterations of Covid-19, that took away TV money and all crowd-related income, but Liverpool were close to going broke 11 years ago, under the previous American owners (a pair of morons who borrowed money just to buy the club, which it then leveraged against the club), and there was no pandemic then. There was a financial crash, but we've just had a financial crash and the removal of almost all fans from matches for the last 18 months due to a deadly virus, and the payback of some TV money for games the broadcasters still got to show. 
A decade or so before the cowboys were riding roughshod over the Reds, Leeds United faced no pandemic other than expecting to always be in the Champions League without budgeting for not being in the Champions League. They spent more on goldfish tanks for their offices than some clubs spent on players. Within a couple of years their finances collapsed faster than a dot-com startup specialising in chocolate teapots, perforated condoms and high-explosive butt-plugs.  
When Barcelona bought Philippe Coutinho for £142m, I expect their fans were delirious. (Because the aim of football is always to win the transfer window.) 
What a player he looked! (albeit under Klopp's training regimen and within the team-first framework of carefully selected personalities, and delicately modelled and rehearsed interplay – what I call the egosystem). 
By contrast, many Liverpool fans were up in arms, accusing the club of getting rid of its prize asset, which showed a lack of ambition. 
Reckless and irresponsible were the kinds of words bandied about, just as they were when the club decided against signing someone else instead of Virgil van Dijk, by instead choosing to wait for the giant Dutchman. I've lost count of the times that the Reds owners and decisions makers have been called "reckless and irresponsible", but it seems to be every week. And yet the club has had one of the best periods in its insanely successful history. 
In essence, for the price of van Dijk and Alisson, Liverpool, at the start of 2018, sold the Catalan giants a pair of wax wings. 
The looks in those overpaid Barça eyes (think rabbit, headlights, oncoming HGV) when the injury-depleted Reds tore them apart in the Champions League semi-final 18 months later was priceless. 
Corner taken quickly….
Toxic Ambition
A certain level of ambition is required to succeed in sport. But if it's allied to avarice or irrationality, it becomes self-destructive. To win at all costs is to end up cheating, and to undermine the very nature of sport. 
One of my other fixations is true crime, and in hundreds of documentaries and hundreds of books I've consumed on wrongful convictions, a driving factor was almost always "we need to get a result". 
The police are often culpable, but so are the public and even the victims' families who, unable to see the hundreds of officers and detective chasing down leads, accuse them of incompetence, of doing nothing, of being indifferent to the death of poor innocent people. 
The result: locking up other innocent people (or prior to that, hanging them) whilst other innocent people are subsequently killed by the murderers spared by someone else's wrongful conviction; all because of a type of PR ("we must be seen to have caught the perp"). 
A desire to get a result – to have to win – is to lose your moral compass. Often, the police feel righteous – they know that the young man they just beat the confession out of is guilty (because he looked guilty, smelt guilty, had slightly shifty eyes) – and that kind of righteousness is frightening. Even if that kid was deaf and mute, as in one case from Australia in the early 1960s in a fascinating new series on Sky Crime. 
In need of results, athletes start to dope, clubs start to overspend. Again, in business you see those startup sociopaths, who raise billions in phantom dollars for blood-testing kits that are essentially Casio calculators from 1979, or who organise gold-plated music festivals with elite accommodation and cuisine where, in the end, there isn't even plastic cutlery to go with the Saran-wrapped soggy, cheap cheese sandwiches to eat in the £5 tents pitched near a toxic waste dump. We know of multi-million-dollar startups by beautiful young women with five different types of deadly cancer "apparently" kept at bay by eating prune juice, cheered on by million chorusing "you're so brave, Belle!" In this shallow era, the slick PR person is even more in their element. 
Beware the shiny smiles and the coteries of social media influencers who oversell the dream and nip out the back door when the nightmare comes home to roost. Beware the slick, even if slickness is not itself a crime. Beware the users of all the right buzzwords, because they often disguise empty rhetoric and iffy promises; most normal people don't talk via a series of buzzwords, and tiptoeing around language makes communicating truth all the harder.  
Pay more attention to the boring people who do the boring things. 
The grey people.  
Live in the real world; don't trust anyone faking it until they make it, as we are often only shown the few who made it (survivorship bias) and no one sees the bankrupt hellscapes left behind by the majority who just screwed everything up as they didn't have a clue. 
(Note: this is not the same as starting out as a novice, and feeling like you have imposter syndrome; this is about lying your way to the top, on some kind of moral Ponzi scheme, or blowing the budget on fish tanks.)
Liverpool FC, in an understated, often grey way, has been run with real intelligence, in a baffling landscape. People can't see it. The PR for FSG is often terrible – in that it's just nonexistent – and people like Michael Edwards and Ian Graham are rarely seen in the media. 
As such, people just don't understand what they do, or they simply refuse to acknowledge that it has worked. 
Take this tweet from a BBC sports contributor, which has thousands of likes:
"Raj Chohan @rajsinghchohan Jürgen Klopp is going into a gun fight with a toy pistol. But I still expect him to keep Liverpool in contention. But that credit should go to him, nobody else and certainly not Liverpool's owners."
I find this logic fascinating, in how certain people cannot credit the owners with anything. 
The owners believed in Michael Edwards a decade ago, after he arrived with Damien Comolli, whom they sacked for various reasons (mainly a lack of communication as to his strategy, based on my discussions with John Henry at the time). 
Edwards arrived with Comolli, and later got promoted at Liverpool. They were able to procure Klopp, when other owners or head honchos had turned Klopp's stomach. Mike Gordon – one of those shadowy grey FSG figures, who does the most work on Merseyside – 'sold' the club to Klopp; and even if you think that's an easy sell, you'd expect Man United to have been a fairly easy sell as well. But no. They fucked up when trying to seduce Klopp, to the point where it sounded like he vomited in his own mouth a little.
So, zero credit to Edwards and his team of analysts, and definitely no credit to the owners who appointed them all? 
Just credit to Klopp, and no one else? What kind of warped thinking is that?
I wrote in "Perched", my book from 2020, that, to me, Klopp is the most important factor at the club, in that he has a unique way to hold together the intelligent analysis behind the scenes, the advanced tactical ideas of his brilliant coaches (that he appointed), and provide the passion for effort – and has the gravitas to demand that ceaseless effort – on the training pitch. He is fiery, but also uniquely practical and level-headed away from the emotion of the game. He is a unifier, a uniter. He's a winner, but not an egotist. He has charisma, but also self-awareness and humility. 
He not only humanises the data, he appreciates the data; he's an incredibly smart man, but smart enough to know that if he knows 90% about a lot of subjects, he's stronger with people around him, each of whom know 99% on the specifics.
He is also a realist and a stoic, who knows the realities of working at clubs that don't have sugar daddy owners, and who actually wants it that way where he works. Richer clubs have wanted him. Why go there? Why not try and do it the hard way, not the easy way?
As JKF said, "We choose to go to the moon in this decade and do the other things, not because they are easy, but because they are hard." 
This notion of Liverpool taking a toy pistol to a gun fight is so ludicrous, not least as it ignores the entire arsenal absent last season when the Reds still ended the season with eight wins and two draws, with 7th- and 8th-choice centre-backs and half the midfield absent. (And no, the injury crisis was not the fault of FSG!)
Liverpool spent most of last season with an average of £300m of talent (transfer fees adjusted to inflation) absent due to injury. That's a fact. Spending £200m this summer, that the club doesn't have, is not as good as having those £300m-worth of players back.
At times, ten or more players were out injured. Just to add those – yes, those players whose wages still had to be paid – whose understanding of team play, when to press, where to be, what to do at set-pieces, how to get along with each other and to respect the team egosystem, is all already inbuilt. You don't get any of that from a new player, no matter how shiny or expensive.  
(Again, Liverpool went five months without a league set-piece goal last season with all their set-piece giants absent. When Virgil van Dijk and Joel Matip play, the average for the team is a staggering goal every three games – often scored by van Dijk, sometimes scored or assisted by Matip, but just as frequently scored by Roberto Firmino, who finds space he cannot when he's one of the tallest players. As I discussed during the slump, Liverpool's results last season closely tracked the average height of the team: the smaller, the fewer set-piece goals scored and the more conceded, and for the shortest 10 lineups the Reds fielded, a relegation-threatened points per game; taller in the run-in, even with rookies, and the pattern reversed, to suddenly become elite, with Champions League football secured thanks to six set-piece goals in the final four games, connected to the proximity of various players who were 6'3" or taller – including Alisson Becker!)
Toy pistols? It sounds like the notion of a five-year-old.
What about the adding of the 16-inch main battery warship guns of Virgil van Dijk, Joel Matip, Joe Gomez, Ibrahima Konaté and Jordan Henderson to the team? That's just five players; five totems, one of them new. You wanna fuck with those guys? Put Fabinho back in the midfield because you have giant but elegant centre-backs, and you wanna make it physical with him and Hendo? Good luck!
To me, many fans are like naive simpletons who scream to a driver: "Go faster!" So the driver goes faster. "Go faster!" So the driver says "this is as fast as the car will go!" 
"No, go faster!" Followed by … "Oh shit, we've crashed into a fucking tree at 200mph because the engine exploded and wheels flew off, and we're dead." (Dead people still get a few minutes to compose a couple of tweets that, alas, they never get to send.)
Social media has reduced people to dumb, limbic-driven click monsters who have no conception of the bigger picture beyond the nanosecond in which they, triggered as hell, unleash a load of self-obsessed nonsense. One of the joys of writing books on this stuff is that you can properly analyse things with all the context you want (and idiots can't keep interrupting you with dumb replies.). 
In some ways I don't really care if people don't like the owners, but the lack of objectivity is frightening; as is the desire to fit in on social media and signal your righteousness, ahead of logic, facts, reason and some spirit of finding a mutual understanding. There's a kind of "proper Liverpool fan" ethos that is a waste of time; you don't need to signal how much of a fan you are, just use your brain.
History will prove that Liverpool 2018-2020 was one of the best periods for any club in the history of football. 
And yet it's apparently just by accident – given that the transfer budget was based purely on balancing the books – that the Reds rose to those heady heights? It was entirely Klopp's doing, and everything else was irrelevant?
To suggest it was just Klopp is to ignore a deeply complex system, like saying that it's the pilot that flies the plane, and that the getting into the air has nothing to do with the fuselage, the wings, the control systems and the engines, which were previously designed and assembled and tested over a decade of development? 
The head of Boeing presumably had something to do with the success of the 747, even if he wasn't the one flying it. The pilot could fly other less-good planes, as other planes were in 1969, and the plane could be flown by other less-good pilots. But perfection (as we saw from 2018-2020) requires a synchronicity between many different factors. Even the best Formula One drivers don't win in a beat-up Ford Mondeo, no matter how good they are. They don't design or build their cars, nor fund that development; they don't do their own tyre changes.  
The fantasist fan is of no interest to me. I've spent over 20 years dealing with these people; being called a sunshiner by them when I point out the realistic positives, but also find them to be the kind of people who say "we're gonna beat this shit team 7-0 today" and then meltdown when it's just 2-0. They're the kind of people who meltdown about the transfer window ("shit, Everton won the transfer window again, we're doomed"), and don't understand the science of team growth and shared understanding. 
New players, new players, new players! Feed me, feed me, feed me! 
(Er, the best league season – way back in, erm, 2019/20 – in the club's history saw zero first-team players arrive: just a reserve goalkeeper.)
People's desires to be either 100% for or 100% against things is also driving the world insane. It's black-and-white thinking.
I like Donald Trump about as much as I like root canal work done without anaesthetic, and without even a dentist – the procedure performed with rusty pliers by a blind heroin addict who hasn't shot up in three days, and who has both's faces. 
I also like Boris Johnson about as much as I like Trump. 
I could complain about all the things they've done wrong, and how they turn my stomach. The list is long. But equally, if they do something right, like getting a vaccine programme up and running on time (or setting the wheels in motion for the next guy to do so), then the truth is that they got a vaccine programme up and running in time; my personal opinion about them as über-arseholes who are an insult to the privilege of still having hair (the bastards), should not alter that fact. 
(For the record, I also like and trust Big Pharma about as much as I trust the deranged faux-dentists of this world. They do a ton of stuff that worries me, but also, they have their uses; and the consensus is that vaccinations is a way out of this mess, which, despite possibly ignoring other alternatives that may or may not work, seems a fair enough belief. If vaccines was the goal, then the crazy-haired numpties at least got that part right.)
President Obama once bemoaned the fact that the only time the Republicans didn't say he was entirely wrong about something was the killing of Osama Bin Laden. But we cannot go around establishing our beliefs in contrast the beliefs or opinions of people we despise, because as tempting as it is (and I know it's tempting), on the occasions they are right it means we are automatically wrong. 
It is not "thinking". It is tribalism, us vs them, good vs bad, right vs wrong, heroes vs villains. It's insane. 
Anyway, I'm sure Obama did lots wrong, just like anyone else making judgements calls that could prove helpful or hurtful. I could name a few things, a couple of which were amongst the very few things I agreed with the scrotal-faced pubic-haired Trump on when his administration reversed them. (Just as Obama initially opposed gay marriage, which was a position that did not age well; albeit a reversal seen in the public western consciousness based on sound and sympathetic reasoning relating to gay rights prior to everything being done via Twitter, not public shaming or science-rewriting by some rabid activists.)
But equally, the Republicans pretty much only agreed with one single thing Obama did in eight years? And then the Democrats agreed with pretty much nothing Trump did? And now the Republicans agree with pretty much nothing Joe Biden does? This is a kind of mass insanity. It's how we end up with masks becoming a political football during a pandemic. You may like this version of society, but I do not (hence why I steer clear of social media 99% of the time, and the cost to my business and my profile, but to the benefit of my sanity).  
This is not about politics per se, as your politics are your business. It's a metaphor. (And a metaphor is a glorious thing.) That said, this entire framework – politics as tribalism, rather than weighing up ideas and issues and solutions and principles – has put me off politics (along with the far-right nutters and the far-left cancellers), beyond spending some time pointing out how toxic politics now is. Yet it's now how we see all issues, in part as all issues are becoming politicised. It's seeped into football in recent years, and is increasing. 
As such, me making a case for the pros and cons of FSG will likely convert no one. Everyone has likely already made up their mind, and this diatribe will likely achieve nothing. 
(As such, it hopefully being an interesting read may be the only purpose of the 8,000 words; another reason why we need to be careful of over-policing language, lest it rob us of the last of our joys. I love this inspiring piece by the bipolar writer Freddie deBoer on the actual point of writing and being a writer.)
In fact, this might even annoy some FSG supporters, for whom it is not positive enough (as I list their gaffes) and it will almost certainly annoy those whose binary thinking, with no nuance possible, means they can only see things through the lens of "Them = Good People" and "Them = Bad People". You don't have to like nuance, but it fucking well helps if you do.  
In other words, you can hate FSG as much as you want, and you can criticise the decisions that they have made: the £77 tickets; the sacking of Kenny Dalglish, or at least the manner of it; the allowing of Colin Pascoe to wear those shorts; the furlough furore; the Project Big Picture and the European Super League clusterfucks (even if those last three were not debated or discussed properly as Twitter went from zero-to-hysteria in 0.0001 seconds, before the benefits they might provide could even be raised as counterarguments – albeit they were also partially self-inflicted PR gaffes due to the shoddy way they were unveiled. I am also not claiming there wasn't rampant self-interest involved, too; but most compromises mesh rampant self-interest with other people's rampant self-interest, where each gives up some of their desires, and it requires a dialogue to establish the terms). 
But you cannot list all those cockups and then also give them zero credit for taking a financially fucked club, and putting structures in place to find a new way of thinking about football; sacking Roy Hodgson and overhauling the mess of a squad that had fallen to mid-table and below, and was years away from ever hoping to finish top four again; appointing Michael Edwards via Comolli, who in turn, with Ian Graham – another from that same initial bout of data-driven appointments – worked out via what were then cutting-edge analytics that Jürgen Klopp was the man to get at all costs, when his stock was lower after a difficult final season at Dortmund; nearly winning the title with Brendan Rodgers, a left-field appointment that had some ups with all the downs (much like Pascoe's shorts); rebuilding the Main Stand at Anfield after inheriting a costs-sucking mess of a plan for a new stadium; building a state-of-the-art training complex; getting rid of the dude in the Cuban heels and his lackeys pronto; posting two of the four all-time best league points tallies in English football history; reaching two Champions League finals in incredible fashion, and winning one; commencing the rebuilding  of the Anfield Road end, and a general regeneration of the Anfield area; and finally, finishing 3rd in a season with the worst injury crisis in living memory and more VAR overturns than pretty much the rest of the league combined, that extended the run of consecutive top four finishes to five. 
Even (not-Scouser) Tommy, the deaf, dumb and blind kid (damn, the Who were ableist), could get a good sense of what's been achieved, if he wasn't a fictional pinball player from 1969.
For all their fuckups, on balance, FSG have, to me, done incredibly well. 
But at worst, you could call it a mixed bag. After all, no one judges Mo Salah only on the chances he misses. You note the misses, but count the average of 32 goals per season.
However, clearly FSG could be like Wayne Rooney, aged 29: excellent previous 11 years (littered with mistakes), who then ends up finished in surprisingly little time. Or they could be like Zlatan Ibrahimovic, aged 29: excellent previous 11 years (littered with mistakes), but somehow about to score another 322 club goals (362 in total if you add 40 more for Sweden), and win countless trophies, and continuing to swing his dick in changing rooms as he's about to turn 40. I also like Ibrahimovic about as much as I like my fake dentist, but that's one of the most amazing 30-something careers in history (and therefore still an outlier). 
So, FSG are not done yet, the book on them is not closed. They may Rooney it up, or they may do a Zlatan. (My sense is that they could be more like James Milner, and quietly continue their good work, possibly whilst drinking Ribena; always trust the grey people, but never deal in absolutes.) 
You want something to contrast this against?
A trip back to Spain and Kuper's take:
"Between 2017 and 2021, Messi earned a total of more than €555 million, according to extracts from his 30-page contract published in El Mundo newspaper. Neither Messi nor senior Barcelona officials denied the figure. One senior Barça official told me Messi's salary had tripled between 2014 and 2020. But he added, 'Messi is not the problem. The problem is the contagion of the rest of the team.' Whenever Messi got a raise, his teammates wanted one too."
Hmm, sounds like a recipe for disaster. 
It's hard to have sympathy for Messi when his craven wage demands drove the club to near financial oblivion, no matter how good he was (and boy was he good).
But wait, weren't FSG criticised for not giving bigger wages to key men, and for not signing new superstars on mega-bucks because they were too mean to pay the wages that would have destroyed the club's very smartly managed wage structure? 
How many times have I pointed out on this site that the Reds will not bring in someone new on higher wages than those who have historically earned the right to be the best paid? – but will bump their wages if they then earn it? How many times have I spoken of the dangers of raising the bar for one player meaning that others will ask for rises too? The dangers of bringing in an Alexis Sanchez on so much money that, when he's suddenly not even good enough to be described as 'utter dogshit', 23 other players suddenly feel underpaid and demand raises?
Something else?
"Barça's process for buying players is unusually messy. Rival currents inside the club each push for different signings, often without bothering to inform the head coach. Candidates for the Barça presidency campaign on promises of the stars they will buy if elected."
While FSG got into a similar bizarre situation with Rodgers and Edwards, that was resolved in 2015, with Klopp and Edwards working in harmony; and who – beyond bonkers fans – wants someone promising who they will bring to Liverpool if elected? 
If someone promises me Kylian Mbappé, I worry: how will it be paid for? What would he do to the wage structure, in terms of everyone else asking for a raise? How will a superstar affect the team's vital egosystem? Will he do the hard yards closing down the opposition? Will he be an Alexis Sanchez, who is both useless on the pitch and unhelpful to the club as a whole? And what if the manager doesn't want that particular player, but the President is promising that player to the fans?
FSG haven't taken money out of Liverpool, or saddled it with debt, unlike their predecessors and unlike the Glazers at Man United. They also haven't pumped much in (in contrast to the petrodollar sportswashers whose wealth is obviously massively greater), but they've used their money where possible, including with loans. However, mainly, they made the club self-sustainable, and indeed, very profitable (up to Covid), to enable a higher wage bill, not personal dividends.
Even though it was largely so high due to winning the league, the Reds' had a high wage bill in 2019/20, as seen by this graph from The Athletic, which was shown to chart Barcelona's insane wage-bill implosion. The graph should show doubters how FSG, with a low net spent on transfers, have invested money into the wage bill. Look at the dark-green line, that rose to the 4th-highest in Europe that season, before Covid struck.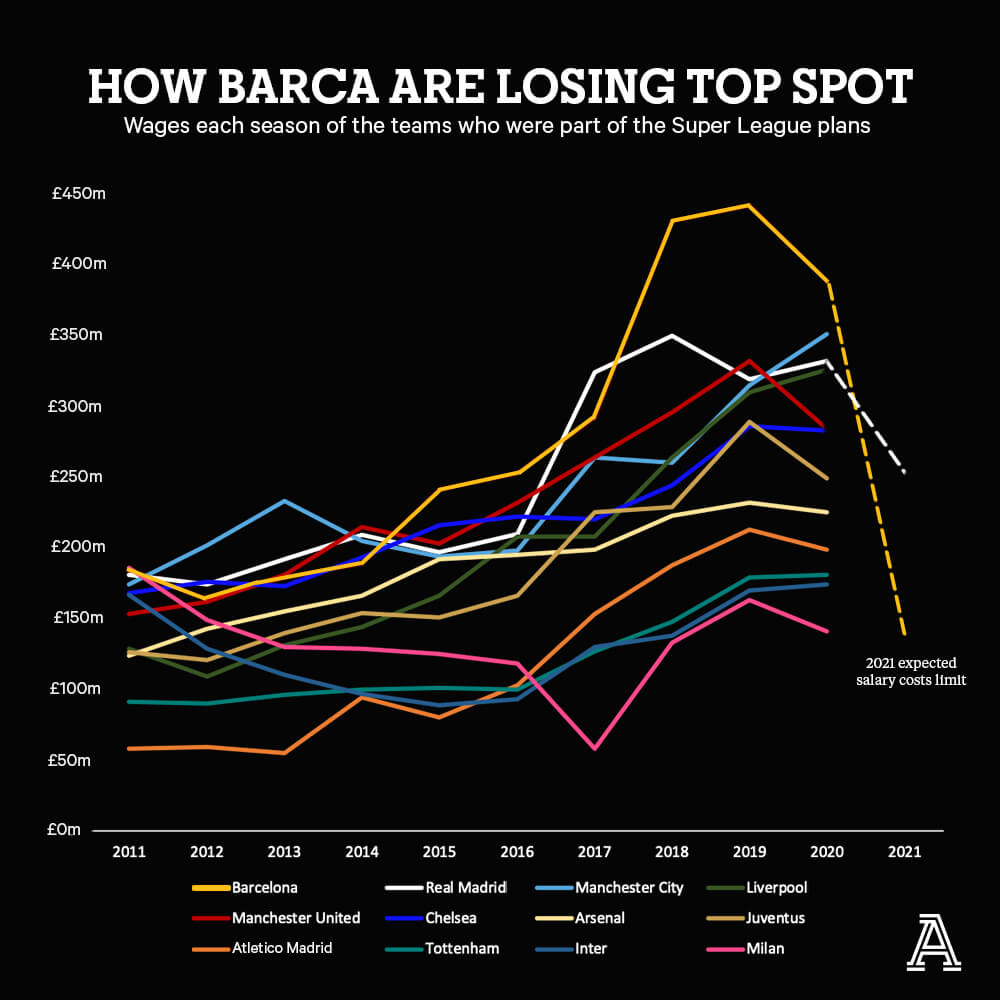 And even with Covid having taken £100m+ from the club, Liverpool are still financially viable, still moving forward. The Covid storm is still settling for most clubs. It's set Liverpool back, but it's not a fatal wound.
Here is Andrew Beasley's table comparing the Reds' transfer spending with Barcelona, updated from an article he wrote for TTT:

Walk On?
FSG may still walk on – walk away – with billions in profit at the end, if/when they sell up and move on. 
But to me, the same applies to any normal person who buys a house, in terms of the fairness of investments and how they work: the more work you do to it, the better the odds of profiting, especially if the market rises. (If you take the time to pay for planning permission, for architects, for renovators, or you do a ton of DIY, you are essentially earning any later profit.) 
If you just ignore the investment, let the house fall into rack and ruin, you may be lucky if the market rises and you make a small profit – but equally, you're risking nothing, investing nothing and may end up with a pile of rubble. 
The same applies to all businesses, and football clubs have to be run like businesses, as a reality. It's always been the case. No matter how much of football is not, to us, about the business side of things, the business side of things is always underpinning everything else. You can choose to ignore that, but you can also choose to ignore that gravity exists. It makes no difference what you believe. 
Anyone who thinks football clubs don't have to be run like businesses and should be based on emotion can drink Lionel Messi's tears, for all the good it will do Messi remaining at Barcelona. Bad business decisions meant that the greatest player of all time does not end up a one-club player. His own famously bad business acumen, aided by his agent father, is also to blame. Even offering to halve his wages from £2m per week to £1m per week was not enough, as The Athletic explained:
"Laporta said clearly on Friday that even with Messi's salary cut, Barcelona's wages would be at 110 per cent of the club revenues. Best practice — and La Liga rules — demand a ratio of 70 per cent. Even with Messi off the books, wages remain at 95 per cent of revenue and Laporta admitted there was 'more work to be done' on persuading some players to accept pay cuts and selling others before Depay, Aguero, Garcia and Emerson can be registered."
An older graph from the website showed how well Liverpool's ratio was managed, and the English clubs who are at dangerous levels (albeit the rules over here are different).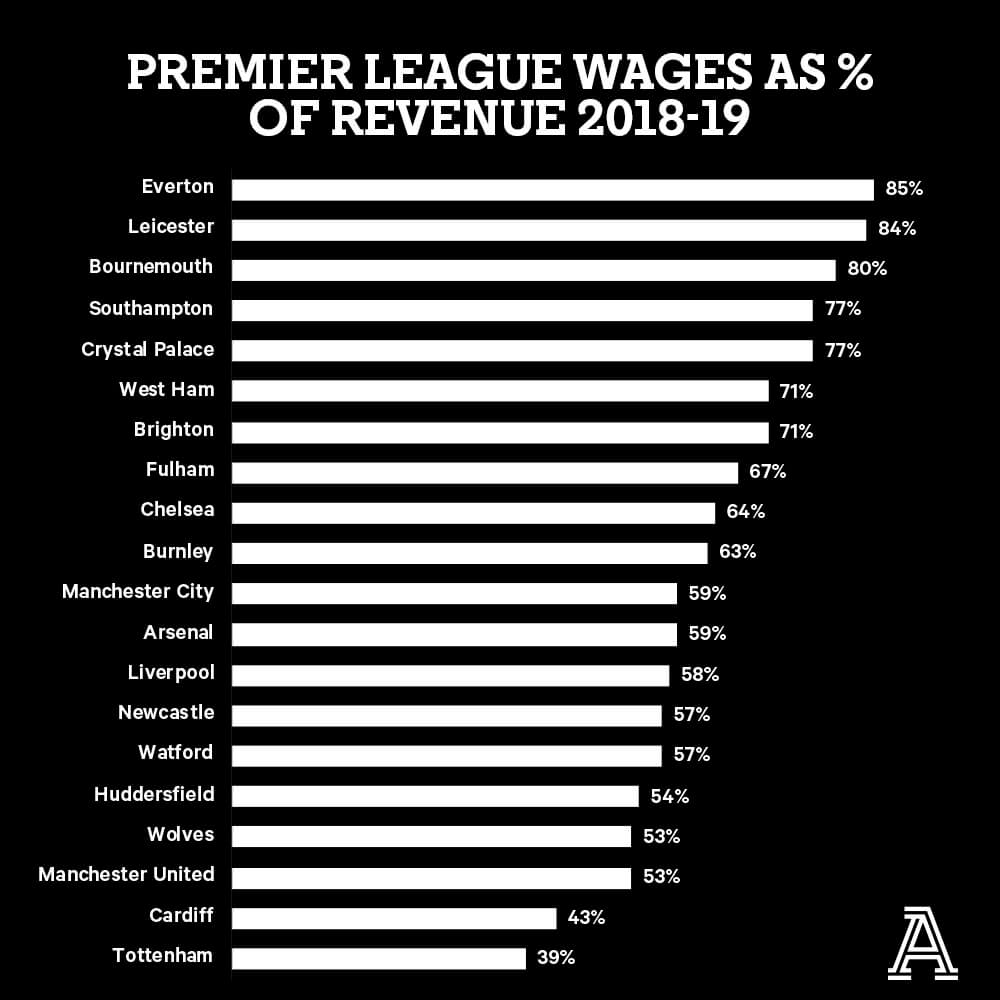 So, even FSG selling for a profit wouldn't be "morally" wrong, especially as they delivered the league title and a Champions League, and some of the best years to be a Liverpool fan, including the madness of 2013/14. (Albeit I'd hope that they could find a way to sell that would continue to benefit the club.) 
I don't mind any owner profiting from selling a club that it has helped improve; I do resent anyone who had come in, done nothing, then doubled their money simply because the TV deals doubled. I resent what the cowboys did, but's a false equivalence to treat FSG the same. (My favourite false equivalence was an email I received in 2007 saying that Liverpool were dumb in trying to sign Fernando Torres, as Fernando Morientes had been a bust. By this logic, Liverpool should only sign players called Kenny, Bruce, Steven and Xabi.)
Anyway, we shall see. I have some personal experience with FSG, but for years I've tried to keep away from club politics, and never contact anyone at the club. (Sometimes someone will contact me, but I try to be objective and not allow myself to be influenced. These days I mostly live as a recluse anyway, which meant lockdowns were not quite as weird for me.) 
But what I'll say, above all else, is that Liverpool have far more than a toy pistol for the new season. (My apologies for singling out that guy and his tweet – he may be a great football thinker otherwise – but if you say stuff like that, with total black-and-white thinking, you are inviting replies that mock your ideas.) 
And any success will be due to the interplay between a team of teams: the owners, the data guys, the transfer gurus, the manager, the coaches, the physios and medics and the dieticians, the first-team players, and even the fringe players who help maintain the standards by pushing the others in training, day after day after day, as part of the process of general social-multiplier improvement effects. 
To suggest it would "all" be down to the admittedly brilliant and wonderful – and vital – Klopp is an insult to well over 100 other people. (Plus the 55,000 a week at Anfield who may also have some influence.)
Anyway, let's try and enjoy the new season (radical idea, I know), and not spend the entire time bickering and moaning and wishing the time away, or indulging in excessive schadenfreude. Let's live in the moment, enjoy what we have, and buckle up for an exciting ride.