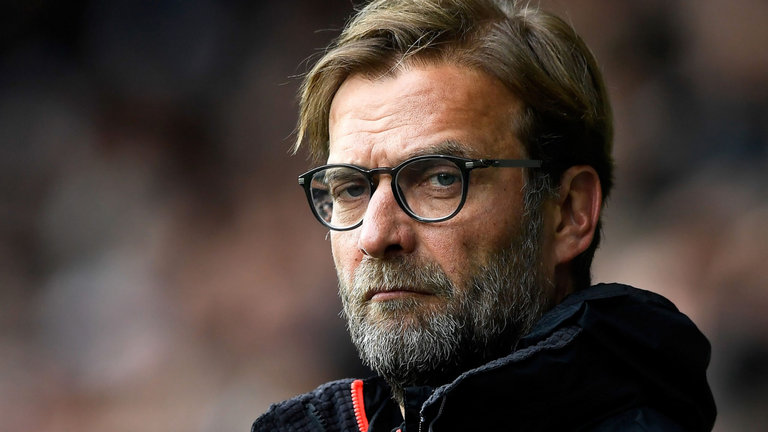 Yes, you read that right. Maybe you've even been looking out for such a headline.
Now that I have your attention, I can of course explain that it's a big sack of time that I'm referring to. A huge fucking sack, with time, patience and understanding. And maybe a big sack of money too, although Liverpool FC doesn't have the same kind of resources that some other clubs clearly do. (Sacks of money were available this summer and attempts to spend it were made.)
Rant
Okay, a bit of rant to start with, before some (hopefully) measured analysis on what I think Jürgen Klopp is trying to do. It doesn't help when managers get fired from low-ranked Premier League clubs after just four games, because maybe it makes people think a winless four-game run is a disaster.
Yesterday someone said to me that "Shankly said Liverpool Football Club exists to win trophies". Yes, but he also went seven years without winning a single thing, including some pretty dire seasons (low goals scored, lots of draws, not many wins) as he sought to phase out his great double-title-winning side – which had passed its peak – and fashion an entirely new one. Which is not a dig at Shankly, merely a fact. He had seven years without a trophy.
Of course, no one gets seven fallow years now. But then again, stop quoting people from the 1960s, when the context was entirely different. Back then, finishing 2nd was "nowhere", whereas now it gets you into Europe's premier competition, which helps you to build a bigger squad and attract (and retain) better players (but does, in turn, put more strain on the squad, which is why being in it every year is beneficial, but difficult to win with six genuine competitors in England, and even being in it is cramming six into four). The rewards for certain competitions are different now, just as the World Cup was not seen as important at first – England didn't enter – and nor was the European Cup – English teams didn't enter; while when Shankly won the FA Cup in 1965 it was considered on a par with the league, which is unthinkable now. Priorities change.
Then I encountered the logic-wormhole (which slithered from Tim Sherwood's mouth-anus) of Klopp needing to beat Leicester in the cup so that he could still field players like Ben Woodburn for the rest of the season – and so he shouldn't have fielded a weakened side and jeopardised progress, but, er, fielding a weakened team presumably included Woodburn replacing Coutinho at half-time, and such-like. Obviously Klopp wanted to progress while playing his squad players, just as Leicester did. But you can't have everything.
As I have said time and again, the last two seasons got crowded in January, with between 9 and 11 games in 30-33 days just after Christmas. The two-legged League Cup semis against competitive Premier League opposition (Stoke and Southampton) was the squelcher, that squished the life out of Liverpool's seasons at that particular point. It's when injuries mounted and dips in form occurred. It was when a really reserve side was played in the FA Cup as there was no one else left fresh enough, and the Reds lost, and everyone lost their shit, even though the Reds went on to reach the Europa League final in 2016 and finish in the top four, with the 2nd-best points tally in eight years, in 2017. (Back in January 2005 I raged at the idea that the Reds going out of the FA Cup to Burnley was a disaster. Two cup finals and a Champions League triumph in the next four months backed up my theory. But hey, what do I know! Not that you can expect to be great after a bad run – just that bad runs and results happen.)
Then there's the slimy logic turd that the fans who travelled to Leicester "deserved to see a strong XI", which ignores that many of those fans (plus other fans) will also be travelling to Leicester (again) on Saturday, Moscow on Tuesday and Newcastle a few days later. You don't pay for the right to see only the best players, because the manager has to balance his squad across all kinds of games, because this isn't 1965 (and even then, Shankly rested his whole team in the league just days before the FA Cup Final. Because he wasn't fucking stupid).
If the best players play every single game in all competitions, then by February there won't be a fit team to choose from. And people paying to go then will see hugely weakened sides. People will be turning up at Anfield to see the U15 team in the Premier League. Then, of course, people will piping up about injuries and Klopp's training methods, and why didn't he rest players before, when you don't have to name any specific times it would have been appropriate to rest players because, back then, any time he rested players you'd have been saying "why's he such a douche for resting players".
(This is like Alan Smith's latest zonal marking comment: "it doesn't always work". Hmm, but man-marking does? What next? "Taking a penalty – doesn't always work". And Smith is apparently one of the brighter ex-footballers, with A-levels and shit. It's 2017 and yet most of my first book, from 2005, still applies, from raging about the overreaction to defeat in Burnley to my example of five man-marking set-piece goals conceded in one game between Norwich and Middlesbrough. How far we've come, and how far we have to go.)
It's easy to be negative and then claim foresight when it goes wrong, but teams will always have bad runs and bad seasons. No team escapes it. Most teams will have great seasons too, but not every team – certainly within the big six – gets to have a great season as frequently as a bad one, because there's more scope to fall short, if the title is what everyone is after. If it's six into four for the top four, it's six into one for the title.
This season is far from over, and this is, I feel, capable of being the best team the Reds have had in almost a decade. That's progress.
Differences
A main issue right now amongst Liverpool fans – as just one of many differences – is that there are those fans who want to win the league at all costs, as the Holy Grailers (which I get), and those who want to win even low-value trophies (which I also get) … such as the League Cup that, ironically, Bill Shankly wasn't even that bothered about in its early days.
But these two aims are almost certainly mutually exclusive, unless you have an über-squad. You can't have a full tilt at the title whilst having a full tilt at the cups, unless you have a massive squad and a huge dose of luck. You occasionally get doubles and trebles, but these are usually teams with a lot of league-winning experience already.
How can a manager please his fanbase when different sections demand totally different things? I was told, by an angry Red (and Angry Red could be the new club mascot), that Klopp made a big mistake in throwing away the League Cup as Liverpool won't win the title and won't win the Champions League. So, what, the club should just give up on those aims? They're long shots, obviously, but you don't qualify for the Champions League only to put out a stronger side in the near-meaningless League Cup. Others would have been mad had he fielded his best team in the League Cup and picked up injuries and suspensions.
Winning the cups apparently helps you to win the league in the long term, but I've previously proven with detailed research on this site that more than 20 cup games in a season (or less if you're a smaller club) also takes points from your current season (on average). And do sides such as Man City in 2011 go on to win the league in 2012 because they won a domestic cup, or because they spent gazillions on tons of great players and they just got better as a side?
How many times have Liverpool gone on to win the league in the past 27 years, despite nine major cup triumphs in that period, including four League Cups? And how many people were excited about that 2003 side, which went 11 – ELEVEN! – games without a victory but which won the League Cup that year? Have Arsenal become champions again after their three or four recent cup successes? Has it cut Arsene Wenger any slack? (No.)
Shitty Stick
It's been a tough start to the season – a real shitty stick – with Arsenal and Man City within the first five games. There are ten games in a season against the rest of the big six, so such fixtures should occur, on average, every four games; and games against two of them should happen, on average, by game eight, not game five. This is a shitty stick to start with.
Indeed, Liverpool will face a third – Man United – within seven games of the start. Even though the Reds often do well in these fixtures, they are still tough games.
Add a top German side in the qualifiers (home and away) and a top Spanish side (with three European trophies in the past four seasons) in the opening Champions League game proper, and then away at the 2016 Premier League champions and 2017 Champions League quarterfinalists (not that I can still work out how, but they're usually pretty dogged and feisty) in the first domestic cup game, and that's a super shitty-stick of an opening; made worse by the absence of Philippe Coutinho (and his "understudy", Adam Lallana), allied to the suspension of Sadio Mané for an offence that, while arguably deserving of red, ONE ONE ELSE EVER SEEMS TO GET BANNED FOR! (including Newcastle's best player, who is free to play against Liverpool next week), while the Leicester game was a chance to use the squad and give starts to some new players (as it was for Leicester, but with fewer kids involved).
That's before getting onto the randomness of the non-Mané refereeing decisions, like the Salah penalty shouts or the wrongly allowed equaliser on the opening day, where the officials failed to understand the offside law.
Or before getting onto the opposition hitting every shot into the corner as if they're Lionel Messi.
Irrespective of whether or not you beat these tougher teams, they will take a lot of out the players, from a purely logical standpoint. Plus, Liverpool are the only English side to play an additional two Champions League games, which means a greater number of games in a shorter space of time (which reduces your freshness and later chances of victory). And while the Champions League group looks favourable, that obviously excludes Sevilla. Liverpool could have used a game against Maribor instead, given the other fixtures early in the season.
And City aside (only when down to ten men), Liverpool aren't playing badly; although the second half at Leicester the other night was poor, albeit only after the Reds did everything but score in the first half. The reason xG was invented was to show how a match would normally end with non-random finishing (as finishing blows hot and cold), as a better predictor of outcomes (or merit to an outcome) than possession, which some teams willingly cede. Liverpool clearly beat Burnley and Leicester on xG, but right now Liverpool's finishing is off (it happens), and the opponents are scoring unlikely goals from outside the box (it happens, but not normally this frequently). So, that's fairly unlucky, even if the Reds have contributed to their own downfall in some ways.
Indeed, two of the goals conceded this week were due to slight "nicks". Against Burnley, a smallish full-back (Trent Alexander-Arnold) lost an aerial duel – against a big Burnley team – and the ball looped over Joel Matip's head. Ragnar Klavan came across to cover, but then a Burnley player stuck his toe out and slightly diverted the ball, which wrong-footed Klavan (but had Klavan not come across, the space would have been there if the diversion didn't happen. Close-range unexpected diversions are tough for defenders and goalkeepers, as they wrong-foot them instantly). Against Leicester, the opening goal was a saveable shot diverted into the corner before Andy Robertson or Danny Ward knew anything about it. Shit happens. Again, which isn't to say the defending has been mighty fine and it's all just been bad luck. These incidents weren't like the opening goal against Sevilla, which was a triple-clusterfuck.
The good news is that the tough run of opponents is largely over, although now it's three more of four away games on the spin, at a time when confidence is shot. That makes them tougher in some ways, but doesn't make them top-level opponents. Equally, with Anfield clearly a bit edgy right now, it might help playing away – but if you're low on confidence at a hostile ground and go behind, it gets very hard indeed.
Then come Man United at home, with Jose Mourinho's men appearing to have played no one vaguely decent as yet, with Burton at home in the cup after a string of easier league matches and an unremarkable Swiss team at home in Europe. (Was it David Moyes who had that bitch of a fixture list to start with? One recent United manager did. It almost certainly wasn't Alex Ferguson! Anyway, West Ham, Swansea, Leicester at home, Stoke, Basel, Everton, Burton and Huddersfield, is hardly testing across all competitions, as well as they've apparently been playing. It's eight winnable games, albeit most have been won well, and still needed to be won, albeit with a draw at Stoke).
So, we can all debate how well Liverpool have played this season, but for me, not up for debate is the difficulty of the games. To suggest this is just dressing up a normal fixture list as tough because we're on a poor run is bullshit.
Stretching the Blanket: Liverpool FC & the Pains of Forming a Complete Team, aka The Concept of Full-Blanket Players
Okay, now onto the meatier analysis.
My belief is that the best teams have a clutch of "full-blanket" players.
This comes from a saying, which I first heard via Rafa Benitez but which may predate that (and which I've quoted a few times before), that a coach has a blanket that's often not big enough to cover the metaphorical toes and shoulders of a team. Pull it up and it exposes your feet. Push it down and your top half gets cold. You've doubtless heard it before. Thus, I thought about how teams acquire and develop what I call "full-blanket players".
Back in 2004, Benitez had to make a successful team from a squad containing very few full-blanket players. Steven Gerrard was a full-blanket player, clearly. But Sami Hyypia, as great as he was, was not. For Gérard Houllier's final two years Liverpool had struggled with the pairing of Hyypia and Stephane Henchoz, because neither had pace. So they could only defend deep, which meant more long balls to the strikers.
Michael Owen was a full-blanket player of sorts, as he had devastating pace, so he could pin teams back. But his lack of height and bulk meant that Emile Heskey had to bodyguard him. So Liverpool had a deep defence and two strikers, and a midfield that could not easily knit the two together. Of course, by 2004 both strikers were gone anyway.
As a more current example, right now Everton appear to have no blanket; or rather, little more than a tea towel or flannel. As Gary Neville pointed out during the commentary against Manchester United, they have no pace at the back and no pace up front (at least with the players selected that day). So they can't pin teams back with the threat of speed in behind, while their own defence has to sit deep to "cover their toes".
Think about it. Liverpool haven't had clear full-blanket team since 1990, with the possible exception of 2008/09, when the Reds top-scored in the Premier League, albeit with "just" 77 Premier League goals, compared to the 100+ some other teams have posted since. That was a very nicely balanced team indeed, but probably not exceptional going forward, although when Steven Gerrard and Fernando Torres were in tandem (which was sadly rare that season – just 14 times if I recall) there was a perfect full-blanket forward-line of pace, work-rate, skill, strength and height.
Had the pair been fit to play more than just one third of the season together, the title may have arrived. It was, in hindsight, a full-blanket team on those rare occasions everyone was fit. But the back-up strikers and the best wingers lacked pace (probably a reason why Nabil El Zhar played a few games, although he's had several years in La Liga since then).
Houllier's 2000/01 side was great at counter-attacking and nicking goals when defending in numbers; trips to places like Barcelona were torturous in terms of how many men were behind the ball (seriously, it would take 75 minutes to get into their box), but ultimately effective for a limited period. They scored 127 goals, without always been easy on the eye. They could not defend a high line, so it could never be a full-blanket side.
Since 2009, it's been just a defensive blanket (Rafa's final season; Roy Hodgson's eight-man back line in the first striker-less, midfielder-less system; Kenny Dalglish's full-season with Steve Clarke's influence clear (two banks of four), where Luis Suarez wasted chances – but where goals were unlikely from the "wingers" of Stewart Downing and Jordan Henderson; and then Brendan Rodgers' all-out attacking blanket, from which point there has been no recovery in defensive terms, but which may in part be to the melting and then retirement of Carragher; plus, the purchasing of attacking rather than defensive or full-blanket full-backs.
But this summer Liverpool went for full-blanket players. Mo Salah has the electrifying pace to get in behind defences, but also has great stamina, so he can help stretch the blanket and also help pull it back again to cover the toes. He's not a headless-chicken runner, but a clever wideman who runs into central areas to lose his marker. The same is true of Sadio Mané, who arrived last summer. His pace stretches the blanket with that searing pace. Both in the team together – especially with the best supply line – could be lethal. We know that.
Naby Keita is a full-blanket midfielder. Aerial challenges aside, he does everything a midfielder can do, with the stamina and pace to not only score, assist, tackle and intercept in theory but in practice too. Some wise judges feel he can become the best all-round midfielder in world football. It's an amazing coup to get him. But we have to wait. Which, in the grand scheme of things, is okay. Better to get an elite player late than never.
And Virgil van Dijk is a full-blanket defender. He has the supreme pace to defend a high line, the skill to play on the ball, and the height to defend a packed area when forced deep. There aren't many like him. That deal got screwed up, and that sucks. (Just like when I wanted something for Christmas as a child but the store had sold out. So instead of Stretch Armstrong I got My Little Pony. Not that I'm bitter.)
But while there must be some full-blanket central defenders out there, they are like gold-dust (with those who fit the mould, such as Vincent Kompany, tending to already be at elite clubs), and I can see why Liverpool didn't go for a compromise, which could have ended up with another Dejan Lovren, who looked great in a defensive-blanket system at Southampton but all-at-sea in a more expansive shape. Van Dijk would help stretch the blanket.
Joel Matip is similar in some ways to van Dijk, but he's not as quick and not as strong. He's also not as good in the air, despite the extra inch in height.
Full-blanket players are both talented and athletic, and are therefore expensive, because of their rarity. (Height is another factor that adds £££s, although you can still be a full-blanket player without height. But a team will struggle if it doesn't have other players to mark on set-pieces and deal with crosses, long-diagonals and hoofs into the mixer.) So these full-blanket players tend to cluster at the richest clubs. But you don't need eleven full-blanket players to succeed – even the best teams have those who can only do very specific jobs. That said, the more of these elite all-rounders you have the more you can attack and defend equally well.
The more each individual can do, the greater the size of the metaphorical blanket. Indeed, the reason Jürgen Klopp has desperately wanted to get Loris Karius into the team is that he can come out quicker to sweep, so is – in theory, at least – a full-blanket keeper like Pepe Reina was, in terms of allowing a bit more space behind the defence, as the back four can push a bit higher to force the blanket forward without exposing the toes (because the keeper covers those). Alas, he hasn't done the goalkeeping part well enough, much like Claudio Bravo at Man City last season.
I don't think even peak-years Sami Hyypia would help too much now, because the game has got so much faster even in just the past decade (the number of sprints has increased dramatically, along with the number of quick strikers), and while slow defenders can still read the game to succeed, pace is increasingly vital.
An issue is that while Dejan Lovren is quicker than Hyypia, he isn't quick enough. Hyypia was far cooler on the ball, obviously, and just a better player, full-stop, but Hyypia would be exposed more in a team that doesn't sit deep and have a specialist midfield screener. Sit deep and have that screener and that leaves less scope for attacking. So you rely on four-man counter-attacks at most. Equally, have defensive full-backs and you concede fewer goals but score fewer goals. To want it all is to want perfection, and that's rare in football. (See my previous piece for more on this.) So it's about trying to stretch the blanket.
Of course, you can have less-spectacular full-blanket players. In his way, Emile Heskey was, as he could bully teams into submission and stretch panicked back-lines, but the problem was
he didn't seem to believe that he could do so, so it was rarely seen. He seemed like such a gentle giant, who could have done with a bit more fire in belly.
Equally, some playmakers are so good on the ball that they more than compensate for a lack of athleticism and/or defensive ability or interest; these are A-list Playmakers, rather than full-blanket players. They find the passes to the forwards who stretch the blanket, rather than running ahead of the forwards (like Gerrard might have) to stretch it themselves. Philippe Coutinho is one such player, as are Kevin de Bruyne and Henrikh Mkhitaryan. But these are all complemented by the running and power/strength of others, and a team of these players would never get in behind defences or provide any kind of defensive protection. They would deliver beautiful crosses that they could not attack because they cannot head a ball.
Right now, Liverpool have just a few full-blanket players: Emre Can, Sadio Mané and Mo Salah. And while Roberto Firmino is not really quick enough to stretch the blanket, his movement allows the super-quick widemen to get into dangerous central areas.
And I think Jordan Henderson is borderline (a good all-rounder but probably not quick enough, although his job would be to hold the midfield together rather than stretch the blanket – not everyone in the midfield can be box-to-box). Gini Wijnaldum has the pace and intelligence to make penetrating runs too, and the stamina to get back, but isn't lightning-fast. Both Andrew Robertson and Alberto Moreno can push defences back with their overlapping, but neither is a defensive titan. (Though Moreno has incredible stamina and often – if not always – gets back to press, even if his tackling can be rash. And Robertson's defending can be worked on; he's only 23 and still developing.)
I also think that Alex Oxlade-Chamberlain has the pace and stamina to be one too, but his first game wasn't very good, and so he's not allowed to play for Liverpool again, obviously. Daniel Sturridge used to be one, but the pace for the runs in behind has gone. Divock Origi could be one, but he needs to develop whilst out on loan, and learn to use his pace better; right now he seems best cutting in from wide and shooting from distance, rather than showing the striker's movements against the last defenders, and in the box, that Solanke already displays aged 19.
However, Liverpool have a lot of potential full-blanket players. By the age of 20, Trent Alexander-Arnold should be bulked up, perhaps a bit taller (he hasn't necessarily finished growing), and definitely more defensively sound with experience. He appears a total full-blanket player in the U23s, where he absolutely dominates the flank, so the next step is just getting older and stronger.
I think Dominic Solanke is also a couple of years away, if that. He has all the physical gifts at 19, and fantastic movement. But he too needs a bit of experience, and to get those early goals, much like Harry Kane at the same age. Solanke isn't electric with his pace but he can cover the ground and still get in behind defences. He looks capable of being a great all-rounder. And while you may not have patience for this, the alternative is too expensive.
Plus, that doesn't mean these players aren't good enough to do a job now. But they can't be perfect players as kids. And they also won't improve if they never play, but playing them has its risks too. Such is reality.
And remember, a full-blanket full-back now costs £50m. Manchester United spent £94m (maximum fee) and £90m (maximum fee) on two full-blanket players within twelve months, while City spent £100m on two full-blanket full-backs. And their squads were already far deeper and far costlier than Liverpool's, with far more Champions League experience since 2010.
Without doubt, Joe Gomez has the potential to be a full-blanket centre-back, but it's hard to trust centre-backs under the age of 25, and he's just turned 20. Why? Because the role requires experience and physical gifts. How many centre-backs have come through at the top six clubs in the past 20 years? I'm guessing none since John Terry in 1998, while Jamie Carragher only made it as a centre-back aged 25, after several years as a defensive full-back, after an abortive spell at the heart of the defence in his early days. Maybe Jonny Evans at Manchester United although they ultimately saw him as surplus to requirements. And none of these were as quick and strong as Gomez.
Plenty of young centre-backs have left the top six clubs and gone on to become full internationals by their mid-20s, including Mikel San Jose and Gabriel Paletta of Liverpool (both were bought as promising youngsters but never made the grade until much later), while probably half a dozen current Premier League centre-halves have been let go by Manchester United, as well as Gerard Piqué, who has been exceptional over the years. But there isn't the time to play them through their mistakes these days. Phil Thompson in the early 1970s must be the last quality centre-back brought through at Liverpool playing as a centre-back, with one or two others, like Dominic Matteo, ending up there for a while. (Scrap that – having looked it up, even Thompson started in the team as a midfielder.)
Even Mats Hummels, who is an exception – excelling in the position in his early 20s (under Klopp) – was sold by Bayern Munich, presumably because they didn't see him as ready. He was 20 when he went on loan to Dortmund and 21 when he joined them permanently, before Munich bought him back when he was 27. I think Gomez is ahead of the curve, and his pace will help him adapt quicker than a slower centre-half would, but he's not out of that phase where five or six really good pieces of play are followed by a stray pass or lapse in concentration. That's what young defenders are like.
Ben Woodburn, by contrast to the emerging full-blanket talents, looks like an elite creative force who works hard too, but who doesn't have blanket-stretching pace. (Of course, it's no use having super-quick players who are useless either.) Woodburn is like Kenny Dalglish in how quickly he sees things without being able to run like a sprinter, although it's fair to say that Woodburn is quicker than the King. (And he certainly is now, with Dalglish 66.) As I've said many times, Dalglish only properly broke through at Celtic aged 20, and Paul Scholes (whose shooting I likened Woodburn's to in the summer) was also 20 when he got the nod at United. To be that good at 17 is remarkable, but this is his transition season.
I also think Marko Grujic has great all-round skills, although tackling isn't one of them (again, Scholes springs to mind), and that may work against him in a Premier League midfield. But he's still one to watch.
Liverpool also have by far and away the best young goalkeeper I've ever seen at the club, in Kamil Grabara, who is already regularly training with the first team aged 18. He has it all, bar experience. Every time I watch him he looks like the elite world keepers in everything he does, except it's obviously not against elite players but U23 teams (who do still contain some good players). Still, he can only do what he does against the opposition he faces. But what big clubs have given debuts to such young keepers and thrown them in? The Premier League is uncompromising for young keepers, and even someone as talented as David de Gea needed a few years to overcome ridicule. Klopp and his coaches are monitoring all these players, bringing them through bit by bit, but where setbacks will naturally occur.
So this is all bubbling under. Add it to the fact that we've yet to see Coutinho for more than a few minutes (and how his transfer request on the eve of the opening game cannot have helped), and we've yet to see the best Reds' team (which includes both Coutinho and Mané), and the busier schedule against higher-than-average quality opposition – plus the bad or inconsistent refereeing – and it's been a difficult start. But Liverpool are yet to lose a game when fielding most of their best players, unless one of them had been sent off. The better the XI Liverpool can field this season, the greater the chance of overcoming any defensive lapses. And while you can't always have your best players fit, they will be the ones who make the greatest difference, while squad players aren't going to be at an elite level.
Top players still respect Klopp. They want to play for him. His Dortmund team could defend, too, but it was not an overnight success there. It took two years of work before it started to hit the groove. I feel that Liverpool FC is moving in the right direction on all levels, but this is a blip – with only one game this season providing any serious concerns, and that was when down to ten men.
None of which means Liverpool will start thrashing everybody and win the league by 15 points; it just means that a bit of patience goes a long way. It always has and it always will. There remains a lot to be excited about.
TTT had its 8th anniversary yesterday, so there have been a few extra free pieces this week. Please share our free material if you appreciate it, and to help keep the site running, become a subscriber for £5 a month or £55 a year, to access paywalled articles and the site's troll-free debate section. Without subscribers we cannot keep the site running.