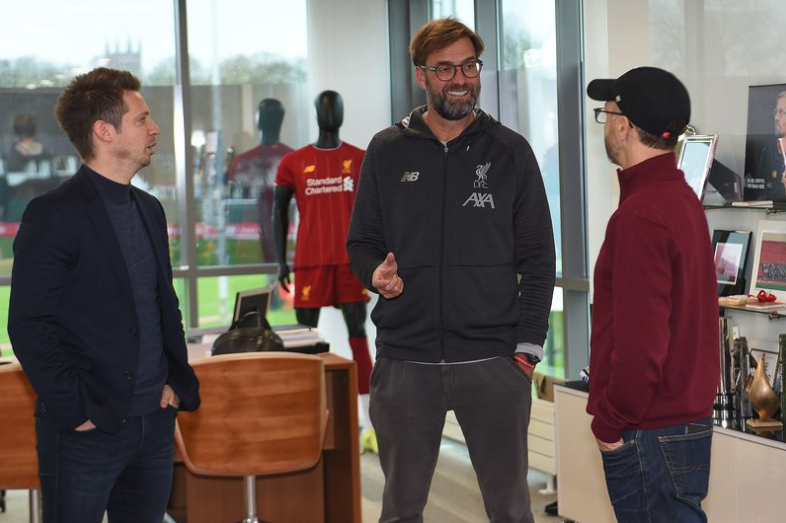 Best posts of the week, as chosen by Chris Rowland and Daniel Rhodes:
Here are some comments we've picked out this week:
1 – Jeff on Liverpool's enlightened use of analytics in its transfer policy:
One needs to relate to the differences between Liverpool and other clubs. In the first instance, Liverpool not only have an analytics department and put real resources into the department in terms of properly funding it and hiring high quality people, but Jürgen Klopp and others at the club actually listen to it and bring in lads such as Andy Robertson. Second, Liverpool do not buy a player and then try to figure out how to employ the lad but think long and hard about a lad before they buy him and have a plan on how to employ him to the benefit of the club before they buy him. Third, they never make vanity transfers and never listen to the wonderful world of flavour of the month players or listen to the rumour world in regard to who Liverpool should or should not bring to the club. Fourth, Liverpool determine the value of a player and the wages a player is worth and this is what they will pay another club and the lad. If the club wants more or the lad wants more, Liverpool simply walk away. Fifth, Liverpool always access multiple potential transfer targets and are prepared to pass on one or two and live with their third choice. If you do not think that Liverpool acts in this manner, I give you the club wanted to bring in Brandt and Pulisic and had to settle for a third choice maned Mo Salah. How did settling for this lad work out? GREAT.
My point is that Liverpool are in a simply different universe when it comes to the transfer market than any team I can think off in Europe.
2  – PeterD on the 'penalty to Man Utd' phenomenon:
That penalty decision was just ridiculous, but I thought that at least Copenhagen would have a chance to correct things at home in the 2nd leg.
I had not realised that the Europa Cup is a straight knockout so the importance and timing of that scandalous decision was even more unfair that I first thought!
Under new regulations if it had gone to penalties, United would have won anyway as based on current ratios United will be awarded 9 penalties to the opponents 5 for the shoot out.
3 –  Grove responding to the signing of the Greek Lad:
I have been listening to some reaction online from various, "reasonable" fan podcasts on this signing. It makes me laugh how some people cannot figure out why we are spending this much on a backup to Robbo.  Many are asking why has he signed for us when he is going to be second choice to the best left-back in the world!  Yet, these same people have asked why we can't have two players for every position like City?  Also, I hear that Robbo only missed a handful of league games last season so it's not like this Greek Lad is going to get much game time, is he?
The mind boggles really. Robbo has played too many games this last two seasons and that is mainly due to the fact that we don't have a left-footed player who can do what he does in that position. Tsimikas can. More options are what Klopp was looking for in that area, particularly with Larouci looking to leave.
I am delighted to have such a high quality player joining our squad and can't wait to see him develop.
4 – Tony Mckenna on the state of the transfer market and the madness of it all:
Is this not seismic? Or am I being alarmist? Transfer market bids have conspired to defy, with prices of £30 million upwards, emulating the old pre-pandemic order. This does not make sense. Sancho even provides an example of a quotable £100 million plus, commodity. This is madness. Yet, markets can stay irrational longer than you can spend on the toilet, worrying about which direction they may eventually take.
That said, is there not a pernicious and repugnant influence we need to banish from the market place for good? Or, tame the beast, to some degree?
I am sure I once read that Valencia were 20th, in terms of Football Club riches. Their distress call does not bode well for those below them. But, then, even the Clubs above are surely at risk of such radical and drastic measures. After all, every Club in the land has lost match day revenue, whilst still paying exorbitant player wages. That income, and outgoing commitment, obviously differs from club to club.
Yet both entities will be higher for the bigger Clubs; and each are also significant integers within the overall equation that seeks to resolve and balance the books. This is a time to forget the `too big to fail` mantra. Will other Clubs follow the Valencia example? Have they, until now, suffered in silence but the Spanish Club have now provided a lead: to muster up the courage; finally waving a flag, that has been kept covertly and fearfully unfurled? Now, this would make sense. Because, until now, nothing else has done.
It seems that we are all living in a football social bubble. Something the pandemic has been adept, at creating. But this time in a different way. Freely discussing the quotations in the transfer market, allowing inflated prices to become commonplace once more, we risk becoming part of the problem. Yes, we utter the odd disapproval, shake our heads, becoming mired in consternation and disgust. Once done, the opprobrium dissipates and it is, quite literally, business as usual once more. Rationale is temporary.
Yet, this is an environment in which the old practices must pass to a new order. A new way of doing things. Too many species and creatures cannot adapt to the sudden and unexpected paradigm shift in the eco-system. Extinctions could still yet be a reality.
At the most militant extreme end of the Liverpool fan base is a rabid mob bringing FSG to task. They are not spending enough money. They must have it. They should splash the cash. Mean bastards. It is as if the proletariat is rebelling against the material owners, for a failure to meet their needs. Which sounds Marxist. Intentionally so, since a play on the theme will help to illustrate an important side point.
Karl Marx once wrote that, "the class that is the ruling material force of society is at the same time the ruling intellectual force". This can hold true in an oppressive way and gives the ruling class good reason to negate ordinary people's access to education; and by the same token, the ballot box. But we can make this a positive in football society. Substitute `the class that is the ruling material force of society` for `FSG are the owners of Liverpool football Club`, then thank god they are the "ruling intellectual force," when it comes to the transfer market. Especially the one that is evolving during the pandemic.
Note that we cannot yet say `post pandemic`. We are in still in it. And never mind match day revenues already lost, and impaired TV earnings, it is pertinent to put a big `X` with regard to the future. Talk of crowds returning to stadiums may have been premature. Even with all the proposed safeguards, the debate is changing daily. New Zealand, the beacon of example throughout the pandemic now finds reason to possibly reassess. They did allow crowds into stadiums again. No new Covid-19 cases were recorded for 100 days, or more; which seemed a magical milestone of hope. Then despair re-registered on the announcement of the emergence of new virus cases. For the record: over 1000 new cases have been identified in the UK, during the last 24 hours alone. How much more revenues Clubs are due to lose, is unknown at this point in time.
Hopefully, FSG detractors are a minority of the Liverpool fan base. Twitter and other social media accounts may be the forums for a minority of empty vessels. Hopefully. Since it puts into perspective the often surmised proposition of Clubs being owned by fans. Good god. Should that come to pass then, hopefully again, that consortium will be more representative of those who inhabit the Tomkins Times parish. Now, I would say that, wouldn't I? But it underlines another point: the rabid, anti FSG, mob deny themselves an education. They would never wish to access worlds beyond paywalls. And maybe this will obstruct their accession to the dominant ruling intellectual force in football.
But there are others already present. And with more skin in the game. The issue of capping player wages has crept into the football debate. It raises its ugly head, then quickly vacates the floor. Or rather, it is not a mantra the powers that be, actually wish to prevail. That is, of course the players themselves and their nefarious, money sucking, football pariahs, otherwise known as agents.
Prior to last Christmas, FIFA actually proposed a cap on agent earnings. This was news. Agents wasted no time in answering. A collective gathering, in London, in January, 2020, saw them mount a cause for their objection. Vehemently so. No surprises there. Without doubt, they would have continued to press their protest, except the incidence of the pandemic disrupted. When people are dying, even the greedy and privileged sense now is not the best time to highlight, and jealously protect the system that feeds their avarice.
Instead, they have moved under the radar, surreptitiously circling. Unseen sharks manoeuvring to keep the Casinos alive. So that the financial feeding frenzy comes with a life-time guarantee. They need to be bigger than FIFA, and football itself. Perhaps they are. But should they thrive it could be at the expense of ordinary football fans who have apportioned much of their own meagre, economic earnings, into the Club they have loved and supported all their lives. Less we forget, many of those people are now consigned to the statistics of the unemployed, as a result of the pandemic. Football fans have had their disposable income considerably reduced. This should matter to the game in general. But it won't. Not until the scalps become bigger.
Valencia finished 9th in their league, this season. Since they had qualified for the Champions League the past 3 consecutive seasons, they had already lost income. This pandemic has exacerbated their loss. You sell all your players, bar one, and then what? Spend that money on lesser talent, only to rescind further as a football power? God knows where all this will end up. Sometimes a problem becomes so big, any solutions are bypassed.
Meanwhile, on Twitter. Some twat is still griping about FSG not spending megabucks on a 29 year old. It's the fucking economy. Stupid!
5 – Paul T on the issue of signing players on mega wages:
I think the work permit will always be the big issue. He sounds like he's similar to Lucas as opposed to some untried kid like Allan, but Lucas had a full season in Brazil's Série A before joining us. He'd also played in a non-official game for Brazil a year before joining us, but only made his official Brazil debut soon after joining us. What he had, however, was a good U20 record. Allan, by contrast, hadn't played any senior football. So maybe there's more of a chance of a permit for Telles Magno, but it still seems a difficult thing to acquire.
I think we can attract players from anywhere in the world right now. The club, plus Klopp, means that if we want someone, we can be serious players. We are the no.1 team in the world, after all.
But there's the issue of wages. Other clubs will always pay more, and we will never offer big wages to anyone who is not already in our first XI. So, VvD arrives on less money per week than you'd expect for a £75m player, but then earns a pay rise. And we specifically cut the wage structure of our younger prospects, in order to not reward them too early. We don't pay any youth players a ton of money, and we pay most of them very little, until they earn it.
Yet other clubs will pay big wages. And these lads from Brazil seem to have all kinds of third parties around them, including family, friends, agents, and unofficial owners. The better they are, the worst it is. They are then attracted to the money in Europe, not the glory or challenge, in part as they have so many people to support, who leech off them. It's notable that Firmino and Alisson both went to Europe as fairly unheralded players.
Almost all of our best players were very unheralded up to the age of around 21 (Firmino and Alisson, plus Mané, Salah, VvD, Robbo), which probably allowed them to grow up and be more humble, and experience some adversity within the sport. We also signed some dedicated players who had a lot of attention at 17/18 (Ox, Gini), but we only signed them when they were proven to be good pros.
I worry now about any player who becomes massively famous as a teen, as the prefrontal cortex doesn't even finish developing until 21, and I think Peter Pan syndrome can be a real thing. It's harder for them to stay humble, grounded and hungry, even though some will do just that; but what we do is about elite teamwork, and sacrifice, and humility, and I don't think superstars of any age will buy into that, not least if they have people telling them they're too good to track back, or that they should be in the team every minute of every game, or that they should be earning more than players X, Y and Z.
Another risk with young players is burnout, as we saw with Michael Owen, Wayne Rooney and others. Too much football before the body is physically developed is as problematic as the issue of mental development.
This lad wouldn't play a lot of games initially, and he sounds like a real talent. But there are a lot of issues to overcome. I think our Brazilian pros would put him on the right track, but as seen with That Greek Lad™, we seem to generally prefer finding players who only start to make waves in their 20s. It may just be a coincidence, but I think you get fewer dickheads if you let players grow up in a more humble manner, rather than being feted when still essentially a child.
And on someone like Mbappe, as discussed elsewhere on the site, it wouldn't matter if Nike could help subsidise a move to LFC, if he was in some way earning much more than everyone else via some kind of wage workaround then I think it would affect the dressing room – and the whole ethos of Klopp is work-rate and unity based on a fair system of reward (which has to be earned first).
Articles published since last Friday, with excerpts:
Friday August 7th:
13 Ways Liverpool Can Get Even Better Next Season, by Paul Tomkins.
Research suggests teams often max-out after about four years together (that's when the progress plateaus). While some players have been at the club longer, you could argue that this side is about 2.5 years old. Roberto Firmino and Joe Gomez predated Klopp by a few months back in 2015, Sadio Mané and Wijnaldum arrived in 2016, but it was Mo Salah, Andy Robertson and Trent Alexander-Arnold arriving and/or emerging in 2017, then van Dijk at the start of 2018, and finally Alisson and Fabinho in the summer of 2018, that put the core in place. There are a few who arrived in 2017 and 2018 who haven't quite found consistency and nailed down a place, but where you can see great potential, particularly in Naby Keita, but also Alex Oxlade-Chamberlain. Then there's Takumi Minamino, who has had a chance, via a few outings here and there, to get to grips with English football in 2020, and who will hopefully become an important player. Average out the years spent at the club and it's probably somewhere between 3-4, but this team only really came together between 2017 and 2018. Since then, it has got better without new additions.
Indeed, the season before 2019/20 saw both Spurs and Manchester City achieve club records (reaching a European Cup final for the first time, and winning three trophies respectively), without signing anyone bar Riyad Mahrez, a squad player.
The next summer – 2019 – they splashed the cash on various players. Spurs spent the best part of £100m on Tanguy Ndombele and Ryan Sessegnon, plus loaned (then bought) Giovani Lo Celso. They had a terrible season. Man City spent £60m on João Cancelo, £63m on Rodri, and also paid to bring back Angeliño, and had their worst season in years (albeit they could still win the Champions League, and be like Liverpool in 2005 and Chelsea in 2013 in doing so when having a clearly below-expectations league campaign – although City now have the luxury of not having bruising Premier League games three days before and after European exploits, which surely would deserve an asterisk). 
Monday August 10th:
Who Are We and What Do We Want? What the TTT Subscriber Survey Told Us, by El Indio.
The TTT community has a great group of people who have been on this site for at least the last five years. This also means that a majority were here when Klopp started his Liverpool journey. And the majority joined in because of Paul's articles on the official LFC website while a good 15% searched TTT through Google. It does seem there is quite some soul searching on the internet to hunt for quality Liverpool articles, and it reflects that many landed from Google to TTT.
Tuesday August 11th:
It's a Strange Love (or How I Need to Learn to Stop Worrying and Love the Game), by Jonathan Naylor.
The other factor making the matches themselves so stressful is the number of too-close-for-comfort games. Only 13 of our 31 games (before the title was secured) saw us 2+ goals up at the 80 minute mark.
In 11 games we had had a one goal lead as we reached 80 minutes. In these games, it was remarkable that we only conceded 1 goal in the remaining 10 minutes plus stoppage time. That was against Palace and we restored our lead 3 minutes later.
In the seven games where we weren't winning before 80 minutes, we gained 10 points through goals in the last 10 minutes (and lost no points as a result of opponents scoring).
Wednesday August 12th:
All You Need To Know About Kostas Tsimikas, by Mizgan Masani.
In terms of crossing accuracy, Tsimikas has been the best in Europe this season, even better than Robertson who himself is a fantastic crosser of the ball. The Greek international has a decent return with regards to making accurate passes in the final third, but none challenges Robertson in this metric. It shows that picking out passes in the final third is something the new signing can work on.