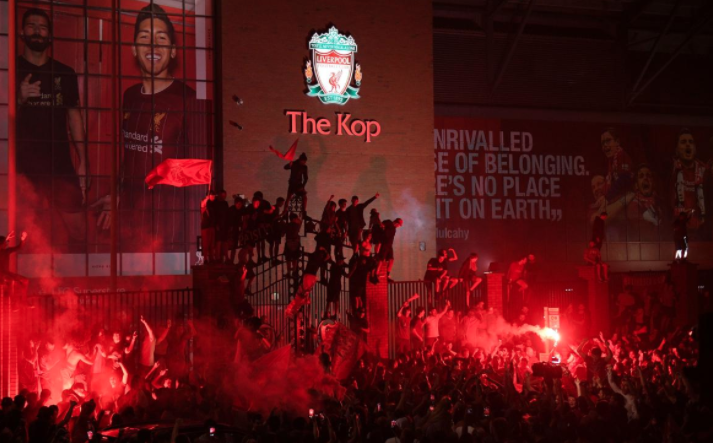 Best posts of the week, as chosen by Chris Rowland and Daniel Rhodes:
Here are some comments we've picked out this week, about football now it's officially back!:
1 – Paul on celebrating at home (like most of us):
Tweeted a few things out tonight, about how weird it is to be crowned champions on a Thursday when it's nearly July, and it's in a heatwave. And to do so when LFC not even playing, and there being no crowds at any of the games. Just totally surreal.
It's so odd being at home alone, but it was the same last season and I regret having too many whiskies to steady my nerves for the CL final. I miss not being with friends, but this year a lot more people will be celebrating at home – albeit sounds like Liverpool is buzzing!
It feels like this was won all those months ago, and in reality it was 99% done before lockdown, but it's such a relief to have it secured, and to break the all-time record for winning it with 7 games to go. Even if we don't now break the 100-point record, we did it earlier than City or any other team ever has. And so good that we made it 99.9% done last night with an awesome display.
Thanks to all of you for keeping TTT alive, and we've witnessed a 24-30 month period I never felt was possible again in my lifetime – matching the very highest highs of the halcyon days, when fighting financial dopers, to win the Champions League, Club World Cup and now the Premier League.
2 – Daniel R on our current status:
Fucking champions of everything currently. The BEST team ever.
3 – Chris on the celebrations:
Seeing some amazing scenes outside Anfield but right across Liverpool.
4 – Beez sharing the love:
We did it, we finally did it.
Unbelievable feeling.
Up the Reds, love to all TTTers x
5 – Marc on how proud we all should be of this team:
I'm celebrating the title together with my 13 year old son, and this is the greatest feeling I can imagine! I'm a Liverpool supporter since 1977 and I was 13 years old then. So I grew up with Liverpool winning the League and the european champions cup, again and again. So it's great that now my son grows up with Liverpool being a winning side again.
After number 6 last year, it's number 19 this year!
My son is proud of this team and his idols are Virgil, Bobby, Sadio, Mo, Trent, Andy, Ali, Milly, Hendo, Ox, Gini, Joe, Fab, Divock, etc…he is a lucky young Liverpool fan, and as a father, I'm proud to be able to share these moments of glory with him!
We are Liverpool, top of the world, and we are where they belong!
Thank you Paul and the whole TTT team! Thank you all for your comments and posts! Thank you for allowing me to share my passion for this exceptional club with you all!
6 – Jon Rushton on how this might get even better:
I didn't expect us to win it tonight. I was strangely numb as the final whistle went on the Chelsea / City match, and – with lockdown – just sat at home unprepared for such a major moment.
Now I've got tears in my eyes, a White Russian next to me and absolutely delighted.
Jurgen has delivered a masterclass in football management – and this team is surely one of the greatest club sides.
But I think the best feeling is seeing that this could easily be just the beginning.
30 bloody years. I was 9 years old. At last !!!!!!!
7 – Mark's tribute:
For 96 lost,
For 30 years past,
We shall be Champions again.
8 – Yogi is in a reflective mood:
What a journey it has been, 30 years is a long time by any metric. 5am in the morning over here in Malaysia and I'm sat all alone trying to absorb the moment. If it wasn't for the Covid situation I'd definitely be out somewhere, wasted with my buddies. But for some funny reason, this quiet atmosphere seems right. To sit and contemplate what this football club means to me; I was 10 when we where crowned champions the last time.
I'm recalling all the highs and lows over the three decades and my god what a ride that's been. Still have people tell me "come on, it's just a game". But what do these people know. I've traveled quite a bit but never had the privilege of visiting Liverpool but everywhere I've been, Liverpool, the football club has always been very close. Thank You Paul and the rest of the TTT family. We are Champions!
9 – Snatch is a bit tipsy:
I do not comment often, but tonight is different, I first saw Liverpool in April 1950, I was seven years of age, I have been with this club all my living memory, today I am as drunk as a skunk, which has not happened for thirty years.
Jurgen Klopp is the most wonderful human being that has entered our lives, ever. Goodnight to you all and please forgive my ramblings, but I am happy, happy, happy.
10 – David O on how he became a Liverpool fan:
I love how Klopp was adamant yesterday that the only reason he'd watch Chelsea-City is because we'll play them both soon, and now he's wearing a Liverpool shirt and his cap backwards, with a big smile on his face, only thing that's missing is Tomkins' (literal) cigar!
The journey he's taken us on has been so emotional and heart-warming and phenomenal. Every time I watch Klopp or hear him speak I feel so proud that he represents us, every Liverpool fan in this whole fucking world. As a foreign kid I wasn't 'born' a Liverpool fan, but I started supported them in 1995, because they signed a player I loved … Stan Collymore! Of all people. If he hadn't become a Liverpool player, maybe I'd be Nottingham Forest fan right now, living in perpetual anguish. It's a nightmare-inducing thought, it really is. Anyway, 25 years. It's been a hell of a ride! Thank you to all the people here who are far more eloquent and intelligent than me, I've really enjoyed reading all your thoughts, and will continue to do so!
11 – Tony on the long wait:
At times it seemed so distant.
I even asked myself if we'd ever win it again in my lifetime?
Then Klopp turned us from doubters to believers.
And now we can really take it in and savour what his team have done this last year.
What our team have done.
Football on another level; what a great time to be alive.
Klopp is one of the great's. Kopites are Kloppites…
12 – Eddie YNWA:
First of all – thanks to all on TTT, has truly been a pleasure to be part of this community during recent times. And appreciate all helping make this an even more memorable season. I was fairly calm all the way through the Chelsea game, and even after. Then I played this, and completely fell apart:
It took me back over 5 decades to when I stood on The Kop at home games during the Shankly years, and the tests and triumphs that have followed over the many years since. Our battle hymn has helped me through the times when I wondered if I would ever experience this day. Today I have. I will never forget it. YNWA.
13 – ACSGP says thank-you:
Wow. It's happened. Danke Jurgen, the players, especially our Captain, the coaching staff, the tea ladies, and FSG.
YNWA
14 – Keith on Klopp and his team:
That man Klopp, he's a bit special isn't he? And he surrounds himself with special people. Good people. Nice people. Winners the lot of them. But humble. Hungry. Humble warriors. Understanding of what wearing our crest means. But not being over-awed by it.
We've just won the League. I was 17 when we last won it. I wont be waiting 30 years for the next one. Not with Klopp leading the way. #19. My gosh. I'm still wiping random tears 5 hours later. Probably will still be tomorrow.
BTW – thank you John Henry. Thank you FSG. You guys get it.
15 – Arjun routine morning suddenly becomes emotional:
Woke up… checked my phone, poured myself a cup of coffee, watched Jürgen…broke into tears.
16 – Cassim on the records we have and could break:
Now that it's done, does anyone have a list of records that we may yet break?
Feel free to add them:
1. Earliest PL win ever (in terms of games)
2. Most points total ever
3. Biggest margin ever
4. Most home wins ever
5. Most away wins ever
6….
17 – Bob on what could happen for the rest of the season:
Just imagining how this, already unstoppable, Liverpool team will perform in their remaining games, when there is no pressure, no tension, no 'must-win'ness weighing on their shoulders, and they are free to play football powered by the pure thrill of being the team that all others look up.
18 – Jennifer's crossword coincidence:
Guess what! Sitting up in bed with a cup of tea -feeling a bit fragile- and doing the cryptic crossword. 23 down. ' Seat covered in paper chains' (5).
It is what is called a 'lurker.' That means the answer is just found by looking at the letters in the sentence. You got it ! PERCH.
Spooky.
19 – Peter's league table:
Oh boy, it feels great to be able to post this 🙂
The first time I created this table, it was a bit intimidating as City looked a long way away (with the max points they could get), but game by game we drew them in moved above the max totals of all teams bar one – until last night (we love you Chelsea – kind of – but thanks at least).
It is true, we are uncatchable!! All that is left now is those records.
So far we have bettered 9 of the 27 previous champion totals, of the 18 remaining we will overtake 13 of them with 2 more wins!
The biggest target left though is City of last year @ 100 points – that is now our target 🙂
107 LIVERPOOL <- POSSIBLE POINTS
106
105
104
103
102
101
100 MAN CITY (2018)
99
98 MAN CITY (2019)
97 LIVERPOOL (2019) <- OUR RECORD POINTS TOTAL
96
95 CHELSEA (2005)
94
93 CHELSEA (2017)
92 MAN UNITED (1994)
91 MAN UNITED (2000) CHELSEA (2006)
90 ARSENAL (2004) MAN UNITED (2009)
89 BLACKBURN (1995) MAN UNITED (2007) MAN CITY (2012) MAN UNITED (2013)
88
87 ARSENAL (2002) MAN UNITED (2008) CHELSEA (2015)
86 CHELSEA (2010) MAN CITY (2014) LIVERPOOL <- CURRENT POINTS AND CHAMPIONS 🙂
85
84 MAN UNITED (1993) Man City <- MAX POINTS
83 MAN UNITED (2003)
82 MAN UNITED (1996)
81 LEICESTER CITY (2016)
80 MAN UNITED (2001) MAN UNITED (2011)
79 MAN UNITED (1999)
78 ARSENAL (1998)
77
76 Leicester
75 MAN UNITED (1997) Chelsea
74
73
72
71
70 Man United, Wolves
69
68
67
66 Spurs
65 Sheff United
64 Arsenal
63 Crystal Palace, Burnley
62 Everton
61
60 Newcastle United
59
58 Southampton
57
56
55
54 Brighton
53
52
51
50
49 Watford
48 West Ham United, Aston Villa, Bournemouth
47
46
45
44
43
42 Norwich City
Articles published since last Friday, with excerpts:
Monday June 22nd:
Post-Match Analysis: Everton 0-0 Liverpool, by Daniel Rhodes.
It feels strange to start with a discussion of half-time and full-time splits when it felt like four quarters with the drinks breaks, but the home side barely did any attacking at all in the opening period. The shot count was five – three to Liverpool, with one shot on target each. According to Understat though, the Reds had four times the amount of xG (0.4 – 0.1). However, the truth is that this was a game of very few good chances for either side. It finished with zero big chances. Three shots on target each, with Klopp's side edging the shot count ten-nine.
Are We There Yet? Are We There Yet? Are We There Yet?, by Paul Tomkins.
Maybe no one can enjoy title races anymore, in the hyped-up age, but this one has got out of hand. Not only have we been waiting 30 years, we've been forced to wait a further three football-empty months.
You feel that everyone is willing you to fail – because on social media, and maybe amongst your friends, it seems that everyone is indeed willing you to fail – and we all want to avoid the crushing disappointment of failure, but also the humiliation that others would have an absolute field day should Liverpool collapse and burn; from record-breaking title win to record-breaking choking. That would be about as unbearable as it gets; like AC Milan being 7-0 up in Istanbul and still losing to Rafa Benítez's Reds.
And one of the hardest things in football is to resume in a position where you feel you have little to gain and lots to lose. I'm never less worried than when Liverpool have a mountain to climb, and never more anxious than when the Reds have a mountain to fall down.
19/20 Premier League Preview | Matchweek 31 | Crystal Palace | Anfield, by Gary Fulcher.
Roy Hodgson's Crystal Palace travel to Liverpool on Wednesday – 8.15pm kick off UK time – and they are the first side to visit Anfield since the Champions League exit to Atletico Madrid in March and the Eagles also happen to be the last side to leave Anfield with all three points in the Premier League.
Palace's 2-1 win at Anfield on 23rd April 2017 is the last time Liverpool lost a Premier League game at Anfield, a run of 46 unbeaten – ten draws 36 wins – with the Reds winning 22 in-a-row at Anfield since the 1-1 draw with Leicester back on 31st January 2019.
With no supporters allowed at Anfield and the Reds out of rhythm following the enforced break, this is Palace's best opportunity to get something from Anfield. Liverpool have recorded five consecutive victories against Palace since the defeat in 2017, including a 2-1 win at Selhurst Park back in November.
Tuesday June 23rd:
Are Klopp's Liverpool The Anti-Dribblers?, by Andrew Beasley.
The more one digs into these new-fangled numbers Statsbomb provide, the more it paints a fascinating picture of Salah's evolution over the last three years. This probably requires a separate article of its own (watch this space!), but the data implies he has become much more of a team player.
Sadio Mané would've disagreed with that notion at Turf Moor, lest we forget. But Salah seems to be less concerned with doing everything himself, by letting others advance the ball, and has been chipping in more with pressing and other defensive actions.
Thursday June 25th:
PERCHED! Liverpool Champions and Back Where They Belong! by Paul Tomkins
Hallelujah! Halle-fucking-luuuuuujah! We're back on that perch!
In the end, it needed a small favour from Chelsea of all clubs, but after 28 wins, two draws and one defeat in 31 games, it's hardly like Liverpool hadn't earned it. Champions in March – instead somehow it's June.
Three decades ago, Liverpool knocked themselves off their own perch. In 1991, as the team aged after the horrors of Hillsborough, the decline began, and the Reds were starting to regularly finish outside the top five when Alex Ferguson claimed he'd knocked Liverpool off their fucking perch in 1993. But Manchester United did become the dominant force, and Liverpool would only hit 80 points roughly once every five years. Now Liverpool, after 97 points last season, are already on 86 with 21 points left to play for. In a weird shift that wasn't even possible in 1990, Liverpool would become champions of Europe twice before regaining the domestic crown.