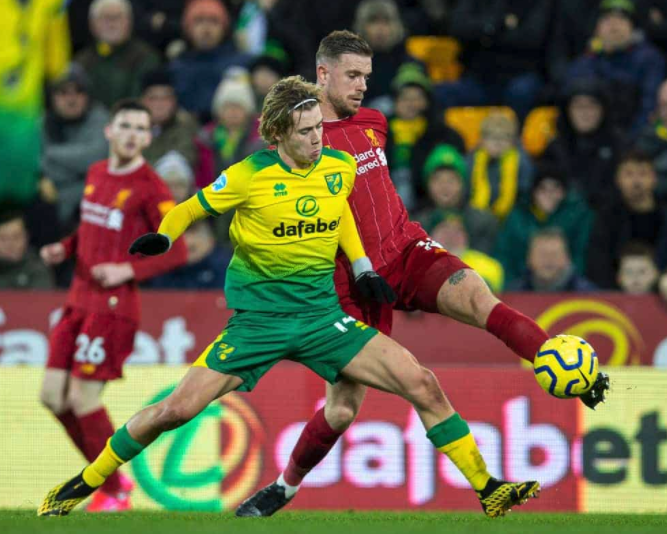 Best posts of the week, as chosen by Chris Rowland and Daniel Rhodes:
Here are some comments we've picked out this week, about football as well as coronavirus!:
1 – Jennifer says it like it is about complaining footballers:
Henry Winter accuses football clubs of putting money above their players' interests. There won't be football clubs if they don't try to come up with some way of continuing. He says that Cantwell's plea of 'We are people too,' should resonate. Well our postman, our bin men, the health and care staff, some of whom have died,  the electrician who came out to fix our oven yesterday, etc etc, are 'people too.' Cantwell and the others are presumably not receiving reduced wages despite some Norwich staff being furloughed? He is in danger of joining the Kyle Walker club of self-pitying privileged pricks.
There has been absolutely no suggestion, as far as I can see, of introducing play without the most stringent measures to protect the players. They will have tests, which those of us who are 'people too' can only dream of, they have been in lockdown in homes which those of us who are 'people too' can only lust after from our own places. Everyone involved is being ultra-cautious about any decision as far as I can see.
If Klopp was considering Cantwell for one moment, I trust this will have ruled him out. And Henry Winter needs to get out more to meet a few more 'people too' himself.
2 – Garythespud with a succinct summary of the likely future situation in society:
The new "normal" will not be the same as the old "normal" and life now will look very different and there will have to be an acceptance of risk across all walks of life. If we don't do this, albeit with safety procedures in place, then no one is going to leave their house for a very long time.
3 – David (a doctor) on the root causes of the UK's (and USA's) pandemic responses:
To all you lay people out there, most other Doctors, and especially Surgeons, pretty much rely on Radiologists and Pathologists to tell them what is going on whereas anyone involved in Acute Medicine (inc Intensivists) can tell the difference between someone who is very sick and someone who is about to "go off" just from looking at them from the other end of the ward.
We all need to be humble, work collaboratively….
In a nutshell, shame the media, twitterati etc don't get this.
The root causes to the current situation in the UK and how it has been dealt with are not down to those in power now, but the economic and social orthodoxy we have followed as a nation for the past 30 years – its why the likes of Germany has done really well and the US are heading for more deaths than WWII. Unfortunately our path has been closer to the US the Germany. We are all as much to blame as Boris and until we realise that we will just continue to flounder in a morass of bickering, criticism and finger-pointing.  Government by opposition and media hostility over the past decades has been under the misguided belief it has been holding the incumbent governments to account when really it has just been backing them into a corner. Holding/gaining power rather than making progress has become the raison d'ete, and expecting politicians to be as infallible as the pope and as virtuous as Jesus is so doomed to failure.
Hope you all stay safe as we dip our toes back into the ocean of normality but just remember we have never been here before, there is no guaranteed recipe for success, the science will always argue against itself and there is going to be much more trial and error and guesswork than any form of certainty.
4 – Daniel picked a team to support in the Bundesliga alongside a blast from the past:
There won't be a new podcast this week, but instead I've got a special treat for you. As you're all probably aware the Bundesliga starts up again this weekend, and because of the complete lack of live sport I'm really looking forward to seeing how it works, if it works but also I want to support a team! Now I'm nearly forty and the last time I can remember picking a new side was New York Mets back in 2001 because they played at the same stadium as Halifax Town and I was in NY at the time. How do we pick a new team though? Here was my reasoning:
Probably should be Dortmund, because of the Klopp link and the fact I've always enjoyed watching them whenever they've been on.
RB Leipzig, again because of the style of football and the fact they seem elite in planning, recruitment, tactics and because my brother works for their New York franchise. But that last word, franchise, means they are ABSOLUTE SCUMBAGS. Hate them. Corporate whores of the lowest order, infecting our league with rule-bending ownership structures and debasing the credibility and historical precedent of German football! BOOOOOOOO. (I'm enjoying this too much…)
In the end though, I decided on Borussia Monchengladbach. And the reason is Rene Maric is their current assistant coach, and those of you with long memories will recall he used to appear on the original TTT podcast alongside Mihail. They are both incredibly good in their analysis, and it really pleases me to see him (and Mihail) do so well since then.
Furthermore, on the WIki page I found this:
Friendship with Liverpool F.C:
On the other hand, the long friendship with Liverpool F.C., which comes from the time both teams regularly met in international games. Fans of Borussia travel to Liverpool at regular intervals to watch local Reds games. Conversely, followers from Liverpool still use a visit to Mönchengladbach to symbolise the mutual fan friendship of both clubs. The fans of Mönchengladbach collected 21,000 DM for the families of the 96 dead in the stadium disaster in Sheffield (1989) and presented it to Liverpool FC in 1991 in Mönchengladbach. For the 110th anniversary of the club on 1 August 2010, Liverpool FC were the opponents in a friendly match. The match in front of 51,515 spectators in the Borussia Park Mönchengladbach was won 1–0.
Finally, here's the treat I mentioned at the top:
TTT Tactics 18: Jurgen Klopp: A Tactical Profile
https://anfieldindex.podbean.com/e/ttt-tactics-18-jurgen-klopp-a-tactical-profile/
Host: Daniel Rhodes
Guests: Mihail Vladimirov and Rene Maric
Topics:
– Formations; preferred defensive and offensive shapes in terms of players positioning/placement on the pitch; notable preferences for positional overloads?
– Backline arrangement – split CBs in terms of stopper/sweeper; insistence for one ball-playing CB?
– Defensive and pressing organisation – 5-6 secs rule of counter-pressing then fall back into a rigid defensive shape? Triggers for next pressing waves? Role of the front six players in the pressing and overall defensive shape? Zonal marking or man-oriented zonal coverage? When is proper man-marking used (if ever)?
– Method of build-up play – roles of Hummels, Sahin and/or Gundogan? Congestion/overload of ball-players into one area (left/right/central) or distributing them in separate zones? Type of midfield fluidity and roles of midfielders and wide men in it?
– Attacking mechanism – certain preferred patterns of play; positional overloads? Roles of each of the front 8 players in it? Width? Consumers?
– Preferred type of players by zone/position?
Concerns:
– more games and no winter break in PL – how it's going to impact on clear preferences to press in each game? Possible tweaks? Possible downfall?
– ability to deal with parked buses – is usual tactical approach enough for this? Are there enough attacking diversity to pull apart defensive teams in terms of midfield runners, enough width and extra off ball players? Is the answer an overload in one area or a Pellegrini-like balanced distribution of players in final 3rd?
– Impose tactics on players or tweak tactics depending on available type of players?
– Overall tactical flexibility – capacity to proactively deal with the tactical challenges a PL season is going to offer?
Then, just for good measure, there was another one after Klopp's first seven games:
https://anfieldindex.podbean.com/e/ttt-tactics-podcast-klopps-first-seven-games/
Daniel Rhodes is joined once again by Mihail Vladimirov and Rene Maric as they discuss Jurgen Klopp's first seven games in charge!
Topics:
The Good
– players used in suitable roles – i.e. no more duplication of roles (AL + PC issue), no more square pegs in rounds holes and more clarity in tactical instructions.
– clear game plan and overall tactical framework – as a result of the above – meaning everything is geared towards making the team more than the sum of its parts
– increasingly efficient attacking patterns of play – based on overloads, but without being one-dimensional in possession and positional play thanks to mixing up the passing and using all channels when attacking (see SFC, Rubin A and Palace games)
– greater defensive organisation – mainly due implementing clarity when out of possession (i.e. high D-line, smart counter-pressing) and playing a holding midfielder to offer greater protection to CBs
– using common sense – rotation, toning down pressing when necessary (after EL games)
The Bad
– still lack of decisive in-game changes made to alter the course of the game tactically (bar the CFC game regarding Benteke) – all 3 games where LFC needed to win but couldn't saw Klopp's changes found lacing (Rubin H, So'ton, Palace). Could've been braver and more creative in using the available resources to increase the team's attacking capability
– inability to deal when being pressed – Spurs and Palace showed that (So'ton tried but LFC's shape deal with it due to mismatch in numbers). This an issue who over time should be resolved with Klopp utilising all tricks available to him (lopsided shapes, congested ball-playing zones, creating mismatch of numbers in pressing areas etc) but is a problem in the moment.
The Rafa
Short chat looking at Rafa Benitez's initial period at Real Madrid.
Enjoy 🙂 And COME ON DE BORUSSENS
5 – Paul, on the topic of predictive models and their usefulness:
Garbage in garbage out as they say. The range of outcomes 5k to 500k deaths is so wide as to be worthless.
I would argue not, Mike.
As from that we knew it was not, therefore, going to be 5 million, for starters. That's a big difference from 5k-500k. Were it something more deadly and just as transmissible, then we'd have needed an even stronger lockdown, much earlier.
At the start of anything like this you can just make estimates. And they'll probably be wrong, but it's better than not making estimates, and having no idea if 5 people will die or 5 million. Imagine if everyone just said "I've no idea" throughout this entire pandemic. We'd be clueless, and probably more scared, especially if people around us started falling ill and dying. It would feel like the end of the world. Equally, if no one around us was getting infected we'd think there was no such virus.
Vague models are almost certainly better than no models. And it's surely best to err on the side of caution? Garbage in, garbage out is true – but in this case I'd argue it was somewhat better than garbage, as we had the data from China and Italy, which was flawed, but at least we knew it wasn't merely the common cold, and that it was not the Black Death either.
Early on, the best advice to any danger surely has to be to retreat to a safe distance and take stock? Almost no emergency benefits from staying where you are and carrying on as normal, although there may be some examples, if there literally is no time to do anything else. It's also better to be overcautious than reckless, as long as you are not overcautious about everything and live in a state of constant paralysis. As with everything in life, you need to strike a balance.
Anyone who loses a career over this can try and start something new (I'm on my second career, after illness killed my first); anyone who loses a life cannot. Both are serious, but one offers a point of no return. Poverty will kill, but in most cases, not immediately; whereas the virus can have people down and dead in days.
6 – Mike B on a similar topic:
People need to get away from the idea that there is somehow a choice between 'data' and 'modelling'.
To explain very briefly – there are several types of model, but two are particularly relevant here. First, statistical models take data, analyse those data, and suggest what we can conclude from them – always with a confidence interval (or similar) around those suggestions/estimates. Politicians and and the general public may choose to ignore those confidence intervals – but the modellers would never do so. And of course, without such a model – without the most rigorous analysis – it's impossible to make sense of the data. You can't just look at the data and draw a conclusion – though there are plenty that know no better that think they can.
And second there are predictive, mathematical (often simulation) models, like the Imperial group's model, that create an enlightened, simplified version of the real world (the real world itself is too complicated to make sense of directly), feed the best available data in, and predict an outcome – what will happen next, what would happen if… etc. These outcomes too have confidence intervals on them – which the modellers fully appreciate.
But the most important point to me is this. You can't draw conclusions from data, either in an analytical or a predictive sense, without a model. I don't mean the science-police should stop you from doing it. I mean that even those people who think they can make sense of data, or predict/suggest what we should do, 'without' using a model (because models are flawed), are using a model. It's just that it's inside their head, nobody else can see and critique it, nobody knows what assumptions it's based on (probably including the person themselves), nobody knows if the analysis is sound (became it's not explicit) etc etc etc.
So the Imperial model may be 'wrong'. But as someone said (I can't remember who) 'all models are wrong, but some models are useful'. And the Imperial model is.
And so the choice isn't between models and no models. It's the choice between explicit models that we can all see, criticise, peer review, discuss and improve. And on the other hand, invisible models inside people's heads that are probably no more than intuition, or may masquerade as 'common sense' (but we all know how vanishingly uncommon that is), or, most likely of all, some expression of their own conformation bias.
So, frankly, journalists on The Spectator should stick to what they know – acting as apologists for the Tories. Which, of course, is what they are doing.
Articles published since last Friday, with excerpts:
Monday May 11th:
Sgt. Pepijn's Jürgen Klopp Club Bond (New Book Excerpt), by Paul Tomkins.
What follows is a section of a chapter from my upcoming Liverpool FC book, which – Covid-19 pending – will be released once the season finishes. Subscribers can preorder an exclusive special two-book edition at the end of the piece.
The genius of Sgt Pepper's Lonely Hearts Club Band – objectively the greatest album of all time (based on any number of polls) – was down to two men: John Lennon and Paul McCartney. Okay, to be more specific it was down to four men: John Lennon, Paul McCartney, George Harrison and Ringo Starr, aka The Beatles (you may have heard of them? – four Scouse lads, mop-tops, etc, but by 1967 sporting some rather wonderful moustaches). 
Okay, five men: John Lennon, Paul McCartney, George Harrison, Ringo Starr and producer extraordinaire, George Martin.
Now I come to think of it … six men: John Lennon, Paul McCartney, George Harrison, Ringo Starr, George Martin and pioneering sound engineer, Geoff Emerick.
A small number of key players, but look further, and it gets bigger. 
Tuesday May 12th:
What Will Be the Impact of Coronavirus on Liverpool's  Strategy?, by Edward Robinson.
Liverpool and other clubs have modelled various scenarios which show a very wide range of financial impacts, and that uncertainty is the reason that clubs are currently holding back. The likely potential impact goes from merely 'horrendously bad' to 'an existential crisis'. The impact of one possible scenario (the least financially damaging) – playing games behind closed doors – is looked at in more detail below.
The deferment of the Anfield Road expansion would have been one of the first and easiest decisions for the club to take. The decision to stay in our 'iconic home' of nearly 130 years, and then develop it progressively, is one of the best the club has ever taken. Contrast that with Spurs 'bet the ranch' on its new, now empty, still unsponsored, stadium that is rumored to have cost £750 – 850 million.
However, I think I can make one, possibly only one, almost certainly correct forecast – it will not be possible to use published financials again for the above type of analysis until March 2023, at the earliest. Most (possibly all) clubs now have their accounting year coincide with the season rather than the calendar year. Most are through to the end of June, Liverpool's accounts run through to the end of May. But this year the season will run beyond those dates, so neither of the next two sets of accounts (Financial Year '20 and Financial Year '21) will represent a 'clean' season, and Financial Year '22 will not be published until March 2023. Only then will the 'new financial normal' become apparent to the general public.
Wednesday May 13th:
The Match That Meant Most To Me – No.7, by Chris Rowland.
The gates were due to open at 6pm, as I recall, but may be mistaken. It was irrelevant. Suddenly the huge crowd surged forwards as one, towards the turnstiles. Had they opened early to ease the congestion? No – the gates had gone. Thousands swept in without paying or being registered, and I was one of them. I have never met anyone yet who actually paid to get into Molineux. Although the official attendance said 48,900, it was impossible to guess how many were actually there. The huge standing-only South Bank was packed more tightly than the Kop usually was, and had a slightly bigger capacity back then. It housed something like 30,000+ that night, I'd guess. In no time it was full to bursting, with over an hour still to kick off.
How Do We Restart? Weighting Our Way Through the Maze, by Graeme Riley.
So how do they decide on the final rankings to allow teams to progress to end of season play offs? The answer is an old friend – RPI – something we looked at a few years ago. Nothing to do with baskets of goods and inflation – this is a weighting method to calculate the "strength of schedule", short for Rating Percentage Index. All wins are not equal – beating Man City in this scenario does not equal the same number of points as beating Norwich.
In the US, this is applied at the end of the season, retrospectively, once all fixtures are completed. This is not a situation we find ourselves in as there are still 92 outstanding matches. So, in order to get a normalised view of this, I've applied the same approach but instead of doing it with the final positions, I've calculated the strength of schedule after each game.
The basic premise is that a team only receives 25% of its performance based on its own results, 50% based on the performance of its opponents and the final 25% based on the performance of the opponent's opponents. Furthermore, only a proportion of the result is given to a home team whereas the away team would receive a higher score.
So, if for example, our schedule is against teams who have done very well, this might be tampered by the fact that they have only played relatively weak teams and mostly at home. Each week the RPI is calculated based on the team's history and the opponent's history – it therefore has an element of form included as well as venue. It's a long established method, going back to 1981 in several sports.
Thursday May 14th:
We like to talk a loan by Kris Patterson and Thomas Arthur:
Here's a question for you to get you thinking – off the top of your head, how many LFC players (since the 1999/2000 season) have gone out on loan and come back to play 50+ games for the first team? 5? 10? 50? I think the answer may surprise you…
Tom and I have history of 'debating' the truisms of Liverpool. Tom's a cynic, through and through; I'm more of an optimist. So our discussions surrounding all things Liverpool, and indeed life, tend to come from relatively opposite sides of the fence. In TTT tradition, we're pretty respectful of each other's views and either come to some sort of agreement or agree to disagree; more of the former than the latter, thankfully.
One such discussion was to do with Liverpool's loan policy. We've been talking about it for years and both have similar views on players at Liverpool – if they're good enough, they get into the first team squad, regardless of age (there are some good examples of this: TAA; Joe Gomez; Gerrard; Owen; Fowler etc etc). Secondly, neither of us could remember a Liverpool player who'd "done a Beckham/Kane" – ie, been sent out on loan and come back to be a successful part of the first team squad. We've collectively racked our brains for some time, bringing the subject up every time there is talk of a player doing well out on loan, and could think of no standouts at our club.
The talk for the last couple of seasons has been about Harry Wilson. His form on loan at Derby last season, the level of some of his preseason showings and his form for Bournemouth this year have all been the trigger for this conversation. And it got us thinking – let's review the stats and see whether they back up our opinion or not.