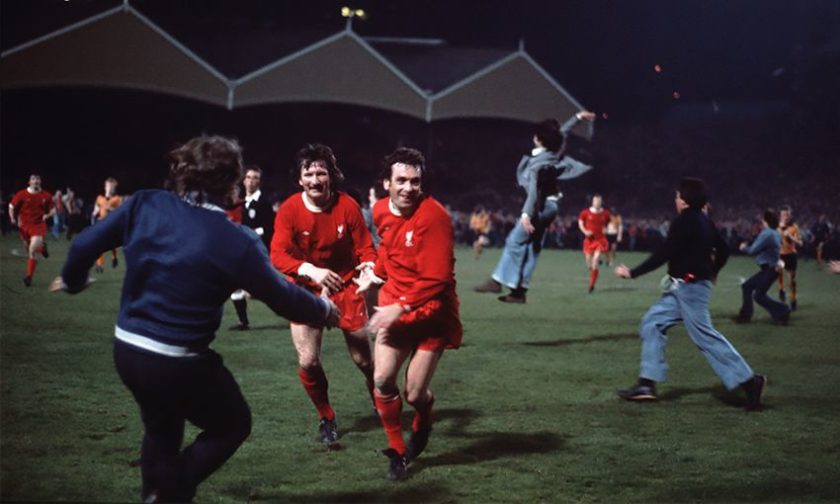 By Chris Rowland.
Wolves 1 Liverpool 3, May 4th 1976.
I was 19, and my left arm was in plaster and a sling. I'd been playing football on a Sunday morning two weeks earlier, trying to cut a cross over from an acute angle on a pitch baked dry. I lost my balance after crossing, and put out my left hand to break the fall as I fell and rolled over on it. I thought it was just sprained, but that night it really hurt. My mum said she'd bandage it, which she did rather roughly, to much wincing from me. In the end she got angry with me and said "Oh do it yourself then". My dad sensed the situation and very gently strapped it up for me. The next day at work it was hurting so much they sent me to the hospital. After an X-ray they said I had a scafoid fracture, and plastered it. When I came home from work my mum was just leaving – she cleaned at a bank for two hours in the evening. She took one look at my plaster, held her hand to her mouth and said 'I'm so sorry, I didn't realise." Never did "told you so" mean more to me, but I didn't say it!
But then I thought forward to that Wolves game coming up a week on on a Tuesday – could I still go? It could be the night we were crowned champions. I decided I must go, and take the risk. I couldn't miss it.
The league table told you all you need to know about how tense the situation was ahead of this game. Our only challengers, QPR, had already finished their season – played 42, 59 points. Liverpool were 41-58, with two points for a win. A win to be champions for the first time since – well three years ago! A low scoring draw would also suffice to give Liverpool the title on goal average, the system in place at the time. Goals scored divided by goals conceded.
The game was just as crucial to our hosts too. A win for them, accompanied by a defeat for Birmingham City in the other game taking place that night, at already-relegated Sheffield United, would save Wolves from relegation on goal average and send Birmingham down instead. To say there was quite a lot resting on that game would be an understatement.
The rest of this article is for Subscribers only.
[ttt-subscribe-article]