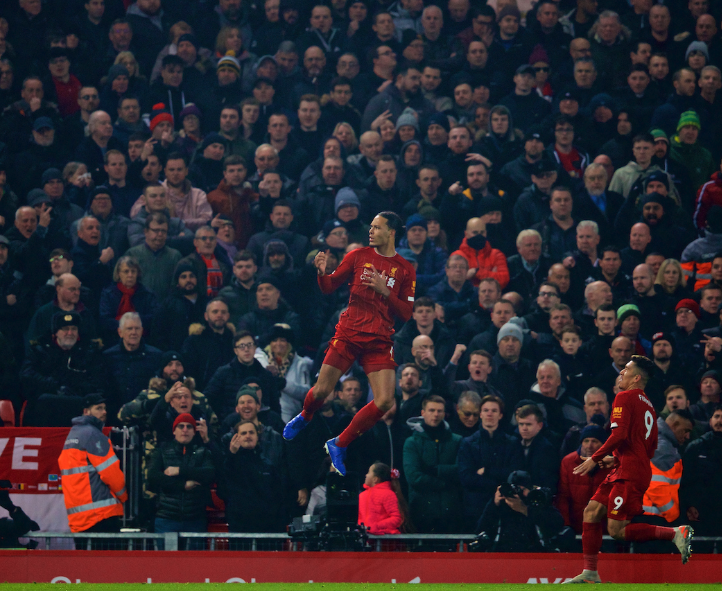 Best posts of the week, as chosen by Chris Rowland and Daniel Rhodes:
1 – Red Mick capturing how most of us are feeling right now:
I'm rapidly running out of words to describe this season. It's such a privilege to be able to be inside Anfield to see it. I don't really care if this is or isn't  the greatest LFC team, I only know what pleasure they give in moments, VVD's peerless reading of the play, the tricks, flicks and intuitive cohesion of the front three, the gradual emergence of Gomez as world class, Hendo and Gini just brilliant and the endeavour of Robbo and sheer class of TAA. Beat that lot and Becker stands like a colossus.
I thought United  could have been wiped out in couple of phases of the game today.At times they seemed bewildered defensively. Maguire  at £70-80 mill looks hopelessly overvalued and about three tiers below Virgil, Joe and Joel. Just an old-fashioned, Terry Butcher style, English stopper. Why United don't give Mata an hour each game to play in the spaces behind the striker I'll never know. He looks their only player capable of finding a way through a defence. More power to their elbow, although I suppose they'll take comfort from keeping the score down and pushing the Reds back in the last 10. Long may it last.
As for Jurgen and co, I'm speechless with admiration.
2 – …and PeterD likewise!:
LWWDDWDWDWWWWWWWWWWWWWWWWWDWWWWWWWWWWWWW
Looks like the W key is stuck on my keyboard!
🙂
3 – Red Mick on the Red Devils:
Inside the wacky world of Manchester United.
1. They inquired about Edinson Cavani. Mr Cavani, 33 next month, demanded a two-and-a-half year deal amounting to £360,000 a week. Mr Cavani has apparently missed 42 games through various injuries in the past two years.
2. Before Wednesday's surrender to Burnley, hundreds of United fans tried to smuggle P45s bearing Ed Woodward's name into the ground. Most were confiscated by stewards.
For overseas readers, a P45 is a government document you get when you leave an employment.
Regarding OGS and his view of Klopp taking four years to get this point. In season one under Klopp, LFC reached a Europa final. Season two the team reached the Champions League. Season three they reached a Champions League final and finished top four again Season four they won the CL and amassed 97 league points. Season five, runaway league leaders and in the CL knockouts.
In season one OGS failed to get top four. In season two they have had their worst start for more than 30 years. He's already well behind schedule when it comes to emulating Klopp.
4 – Paul on Carlo Ancelotti:
Just looking back over Carlo Ancelotti's recent career. There's no doubt he was a great manager, but is he another from the Rafa/Mourinho/Wenger decade of the 2000s that – like so many managers – has a reputation that outshines his current abilities? (Which is why David Moyes, who was quite good 15 years ago, keeps getting jobs.)
It seems that Ancelotti went to Real Madrid and Bayern and, as at Chelsea, inherited a ton of great players but things quickly tailed off after a bright start. With Ronaldo, et al, Ancelotti became the first Real manager to finish outside the top 2 in a decade. At Bayern he was sacked in September. League form has often been a problem.
And at Napoli, the great side that had been built up over years was taken down a few levels by Ancelotti (even though they luckily beat us this season). Napoli have been in free-fall this season, with one league win in 12 games, and it seemed to start with him. He did get through to the knockouts but is he living off past reputation? At PSG he won titles but they were so financially doped by then it was untrue.
Obviously Ancelotti has pedigree and presence, and he's the most decorated manager ever appointed in the PL I believe – and certainly Everton's most decorated – but does he actually have a style? His training seems to be quite lax, so does he just go into clubs, pep up the big stars and then see things drift? Usually a malaise sets in after 4 or 5 years, but with him it's been pretty quick – and quicker still more recently.
Since AC Milan he hasn't stayed anywhere long enough to build anything, and he seems to leave a bit of a mess. He's on his 6th job in 11 years, and in none of them did he add anything that lasted.
I know I would have taken him in 2015 had Klopp not come to us, but it was more because I felt he'd handle the pressure and could get a team to play good football. But actually, he's just had pretty much the best players wherever he's been and it's gone stale very quickly. Compare what Klopp did at Dortmund and there's nothing in Ancelotti's CV that compares, in terms of building up a financially broke club with a ton of young players and cheap buys. I thank my lucky stars we got Klopp and not Carlo! But you'd think he should be able to inspire Everton, and elevate them – but what if he can't really improve players or set up brilliant tactical teams in 2020? So much has changed in the last decade, with Klopp's style far more modern, along with Pep Guardiola's.
I don't really care too much, to be honest, as they won't catch us, but I'm always fascinated by the point managers lose their edge, usually 10-15 years in – unless they reinvent themselves and/or their coaching staff. There's no doubt CA will be remembered as one of the all-time great managers, but is he now, 60, like Fabio Capello and so many others who just quietly fall down the ladder, winning ever fewer games? But hey, at least Evertonians are lucky they don't have Moyes back. Ouch!
5 – Tash looking back at the victory over Wolves:
I already mentioned last night that I was a bit concerned with Salah's decision making in front of goal. I'll always accept a striker being a bit greedy. That comes with the territory and we are not slow to celebrate it when they take the 'wrong' option and bury it in the back of the net, but last night was a little too much for me. It has already led to problems with Mane earlier in the season and I have a niggling feeling that if it continues it could be the only thing that may cause issues in the team at large. I hope Im wrong.
With a few different choices last night the game could have been much simpler. And at this stage of the season I would much prefer simple where possible. Its been one of the cornerstones of our success so far this season. We are no longer going hell for leather and trying to score every time we get the ball. It's about controlled aggression and playing for each other. About making the right choices.
Another concern is Robbo, who I felt could have also taken some easier options. He felt a bit too Gung-Ho last night. A bit carried away at times and as a consequence was caught out more than once. That was particularly concerning with Traore on the pitch. He's an excellent player and a real threat. It wouldn't surprise me at all if Klopp and company are giving some serious thought to bringing him in.
Again, just like with Salah, the desire to break through the lines is a big part of what makes Robbo who he is, but the risks have to be measured because when those attempts fail it means extra pressure and extra running for the rest. A few choices felt unnecessarily risky last night. I hope he gets a rest for the FA Cup. I hope alot of them do.
Finally, lets hope Mane's injury is not too bad and doesn't sideline him for any great length of time. He seems to have slowed up a little (going from absolutely outstanding to just 'great') and so would always be a sore miss.
Again though, as one fades another rises; Firmino seems far more on his game now. The confidence seems to be back and the goals are flowing again at last. It was a deft and clever finish which had the keeper fully expecting him to go the other way. Aside from his link up play its exactly that kind of cold calculated thinking under pressure which marks him out from others.
All in all, a great win. Again.
These are heady days. Enjoy them.
Articles published since last Friday:
Sunday January 19th:
Liverpool Batter Man United To Continue Staking Claim As All-Time Greats, by Paul Tomkins.
Liverpool just seem to be moving – fast! – into the future, as City stagnate and United live in the past. The fact that Solskjær called Liverpool a long-ball team after the game just shows how ill-equipped he is for daily life, let alone managing what were the richest club in the world until he helped dismantle their perch. He sounded almost as deluded as the phone-in callers who haven't watched their game, don't know what's happening at their club and still phone up to get on air. I hope he stays as their manager for as long as possible.
Monday January 20th:
Post-Match Analysis: Liverpool 2 – 0 Manchester United, by Daniel Rhodes.
While the baby-faced Mr Bean-like assassin refused to call Liverpool great before the game, calling our achievements this season "decent", I'm not sure he realises the implications for his own side. If Liverpool are decent, Manchester United are the faecal matter staining pavements all over the world; the substandard lack of footballing quality clear for all to see; the lack of ambition in their tactics illustrative of the limited 'ability' of a Hodgson-esque manager, who defies all logic to still have a job despite only winning one game in three; but as we know, Liverpool aren't decent, they are one of the best ever club sides, breaking records on a game-by-game basis, and it was no different in this match against the Red Devils.
And Now You're Gonna Believe Us – My Day at the Match Parts 1 and 2 – Man Utd (H), Jan.19th 2020, by Chris Rowland and Hemal Shah.
The atmosphere is tingling, and loud. The noise is noticeably swelled by different parts of the ground, the Kop is not alone. At the Anny Road United's fans are predictably noisy and defiant (after my first draft when I messed up 'defiant' my spellcheck suggested 'effeminate'! 🙂 ).
Their repertoire includes "we won it three times, without killing anyone" and, astonishingly for fans who accuse us of living in the past, their old song about Diego Forlan scoring twice to "make the scousers cry" – from a game in December 2002!
"Fergie was right, your fans are shite" roared back the Kop.
As at Spurs, as a few times this season, our superiority is not reflected on the scoreboard, and United come more and more into the game, with Fred and Matic having untypically good games in midfield. "What the fuck's happening when Fred is running the midfield?" snarls somebody to my right.
Then, at last, the moment – Alisson's quarterback kick, Salah's speed and upper body strength, the finish under De Gea, the bedlam – and then the other moment – that song.
Tuesday January 21st:
Post-Match Analysis: Liverpool 2 – 0 Manchester United, by Tommy Chiu and Jonathan Naylor.
In the not so recent past, a United equaliser – after all our missed chances – would have felt inevitable. However, while nerves in the crowd were fraught, there is definitely a lack of fatalism these days. We get to 10 minutes to go and – as per normal when we have a narrow lead – I avoid looking at the clock until the injury time board comes up. I find this makes the time pass slightly more quickly than constantly clock watching.
Then one of the moments of the season, hopefully THE moment we will look back on as when the league title was all but confirmed.
Wednesday January 22nd:
Keeping an "Anfield-Mentality" in a Winning Season, by Amy Gaeta.
On this strange Anfield-calmness, my friend and seat-mate Mari Lewis said that when you're in the stadium, you're overcome by this fantasy that you can change things because you're suddenly part of a massive collective in a shared space. While this may hold true for some, for me, it was the exact opposite. I had no control over the outcome of the match and I didn't care much. The grandeur of Anfield is not in its size or loudness, but in its history that supporters revive and enrich each time the pitch is lit up. From the flags waving on the Kop to the parents bringing their kids for their first match, win or lose, there's something much more important here, a loyal unrelenting love for the game.
19/20 Premier League Preview | Matchweek 24 | Wolves | Molineux Stadium, by Gary Fulcher.
Before the commencement of Matchweek 24, Liverpool needed 30 points from the final 16 games of the season to be mathematically crowned Champions of England for the first time in 30 years. That's only if Manchester City win all 15 of their remaining league games to achieve a points total of 93 and given they've failed to win more than three consecutive league games all season, it's very unlikely they will repeat the form of last season when they won their final 14 Premier League games to pip Liverpool to the title by a single point.