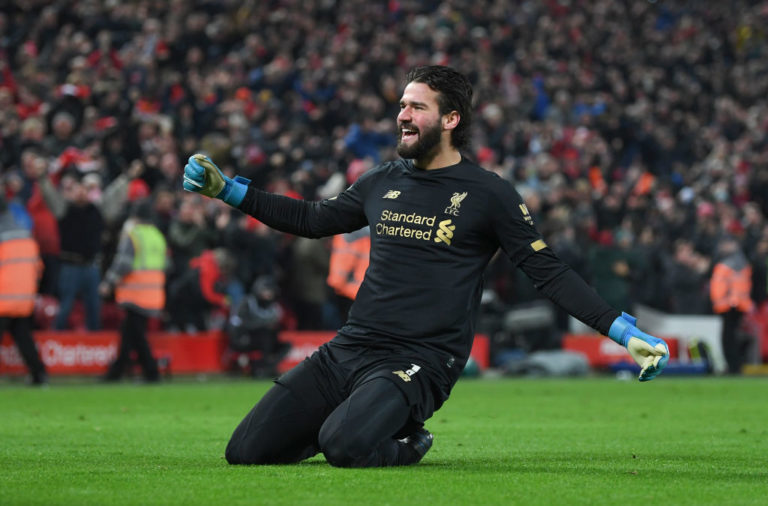 1 – By Chris Rowland.
It's been bubbling below the surface for weeks, a bubbling swirling magma chamber, looking for a weak spot, waiting to burst out. And finally, the day came. On Sunday, Anfield erupted. Following Salah's game-concluding second goal, "we're gonna win the league" rolled around the stadium. For it was the moment of release, the moment when we stopped hiding it inside, finally trusted by the Kop for public release. Of course it helped it being them down the other end. That it was their fans who would hear it first was the clincher. But the explosion of joy and THAT song was surely symbolic. We can stop pretending now. We shall not be moved.
That was probably the defining moment of Sunday's game, with more symbolism –  a spectacular fire red sunset over Anfield – seeming confirmatory that a watershed had been passed.
It was a day that had begun with a spectacular frost on a sunny Pennine winter morning, my 20 minute walk downhill to the station surrounded by icing sugared backlit hillsides. By roadsides, puddles had taken on a thin surface layer of crunch. A most auspicious start, though I couldn't banish the nagging thought that Mancunians shared the same morning!
Speaking of which, all was well until Manchester Victoria, but the departure board confirmed that the Liverpool train I was booked on had been cancelled, along with half of the others on the same board – Edinburgh, Blackburn, Wigan, Preston and Stalybridge all shared the same fate. I – we – were advised to get on the next train bound for Manchester Airport, get off at the first stop – Oxford Road – and get a Liverpool train from there. Off we all duly trooped – an apt analogy, as the crowd at Oxford Road awaiting the Liverpool train resembled wartime evacuation. When it arrived, it was already standing room only. A guard kept asking us to pack further down and closer together to let more on. Our atoms were already beginning to merge. Someone shouted "we're not fucking sardines mate, where do you suggest we move to?"
They announced that in the circumstances we would only be stopping at Eccles, Patricroft, Newton-le-Willows and Lea Green, and that anyone wanting St,Helens or Earlestown should get off at Newton-le-Willows. But there'd be more getting on than off at all those stations. Where were they going to go?
This is what happens when two trains become one. At each stop there was an undue delay as the guard ran up and down the platform with his shoehorn, trying to squeeze everyone on.
Also, stooping down to see it was Eccles we had stopped at, I could see that what had been a beautiful sunny morning had now become so foggy that the outdoors had disappeared. If Anfield was here, the game would be off, with visibility down to barely 50 yards. Fortunately the fog lifted as we got nearer to the fair city.
Cancelled train, overcrowded trains, beautiful sun turned to bleak fog – the day had taken a turn for the worse, and as a football fan you try to suspend the irrational logic-resistant superstition that this may have some bearing on forthcoming events on a football pitch, that it is not an omen but perfectly explicable and unconnected! But to counteract this I do have my lucky match day socks on today … 🙂
When the train finally managed to get into Lime Street, at about 12:15, there was palpable relief at escaping onto the platform and into some air. I and about 70% of the sardines had been standing the whole journey, which felt a great deal longer than the 55 minutes it took.
Some United chanting – no, yelling – echoed around the concourse. Brave, or stupid, I thought. A bit amateur, actually, worthier of the likes of Stoke and Leicester.
By 12:45 I was in our appointed meeting place, the Dispensary in Renshaw Street. There are twelve of us today, and it seems we'd all rather like to hammer this shower – but not too much, nothing embarrassing. 6-0 might cost Olly his job, and we don't mind him staying at the wheel for another generation or two.
We move to another Liverpool beer institution, the Roscoe Head, which once again appears in danger of being sold by developers for student accommodation, which seems to be spreading through the city centre like Japanese knotweed. Tell you what, why not knock down the Three Graces while you're at it, rants Paul, that'd be lots of student flats. He represents the provisional wing of Liverpool conservation, and wants the city's treasures preserved.
We move to some modern, recently opened bar that has no cask beer, so I have a half of mango IPA on keg, which is marginally better than I expected or than it may sound.
The rest of this article is for Subscribers only.
[ttt-subscribe-article]