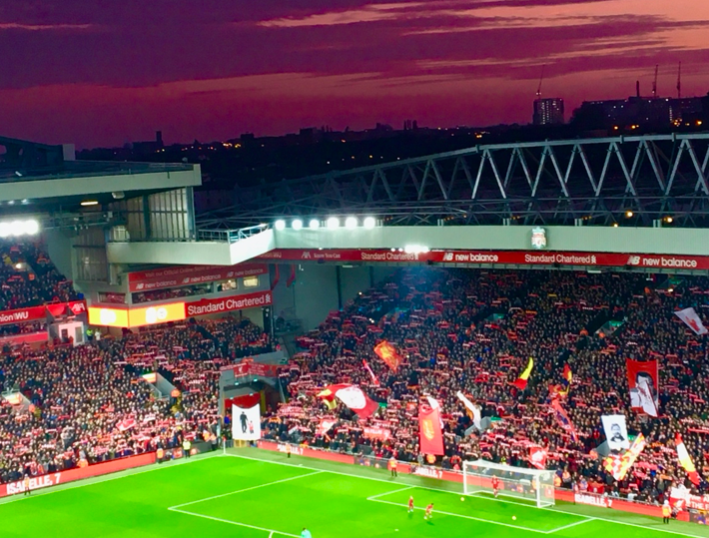 Written by Amy Gaeta.
When football makes the non-sports specific news in a significant way, it's typically to report something negative, such as acts of racism, a failing club, another sacked manager, or criticisms of extreme transfer market prices. Further, football journalists have noted that the rise of e-sports is detracting from the allure of the sport itself. Consuming all this media can be numbing, leading us to ponder over salaries or taking pleasure in the downfall of opposition clubs. The online fan circuits on social media are not much better; social media spaces are toxic at times, filled with fans turning harmless "banter" into personal attacks on players, clubs, and other fans. It is exhausting, and yet we all push through it. Football and its fans are not losing passion for the sport itself, this I must believe. So, on my most recent trip to Liverpool, and my first trip to Anfield, I wanted to remember one thing: football is fun. It may seem trivial to make this claim, or even write off this article as fluff, but honestly, the older I get and the more the world turns, the more I realise how cynicism can take over and prevent us from seeing and feeling fun as it happens.
I travelled to Liverpool on the night of the Boxing Day win at Leicester City win, streaming the match on my phone in the airport had me jumping up and down in the terminal, frantically texting friends in near-amazement. Damn, are we not all lucky to be alive to see this Liverpool side play? This is fun, and that is easy to recognise. While I'm not of the mindset that football must be all fun all the time, many things threaten to make us forget this.
The rest of this article is for Subscribers only.
[ttt-subscribe-article]