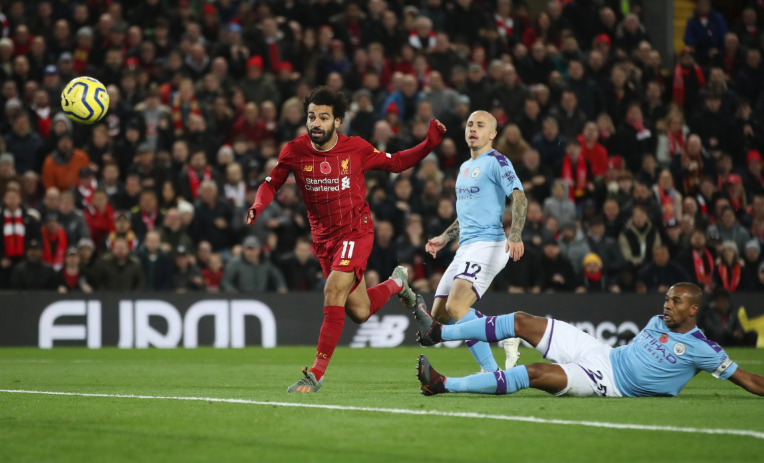 Best posts of the week, selected by Chris Rowland and Daniel Rhodes:
1 – Stevenson1988 and the perennial topic of VAR, Nov.11th:
All the debates that I have heard since the match, plus Keith Hackett's article in this morning's paper; all saying it was a penalty. The reason for that being that apparently the Silva handball/punch was irrelevant. That may indeed be the official stance, but they must have really shit themselves after that incident because it encapsulated all the potential issues surrounding VAR and, more importantly, its implementation. It was always going to happen at some point that there would be a VAR reviewable decision just before a goal, it just happened to be during the biggest game of the season so far. The official explanation that TAA had no reaction time and his arm was in a natural position just smacks to me of not wishing to risk overruling the best ref that we have.
What has just not been addressed at all satisfactorily is the handball by Silva – saying it was irrelevant is not acceptable. Had the ball gone straight from his arm to Aguero or Sterling, and they had scored, it would have been disallowed because of the use of the arm. It beggars belief therefore that they could possibly say that the use of the arm IS acceptable in creating a penalty – from which you would expect to score. That defies all logic and common sense – although I realise that both those attributes are sadly missing where the PGMOL are concerned. However, rather than debate that issue, all the pundits – including Peter Crouch on MOTD2! – just seemed to accept it should have been a penalty. What an absolute bloody farce. There were always going to be some teething problems with the introduction of VAR, but more clarity, serious debate and definitive rulings would make life an awful lot easier for all concerned. I would not have expected us to get a penalty in similar circumstances, but the sheer opaqueness of the VAR set up has helped to foster City's sense of injustice (for which, I'm afraid, I am highly delighted!).
2 – Yathaid making a great observation on Liverpool's superb second goal on Sunday, Nov. 12th:
Bernardo Silva is an awesome player. Quick and clever with the ball at his feet, has an amazing shot and can quickly turn a harmless situation into a goal. But his best quality according to Pep is his relentless hard work, his ability to press at the exact right moment and win the ball back time and time again for City.
Now why am I praising Silva so much? If you look at our second goal, as Trent transfers the ball to his left foot, Silva starts sprinting into our backline. That is the trigger for his press and he is ready for it. But the ball of course zips over his head and straight into Robbo's path.
One of the most intelligent and hard working players in the world, one who is loved by one of the most innovative managers in the world for those same aspects, just could not imagine the pass TAA was going to make. With his fucking left foot. Let that sink in.
3 – Paul Tomkins on the Sterling/Gomez England bust up, Nov. 13th:
The Guardian:
Southgate's handling of the situation has been criticised by the former England defender Rio Ferdinand, who posted on Facebook before news of Gomez's scratch emerged: "I feel this incident could have been handled better. Keep it behind closed doors & deal with it internally surely?!

"Now Raheem is left to defend himself from all of the haters that had had their keyboards turned off due to him becoming a very worthy ambassador for the English game, and rightly so.
Yeah, so ambassadors have all their misbehaviours swept under the carpet, Rio?!
That's not how it works. Ambassadors don't act like arseholes; they're supposed to behave themselves. Which isn't to say that Gomez definitely wasn't bating him, but I imagine it was par for course.
Sterling has done a lot of good work, but if you hold yourself up as an ambassador – as he did over some issues – then you automatically set a higher standard to live up to. Sterling has had some terrible treatment from the tabloids, but seeing as the England camp decided he was in the wrong here, he fucked up. And that becomes news. If he wants to keep those haters quiet then the best course of action is to avoid things like starting fights with teammates!
4 – Beez with a look at what Liverpool need, points-wise, to get to 98 points:
I worked it out before that City can only get 103 points. So if they drop 6 more the best they can do is equal our haul of 97 points from last season.
Exactly, or to put it another way: They need to W24 D1 L1 to get to 98.
It's automatic to assume that they might be able to do it because they're so good. And they might, who knows?
But what we can say is this: City have had 101 runs of 26 league games under Pep, and only one of them has seen them take at least 73 points (they went W24 D2 L0 between Game 35 in 2016/17 and Game 22 of the following season).
Whats perhaps more likely is they take something like their average from their previous 38 league games – doing so would see them finish on 87. That would mean they win another 62 points; what's their Pep average for 26 league matches? 63. Even if you start from the first 26 games of 2017/18, to give him a season to bed in, the average is 'only' 66.
This is all ifs, buts and maybes of course. But without even looking at the fact they've only played one of the current top seven in the league so far, for them to get to 98 again would be remarkable. And I'm not convinced they have it in them this season, particularly with their current injuries.
5 – David reacting to the news that Man City are likely to be fined by UEFA for corruption, rather than banned:
City are doing what they can get away with. They are doing what elite business groups do…
Calculate the cost of getting caught, figure out how to minimize that risk and also the ways to slow down and defer the costs of being caught, threaten legal action and retain the most cunning lawyers… and then do a lot schmoozing behind the scenes to find the most malleable governance and enforcement officials in charge of the regulations impacting you, so you can manage the investigation/punishment system from within
All corrupt practice in the eyes of many I would think… you might think that… I couldn't possibly comment
6 – Jeff with a series of posts about defensive midfielders across Europe:
Daniel the days of Joshua Kimmich being a defensive midfielder are long long gone and today he is a full back and has been as I just wrote a full back for sometime. I find it amusing that Rodri is considered the most expensive or highest rated defensive midfielder and he was dumped by Simeone who from his playing days to the present knows something about defensive midfielders. He was not nearly the player Thomas or Saul was and this led Simeone selling him for a massive profit. The list you posted missed any number of the quality deep lying midfielders who are more defensive minded than offensive minded and this list included any number of lads who are more offensive minded than defensive minded. Simply put, this list is pure nonsense which is par for the course in the world of writing about football. I might add that any list of the best defensive minded midfielders in the world that does not include Thomas Delaney and one of my personal favorites Illaramendi is truly one compiled by people who do not watch football. TTT is as a rule the only place I go to for football and the list Daniel found confirms that I have made the right decision to avoid going anywhere for football matters. The only exception I made to this rule is I read stuff in Spanish, French, German, and Italian too keep up my language skills.
…
I am certain that everyone here remembers Javier Mascherano who was an outstanding player for Liverpool and Barcelona and Argentina. Some here may remember Christoph Kramer who was a starting midfielder for Germany when they last won the World Cup. What did both of these lads have in common. Simply, they were destroyers on the pitch whose sole job was to break up attacks before the reached the back line. Masch is in his mid 30s and no longer a top player but Kramer is in his late 30s and no longer even in the consideration for the German national team. I acknowledge he suffered a bad injury but he was out of the German national team long before his injury.
What happened. Football is an evolving sport and the days of having a purely defensive minded holding midfielder/destroyer is no longer how things are done. Today, your deepest lying midfielder or midfielders are expected to both be defensive minded lads and have the ability to add to the attack. Therefore, when teams look for the deep lying midfielder or midfielders they are looking for a balance. From the list Daniel put forward in today's world the balance is geared to a lad who is decent defensively but has real talent as a player maker or going forward. Now, I think in many ways Jorginho is a fine player but to say he is a defensive minded player is my opinion is pushing it and pushing it beyond breaking. He does not possess the pace and quickness to play further up the pitch – Lucas Leiva – but he does have real technical ability and is a fine play maker. He is not a bad defender but to say he excels at being a defensive minded player is pushing it past the breaking point. My point is the vast majority of players who today are considered defensive midfielders are rarely players whose forte is defensive and this means to me it is a stretch to call them defensive midfielders.
To me the way I would phrase this discussions is around the concept name midfielders who have outstanding skills as defenders and the quality to contribute in attacks. If you watch Liverpool regularly and I know everyone here does, I think Liverpool are blessed to have two of the top midfielders in the game who actually know how to defend and attack – Fabinho and Wijnaldum – and Henderson has real ability as a defender and James Milner is no slough. Finally and I would argue somewhat surprisingly I have long thought that Naby Keita is best in a deeper position because coming from a deeper position he is unplayable and he showed with Leipzig that he has real quality as a defender.
My point is that if you look at Liverpool Klopp and Liverpool have made it a point to bring in midfielders who have the ability to defend and defend at a high level. In the modern game this is rarely done and what stands out about all the names I have mentioned is that they can do so many other things of the pitch at a high level.
Now whether we acknowledge them or not we all have prejudices and I have thought even since I got a chance to see a great hockey player named Bobby Orr that the most under valued quality in an athlete was an athlete's ability to see what was going on before other players saw what was going on. I have written that those of us who were lucky enough to see King Kenny player for Liverpool would tell you that he saw things of the pitch and you would see how on earth did he see that.
To me what makes Fabinho such a special player is that he sees the game at an exceptional level and his first instance is to sort out trouble before their is trouble. He does this better than any midfielder I have seen this season and this ability makes Liverpool a darn hard to impossible team to beat.
…
First, Liverpool employ Fabinho is a 4-3-3 and other clubs often go with say a 4-2-3-1 system or a 4-1-4-1 system and I could keep on going but I think I have made my point that what a defensive minded midfielder is asked to do often depends on how a team is set up. then of course Liverpool employ TAA and Robertson to supply width and when they do Fabinho often drops back into a back line sometimes in the middle of a 3 man back line and sometimes on the right. The second problem that I encountered was a few years ago players such as Joshua Kimmich and Julian Weigl were widely predicted to be the German's defensive midfielders for a decade. Today, Kimmich has become a full back and Weigl is trying to sort out a spot in Dortmund's midfield and his days of being a defensive midfielder for this club are gone. Why? Kimmich and Weigl in the opinion of their team and nation's coaches are simply not physical enough to be defensive minded midfielder. More particularly, Kimmich is too small and Wiegl not strong enough. Third, I can think of any number of players who came into football as defensive minded midfielder – Naby Keita or Mahmoud Dahoud – and suddenly were forced to become something else and in the case of Keita successfully and in the case of Dahoud not so much.
So how do you compare apples to oranges and come up with a sensible evaluation of players. I kept running through my mind what makes Fabinho different from other defensive minded midfielders in Europe. I can find some who have the ability to fall into the back line and stop crosses and free kicks and corners – Delaney – and this is something that Fabinho excels at but these lads cannot move into the central midfield or become box to box midfielders. I can find plenty that can transform themselves from defensive midfielders into box to box or central midfielders – Denis Zakaria – and this again is something that Fabinhos excels at but these lads cannot drop into the back line. Now, you can say that Kimmich can cover as a fullback as Fabinho does but he no longer is a defensive minded midfielder. Finally, I have seen Fabinho play as a central midfielder and advance into an attacking midfielder role at times and this is essentially what Leon Goretzka can do at a high level but Goretzka would look lost as a full back or a center back.
After spending far too many words to make the point that the skill set of Fabinho is very unusual and his versatility make him a unique player. To my mind it makes it hard to rate him as anything because as with Roberto Firmino he is just a footballer who does what needs to be done on the pitch. I never got around to making a list of top defensive minded midfielders in Europe because I spent all my time thinking about how darn unique Fabinho is.
When I was thinking of defensive minded midfielders, I kept coming back to the fact that Wijnaldum is an outstanding defensive minded midfielder who also can do many other thinks in the middle of the pitch and the same can be said about Jordan Henderson. In addition, I realized that father time is the enemy of James Milner. Therefore, if Liverpool are looking for a lad who could give Liverpool a quality player who can cover everywhere in the midfield and who might be available at a sane Suat Serdar who plays for Schalke and if reports are true that Dortmund want to dump Dahoud I would give him a long hard look. I think that Dortmund were short lighted and ill advised on how they treated Dahoud but I know Liverpool are far more intelligent that modern Dortmund.
Articles published since last Friday:
Sunday November 10th:
Liverpool Officially The Best Team in the World, by Paul Tomkins.
But despite some nerves, Liverpool finally relaxed at 3-0 to play some great football, before a City goal made Anfield a bit tense for the final 10-15 minutes. The Reds had spells of possession, and were generally excellent defensively, for all City's huff and puff. Highlights were Fernandinho discovering that he's not actually the referee, and John Stones, as part of some technical build-up from the back, lashing a pass into a carpark on the Walton Breck Road.
Monday November 11th:
Post-Match Analysis: Liverpool 3 – 1 Man City, by Daniel Rhodes.
The 18 shots attempted by Pep's team is the most we've conceded since the start of Klopp's first full season; in fact, the previous highest was 14, against Southampton away (earlier this season), and Newcastle away (end of last season). Crucially though, the quality chances in this match were even, with Opta deciding that both sides had two each (all headers). The Reds converted both of theirs, and Man City missed both of theirs.
My Day at the Match – Man City (H), November 10th 2019, by Chris Rowland.
I stand the 35 minutes of the journey, which is punctuated by plenty of coughing from me and one little outburst of 'oh Liverpool is full of shit' from some City fans further along the carriage. A lone voice says 'it will be today lad.' If there is a stand off further down, the crowd is too packed for me to see. It all seemed to simmer down. We get into Lime Street at 12.15, time for a leisurely stroll to our designated meeting place, the Lion at Moorfields, run by a red. By 1pm all are assembled, 13 of us today. Over a few pints of the excellent White Rat, we discuss the game. Only one of us would take a draw, the rest want an outright win and for the Reds to make a point, a statement. No conciliation, no appeasement, we're on the front foot and we want the team to be too.
Tuesday November 12th:
Want to Know the Secret of Liverpool's Set Piece Success? Ask Max Zorin, by Andrew Beasley.
Corners: 22 goals from 16.9 xG
This is where Liverpool have really been on fire. Three of the Premier League's other 15 ever-present teams from the start of 2017/18 onward have scored no more than 22 set piece goals in total, never mind from corners alone, and there's another three teams on 23. Plus as the above table will attest, the Reds didn't even take their highest value chance from a corner either.
Today's Liverpool FC – Doing Things Differently to Everybody Else, by TTT Subscriber Thundyr:
"So" 😀  with this focus on individual brilliance and needing to tolerate the dickheads, the team with no dickheads and a single vision of being the best XI rather than the best two or three pianists carried by the rest can truly become much greater than the sum of its parts. We cannot say it was all down to VvD or to Salah – this evolution predates them. We also cannot say that we are where we are "despite" players like Henderson and Lovren – look at how our intensity dropped and how Sterling improved on Sunday after Hendo had to be spared from overexerting himself while sick. Our fulcrum is a midfielder who plays as a forward, and his performance in that role puts his stats as a midfielder way, way, way off the charts. He couldn't do that without two wide players who play more like strikers with a license to roam. He and they couldn't do that outside a team that has the balls to play with two wing-backs who have an average position on the halfway line in this age when people want either a flat back 4, at most one "adventurous" full-back who will overlap to the byline from time-to-time, or at the very least three centre-backs to ensure some freedom for the FBs.
Wednesday November 13th:
Fabinho: The Finesse-Filled Forceful Fulcrum, by Daniel Rhodes.
What is it that Fabinho does though? What's his value in the transfer market and how does he compare to his supposed peers? My perception has mostly focused in on his go-go-gadget legs that seem to pluck the ball from the most obscure and unlikely places. But do we underestimate his attacking qualities? Of course the thunderbastard versus Man City is fresh in the memory. It was one of the cleanest strikes of a ball you are ever likely to see, and a perfect time to score from outside the box for the first time after 65 previous efforts. With that in mind, one thing that struck me about the video clips below is the switching of play that he does, with a diagonal pinged out to Alexander-Arnold or Salah on the right, and Robertson or Mane on the left. It is crucial for the deepest midfielder to be able to do this – and alongside his throughballs add that finesse element to his overall game that is often ignored.