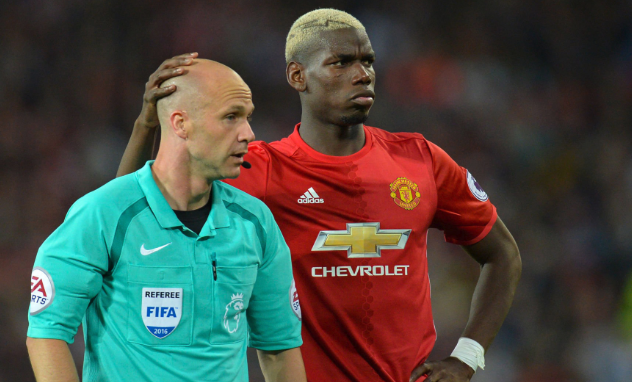 Best posts of the week, selected by Chris Rowland and Daniel Rhodes:
1 – Dave aka Vicdad on the problems of officiating in football, Sept. 30th:
I've been watching some of the rugby world cup over the last few days. All the utter shite referees in the Prem should be made to watch how real, impartial officials run a game. I've thought for some years that the idea of the ref having a microphone which is used to transmit to the crowd the reasons behind his decisions is a superb idea. The other day I watched one of the refs and his linesmen review a touchdown decision on the video monitors. They were discussing the incident on an open mic so there was no doubt about their reasoning. After reviewing the ref said "The try stands, well done".
How different to football where the shitbag officials carefully cover their mouths to prevent scrutiny of how they reached their decision and that's if they even bother to consult video evidence. I won't hold my breath hoping football will take up this great idea.
2 – Stevenson1988 on problems with how VAR is being used, or not used, Sept 30th:
Once again it seems that VAR has not produced the desired effect and this totally baffles me. It seems that the authorities are perfectly happy for the referee to be overruled when a goal is scored but there was either an offside or a handball in the build up. In both those instances the referee at the time made the wrong call and it was corrected. However, for some inexplicable reason, when the referee clearly makes the wrong call in relation to an obvious penalty, VAR does not overrule him – why on earth not?! Surely the litmus test must be that if a referee watching the game live, without knowing what decision was given, would have given a penalty on the evidence provided by the cameras; then a penalty should be given – and clearly the same should happen in reverse when some cheating bastard (Napoli anyone?) has clearly dived to "win" a penalty. As with offside and handball, surely it is a matter of fact based on the TV pictures, yet why are penalty shouts treated differently? The other point that the idiots in charge have to grasp once and for all is that every time the payers are caught bang to rights – and punished with either a penalty or a card for diving – it makes the life of the referee easier next time around. If they know they will get caught by the all seeing eye of VAR, they are less likely to cheat. Less cheats makes life easier for the referee – QED! At the moment they take their chances because it is abundantly clear that they are still getting away with it. It is all just so typical of football authorities that they implement things in such a half arsed, grudgingly pathetic, way that they render the whole system worthless. Ok, rant over – and by the way, an excellent win in very tough circumstances!
3 – Mike H on Spurs after their 7-2 defeat to Bayern, Oct.2nd:
I suspect Spurs ownership wants to sell up. A couple of weeks ago they renegotiated their debt. Circa £600m , 23 year pay back, average coupon 2.9%. So their interest bill will be about £17m a year plus the repayment schedule. They've polished the turd as much as they can, they can either start investing or sell up.
Spurs peaked probably 2 years ago? Peak Lloris, Walker, Vertongen, Aldewereld, Rose, Dembele, Kane, Son, Eriksen, Alli. Those players are all gone, ageing or not what they were. The CL run was a red herring, their underlying performance had been poor for a while before it manifested itself in results.
The rebuild is huge as firstly Levy has totally misread the market and priced players out of sales so their kitty is bare. In addition the transfers since that golden period that saw the emergence of so many of the names above has been really quite dismal. Secondly the wage gap is suddenly an issue. The players have woken up to how underpaid they are relative to peers. This is circa a £100m gap.
This is Poch's first proper team. As Klopp has discovered before, pressing like demons is a young mans game. Are Spurs players just too old, too tired, heard it all before to be as effective( something we will have to guard against but then we already press very differently to a 18 months ago)?
I only saw the goals and thought Bayern wouldn't repeat that level of accuracy in shooting ever again but it won't stop a meltdown. Zidane's results have picked up generally. Woodward is such a muppet that I think he'll keep OGS there for another year. Even he knows that it reflects badly on him if he sacks him so quickly plus the "rebuild project" has only just started 🙂
All in all, Poch best chance of a move is to have another good season. Allegri is still out there. Mourinho is still out there. He's not a shoo in. Spurs have a lot of work to do. They have done incredibly well over the last 10 years but as Arsenal are showing the stadium is not the end of the journey. Spurs still have a long way to go.
4 – RoboKlopp on the next few weeks and how crucial they are to the season overall:
This next two months is absolutely huge. I know it sounds like stating the obvious (I don't think there will be an "easy" period if you're fighting for PL's and CL's), but just look at October & November:
Sat 5th October – LFC vs Leicester
Sun 20th – Man Utd vs LFC
Wed 23rd – Genk vs LFC
Sun 27th – LFC vs Spurs
Weds 30th – LFC vs Arsenal (League Cup)
Sat 2nd November – Aston Villa vs LFC
Tues 5th – LFC vs Genk
Sun 10th – LFC vs City
Sat 23rd – Crystal Palace vs LFC
Weds 27th – LFC vs Napoli
Sat 30th – LFC vs Brighton
This is arguably a really good time to play Utd and Spurs, who look out of sorts… but a bad time to play Leicester who look fantastic.
Could it be a good time to play City? No CB's, but with KDB, Aguero and Sterling on fire. This game could well be the season decider, especially if we're still at 100% by the time it arrives (which is far from a given). Last year, the H2H between us gave City the title. It could well be the same this year. We have to capitalise on their injury crisis, or we're back to hoping they drop unlikely points somewhere else (not trying to be negative, just accepting the reality of how mega this particular match is).
Win against Genk x2 and beat Napoli, and we're probably home and dry in the CL.
EDIT: It's worth pointing out that there is virtually ZERO rest in this next two months either. There are two international breaks, but these generally mean our players are playing 1-2 games in that period anyway, often as captains of their countries too. The Arsenal EFL game is probably the only opportunity to rest first-teamers in the next 8 weeks.
5 – Ding analyses the potential reasons for some of the goals we are conceding:
Re our recent defensive porousness, it seems to me that the gap between attack and defence is too big and there's too much ground for our players (especially the midfielders) to cover, which leaves a lot of room for adventurous teams to exploit.
I'm not sure the reason behind this though: my first thought is that it could be the absence of Alisson, who plays really high, has a solid understanding with the defenders and is able to pass long very well, all of which Adrian may be slightly lacking. As a result, it usually seems that there is more space than there should be in the midfield.
The second possibility is that our midfielders haven't gotten the balance between attack and defence right yet. One of Klopp's comments last night was quite interesting: he said that, at 3-0 up, the players weren't sure whether to stick or twist, with the result that half wanted to attack and the other half wanted to play conservatively. In the context of the whole team that would make for an unedifying spectacle: players charging up the pitch but with support lagging way behind, the result being gaps for the opposition to exploit when the ball is lost.
I wonder whether this might have been the case in some of our games against opposition teams that attacked us.
That said, I don't think either are very good reasons – for example, I think Adrian is playing well and he seems to play fairly high as well, though perhaps the kicking element isn't there; similarly, this is the same midfield that carried us to the UCL final and 97 points last season, so it's difficult to say with conviction that they lack understanding or that there has been a sea change in their roles.
It'll be interesting to hear what others think.
6 – David on the performance of Gomez vs Salzburg:
I thought it was both a good and bad performance from Gomez and Stephenson is right to draw attention to the perils of JK's conservative rotation policy leaving some players undercooked when they come in from the cold. There were loads of things JG did well and what's more things that only he can do with his recoveries and interceptions. But his passing was off with inside balls into danger and long passes that betrayed a lack of match practice – the high and hopeful efforts of a player is trying to make an impression, but hasn't round his range.
It seemed to me he was trying to do something impressive when he missed that interception before their second goal and was caught stranded out of position near the half way line. I don't think he needed to be there.
I also agree he didn't for the 3rd goal, but then again he was one of many who switched off. Their player out on the sideline foxed everyone with his reverse pass into Minamino. Fab didn't react thinking VVD would have it covered and VVD didn't put in a tackle thinking Adrian and JG had it covered. Minamino himself reacted really late to the chance.
Having said all that, I don't think there's much to worry about with regard to JG or JK's rotation policy other than to set one's expectations to being ready for the odd bump here and there as players negotiate re-entry into the intensity of the theatre. There's a flip side to everything and if he rotated like Rafa then we wouldn't necessarily have better results. (In fact, we couldn't really have much better results.) It's just normal for human players to make mistakes. What's abnormal is perfection. I think we've gotten a bit unrealistic as a result of the ridiculous form of VVD over the last year or so.
Articles published since last Friday:
Sunday September 29th:
Post-Match Analysis: Sheffield United 0 Liverpool 1, by Daniel Rhodes.
Rub your eyes, check your optician's prescription, put your contact lenses in – whatever helps to cope with the next few words: Sixteen Premier League matches since March, SIXTEEN WINS! Only Man City's eighteen game winning streak is ahead of it now. Throw in the more important stat: Liverpool top the division with seven wins out of seven. Five points clear of their only rival.
Monday Sept. 30th:
My Day at the Match – Sheffield United (A), September 28th 2019, by Chris Rowland.
Our crowd seem a bit subdued, in stark contract to the over-excited home contingent, for whom this is a very big occasion. In one of the funniest chants I've ever heard from opposition fans, they sing "You'll never sing that. You'll never sing that. League One champions, you'll never sing that". We all applaud, and reply with a burst of "we are the champions, champions of Europe".
As Liverpool struggle to impose themselves on the game, they sing "Champions of Europe, you're having a laugh".
"No, we actually are, it's not a claim, it's a fact" shouts a  scathing scouser behind me.
At half-time we ponder how different things would look if Mane had taken his two great chances. It would have been "they've been shite but they're 2-0 up".
Tuesday October 1st:
19/20 Champions League Preview | Matchday Two | Red Bull Salzburg | Anfield, by Gary Fulcher.
You have to go back to the end of April 2019 to find the last time FC Salzburg failed to score less than two goals in a competitive fixture and they have scored four or more goals in nine of their 12 matches this season.
19 year old Erling Braut Haaland has scored four hat-tricks already this season – including the three goals he scored against Genk – taking his tally to 19 goals in ten matches this campaign.
At the age of 19 years and 58 days, that feat against Genk has made him the third youngest player in Champions League history to score a hat-trick, behind Raul (18 years and 113 days) and Wayne Rooney (18 years and 340 days).
Lurching In Football, and How the Pendulum Is Almost Impossible To Stop Swaying, by Paul Tomkins.
What Jürgen Klopp has brought to Liverpool, amongst many other qualities, is stability. He is a long-term manager, who doesn't worry about short-term thinking. He stays the course, and has an identity; but the football has evolved over time, in part due to the introduction of the fresh-thinking Pepijn Lijnders, but also just a natural progression of taking the team to the level he wanted to get them to – as with perfecting counter-pressing – before tweaking the team, bit by bit. Klopp has never lurched from one extreme to the other.
There is a core set of principles and standards. By contrast, at many other clubs (as at Liverpool in the past) it feels like there is totally muddled thinking; although, alas, Man City seem to know what they are doing.
Giovanni van Bronckhorst has been put on the Man City payroll to shadow Pep Guardiola, whose wife and daughter have moved back to Spain. This might suggest Guardiola is off at the end of the season and that van Bronckhorst is learning the ropes, ready to take over. If so, this is very much a case of forward-thinking by the City hierarchy.
Wednesday Oct. 2nd:
Which Are Liverpool's Most Potent Attacking Combinations? The Front Five, by Andrew Beasley.
Perhaps more interesting is the top combination for the two full-backs. We all know how important they are to Liverpool's brilliant offence, but would you have thought they'd have linked up most effectively with the forward on the opposite side to them? Obviously crossing is a large part of their arsenal, which is relevant here.
Notice too just how important Robertson to Salah has been. It's the top combination for xG per chance for any duo which has linked up for more than five chances. Thanks to the level of detail in the information, we can learn something even more interesting; here are the 16 chances which went from Robbo to Mo, sorted by their expected goal value.