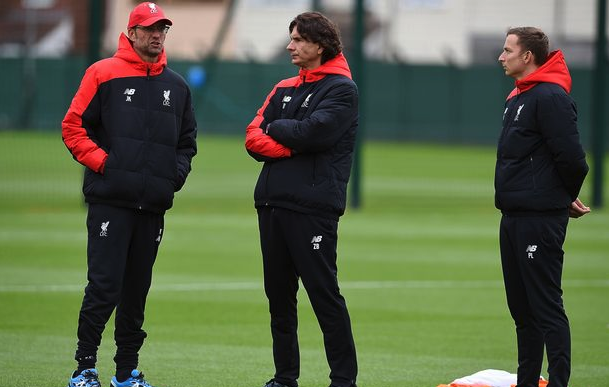 Posts selected by Chris Rowland and Daniel Rhodes.
This week's round-up brings you some of the best comments on the site, together with some samples of the articles we've published.
If you'd like to join our troll-free community and enjoy some intelligent debate about Liverpool FC and the wider world of football, and indeed the wider world generally, see the 'Subscribe' tab at the bottom of the page for details of how to sign up.
1 – Marc Binfield on Liverpool's kit deal, Sept. 2nd:
Reward!
Billing the Kit!
£75m a year or more!
Liverpool are in negotiations for a new lucrative kit
deal. Who will be our next official kit supplier and how high will be the bill to pay?
New Balance? Nike? Or someone else?
A few days ago the Liverpool Echo published the following article:
I was extremely pleased to read, that the new Liverpool kit is the number one bestseller and that we are selling more than Man United.
It's great to see that more and more kids and adults are wearing Liverpool shirts all over the world.
It's not a real surprise, that with our growing success, more and more football fans discover, that Liverpool is the coolest club, playing in the coolest stadium, which has the coolest atmosphere, created by the coolest fans, who are singing the coolest songs, to support the coolest players, who are wearing the coolest kits!  😉
But, in my opinion, another reason for that success, is that the "New Balance" kits are really cool and good looking. I personally appreciate their design approach for Liverpool a lot.
Being a fan since 1977, I'm a little bit nostalgic, and that's why I particularly like the retro look of this season's home kit. 😉
Of course Liverpool has to go for the best possible financial deal and it is great for us to know, that we can expect an even better deal than our eternal rival, Man United.
But, on the other hand, I'm not excited about the fact, that Nike could be our next official outfitter. I don't really like their design approach for the football kits they do for other clubs.
With Nike, we would join their circle of Football Clubs with PSG, Barcelona, Tottenham, Chelsea, etc… and we risk to become just another pawn in their huge marketing war against adidas, represented by Manu, Bayern, Real, Juve, Arsenal, etc…
I didn't appreciate Nike's attitude during the Coutinho transfer battle with Barcelona. I can't identify myself with that kind of behaviour. I don't want Liverpool to be involved in these kind of war games.
The last years, as a challenger club, I liked the partnership with New Balance, which is also a challenger brand in football sportswear. And we are the most important and prestigious Football Club wearing this brand.
Now, as we are considered as one of the top teams and favorites again, should we change for one of the two leading brands in football sportswear?
There are of course also negative sides being with a "smaller" partner like New Balance. For instance in my country, it's quite difficult to find Liverpool shirts in the normal sports shops, but all the other clubs, having Nike and Adidas kits, are available everywhere. I don't know how the situation is in other countries? So, maybe it could be interesting for Liverpool to get a better worldwide distribution of their kits, and to be able to satisfy a growing demand with a stronger partner?
It's great to see us at the top of the European Football elite again, and I just hope that we'll get the best possible financial deal, because we need the money to invest in our squad.
But I also hope, that over the next years, we'll keep our "challenger" state of mind, and that we'll always keep our distance to the other financial elite clubs.
Let's not be tempted by the dark side of the force! 😉
We are Liverpool! We don't have to sell our soul, for no money in the world!
2 – BelligerAnt after the sales yesterday of two youngsters, Ryan Kent and Bobby Duncan:
The Duncan and Kent sales pull Liverpool's net transfer spend since Klopp's arrival to below £70m now. In the context of what has been achieved on the field in that time, the comparison of squad quality from the one Klopp inherited to the current one and, quite simply, what £70m represents in the current transfer market, I find that absolutely astounding.
3 – ArdentLFCFan, Sept 4th:
Since losing to Chelsea on the 6th May 2018, Liverpool have played in more Champions League finals than they have lost League games.
4 – Tash on Michael Owen's digs at Gerrard:
I see Michael Owen is digging more dirt on other people.
"In Steven's case, I severely doubt whether he really wanted to go and play in the States in 2015.

"I've heard that the club wanted him out two years prior to when he actually left."
By all means court controversy by dishing the dirt on  yourself – with the stuff you did and stuff that was done to you when you're busy chasing more money buy selling your autobiography.  But where the fuck does he get off shooting his mouth off that Liverpool trying to offload Steven Gerrard 2 years before he left?  It may very well be true.  But its not his story to tell.  Its the club's or it's Gerrard's.  In trying to be interesting he's coming across as an attention seeking little shit.  Does he need the money that badly?
Given he already has an impossible task trying to win favour back with many Liverpool fans (myself very much included) he could hardly have picked a worse subject than Steven Gerrard.  His friend Steven Gerrard.  A man who Im absolutely sure knows the story if it were true and so could easily have mentioned it himself if he were so inclined. Next Chapter; The Day I chinned Kenny.
Honestly, how is this man a club ambassador?  He's more like the club embarrassment as far as Im concerned.
5 – Mike H with a look at the summer transfer window:
Now that the transfer window has shut, I thought I'd have a look at some of the numbers and perhaps certain themes.
Gross spend by league EPL 1.83bn, La Liga 1.70bn, Serie 1.38bn, Ligue 1 1.14bn, Bundesliga 923.3m
EPL  net spend comes out at 610m, with 8 clubs accounting for 616m. Villa 146,Arsenal 90,Utd 73,Wolves 73, City 73,Spurs 60, Brighton 56, Sheffield 45
La Liga net spend 315m
Real 151m, Barca 107m. Athletico were +30m! This was despite paying 113m for Joao Felix.
Serie A net spend 325bn
Inter 103m, AC 73m.
Juventus surplus 15m, Roma 3m.
Ligue 1 net spend. SURPLUS 181M!
Majority of clubs had a surplus or no spend. Monaco on 32m spent the most.
Psg surplus 7m, Lyon 39m, Lille 67m.
Bundesliga net spend 110m
Bayern 51m, Dortmund 40m, RB 39m.
Frankfurt surplus 40m, Hoffenheim 77m.
One of the striking features scrolling down through the deals was how many frees and loans there are. The wealth is clearly tied up in a few clubs. This was a quick list of loanees, players who had moved for big money, had been deemed a big star in the making, wages too great-it's a litany of financial destruction.
Chiriches, Llorente, Halilovic, Guido Carrillo ,Jean Kevin Augustin ,Bakayoko, Elneny, Imbula, Joao Mario, Adrien Silva, Zappacosta, Slimani,Bolasie, Ghezzal,Jesé, Robin Olsen, Elyounoussi, Oliver Burke, Locadia, Dalbert, Ante Coric, Coutinho, Sanchez, Icardi.
A lot of those players have been in the EPL. Total value of their fees circa £560m. Now all loanees!
Players that never made it. The big stories, the nailed on transfers…
Eriksen, Rose, Aldewereld, Bale, Neymar, Ziyech, Neres, Sanchez, Coutinho, Can, Dybala, Fernandes, Pogba, De Gea, Asensio, Isco, Rakitic, Sane, Icardi
A mixture of over inflated valuations, contract rebels, agent demands, club demands etc etc
Since the Neymar deal it feels as if expectations have been over inflated . There are still only maybe 12 or so clubs that have EVER paid a fee in excess of 50m. The report above confirms how concentrated the wealth is. We may have had an interest in Pepe but at 24yrs, 1 great season, though with 9 pens out of 23 goals , we probably thought the price was ludicrous.
In France even though there is a new TV deal coming the majority of clubs were sellers.
In the EPL there was definitely more restraint amongst the majority of clubs.
it still feels as if the market is undergoing change. The parasitic agents are probably driving some of this, wanting a bigger and bigger cut of fees. The players are also to blame. None ever want to take a pay cut to play.
It would be interesting to know how we are modelling the various scenarios. We may have poured even more into wages after a big rise last year.
The loanee list shows the perils of crap recruitment. How many of those trades made sense at the time!?
Finally it would be interesting to see ages of transfers vs fees. It feels as though some level of analytics is seeping in as clubs refuse to pay fees for ageing players.
There was loads of info in here. Without counting them up it looked as if about 70-80% of movements were free or loans.
Our money is super valuable!
6 – Jeff on some of the tactical play used by Klopp and Liverpool this season:
If you watch a match that is being broadcast which they all are today, you know that you are missing important parts of the match. For example, when a center back goes forward, you want one of the midfielders to drop back and cover for the lad going forward. Now, sometimes you see this happening but more often than not you do not. Therefore, you have no idea in fact if a midfielder is being responsible or not. In addition, Liverpool have only played 4 matches in the Premier League this season which makes it impossible to say anything definitive one way or another about what Liverpool is trying to do on the pitch.
After all of these disclaimers, I have a few thought on what I have seen from Liverpool on the pitch this season. I think Liverpool are playing in a very fluid fashion this season alternating between a 4-3-3 and a 3-5-2 in the matches I have seen. In every match I have seen this season I have seen Fabinho falling into a position between Matip and VVD and TAA and Robertson moving forward to become wingbacks and at the same time Firmino dropping further back which seems to me to be a 3-5-2. If I am right, it means that both Robertson and TAA will have larger roles in the offensive end of the game and I expect both of these lads to score more goals.
As I wrote, it is too early to say anything definitive and it is hard to figure out exactly what is happening on the pitch if you depend up broadcast streams to watch a match, but from what I have seen I think it is clear that this year's Liverpool will be a far different team on the pitch and Andy Robertson will have a different role this season than he has had in the past.
I believe after 10 or so games I will be able and I am certain others such as Beez be able to tell us exactly how this year's Liverpool is a different proposition than last year's Liverpool. I do want to note that if you followed Klopp's Dortmund at all you would know that every year his teams were different from the previous year.
Articles published since last Friday, with excerpts:
Sunday September 1st:
Post-Match Analysis: Burnley 0 – 3 Liverpool, by Daniel Rhodes.
Fifteen shots to seven shows the level of domination by the Reds; similar with seven shots on target to two. The away side also had three big chances (unfortunately Wijnaldum missed both of his, whereas Mane scored) and Burnley had the one vs one at the end from Rodriguez that was saved by Adrian.
The expected goal models are once again different, with the official Opta model (not included below in the xGif) suggesting it was an even context (0.83 – 0.97); however, the rest of them were more in favour of Liverpool, with Michael Caley even giving the Reds two expected goals compared to 0.9 for Burnley.
Liverpool Overcome Thuggish Anti-Football – Because They Cannot Be Bullied, by Paul Tomkins.
There were four really, really bad decisions from Chris Kavanagh yesterday that all suggest he has no "feel" for football (and how many referees from Manchester are there?!).
James Tarkowski "made a back" for Bobby Firmino early in the game by bending over, rather than contesting the header, and Firmino was punished for the foul. A Burnley player illegally jumped into Fabinho, but bounced off him, and got the free-kick. Mané was clearly body-checked going between two men, but he gets almost nothing from any referee. Then when Divock Origi came on, he played the ball 15 yards past the full-back yet the full-back – rather than follow the path of the ball – ran straight across Origi's path. Origi, upon being fouled, wriggled free, only to be punished! There's a shot of Klopp talking to the fourth official seconds later, as baffled as I was. In all these cases it appeared to be a man who had no idea of how football works.
To make matters worse, the rest of the day's action was littered with a litany of terrible decisions. And VAR is being used to maintain the infallibility complexes of the refs, in part as VAR is actually just their colleagues. Shouldn't VAR be independent in some ways? Every week I keep seeing a glut of what appear to be the worst decisions ever, then a week later they get even worse. And almost none of them are being overturned by VAR.
Most of my stress watching football comes from the referees. I know I shouldn't get worked up about stuff that I cannot control, and in this case, that the team cannot control; but it feels that there is this elite sport taking place, officiated by rank amateurs.
Monday Sept. 2nd:
My Day at the Match – Burnley (A), Aug. 31st 2019, by Chris Rowland.
There is the usual feisty welcome from Burnley's team on the pitch, and from their equally feisty fans off it. They get plenty of reminders of who the current champions of Europe are. As Trent's cross floats in Pete shouts 'No!' – then cringes in embarrassment as the ball nestles in the net. The perfection of Firmino's through ball for Mane for 2-0 reminds everyone of Dalglish, as does much of Firmino's performance. We agree that it's vital we don't concede early in the second half as that would change the game, change the mood inside the stadium, reinvigorate them. In fact they barely get a sniff until late on when Adrian blocks sub Rodiguez's effort, and by then Bobby has added a third and Mane has thrown his toys out at Salah, with some justification we feel.
Apart from the comfort of the win and the three points, the most impressive facet of the game was how we dealt with the Burnley aerial onslaught. The diamond of Adrian, Matip, the imperious van Dijk and Fabinho thwarted every incoming wave. No more lurking fears of conceding corners and free kicks, even against this lot. Nowadays we know we can handle it.
Tuesday Sept. 3rd:
Ranking the Reds' Premier League Seasons, Worst to Best: #2 – 2000/01, by various.
Alex Tate: This was a good season for goals; Barmby's bullet header v Everton, Gerrard's fierce drive v Man United and Gary Mac's renaissance. But it was God who scored many great goals. He thrived from the competition alongside Owen. His goal against Alaves, his instant control and emphatic finish past Barthez and a cheeky, almost comical, bicycle kick in the final league game at Charlton all showing his sniffer dog sense for top drawer goals.
But the League Cup Final strike is my best goal. From Henchoz's long clearance, Heskey knocked it down for Fowler, who was flanked by two Blues defenders, to finish instantly from 25 yards over the despairing Ian Bennett.
Whether it's the adoration I have for Robbie Fowler makes all his goals seem like this, I don't know. I'm sure there were some agricultural ones along the way. But these goals, and on these occasions, make him our idol.
Wednesday Sept. 4th:
Is Andy Robertson Destined to Become Liverpool's Next Goal Machine?, by Andrew Beasley.
However, reviewing the Scot's shots from last season revealed something of greater interest. As well as having a go at scoring in the first three league games this season, Robertson also did so in the final two domestic matches of 2018/19, as well as in the unforgettable 4-0 win over Barcelona and the Champions League final.
In other words, Liverpool's left-back has had a shot in their last seven games in the league or Europe. After taking 26 shots in his first 69 appearances for the Reds in the two primary competitions, Robertson has taken 11 in the last seven. Essentially a quarter of his league attempts for Liverpool have occurred in the most recent eight percent of his time on the pitch. And so on.
And while the quality of chances he has had remain up and down – based on individual shot xG, which must always be treated with extreme caution, and not a little cynicism – the data illustrates he has been getting into better positions.
Thursday Sept 5th: 
Ranking the Reds' Premier League Seasons, Worst to Best: #1 – 2018/19 by Various
Andrew Beasley: The long and winding road, that leads to your door. When this series began, it was always incredibly clear which season would sit top of the pile. But it also seems fitting that the first two campaigns of the Premier League era were at the bottom of the rankings too; it hasn't been a chronological rundown throughout, of course, but it seems fitting that the journey has taken us from the early 1990s through to today. Having been kicked off their perch, Liverpool have gone an enormously long way to reclaiming it, even if the league title still remains out of reach for now.
Paul Tomkins: This has to be up there with any season in Liverpool's rich history; indeed, it's the Reds' best-ever points tally from 38 games, and then there was winning the Champions League!
Although it was built on the back of reaching the 2017/18 final, it still felt as if it almost came from nowhere – certainly the refusal to back down on the way to 97 points, where the Reds went beyond anything I thought possible. If you told me back in 2015 that Klopp would lead the team to 97 points I'd have said that it was 100% sure we'd therefore win the title. But we didn't. How unlucky is that?!
Equally, if you said we'd reach back-to-back Champions League finals, winning one, I'd have thought that almost impossible from the starting point of what he inherited. Even as recently as October 2017 this all looked too big a jump to even conceive of. This is a genuinely great side, and it's a pleasure to be able to witness it grow.
Chris Rowland: So the third highest points total in top division history, one single defeat (and that by the width of an aspirin from being drawn), nine straight wins to end the league season, overturning a 3-0 deficit to Barcelona and winning the Champions League – when isn't that a great season?
The elephant in the room, of course, is still not winning the Premier League – though I for one am very happy to take the crown of champions of Europe as more than mere consolation, but an equal triumph in its own right. Nothing feels quite like being champions of Europe for this club.